Soon the "Pelacors" will no longer be printed | What to do? [EN-ES]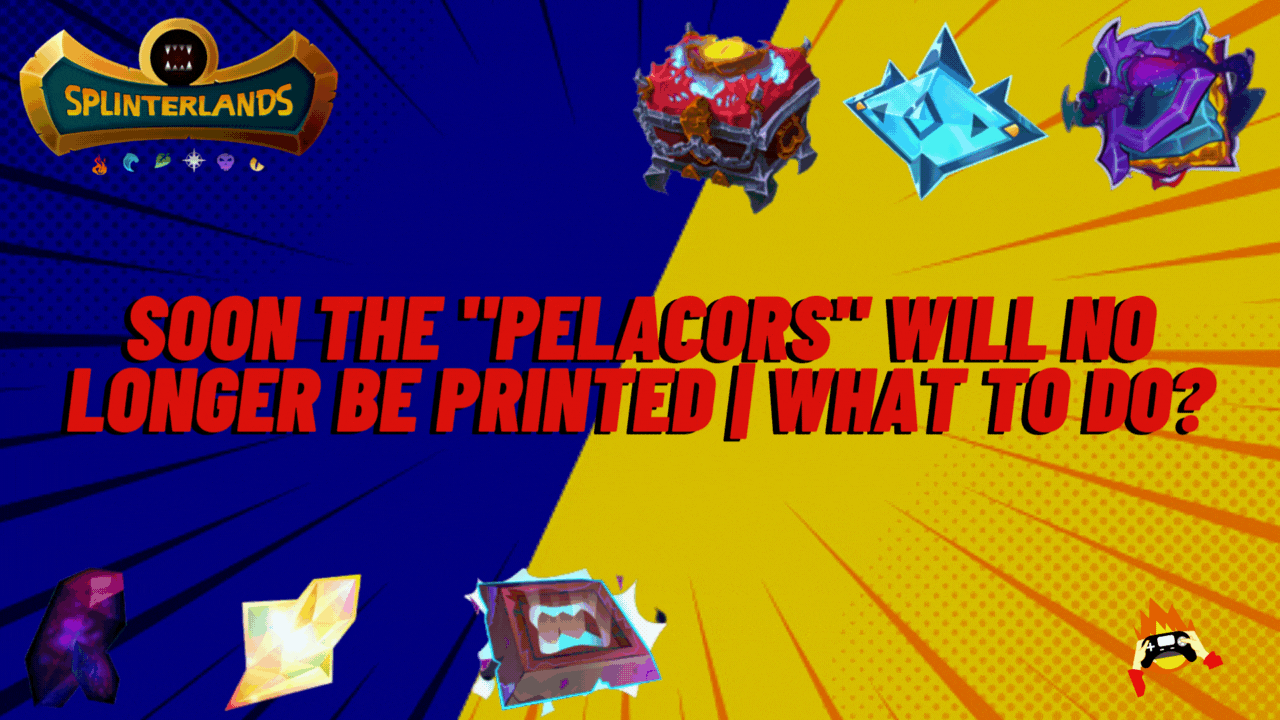 Cover created in Canva

Hace unos días que estoy ausente de los blogs, la razón es porque mi laptop ha sufrido un daño en el pin de carga, por lo que a pesar de que enciende perfectamente y funciona, lamentablemente no podré cargarla ni utilizarla directamente en una toma de corriente, por lo que me única opción es el móvil, al cual no estoy para nada acostumbrado, ya que es difícil moverse con todas las herramientas en Hive y más al momento de crear artículos.
Sin embargo, estoy haciendo un esfuerzo por utilizar mi móvil para publicar en Hive, así que veré qué tanto debo hacer para lograrlo, ahora bien, a parte de esto y volviendo al tema del post, como dice el título las cartas que llevan "Pelacor" en su nombre están a punto de agotar su impresión, así que, esto podría significar una oportunidad o no, lo que si es cierto es que daré mis impresiones al respecto.
Lo que diré en esta publicación no es una recomendación de inversión, es solo mi opinión y mis acciones ante lo que veo en el mercado de cartas, pero, si deseas conocer información de valor entorno al tema, te invito a que sigas leyendo

SplinterStats

Está es una pagina web creada por @kiokizz que utilizo con mucha frecuencia para verificar información de relevancia entorno a mis recompensas durante toda la temporada, además de esto, tambien la utilizo para verificar el porcentaje de impresión que tienen las cartas de la edición de "Recompensas" vigente, ya que me ayuda a conocer el momento exacto en que estás dejarán de aparecer en los cofres de recompensas diarios y de final de temporada.
Para los que no lo saben, esto significa que, en el momento en que la carta llegué al 100% de su impresión, dejarán de salir como ya comenté, lo que convierte a cada una de estas cartas en un activo limitado, lo que trae como consecuencia que, los precios de estás puedan con el tiempo duplicar su valor, ya que la única manera de obtener estás cartas, será a través del mercado de "Splinterlands".
---
¿Por qué es importante vigilar las cartas de la edición de "Recompensas" en SplinterStats?
Básicamente todo tiene que ver con un principio básico de economía, el cuál dice que, todo buen dinero, es aquel que su impresión es limitada, esto es debido a que en el mediano plazo, al no tener forma de generar más de este activo (impresión), lo que hará es crear una demanda alrededor del mismo, por supuesto, siempre y cuando esté tenga una importante utilidad para los que desean utilizarlo.
Así que, todo lo que esto quiere decir es que, si estás cartas son valiosas en el campo de batalla, desde un punto de vista general y ayuden a su portador a ganar batallas, seguramente los tenedores de las mismas comenzarán a venderlas a un precio superior al que estaban cuando se ganaban en los cofres, por lo que, teniendo esto en cuenta, sería bueno adquirir algunas de estas cartas mientras se encuentran en descuento.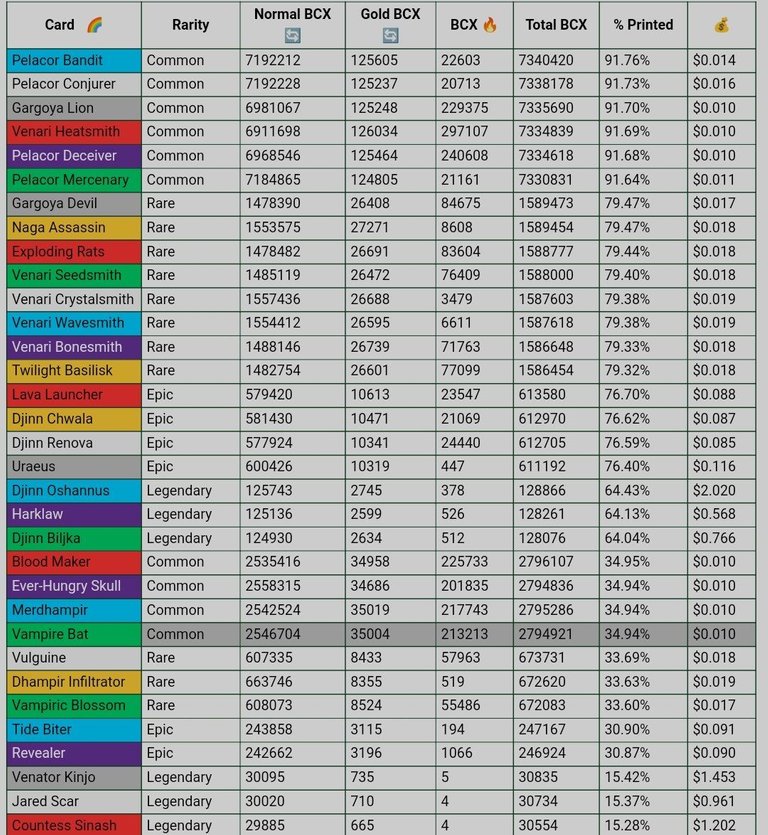 En la imagen anterior, pueden ver qué hay 6 cartas entre el 91% y 92% de impresión, por lo que más temprano que tarde, estás cartas dejarán de salir en los cofres de recompensas diarios y en los de final de temporada.

¿Qué cartas veo más valiosas?

Soy de los que utiliza varias de estás cartas que llevan "Pelacor" en su nombre, me han servido mucho y he ganado importantes batallas con ellas, así que, diré cuáles son las que más utilizo y porque, por lo que, con esto queda claro que cuando se acerquen a un 95% de impresión o superior, lo más probable es que compre algunas de ellas para aumentar mi colección o quizás para especular más adelante en el mercado.
Las cartas que más utilizo son:
Pelacor Conjurer: Está carta es muy importante para mí en el "Splinter de Vida", la razón es que con ella puedo jugar cuando la cantidad de mana en una batalla es limitada, además, en la liga "Oro", dónde suelo jugar con mayor frecuencia, juegan con mucho ataque mágico y está carta me permite devolver parte del daño a mis adversarios.

Pelacor Mercenary: Está es otra de las cartas que suelo utilizar con mucha frecuencia en mi equipo de "Tierra" y dependiendo de la regla de batalla, lo coloco en un lugar diferente a la primera posición, ya que por lo general lo utilizo como "Tanque de batalla", esto gracias a sus habilidades de "Heal y Flying", lo que le da una gran resistencia.

Pelacor Bandit: Está es una de las cartas que utilizo también con frecuencia en mi equipo de agua cuando no puedo utilizar el ataque mágico, cuando estás condiciones de batalla se presentan, sin duda alguna mi equipo de agua cambia en el tipo de ataque, dejando atrás el mágico y enfocándome en el cuerpo a cuerpo con "Kelya Frendul" al frente.
---
Estadisticas de las cartas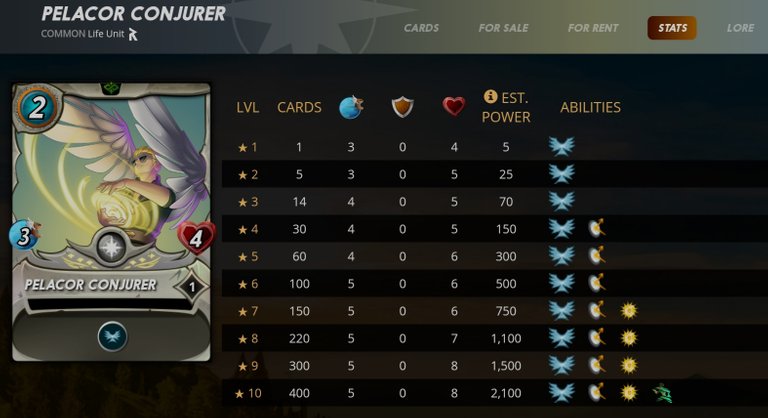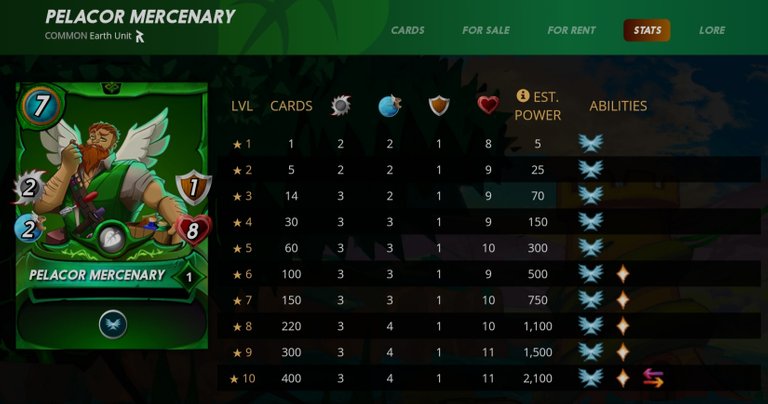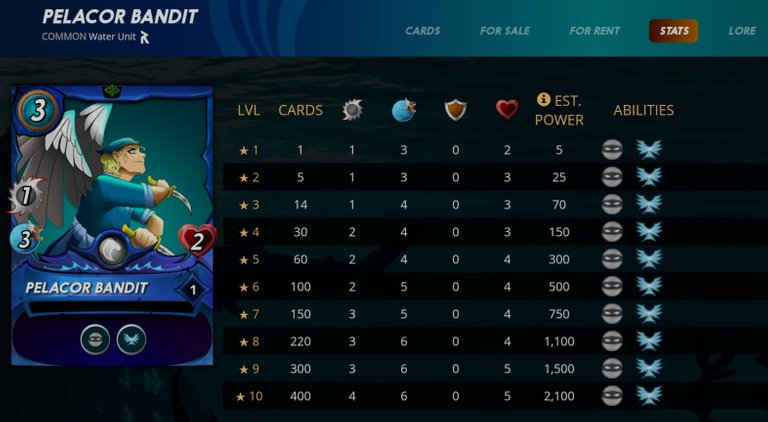 Consideraciones Finales

Con la salida de estás cartas de la edición de recompensa de rareza común, las siguientes en la lista serán las "Raras", de las cuales también tengo pensado comprar varias de ellas cuando sea el momento, sin embargo, de los "Pelacors", me interesan solo estos 3 que comenté, no hable acerca de los "Venari", debido a que, justo el que está en el 92% de impresión, no esta en los objetivos, además, con respecto a su utilidad en el campo de batalla no es tan contundente cómo las que mencione.
De igual forma, si tienen alguna de las cartas de la lista con el 91% de impresión como su objetivo, me gustaría que dejarán en los comentarios sus razones para adquirirlas.
Por otro lado, dejo este par de cartas que estoy vendiendo.
Si están interesados en comprarlas, por favor contáctenme por Discord directamente: Lenonmc21-[Curator™]#4128
Sin más por el momento, nos vemos en la próxima guerreros.

I have been absent from the blogs for a few days, the reason is because my laptop has suffered a damage in the charging pin, so although it turns on perfectly and works, unfortunately I will not be able to charge it or use it directly in an outlet, so my only option is the mobile, which I am not at all used to, as it is difficult to move with all the tools in Hive and more at the time of creating articles.
However, I am making an effort to use my mobile to publish in Hive, so I will see how much I have to do to achieve it, now, apart from this and returning to the topic of the post, as the title says the cards with "Pelacor" in their name are about to run out of print, so, this could mean an opportunity or not, what is certain is that I will give my impressions about it.
What I will say in this publication is not an investment recommendation, it is only my opinion and my actions in view of what I see in the card market, but if you want to know valuable information on the subject, I invite you to read on.

SplinterStats

This is a web page created by @kiokizz that I use very often to check relevant information about my rewards throughout the season, in addition to this, I also use it to check the printing percentage of the current "Rewards" edition cards, as it helps me to know the exact moment when they will stop appearing in the daily and end of season reward chests.
For those who do not know, this means that, at the moment when the card reaches 100% of its printing, they will stop appearing as I already mentioned, which turns each of these cards into a limited asset, which brings as a consequence that, the prices of these cards can eventually double their value, since the only way to obtain these cards, will be through the "Splinterlands" market.
---
Why is it important to keep an eye on the "Rewards" edition cards in SplinterStats?
Basically everything has to do with a basic principle of economics, which says that all good money is that which has a limited printing, this is because in the medium term, having no way to generate more of this asset (printing), what it will do is create a demand around it, of course, as long as it has an important utility for those who wish to use it.
So, all this means is that, if these cards are valuable on the battlefield, from a general point of view and help their bearer to win battles, surely the holders of these cards will start selling them at a higher price than they were when they were won in the chests, so, with this in mind, it would be good to acquire some of these cards while they are on discount.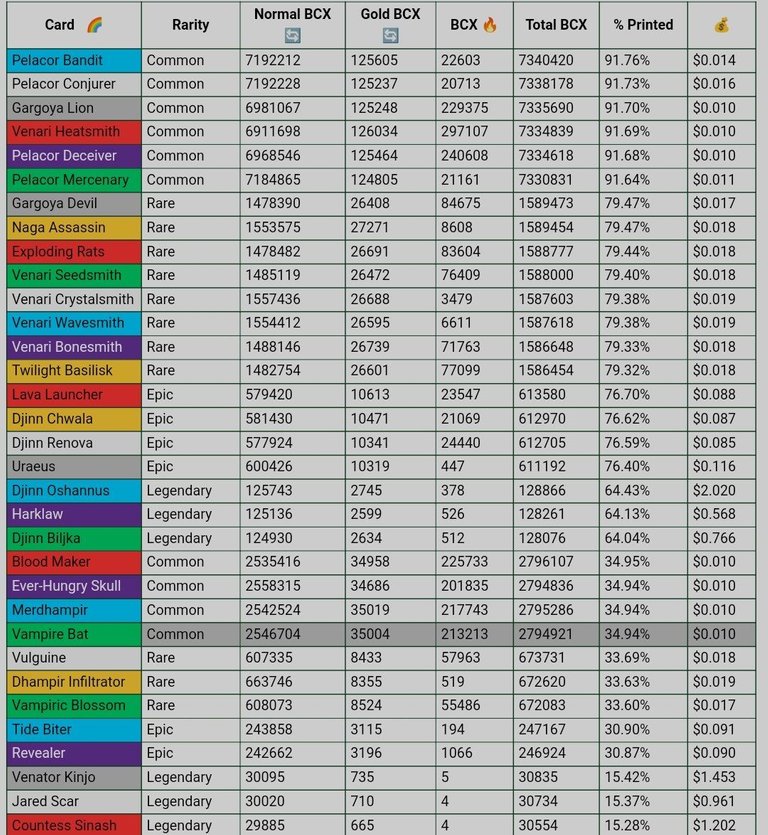 In the image above, you can see that there are 6 cards between 91% and 92% printing, so sooner rather than later, these cards will stop appearing in the daily and end of season reward chests.

What cards do I see as most valuable?

I am one of those who use several of these cards with "Pelacor" in their name, they have served me well and I have won important battles with them, so, I will say which are the ones I use the most and why, so, with this it is clear that when they approach 95% printing or higher, I will most likely buy some of them to increase my collection or perhaps to speculate later in the market.
The cards I use the most are:
Pelacor Conjurer: This card is very important for me in the "Splinter of Life", the reason is that with it I can play when the amount of mana in a battle is limited, also, in the "Gold" league, where I play more often, they play with a lot of magic attack and this card allows me to return part of the damage to my opponents.

Pelacor Mercenary: This is another card that I use very often in my "Earth" team and depending on the battle rule, I place it in a different place than the first position, since I usually use it as a "Battle Tank", thanks to its "Heal and Flying" abilities, which gives it a great resistance.

Pelacor Bandit: This is one of the cards that I also use frequently in my water team when I can't use the magic attack, when these battle conditions arise, without a doubt my water team changes in the type of attack, leaving behind the magic and focusing on the melee with "Kelya Frendul" in front.
---
Card statistics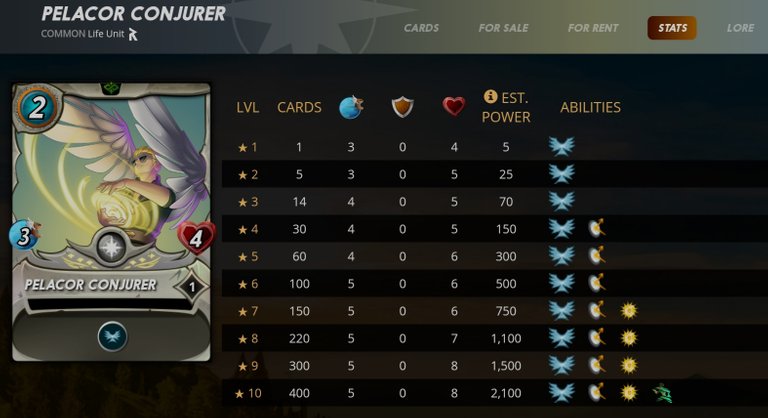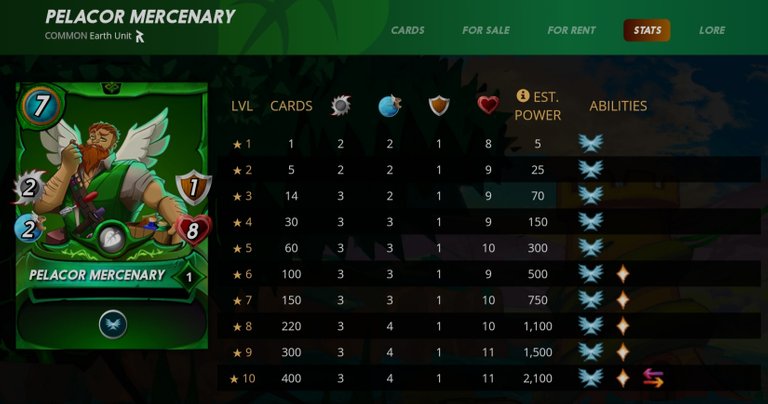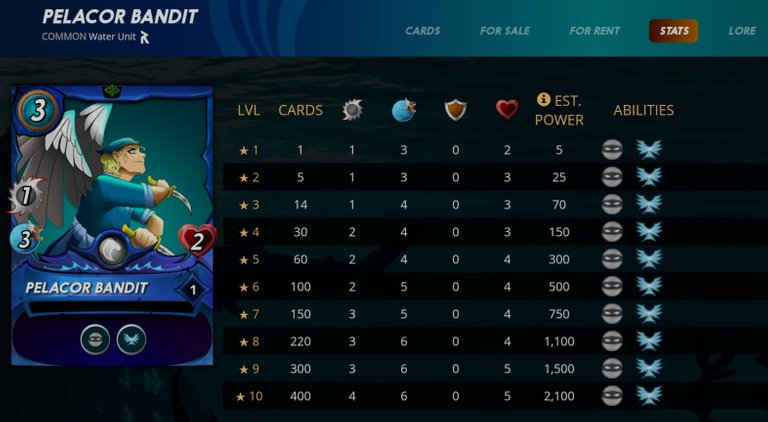 Final Considerations

With the release of these cards of the common rarity reward edition, the next in the list will be the "Rares", of which I also plan to buy several of them when the time comes, however, of the "Pelacors", I am only interested in these 3 that I mentioned, do not talk about the "Venari", because, just the one that is in 92% print, is not in the objectives, in addition, with respect to its usefulness on the battlefield is not as strong as the ones I mentioned.
Likewise, if you have any of the cards on the list with 91% printing as your target, I would like you to leave in the comments your reasons for acquiring them.
On the other hand, I leave this pair of cards that I am selling.
If you are interested in purchasing them, please contact me on Discord directly: Lenonmc21-[Curator™]#4128
Without further ado, see you next time warriors.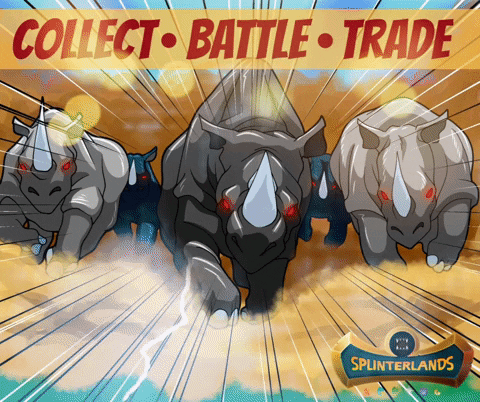 If you are new, I invite you to register in this LINK
---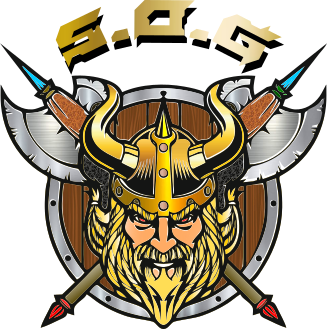 Proud Member of "Shield of Glory".
---

Join the Discord Official community server in English
---
---