What are the ways to get money in "Splinterlands"? Part 2 [EN-ES]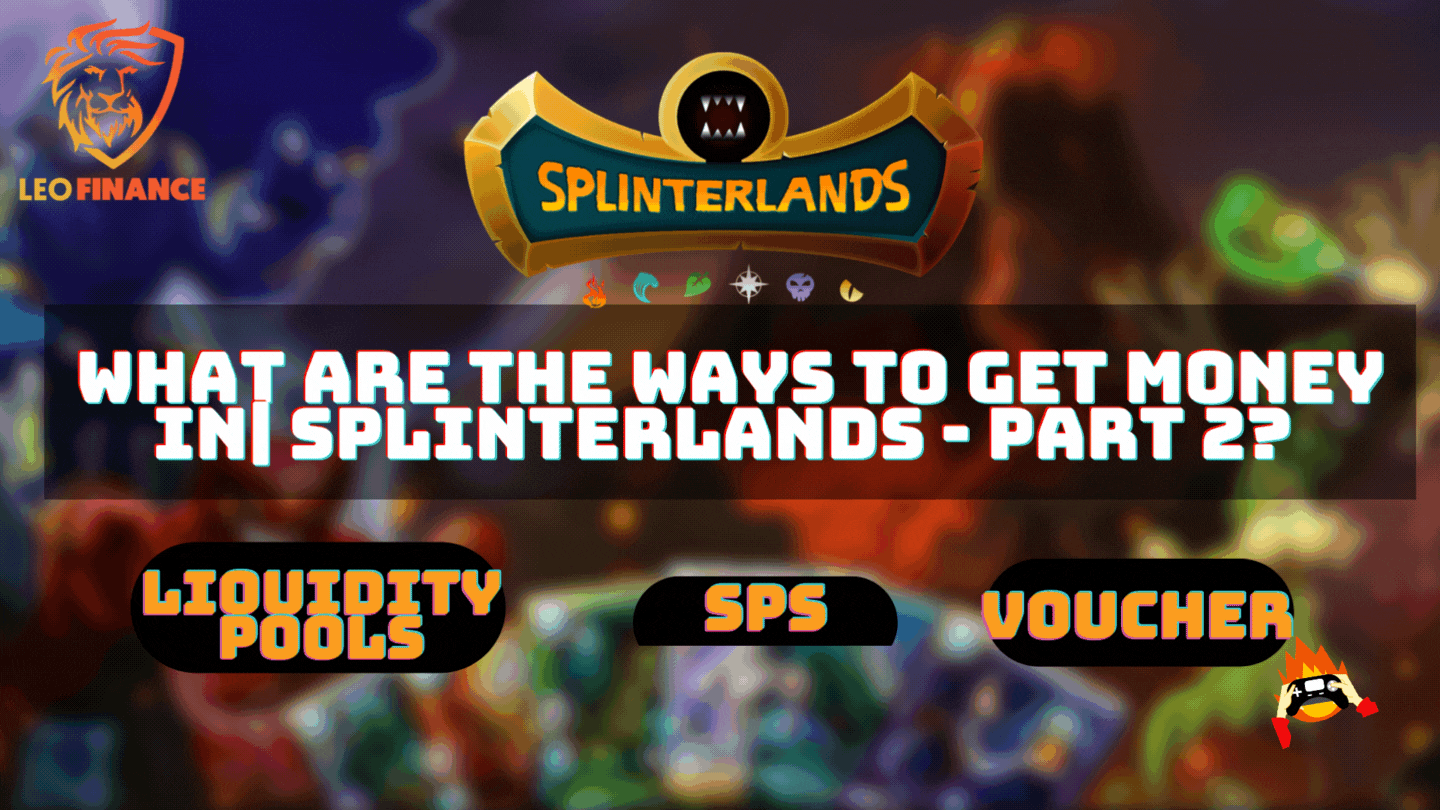 Cover created in Canva

Hace unos dias escribí un post en su primera parte acerca 3 maneras de ganar dinero en "Splinterlands", donde, en ese post, que lo pueden encontrar dando Click Aquí, abarque en lo que a mi respecta las 3 formas fundamentales y/o primordiales de generar ingresos con este fabuloso juego, así que, tomando en cuenta ese precedente, pretendo explicar en esta 2da parte aspectos muy importantes para generar ingresos.
Es por eso que, en esta oportunidad, abarcare de forma detallada 3 formas adicionales de poder generar ingresos con "Splinterlands, ya que explicare como por medio de la inversión, podemos generar de forma pasiva dividendos importantes, así que, si quieres saber como hacerlo, te recomiendo que no te despegues de este post, porque espero que lo que leerán a continuación, agregue valor a los mas nuevos en el juego, ya que, si eres mas experimentado, seguramente sabrás de estas formas, pero igual podría ayudarte a comprender algunos conceptos.

Pools de liquidez

Las piscinas de liquidez son bastante famosas en el ecosistema DEFI (Finanzas Descentralizadas), el cual esta controlado y/o ejecutado por contratos inteligentes basados en la tecnología Blockchain, por otro lado, estas piscinas o también llamadas "Fondos de Liquidez", hace referencia a un deposito que se realiza de uno o dos tokens, para de esta manera en ese par de tokens elegidos por el inversor (Usuario, Jugador), estos puedan realizar intercambios sin la necesidad de que un tercero este presente.
Esto quiere decir que, para que estos intercambios sucedan, debe haber liquidez en el fondo (Dinero – Los tokens elegidos), por lo tanto, aquellos que decidan participar en dicho "Fondo", se les llama "Proveedores de Liquidez", por lo que estos tienen una participación que generalmente es expresada en porcentaje, todo esto con la finalidad de recibir recompensas por las comisiones generadas del fondo, en pocas palabras por las personas que intercambian de un token a otro, lo que también es llamado "Swap".
Esto puede sonar muy complicado al principio, pero créanme una vez lo entienden no tiene nada de complicado, sin embargo, hay cosas muy importantes a tomar en cuenta cuando queremos ser "Proveedores de liquidez" y generar ingresos pasivos para obtener las comisiones de transacción que se generan por los intercambios y adicional, las recompensas que se generar por tener esa liquidez en el fondo, que por lo general la recibimos en uno de los 2 tokens que hemos agregado al grupo, así que, para saber estos detalles presten mucha atención al siguiente subtitulo.
---
Pools de Liquidez en "Splinterlands"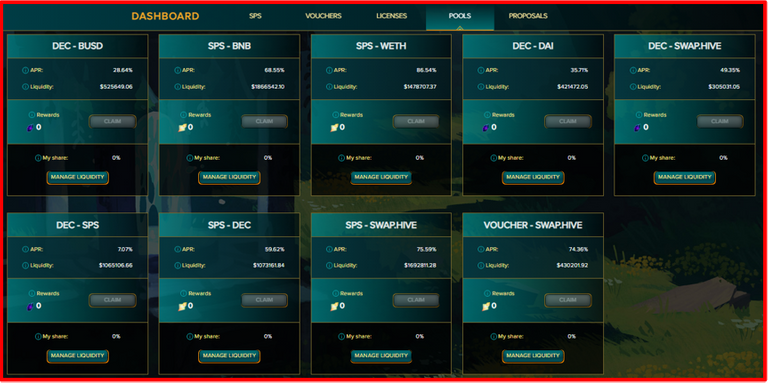 Todos los Pools de Liquidez en "Splinterlands"
En "Splinterlands", directamente en su interfaz en el juego que podemos acceder dando CLICK AQUÍ podemos conseguir 9 diferentes grupos de liquidez en donde podemos generar pasivamente ingresos, agregando liquidez en uno o varios de ellos, tomando esto en cuenta los "Pools de liquidez" actuales en el juego son los siguientes:
DEC/BUSD
SPS/BNB
SPS/WETH
DEC/DAI
DEC/SWAP.HIVE
DEC/SPS
SPS/DEC
SPS/SWAP.HIVE
VOUCHER/SWAP.HIVE
Como comenté, podemos participar en cualquiera que queramos para obtener recompensas, sin embargo, esto conlleva un riesgo importante y hay que realizar análisis detallados de los tokens involucrados en el fondo de liquidez de nuestra elección para saber en corto, mediano y largo plazo, cual será el futuro de dicho token en cuento a precio, ya que, si no lo hacemos, podemos correr el riesgo de tener lo que se llama "Perdida Impermanente" que, es simplemente el cambio de valor de alguno de los tokens colocados en el fondo desde el momento en que se agrego la liquidez, así que esto es algo a lo que hay que prestar mucha atención, pero, que si logramos analizarlo bien, puede traernos buenos retornos diarios, semanales y mensuales.
Para hablar mas en detalle sobre esto, hare un tutorial, ya que, si lo hago en este post, podría tornarse realmente largo, pero espero que la idea y la forma en la que se gana haya quedado clara, igualmente pueden dejarme sus dudas en los comentarios.

Invertir en SPS (Splintershards)

Imagen Oficial de "Splinterlands"
Esto imagino que ya la mayoría lo ha visto, pero, esta forma de ganar invirtiendo en SPS es la que en mi opinión a largo plazo, dará los mayores rendimientos de todas las formas y maneras que existen de generar ingresos con "Splinterlands", la razón es porque el SPS es el token de gobernanza del proyecto y es pieza fundamental y prioritaria en todo el ecosistema de forma general, así que si, comprar SPS es una de las formas de ganar dinero en "Splinterlands", sin embargo, no debemos hacerlo desmedidamente, para todo debemos tener un plan, y en un post pasado, hable sobre mi estrategia personal de inversión donde aplico lo que se llama DCA, si quieres saber sobre ella, te recomiendo que le des CLICK AQUÍ y veas de que se trata.
---
Staking de SPS
Por otro lado, no solo se trata de invertir en SPS y esperar a que se revalorice, ya que hay formas de poner a trabajar nuestros SPS para generar aun mas SPS, no solo tenemos los "Pools de Liquidez" que mencione anteriormente, también tenemos el apartado de "Stake" en nuestro "Dashboard" personal directamente en el juego, donde podremos colocar nuestros SPS en "Staking", para generar aun mas SPS con frecuencia diaria, semanal y mensual y adicional generar el token llamado "VOUCHER", el cual es sumamente importante para la economía del juego.
De esta forma, podemos generar de forma pasiva mas SPS, para esperar que este tome el valor real que se merece de acuerdo a la importancia que tiene para el ecosistema y generar a su vez VOUCHER que nos pueden servir para participar en numerosas preventas que pueda hacer "Splinterlands", ya que este es necesario básicamente para todas las preventas en el juego, ademas, de las preventas hable en la primera parte de esta serie.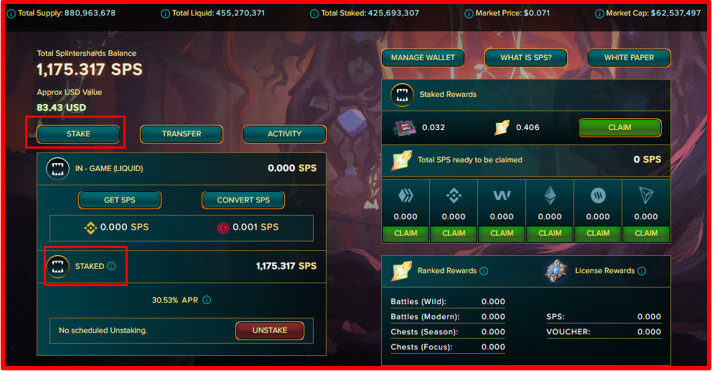 Imagen de mi Dashboard de "Splinterlands"

Invertir en VOUCHER


Los VOUCHER son pieza fundamental de la economía en "Splinterlands", la razón es porque este token es muy utilizado especialmente en las "Preventas" que el equipo del juego esta lanzando, por lo que, si queremos participar en las mismas, debemos tener obligatoriamente "VOUCHER" en nuestras billeteras, así que, teniendo esto en cuenta, los VOUCHER son una buena inversión por 2 cosas que describiré a continuación:
Participar en las Preventas: Ya lo comenté anteriormente, de hecho, esta es una de las formas de ganar que describí en la 1era parte de esta serie de post, recordando que, los activos del juego son en su gran mayoría por no decir todos "Limitados", esto quiere decir que es muy fructífero en el mediano y largo plazo, obtener cualquier de estos como un inversor que espera a que todo bien escaso de revaloricé para poder venderlo luego.

Es un token: Esta es la 2da razón por la que el VOUCHER es una excelente inversión especulativamente hablando, lo que quiero decir es que, este se comercia en un mercado, en "Hive-Engine" para ser exacto, y al día de hoy al momento de escribir este post cada token VOUCHER tiene un valor de 0.38$, pero constantemente se está quemando y más cuando se llevan a cabo preventas, de hecho, semanas atrás, el token logro a valer 1$, justamente con "Riftwatchers" estaba por salir en preventa.
Así que, la idea de esto es prepararnos para ambos escenarios, tener para las "Preventas" y adicional para especular con los mismos, con el objetivo de venderlos mas caro de lo que por supuesto nos costó al comprarlos.

Conclusión

Espero que este post haya sido de mucha ayuda y apoyo para los nuevos usuarios que están llegando a la plataforma y al juego, con este par de post que he publicado hasta el momento, tienen una idea cuales son las principales formas de generar ingresos en "Splinterlands", así que hay muchas maneras de diversificar el capital que estén guardando para el juego, sin embargo, debo aclarar que todo dependera de que estrategia decidan usar o que perfil quieren tener en el juego, ya que hay muchas posibilidades.
Sin mas nada que decir, dejare este post hasta aquí, sin antes mencionar, que estoy a la orden y disposición de explicarles el funcionamiento de estos métodos, de hecho, mencione que posiblemente haga un tutorial de como aprovechar correctamente los "Fondos de liquidez".
Sin más por el momento, nos vemos en la próxima guerreros.

A few days ago I wrote a post in its first part about 3 ways to earn money in "Splinterlands", where, in that post, which you can find by Click Here, I covered as far as I am concerned the 3 fundamental and/or primordial ways to generate income with this fabulous game, so, taking into account that precedent, I intend to explain in this 2nd part very important aspects to generate income.
That is why, in this opportunity, I will cover in detail 3 additional ways to generate income with "Splinterlands, as I will explain how through investment, we can passively generate important dividends, so, if you want to know how to do it, I recommend you not to leave this post, because I hope that what you will read below, will add value to the newest in the game, because, if you are more experienced, surely you will know about these ways, but it could still help you to understand some concepts.

Liquidity pools

Liquidity pools are quite famous in the DEFI (Decentralized Finance) ecosystem, which is controlled and/or executed by smart contracts based on Blockchain technology, on the other hand, these pools or also called "Liquidity Funds", refers to a deposit that is made of one or two tokens, for in this way in that pair of tokens chosen by the investor (User, Player), these can perform exchanges without the need for a third party to be present.
This means that, for these exchanges to happen, there must be liquidity in the fund (Money - the chosen tokens), therefore, those who decide to participate in this "Fund", are called "Liquidity Providers", so they have a participation that is generally expressed as a percentage, all this in order to receive rewards for the commissions generated from the fund, in short for people who exchange from one token to another, which is also called "Swap".
This may sound very complicated at first, but believe me once you understand it, there is nothing complicated about it, however, there are very important things to take into account when we want to be "Liquidity Providers" and generate passive income to obtain the transaction fees that are generated by the exchanges and additionally, the rewards that are generated by having that liquidity in the fund, which we usually receive in one of the 2 tokens that we have added to the group, so, to know these details pay close attention to the following subtitle.
---
Liquidity Pools in "Splinterlands"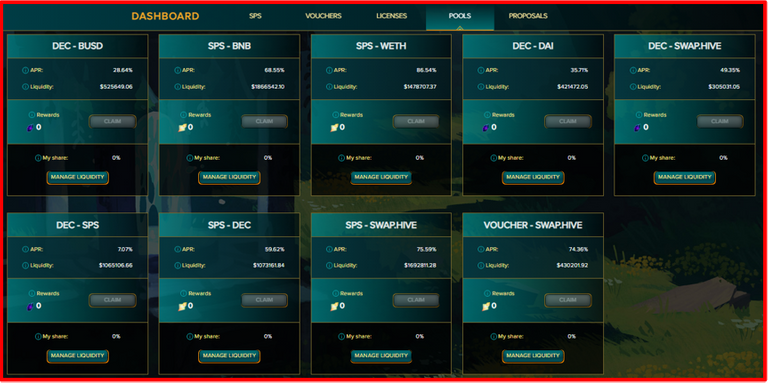 All Liquidity Pools in "Splinterlands".
In "Splinterlands", directly in its in-game interface that we can access by CLICK HERE we can get 9 different liquidity pools where we can passively generate income, adding liquidity in one or several of them, taking this into account the current "Liquidity Pools" in the game are the following:
DEC/BUSD
SPS/BNB
SPS/WETH
DEC/DAI
DEC/SWAP.HIVE
DEC/SPS
SPS/DEC
SPS/SWAP.HIVE
VOUCHER/SWAP.HIVE
As I commented, we can participate in any one we want to obtain rewards, however, this carries a significant risk and we must perform detailed analysis of the tokens involved in the liquidity fund of our choice to know in the short, medium and long term, what will be the future of that token in terms of price, because, if we do not do it, We can run the risk of having what is called "Impermanent Loss" which is simply the change in value of any of the tokens placed in the fund from the time the liquidity was added, so this is something to pay close attention to, but if we manage to analyze it well, it can bring us good daily, weekly and monthly returns.
To talk more in detail about this, I will make a tutorial, because, if I do it in this post, it could become really long, but I hope that the idea and the way in which it is earned has been clear, you can also leave me your doubts in the comments.

Investing in SPS (Splintershards)

Official Image of "Splinterlands
I imagine that most of you have already seen this, but, this way of earning by investing in SPS is the one that in my opinion in the long term, will give the highest returns of all the ways and ways that exist to generate income with "Splinterlands", the reason is because the SPS is the governance token of the project and is a fundamental and priority piece in the whole ecosystem in general, so yes, buying SPS is one of the ways to earn money in "Splinterlands", however, we should not do it disproportionately, for everything we must have a plan, and in a past post, I talked about my personal investment strategy where I apply what is called DCA, if you want to know about it, I recommend you to [CLICK HERE](https: //peakd. com/hive-140217/@lenonmc21/analysis-of-the-main-splinterlands) and see what it is all about.
---
SPS Staking
On the other hand, it is not only about investing in SPS and wait for its revaluation, because there are ways to put our SPS to work to generate even more SPS, not only we have the "Liquidity Pools" that I mentioned before, we also have the "Stake" section in our personal "Dashboard" directly in the game, where we can place our SPS in "Staking", to generate even more SPS with daily, weekly and monthly frequency and additionally generate the token called "VOUCHER", which is extremely important for the economy of the game.
In this way, we can passively generate more SPS, to wait for this to take the real value it deserves according to the importance it has for the ecosystem and in turn generate VOUCHER that can serve us to participate in numerous presales that can make "Splinterlands", since this is basically necessary for all presales in the game, in addition to the presales talked about in the first part of this series.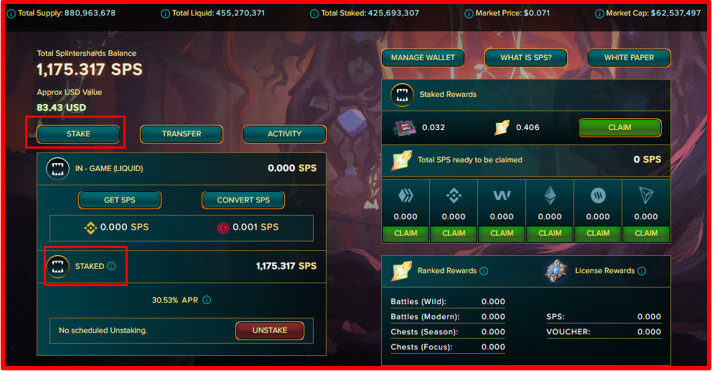 Image of my Dashboard of "Splinterlands".

Investing in VOUCHER


Image from "Splintercards.com".
VOUCHERS are a fundamental piece of the economy in "Splinterlands", the reason is because this token is widely used especially in the "Presales" that the game team is launching, so, if we want to participate in them, we must necessarily have "VOUCHER" in our wallets, so, taking this into account, VOUCHERS are a good investment because of 2 things that I will describe below:
Participate in pre-sales: I already commented it before, in fact, this is one of the ways to earn that I described in the 1st part of this series of post, remembering that, the assets of the game are mostly if not all "Limited", this means that it is very fruitful in the medium and long term, to obtain any of these as an investor who waits for every scarce asset to revalue to be able to sell it later.

It is a token: This is the 2nd reason why the VOUCHER is an excellent investment speculatively speaking, what I mean is that, it is traded on a marketplace, on "Hive-Engine" to be exact, and as of today at the time of writing this post each VOUCHER token has a value of $0.38, but it is constantly being burned and more when pre-sales take place, in fact, weeks ago, the token managed to be worth $1.00, just with "Riftwatchers" was about to go on pre-sale.
So, the idea of this is to prepare for both scenarios, to have for the "Presales" and additionally to speculate with them, with the objective of selling them more expensive than what of course it cost us to buy them.

Conclusion

I hope this post has been very helpful and supportive for new users who are coming to the platform and the game, with this couple of post I have published so far, you have an idea what are the main ways to generate income in "Splinterlands", so there are many ways to diversify the capital you are saving for the game, however, I must clarify that everything will depend on what strategy you decide to use or what profile you want to have in the game, as there are many possibilities.
Without anything else to say, I will leave this post until here, without mentioning before, that I am at your disposal to explain the operation of these methods, in fact, I mentioned that I may possibly make a tutorial on how to properly take advantage of the "Liquidity Funds".
Without further ado, see you next time warriors.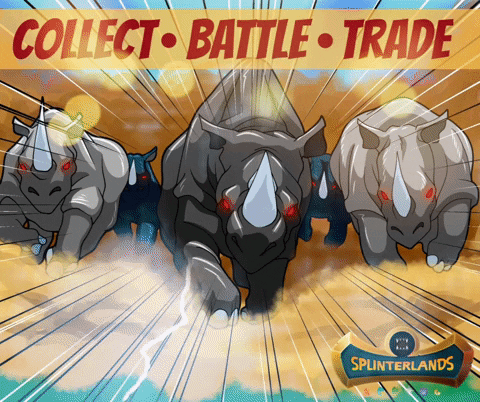 If you are new, I invite you to register in this LINK
---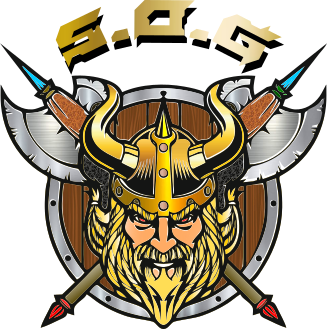 Proud Member of "Shield of Glory".
---

Join the Discord Official community server in English
---
---