0% Deposit Fee Day is Live for the Next 24 Hours! | Farming, Dens and Composable Contract Updates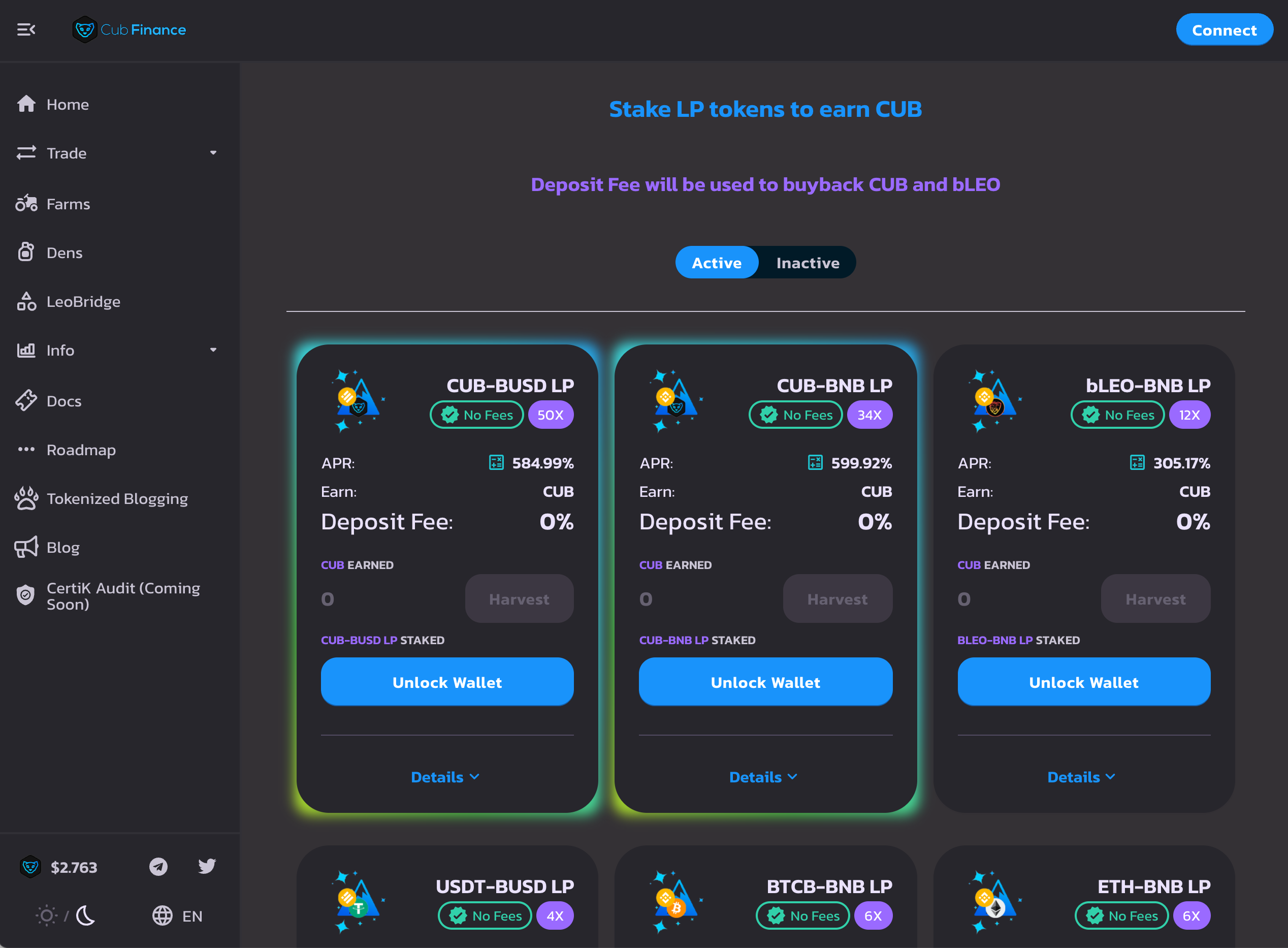 As discussed over the past several days, we made some key changes to the farming dynamics on Cub. These changes cut back on the Farm/Den offerings available currently on the site.
Many of these changes were made with two goals in mind:
Increase the multipliers on CUB-BUSD, CUB-BNB and CUB
Make room for Cub Kingdoms which launch in ~1 week
Kingdoms will bring composable DeFi contracts into the Cub Finance platform. Alongside LeoBridge, these two developments will set Cub far apart from all other platforms of its kind. We've yet to see any other platform integrate the 3 core features of "standard" farming, composable autocompounding and a seamless cross-blockchain swap contract.
Needless to say, in the next two weeks CUB will be unrecognizable relative to the platform you see today. We cut down on the options today to make room for these incredibly versatile and value-add contracts that we're bringing into the platform which will also drive continual management fees back to the CUB treasury.
0% Deposit Fee Day!
CUB-BUSD, CUB-BNB and CUB always have 0% deposit fees but for the next 24 hours, all farms and dens have 0% deposit fees as well.
We implemented this to smooth the transition out of inactivated Farms/Dens and back into activated farms and dens. We'll likely leave this window open for about 24-28 hours to give everyone the chance to reorganize liquidity without paying additional fees.
After the 24 hour window, we'll reintroduce the deposit fee on everything except for CUB related farms/dens. We may reduce the deposit fee from 4 to 2% (also in preparation for Kingdoms and due to the changing market landscape). More details on this soon ™️
CUB-BUSD, CUB-BNB and CUB Incrased APRs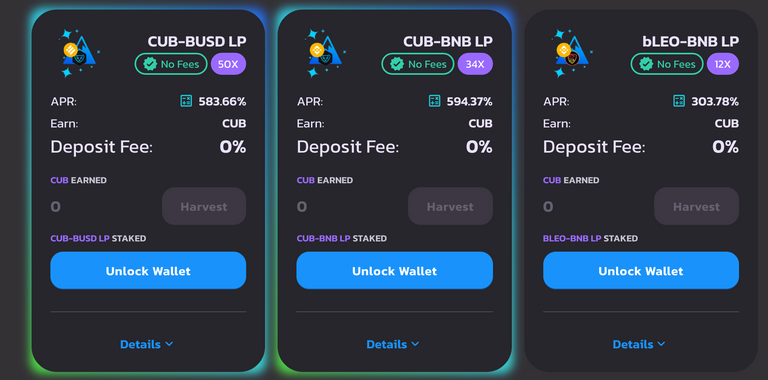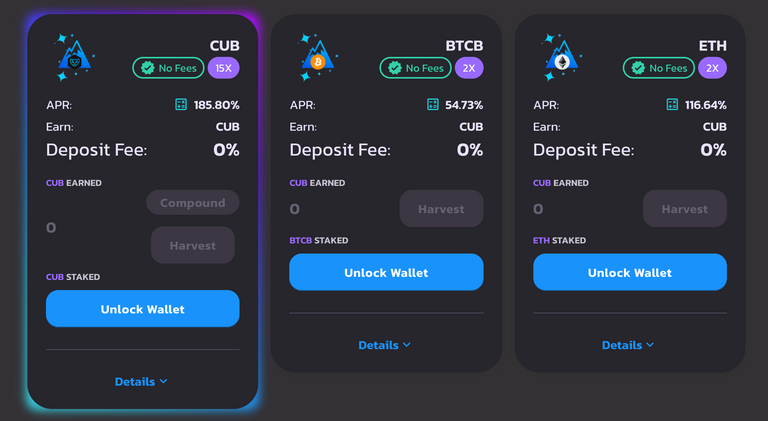 We increased the APRs on CUB-BUSD, CUB-BNB and CUB by redirecting the multipliers from inactive dens to the 3 core vaults.
When Kingdoms are released, there will be another small reorganization - but remember, Kingdoms are composable contracts. They pool liquidity on other platforms to utilize the farming APY from those platforms. Then the Kingdom contract stacks a small multiplier on top of that to create a stacked APY.
A good example of this in action is the Autofarm platform on BSC.
Edit: 0% deposit fee is likely to drive us to ATHs in Total Value Locked. A lot of BSC capital will flow in during this time knowing they have an opportunity to enter with no fees. TVL is already up $1m since the 0% depo fee went live about 30 minutes ago.

LeoFinance is a blockchain-based social media community that builds innovative applications on the Hive, BSC and ETH blockchains. Our flagship application: LeoFinance.io allows users and creators to engage and share content on the blockchain while earning cryptocurrency rewards.
Earn a 16% APR on HIVE POWER and Support LeoInfra's Onboarding Efforts by Delegating HP to @leo.voter (Currently at 3M HP). We Use this to Claim Accounts and Delegate RCs to Newly Onboarded Users + Daily LEO Payouts to Delegators
Posted Using LeoFinance Beta
---
---