CUB | Kingdoms Phase-Out and CUB is Flipping Deflationary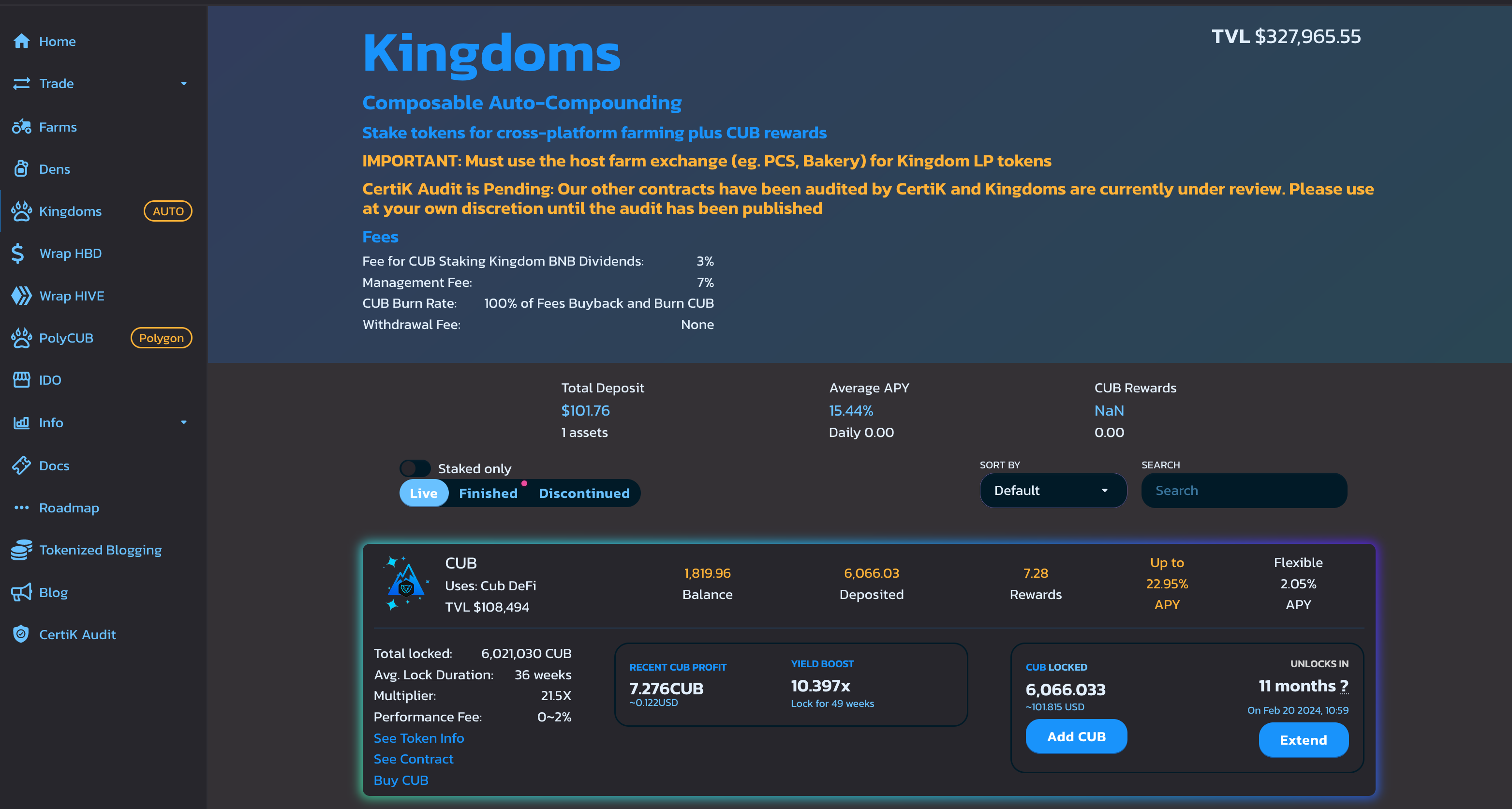 ICYMI, we posted earlier this week talking about the strategy for CUB moving forward. We gave a bit of history behind CUB and our long-term goal in building an amazing decentralized finance platform.
It all started 2 years ago - actually almost exactly 2 years ago on March 8th, 2021 - when we had a vision to venture out into the world of DeFi and build a platform for sustainable, reliable and growing yield.
The DeFi craze showed us all that it's so incredible to earn yield on your crypto assets.
The problem? It's unsustainable af. We set out to solve that problem. Through the past 2 years, we've tried all sorts of mechanisms in an aim to build something that could stand completely apart from the rest of the industry.
A truly sustainable, reliable and growing platform.
This has proven to be incredibly arduous. One of the hardest things we've set out to achieve as a community and ecosystem.
Kingdoms
Kingdoms were one notch in that ladder. We built Kingdoms to generate management fees. Those management fees were autonomously collected by the CUB DAO Contract, where it would buy CUB and burn it every time a user harvested rewards.
This was really cool. The autocompounding nature of the contracts got everyone excited.
They were also super complicated. They have a heavy reliance on other platforms. When another platform would change even their API endpoints, we'd run into all sorts of issues on our frontend.
And as the years have passed, platforms also started deploying new contracts and changing fundamental structures within themselves.
Needless to say, we've spend so much team time on these contracts and that has been a horrendous thing to deal with.
Kingdoms are a really great idea in theory but in practice, they simply don't generate enough fees to even be worth maintaining.
That is one of the two main reaosns why we decided to phase out of Kingdoms. As of today, Kingdoms no longer earn rewards from CUB.
The only Kingdom that remains is the CUB Variable Staking Kingdom.
In the long-run, we will move this to its own page in the upcoming CUB UI re-design.
If you are holding assets in any of the Kingdoms, make sure to head to https://cubdefi.com/kingdoms and withdrawal. There's no time limit, but you are no longer earning any CUB rewards, so we'd recommend withdrawing and moving to the base contract of those platforms or consider the bHBD & bHIVE pools.
---
IMPORTANT NOTE PLEASE READ: the UI will show 0 rewards for your CUB rewards portion of your Kingdoms position. This is ONLY a UI thing. It's because the removal of the CUB Kingdoms contract no longer allows the UI to see your rewards.
That being said, your rewards ARE STILL THERE. So if you withdraw, you'll see the CUB from your previous time in the pool enter your wallet. Do not worry about not getting the rewards you are owed, they are all held in the smart contract. Again, the UI simply can no longer see them. So just withdrawal and then get both your LP assets + CUB owed from previous harvests.
---
bHBD and bHIVE
Our focus is now 100% on building bHBD and bHIVE liquidity and activity. It's amazing to see what the arbitrage, staking and wrapping revenues have done for CUB.
The original idea for Kingdoms is that management fees would allow the DAO to buyback and burn more CUB than it paid out. Obviously, this wasn't feasible in reality. It would have taken hundreds of millions of dollars in deposits to even get close to having a shot at this.
With bHBD and bHIVE, we're already flipped deflationary as of this month.
We posted a tweet earlier: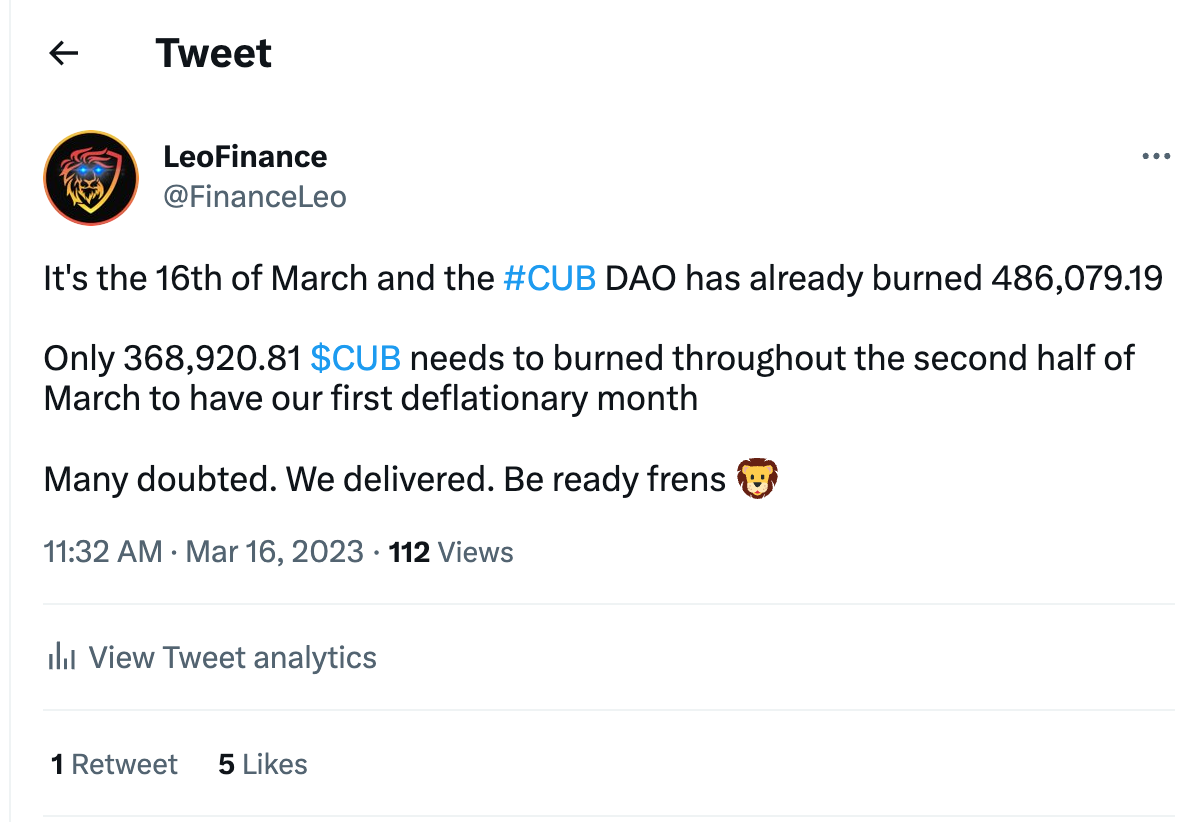 If you check the on-chain DAO burns: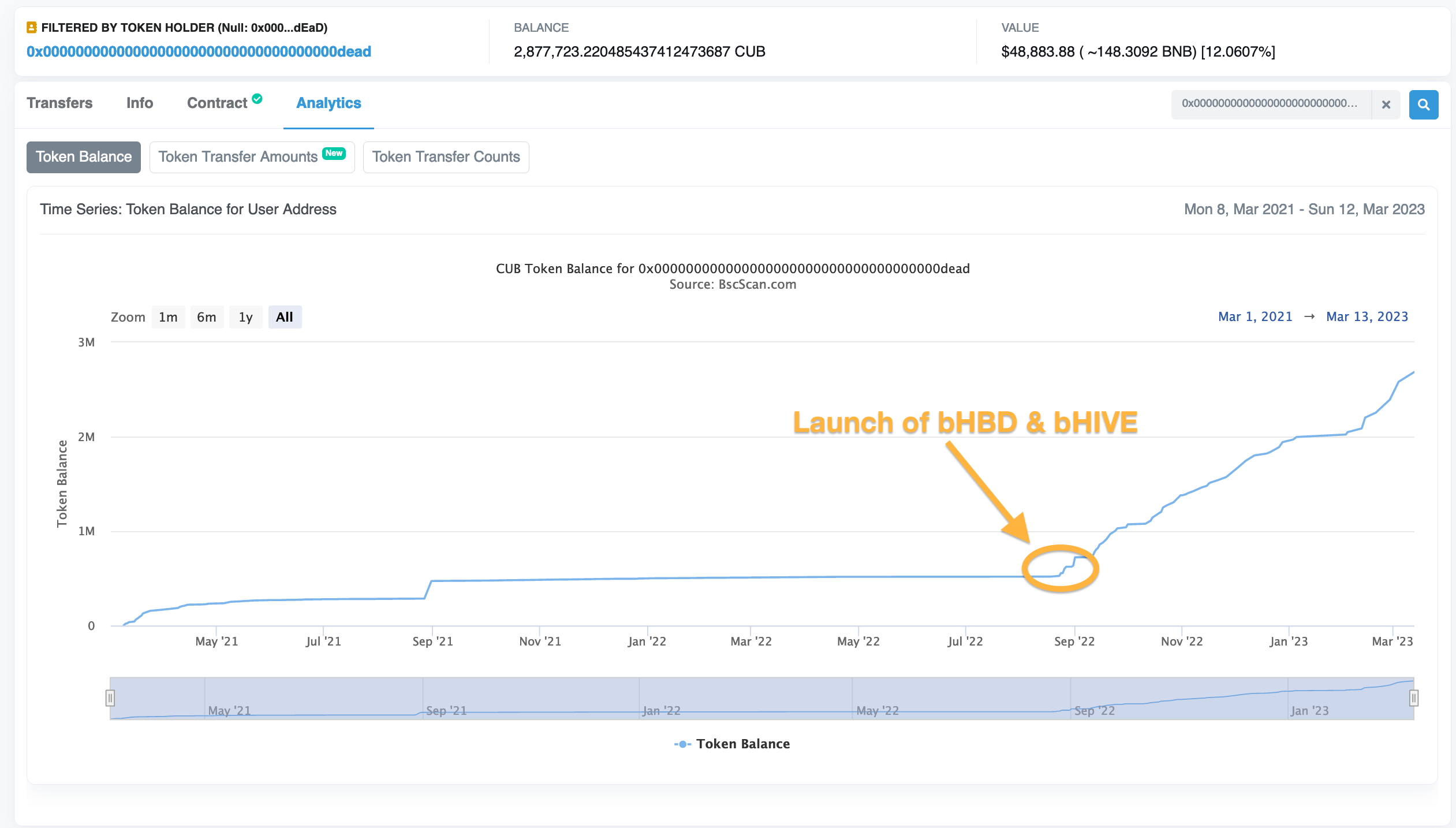 We're halfway through the month and have burned 56.85% of the CUB issued this month. This means that come end of March, 855,000 CUB will have been issued and more than 855,000 CUB will have been burned.
The past 14 days on CUB have been deflationary. The next 14 days are on pace to be deflationary as well.
One thing you can quickly glance at on CUB is that there are about 21,000,000 total circulating CUBs.
If you watch this number throughout this month, see if it goes above 21M or ends the month less than 21M.

Kind of an interesting little coincidence that it also happens to be the same 21M total tokens as BTCs total max supply. Obviously there's no meaning there, just a funny coincidence.
See y'all on the moon 🦁 and happy LPUD yesterday.... an amazing # of users powered up and an even more amazing total amount of LEO powered up.

About LeoFinance
LeoFinance is a blockchain-based Web3 community that builds innovative applications on the Hive, BSC, ETH and Polygon blockchains. Our flagship application: LeoFinance.io allows users and creators to engage & share micro and long-form content on the blockchain while earning cryptocurrency rewards.
Our mission is to democratize financial knowledge and access with Web3.
Twitter: https://twitter.com/FinanceLeo
Discord: https://discord.gg/E4jePHe
Whitepaper: https://whitepaper.leofinance.io
Our Hive Applications
Join Web3: https://leofinance.io/
Microblog on Hive: https://leofinance.io/threads
LeoMobile (IOS): https://testflight.apple.com/join/cskYPK1a
LeoMobile (Android): https://play.google.com/store/apps/details?id=io.leofi.mobile
Delegate HIVE POWER: Earn 16% APR, Paid Daily. Currently @ 2.8M HP
Hivestats: https://hivestats.io
LeoDex: https://leodex.io
LeoFi: https://leofi.io
BSC HBD (bHBD): https://wleo.io/hbd-bsc/
BSC HIVE (bHIVE): https://wleo.io/hive-bsc/
Earn 50%+ APR on HIVE/HBD: https://cubdefi.com/farms
Web3 & DeFi
Web3 is about more than social media. It encompasses a personal revolution in financial awareness and data ownership. We've merged the two with our Social Apps and our DeFi Apps:
CubFinance (BSC): https://cubdefi.com
PolyCUB (Polygon): https://polycub.com
Multi-Token Bridge (Bridge HIVE, HBD, LEO): https://wleo.io
Posted Using LeoFinance Beta
---
---