Introducing CUB's Decentralized IDO Launchpad: Economics, Impacts and How to Participate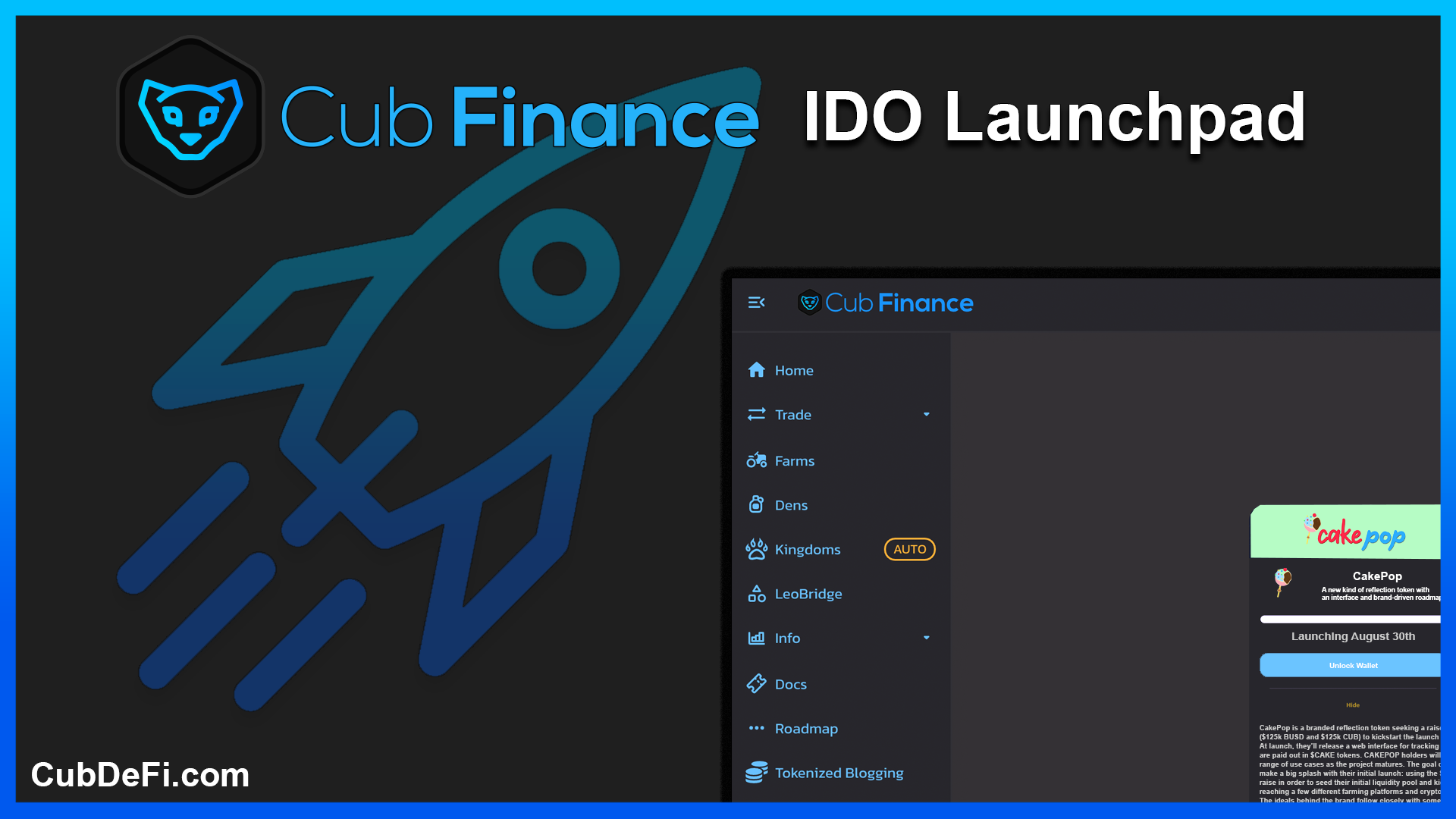 What's an IDO Launchpad?
The term IDO is quite similar to some other cyclical launch structures that the crypto industry has seen over the years (i.e. ICO, IEO, etc.).
IDO stands for Initial DEX Offering and essentially allows anyone to launch a token and gain:
Initial liquidity
Access to a community
A launchpad to begin their project
Launchpads are becoming increasingly important as new projects are popping up all over the place in the crypto industry right now.
What's more, there are new tokens actually popping up claiming to be "launchpad tokens" that will serve the same purpose that we are building here into CUB.
Such is the function of our development: continually find the latest and greatest features that are gaining traction in crypto and look for ways to incorporate them at every layer within our own community (LEO & CUB) versus launching new token after new token to create a shiny object effect. More on this later in today's post.
First Decentralized IDO On CubFinance: $CAKEPOP Token Launch  -  Strategic Partnership With CubFinance
The Difference Maker - CUB IDO Launchpad
CUB is a somewhat mid-sized platform in DeFi. We're not the biggest platform but we're also far from the smallest platform in terms of TVL.
This said, the difference maker for CUB is our LeoFinance community. Our community is extremely engaged and projects love to see that. As much as projects are looking for TVL and the ability to raise funds, they're also looking for real and engaged users to back their new project, talk about it on social media, etc.
Our community is incredibly impactful in this sense. It's what drove these first few IDOs to our project as soon as the Launchpad was announced as under development and we believe that it will drive a very large number of projects down the line - especially as these first 3 IDOs are successfully fulfilled and under the belt of our community.
Why is It Important For CUB?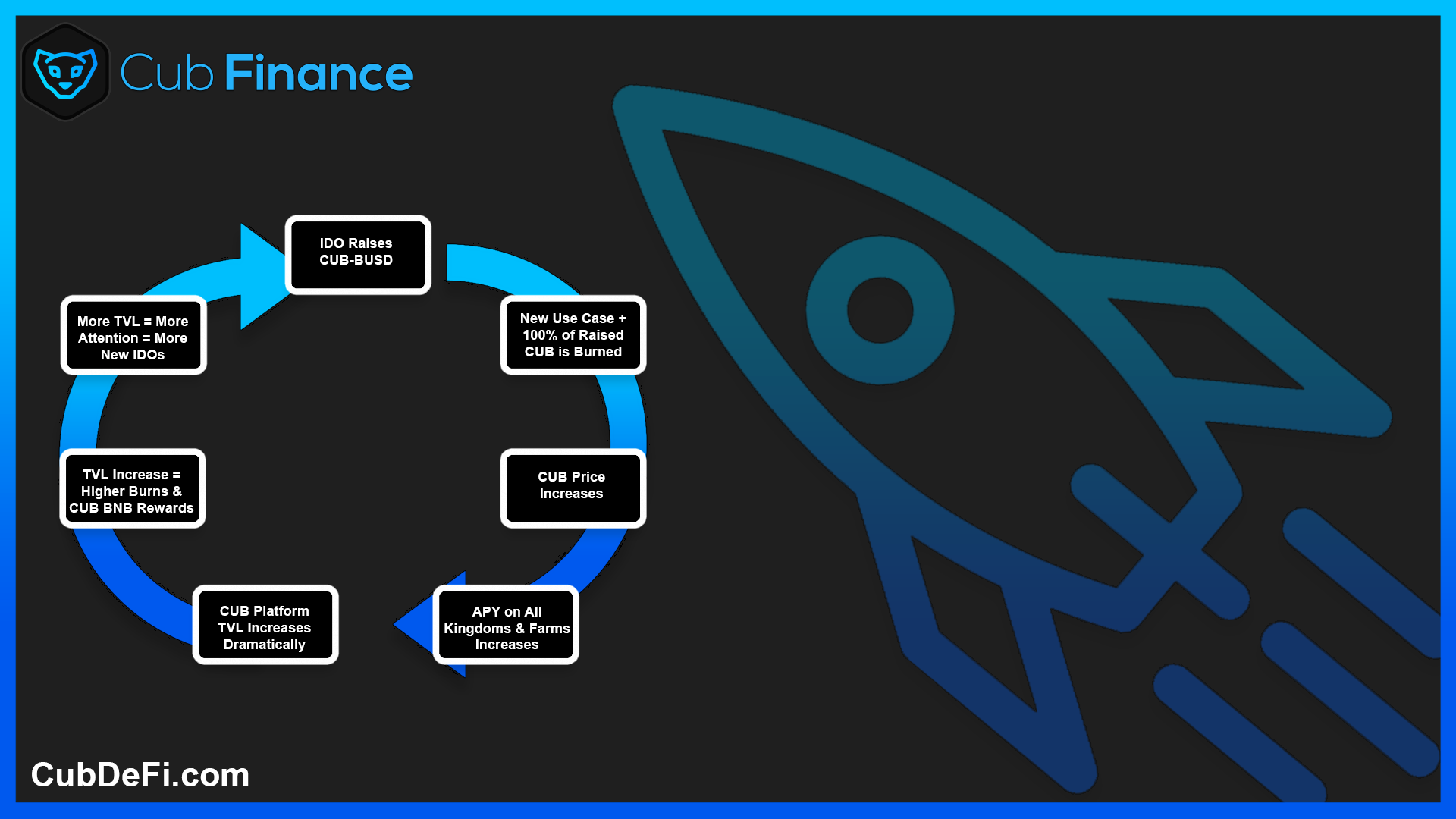 You may ask: what's the point of an IDO? Why should we host other projects on the CUB platform and give them both a voice and access to CUB-based capital. What does CUB really get in return?
As discussed since the very beginning of CUB - our goal is and always will be to expand the scope and scale of the LeoFinance ecosystem. This expansion entails growth from a width and depth perspective. We're looking for more users (width) and we're also looking to significantly grow the utility within our project (depth).
Creating an IDO Launchpad on top of the CubFinance ecosystem creates a number of impactful effects:
New potential users
New utility for the CUB token
New opportunities (deeper incentives) for our existing community
New Potential Users
When a project uses the CUB IDO Launchpad, they're hoping to gain access both to CUB-based capital and our CUB-based community. They're looking for a raise and for engagement in their new project.
Many projects already have some degree of following. Even if they don't, their ambition is to gain a following and build their own community. By using the CUB launchpad, they're gaining access to our community but we're also gaining access to whatever following they currently have and whatever following they may gain down the line.
Creating this launchpad is as much about creating utility for the CUB token via burns as it is about collaborating with new, up and coming projects that have the potential to bring LeoFinance new users over time.
New Utility for the CUB Token
Speaking of new utility: the 4 IDO models we've designed are all intended to drive massive utility to the CUB token. Using the CUB Launchpad isn't free. It costs CUB to gain access to CUB-based capital and our community.
The CUB doesn't come out of pocket for the new project looking to gain initial liquidity. Instead, it comes in the form of the raise itself.
For example, the CAKEPOP raise is utilizing our first IDO Model: based on the PancakeSwap IFO model. In order to participate in the CAKEPOP IDO on CUB's Launchpad, you need to deposit CUB-BUSD LPv2 tokens.
The project that initiated the IDO (CakePop, in this example) receives the BUSD portion of the IDO. The CUB portion of the sale is sent to 0xDead (the BSC burn address).
Project gains seed capital for their initial liquidity pool
CubFinance ecosystem raises CUB for a massive burn event
In the case of the CAKEPOP IDO, $125,000 worth of CUB is going to be burned (189,393 CUB tokens at current prices - or 3.5% of the total CUB supply)
Note: the total current CUB burned is 285,605 CUB. This 1 IDO will nearly double the amount of CUB that's been burned since the launch of the platform.
Keep in mind that CAKEPOP is also the smallest of the 3 IDOs. They're building an interesting brand behind this reflection token but they're also giving us a great opportunity to see the impact of an IDO and test it out on a slightly smaller scale.
The next 2 IDOs are scheduled to raise anywhere from $2M - $5M. The amount of CUB getting burned just in these first 3 IDOs is mindboggling. Getting this first, smaller IDO under our belts will show us the true impact of creating a Launchpad product to compliment our new CUB Kingdoms setup.
Tokenomic Impacts: Liquidity Black Hole Theory
That theory we've all heard so much about - it applies to CUB's launchpad as well:
CUB-BUSD is raised for XYZ IDO
Massive amounts of CUB are burned
CUB Price increases
APY on all Kingdoms & Farms increases
TVL on CubFinance increases (since APYs are exponentially more attractive to outside capital)
TVL increase = higher CUB burns & BNB rewards for CUB Kingdom stakers
More TVL = more attention = more new IDOs looking to utilize CUB's decentralized launchpad contract
🔁
Aren't All LaunchPad Tokens Shitcoins?
There are good and bad aspects of adding this Launchpad contract to the CubFinance ecosystem. We've outlined a lot of the good impacts here in this post.
As with anything in Crypto/especially DeFi - there will be shitcoins. There will be scams. There will be tokens that downright don't deserve to see the light of day.
In a few of the podcasts & AMAs, we've talked about the idea of Yolo Kingdoms. These are Kingdoms on emerging platforms that are potentially filled with risk but also filled with high APYs and upside.
Whether you look at Autofarm or Adamant Finance, etc. there are many platforms out there that are simply seeking to provide their community with the tools and opportunities of DeFi. How you choose to utilize those decentralized tools is completely up to you.
We currently have 3 scheduled IDOs, a 4th in talks and likely many many more in the coming months. The CUB Contract provides these prospective IDO Projects with the tools to reach the LeoFinance community but at the end of the day, it is up to you the user to decide what is worth your attention and capital.
As with everything in crypto: DYOR, not financial advice, risk what you're willing to lose, etc. etc. The CUB ecosystem is rapidly expanding now and in the future. That expansion will never stop and our goal as a community project is simply to provide the leverage to the community: tools, resources, knowledge, accessibility.
With risk comes upside. That is the world we've all chosen to be in when it comes to crypto & DeFi! Act according to your own portfolio strategies and risk tolerance. There's nothing wrong with sitting in the CUB Kingdom and never touching an IDO and there's also nothing wrong with throwing a few CUBs around to play with participating in these new projects that are utilizing the CUB Launchpad contract.
How to Participate in the 3 Upcoming IDOs: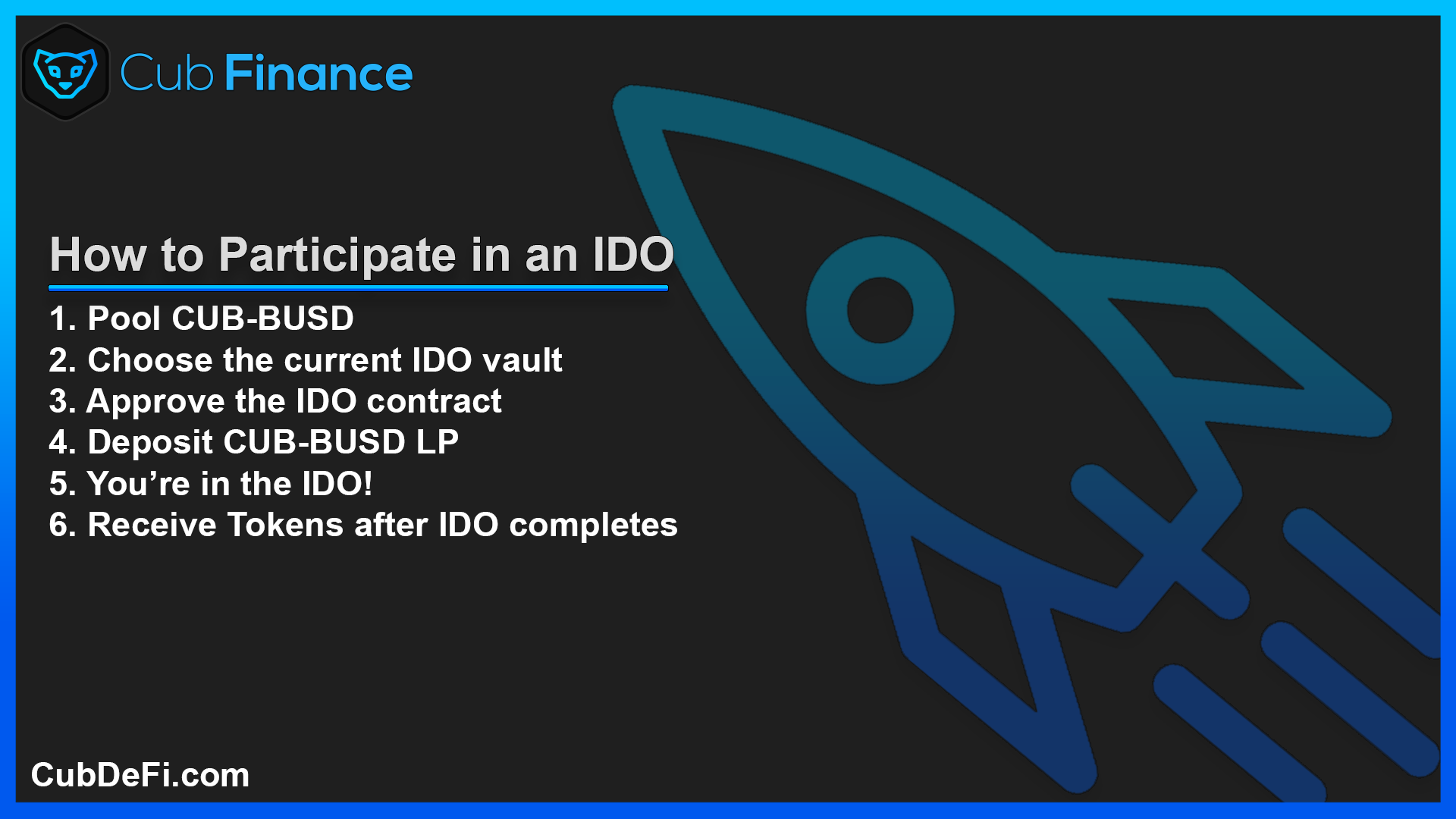 What You'll Need:
It's very easy to participate in the CUB-based IDO Launchpad contract. Before the IDOs launch, CubDeFi.com/ido will become available. This new page will feature the current and upcoming vaults that will be utilized in each IDO.
On IDO day, the approve & deposit button will become available.
These vaults work extremely similar to current /farms vaults on CubDeFi. Pool CUB-BUSD tokens (this time on Pancakeswap) and then deposit those CUB-BUSD LP Tokens into the new IDO vault.
The IDO round will complete at a predefined block using the overflow method. If more than the preset amount ($250k in the case of CAKEPOP) is raised, then each participant will receive a proportional share in the total amount of tokens allocated for the raise. Any funds over the cap will be returned to each user's wallet automatically once the IDO is completed.
We chose the overflow contract method because it gives every user a fair opportunity to participate. IDOs are often dominated by whales and sniping bots. This method allows everyone to deposit and gain equal opportunity to the new token in the Launchpad.
Prior and on launch day, there will be many official and community-created guides on how to participate. All you'll need are CUB-BUSD tokens:
Pool CUB-BUSD on PancakeSwap
Head over to the cubdefi.com/ido page (not yet live)
Choose the current IDO vault (CAKEPOP for IDO #1)
Approve the IDO contract to spend your CUB-BUSD LP Tokens
Deposit CUB-BUSD LP Tokens
You're in the IDO!
Once the IDO completes, you'll receive your proportional share of IDO tokens. If the raise is overcommited, you'll receive your share of IDO tokens less any overfilled amount. All of your un-utilized CUB-BUSD LP Tokens will be returned to your wallet automatically
A New Future for CUB
CUB is entering a new kind of future. The first stage of CUB was to simply launch a liquidity platform like GooseDeFi and other projects.
As we realized that model was unsustainable, we began redesigning the entire platform and migrated to a whole new set of liquidity mining contracts. Autocompounding, cross-platform mining.
With sustainable yield farming in place, we began to look for ways to exponentially grow not only the market value of CUB but also the opportunities for the existing LeoFinance community and for ways to expand our community outreach. Find new users, develop new relationships, collaborate and build deep value capture for the CUB token.

LeoFinance is a blockchain-based social media community that builds innovative applications on the Hive, BSC and ETH blockchains. Our flagship application: LeoFinance.io allows users and creators to engage and share content on the blockchain while earning cryptocurrency rewards.
Earn a 16% APR on HIVE POWER and Support LeoInfra's Onboarding Efforts by Delegating HP to @leo.voter (Currently at 2M HP). We Use this to Claim Accounts and Delegate RCs to Newly Onboarded Users + Daily LEO Payouts to Delegators
Posted Using LeoFinance Beta
---
---