LEO Crosses $0.35 | New All-Time High, Geyser Yields and What's Next
The (re)launch of Wrapped LEO (WLEO) had a great deal of excitement attached to it. Not only did we get our ERC20 bridge setup, but we also created a whole new set of interesting dynamics for the LEO token economy:
Geyser Yield (DeFi)
Deep Uniswap Pool (For Traders)
Liquidity Black Hole Theory
Cross-Chain Ops
Dynamic Market Depth
These tokenomics have led to a rapid rise in the LEO price. Since the launch of WLEO on Uniswap (On November 15th), we've risen from $0.19 to today's new ATH of $0.35.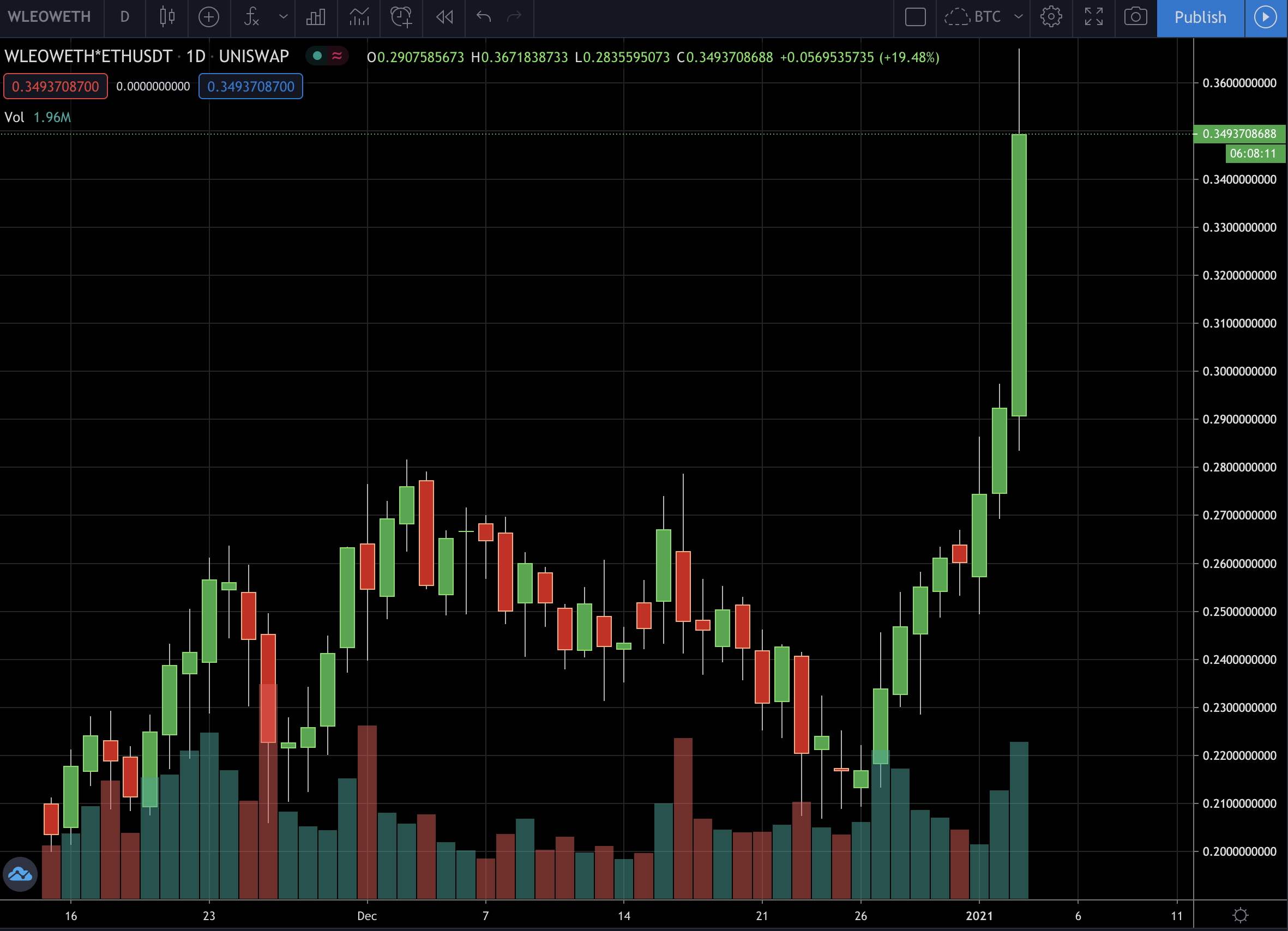 We've also just hit a milestone on Hive-Engine. 1 LEO now = 3 HIVE.
Geyser Yields
Geyser yields have been skyrocketing lately. As the value of LEO rises, the USD value of geyser payouts also rises.
Similarly, as the LEO/USD price rises, curation rewards also rise.
In short, a rising price is a good thing for engagement on https://leofinance.io as well as liquidity providers on our Uniswap pool and curators who hold LEO POWER in their Hive wallets.
Here is a screenshot of @nealmcspadden's LP position (since I like to use him as a guinea pig):

He's up 97.06% in net market gains since he put ETH and WLEO into the Uniswap pool. The kicker is that this doesn't include his Geyser rewards.
His last Geyser payout was 1312.973 LEO which (at current price levels) is valued at $459.54. His next Geyser payout should be slightly more LEO (or roughly the same amount ~1312) for this next month period. These yield payouts occur in about 9 days.
This puts his total gains so far at $17,772.73 USD since he entered the pool on November 15th.
His original position value:

In total, Neal is up 99.64% on his original LP position in just about 50 days of being a liquidity provider. It will be interesting to see where his position stands after the Month 2 Geyser LP rewards are distributed.
LeoFi, LeoFinance and the Future
We're working on a series of updates now. The team is bigger than ever in terms of who's working on the project simultaneously.
What this means is that we're building several different aspects of the LeoFinance project all at once. The Lightning DB will be our next major release (in less than a week after we finish the final tests). LeoFi is one of our next major projects after that which will be launched closely alongside project ___ and a number of other things that we're building right now.
All 3 of these have different devs working on them simultaneously. This allows us to crank out the releases faster than we normally could in 2020.
Many community members are asking for more info and updates on all of these different projects. For the last few weeks, I've been writing an extensive post for the whole community. The current word count is now over 30,000 words and climbing.
We've got a lot of projects launching in 2021 and I want to make sure that we have a singular place that we can send people to when they want to learn about what LeoFinance is and what we're aiming to accomplish with our roadmap for the years to come.
One of the #1 questions right now is "wen snapshot/airdrop date?" We're still in the early stages of preparing project ____. As it gets closer, we'll announce the important details (snapshot date, airdrop date, app release, etc.). Most are worried that they'll somehow miss the snapshot date. Don't worry, you'll have plenty of time to get your additional power ups in before the snapshot occurs. The announcement announcing the snapshot announcement hasn't even gone live yet!
This update is just a quick milestone and congratulations to everyone in the LeoFinance community. We accomplished so much in 2020, but we have a lot that is yet to be accomplished in 2021 and beyond.
Stay tuned, more announcements containing future announcements are on the way 🥂
p.s. don't forget about the initiative we're running with @theycallmedan. See this post for details.

LeoFinance is a blockchain-based social media platform for Crypto & Finance content creators. Our tokenized app allows users and creators to engage and share content on the blockchain while earning cryptocurrency rewards.
Support LeoInfra's Onboarding Efforts by Delegating HP to @leo.voter (Currently at 2.4M HP). We Use this to Claim Accounts and Delegate RCs to Newly Onboarded Users
Posted Using LeoFinance Beta
---
---