LeoFinance Onboard Web2 to Web3 Initiatives: Join the LeoFinance Facebook Group, Earn 250 LEO!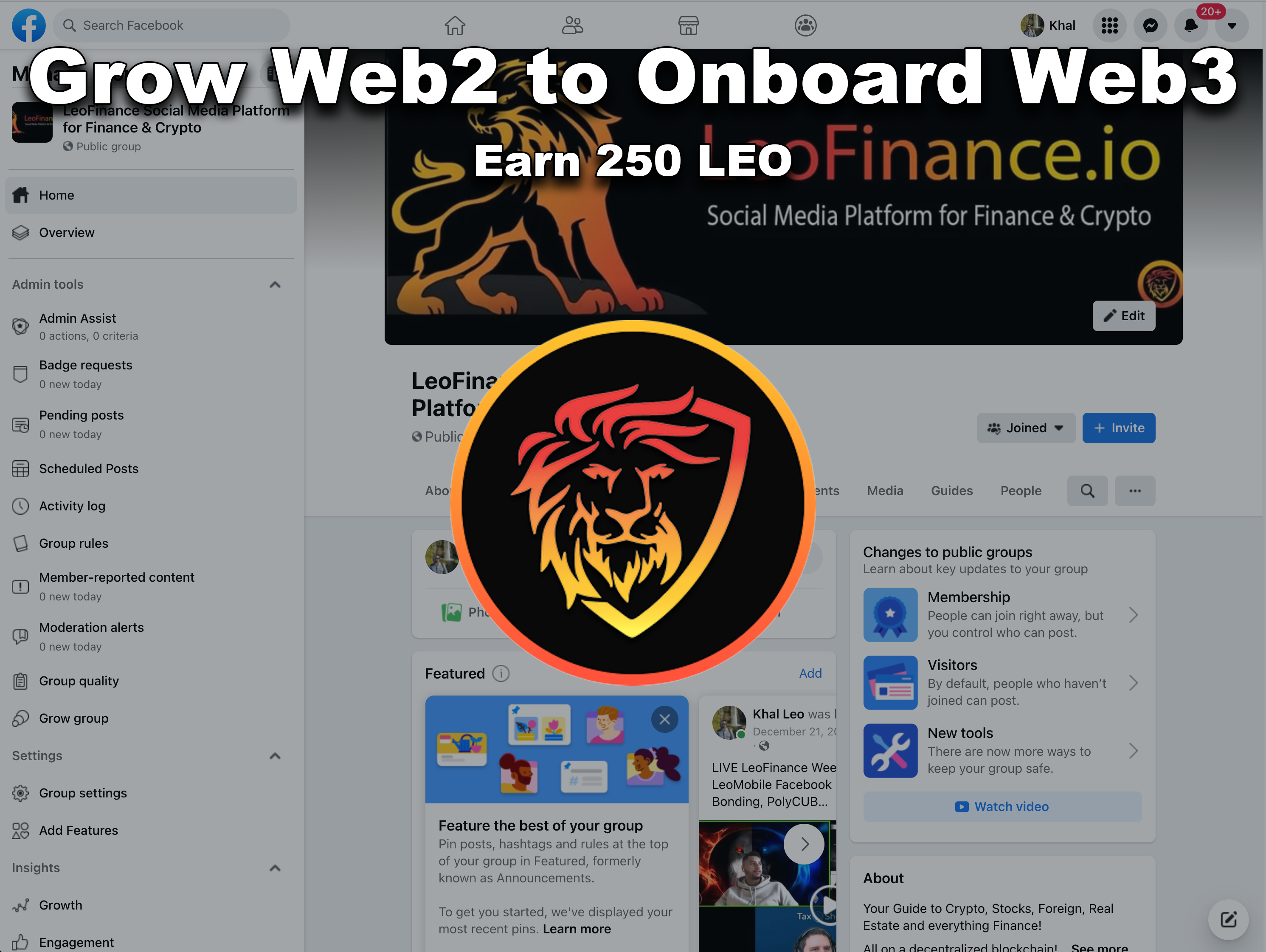 LeoFinance has been expanding our marketing operations going into the new year. Some major things you may have seen lately are the new @leofinance.io Tik Tok account, @leoalpha gaining traction, LeoPedia head of development being hired, clips on YouTube, FB Livestreaming our weekly AMAs and more!
With all of these developments on the marketing front, our aim is simple:
Fulfill our mission statement of expanding the width and depth of the LeoFinance Web3 community.
Our aim is to onboard new users to LeoFinance and keep our existing userbase engaged and excited about the future. The LeoFinance Whitebook release is imminent and we'll see that take the whole community by storm as we lay out the vision for our community in the months and years to come.
LeoFinance on Facebook Groups
Thanks to Gualter (@gualteramarelo) and Mitch (@scaredycatguide), we now have a LeoFinance Facebook Group.
So far, a few people have been posting in the group and we've been livestreaming our weekly AMA shows to it. The group is at 89 members as of this post - that is, with little marketing so far.
Growing the Group: Spread the Content
Our goal is to grow this group on Facebook and most importantly: spread the content and awareness about our Web3 community over on Web2.
How You Can Participate
We chatted with Gualter - who has built his business and following largely on Facebook Groups - to find out how we can best utilize FB Groups to grow LeoFinance.io.
He's given us a lot of amazing suggestions and it's incredible to dream up the possibilities of how we can leverage this new outlet to grow our platform.
Growing our Facebook Group can be done in a lot of ways, in this post, we'll explore what is and isn't a good way to use the LeoFinance FB Group. We hope to see the Lion Army out in full force on our FB Group to help our expansion and onboarding.
How to Post on the LeoFinance FB Group
1). Head over to https://www.facebook.com/groups/430724151867174 and join the LeoFinance FB Group
2). Click "Write Something" to get a new post started
3). Copy / Pasta some of your latest LeoFinance.io Post into the field. I like to do a few paragraphs to give enough of the post to be interesting but not so much that the full post is completely copied over: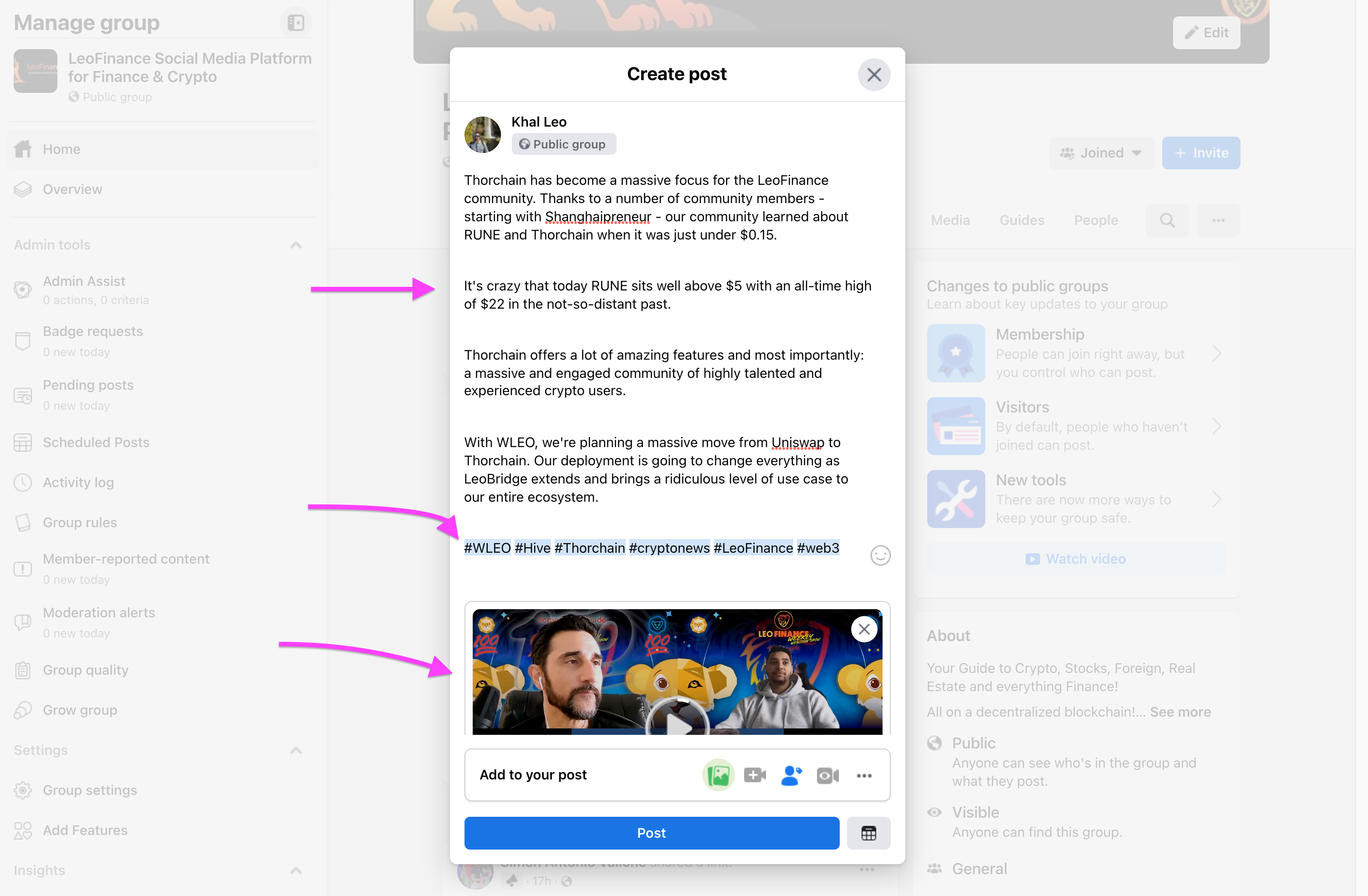 Add some tags below your content and an image or video to accompany the text.
I added a video here but taking your featured image from your LeoFinance.io post will work just as well!
4). Click Post and you're all done!
Note: I didn't add a link back to the https://leofinance.io original post that this was copy / pasta'd from.
Gualter has mentioned that FB does not like external links being shoved in this type of content. Remember that we are trying to cater to the algorithms and get this content to show in the feeds of other FB Users. To get shared regularly and be found as generally good content to a wider Web3 / Potential Crypto user audience.
Gualter has also said that as another community member, you can comment below someone else's post with a link back to the original leofinance.io post. Saying, "hey I found your post on LeoFinance diving deeper into this subject interesting... Link" (for example).
Other Ways You Can Help Grow the LeoFinance FB Group
Like other group member's content
Comment on other group member's content
Share content on other platforms / via text / to your friends
This is social media! To grow it, get social!
Our goal is simple: build Web2 to onboard to Web3.
Rewards For Participating
A few community members have been designated to keep an eye out on the LeoFinance Facebook Group. They'll be taking notes and watching out to see who is engaging consistently on LeoFinance's FB Group.
A few times per month, we'll give out LEO bounties to engaged community members who are regularly and actively participating in the LeoFinance FB Group.
We believe initiatives like this are paramount to accomplishing the LeoFinance Mission Statement:
Grow the width and depth of the LeoFinance Web3 Community.
Join the Facebook Group in the Next 7 Days and Earn 250 LEO!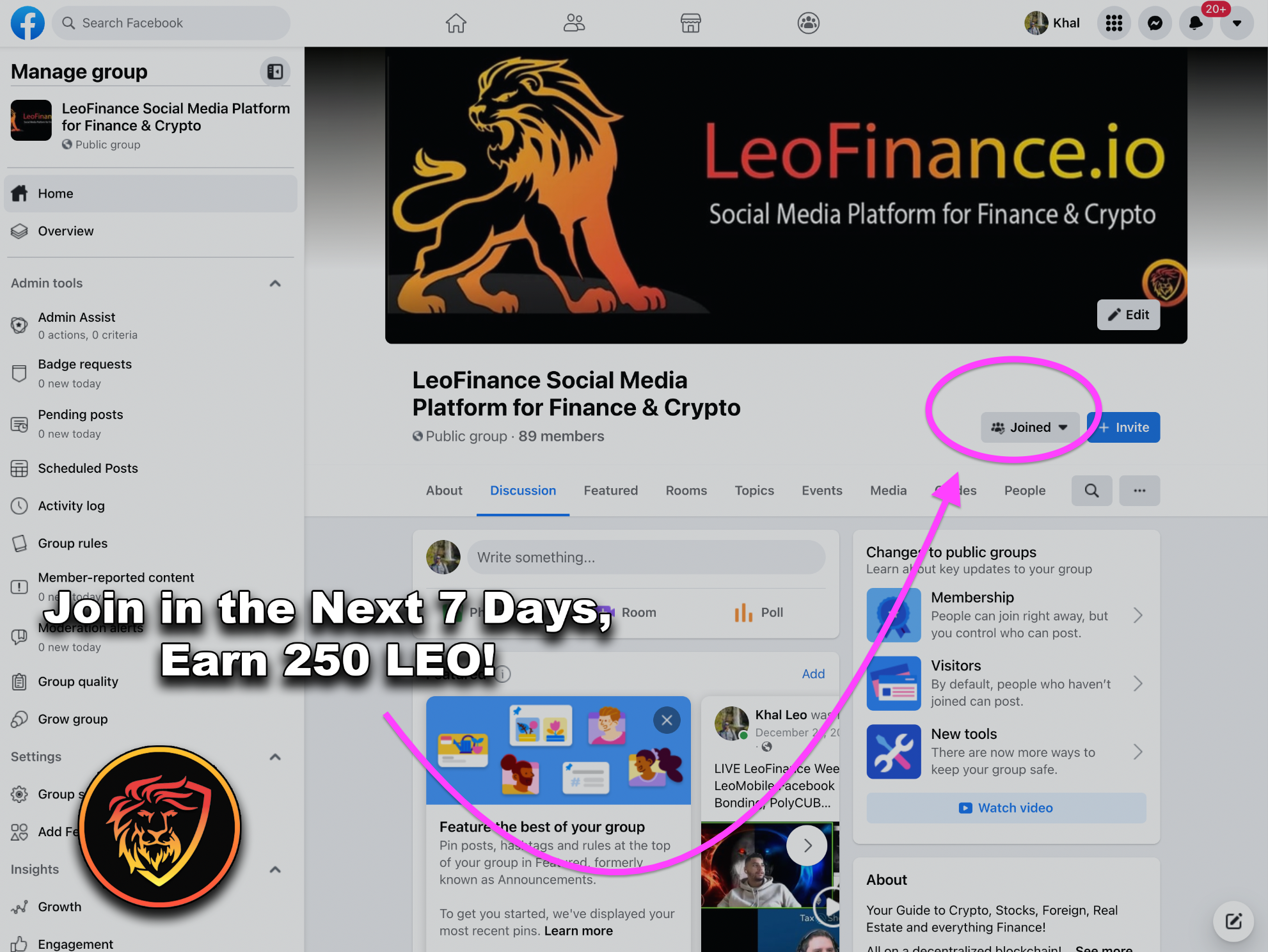 To kick things off, we'll be giving away 250 LEO to one lucky winner who joins the Facebook Group in the next 7 days (when this post reaches payout).
We'll put every new user who joins into a virtual hat and pull one name out to distribute 250 LEO to them.
Join the LeoFinance Facebook Group Today and get your name entered to win 250 LEO! https://www.facebook.com/groups/430724151867174
---
Growing LeoFinance
Expansion is the name of the game. LeoFinance has expanded so rapidly in 2021 and now into 2022 and I'm really excited to see what we can accomplish.
One of our foremost goals in 2022 is to expand the LeoFinance Community. Any initiatives we can undertake to make that happen will be considered and many (most) will be deployed if we believe they can serve that purpose!
Get out there and participate!
We also just recently deployed Facebook Hive Lite Accounts on LeoMobile... This means that any FB Users that come accross LeoFinance content and get interested enough to learn about LeoFinance can download LeoMobile and create an account in literally 30 seconds...
No Private Keys to download (right off the bat) and no fuss. Just an easy access point to Web3!

LeoFinance is a blockchain-based Web3 community that builds innovative applications on the Hive, BSC, ETH and Polygon blockchains. Our flagship application: LeoFinance.io allows users and creators to engage and share content on the blockchain while earning cryptocurrency rewards.
LeoFinance | CubFinance | Hivestats | LeoDex | LeoFi
Delegate HP & Earn 16% APR, Paid Daily. Currently @ 2M HP
---
LeoMobile Open Beta is Now Live! Join The Fastest Growing Web3 Community:
IOS / Android

Posted Using LeoFinance Beta
---
---