Our First LPUD | LEO POWER UP DAY Has Arrived! | $10,000+ in Rewards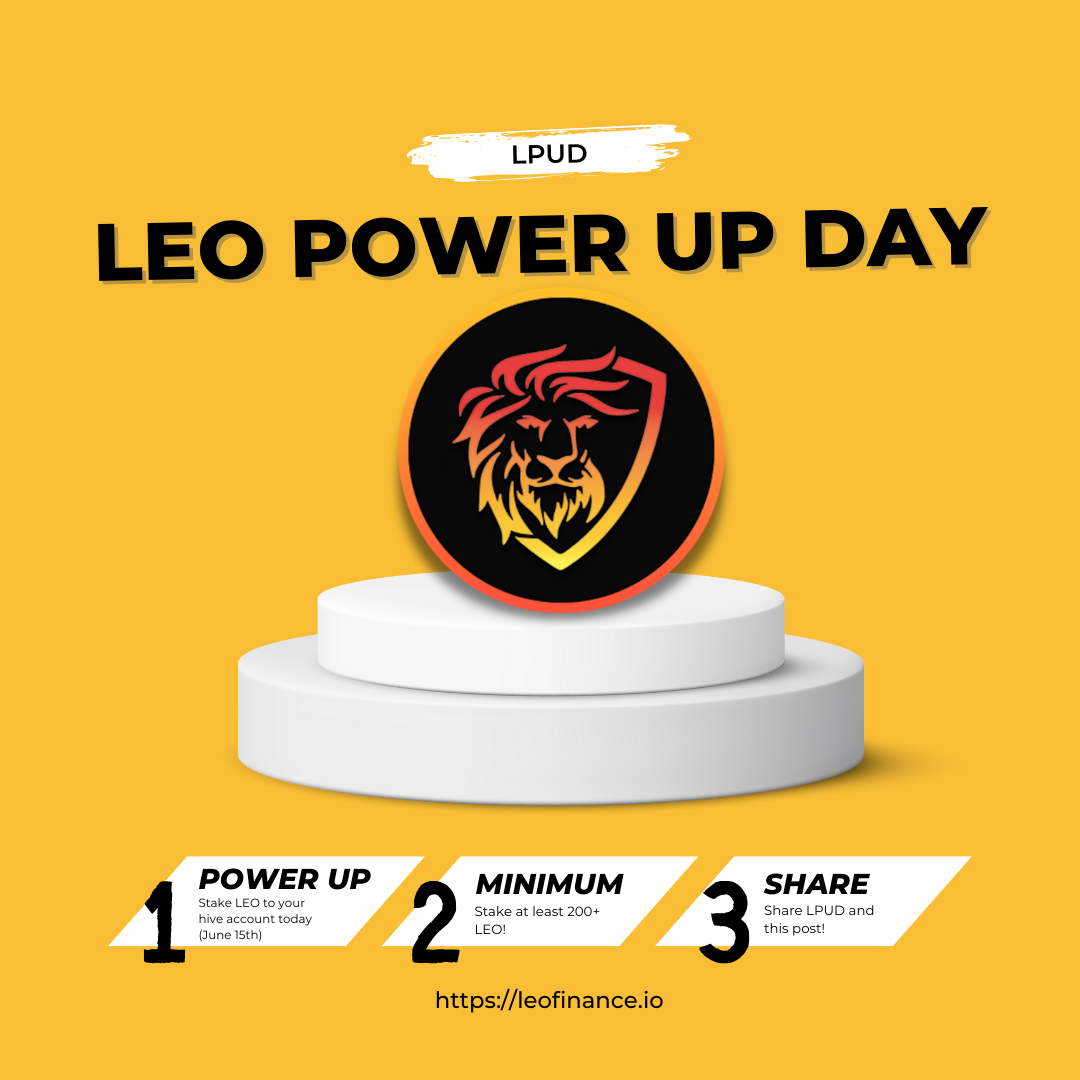 Want to win a 20,000-60,000 LEO POWER delegation? Participate in the first-ever LEO POWER UP Day and you'll be eligible to win a 20,000 LEO POWER delegation from @leogrowth!
The First LPUD
@leogrowth is run by @anomadsoul - our LeoTeam member who's in charge of Business Development and oversees a lot of growth initiatives:
LeoAmbassador program
Outreach to media outlets
.... LPUD and so many more!
He had this idea for LPUD and I think it's awesome. He reached out to so many LeoCommunity members and Hive Community members to get some prizes together and organize some awareness for LPUD.
Hive POWER UP Day (HPUD) is on the 1st of every month. @leogrowth has kickstarted LPUD and it will be on the 15th of every month. LeoGrowth is entirely in charge of LPUD and the rewards from it but this is truly a community initiative. So many people in the community have stepped up to organize this and provide extra incentives.
It's great to see everyone get involved in it. This is a time to come together, once a month, to power up LEO and show our dedication to growing stake in the platform and building our collective vision: democratizing financial knowledge and opportunities with Web3.
Some ground rules to participate in LeoPowerUpDay:
Your total Leo Power (on the 15th) must be more than 200 and less than 20k
You must power up at least 200 Leo on June 15th.
Reblog this post
Bonus Prizes
The Leo community is one of the strongest and tightest in the Hive ecosystem, and many of the users with a big Leo stack have chipped in to the prize pool to encourage you to power up Leo!
Five random users who fulfill the four requirements above will get one of the next prizes:
Bad Luck Prize
If you participate in the Leo Power Up Day initiative for three consecutive months - June, July, & August - and you don't win any prize, and you made a post about #LPUD each of those months, then you qualify for the Bad Luck Prize by @onealfa, where he will delegate 60,000 LEO tokens for three weeks to one lucky winner!
---
Read More About LPUD:

About LeoFinance
LeoFinance is a blockchain-based Web3 community that builds innovative applications on the Hive, BSC, ETH and Polygon blockchains. Our flagship application: LeoFinance.io allows users and creators to engage and share content on the blockchain while earning cryptocurrency rewards.
Our mission is to put Web3 in the palm of your hands.
Twitter: https://twitter.com/FinanceLeo
Discord: https://discord.gg/E4jePHe
Whitepaper: https://whitepaper.leofinance.io
Our Hive Applications
Join Web3: https://leofinance.io/
LeoMobile (IOS): https://testflight.apple.com/join/cskYPK1a
LeoMobile (Android): https://play.google.com/store/apps/details?id=io.leofi.mobile
Delegate HIVE POWER: Earn 16% APR, Paid Daily. Currently @ 2.8M HP
Hivestats: https://hivestats.io
LeoDex: https://leodex.io
LeoFi: https://leofi.io
Polygon HBD (pHBD): https://wleo.io/hbd
Polygon HIVE (pHIVE): https://wleo.io/hive
Web3 & DeFi
Web3 is about more than social media. It encompasses a personal revolution in financial awareness and data ownership. We've merged the two with our Social Apps and our DeFi Apps:
CubFinance (BSC): https://cubdefi.com
PolyCUB (Polygon): https://polycub.com
LEO Wrapping Bridge: https://wleo.io
Posted Using LeoFinance Beta
---
---