pHBD is 1:1 Backed with HBD On the Hive Blockchain | Mechanics Deep Dive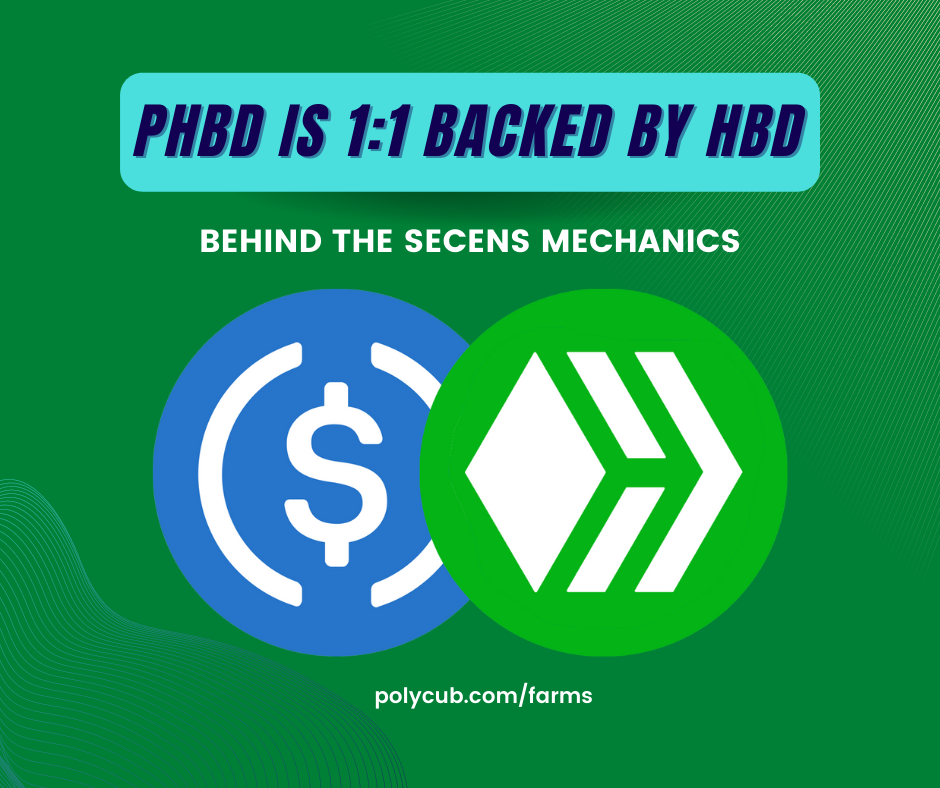 When it comes to the stablecoin industry, there has been a lot of controversy over the backing and treasuries of various stablecoins. With algorithmic stablecoins like UST and HBD, there is no need to check-in on what is backing the coin outside of the algorithm itself.
pHBD is essentially a derivative of HBD - and so, the question of what is backing pHBD is an extremely important one.
In this post, we'll explore the mechanics of pHBD and show you how to verify that every pHBD that is circulating is backed by 1 HBD that is sitting in the PolyCUB pHBD Oracle account (@p-hbd) on the Hive blockchain).
Many people have probably strayed away from pHBD so far. It's hard when something is first released to completely trust it. To trust that it won't lose its peg. To trust that it is provably backed by real HBDs on the Hive blockchain. As Ronald Reagan said: "Trust, but verify."
Luckily, we all live in the blockchain revolution. There's no reason to sit around and "trust" or "hope" that something is 1:1 backed with what it's supposed to be backed with. Worry about that when it comes to dollars sitting in the USDT treasury account. With pHBD, there is 1 HBD on the Hive blockchain that backs every single circulating pHBD out there.
Let's dive into this quick guide on verifying the pHBD supply.
pHBD and The Peg to HBD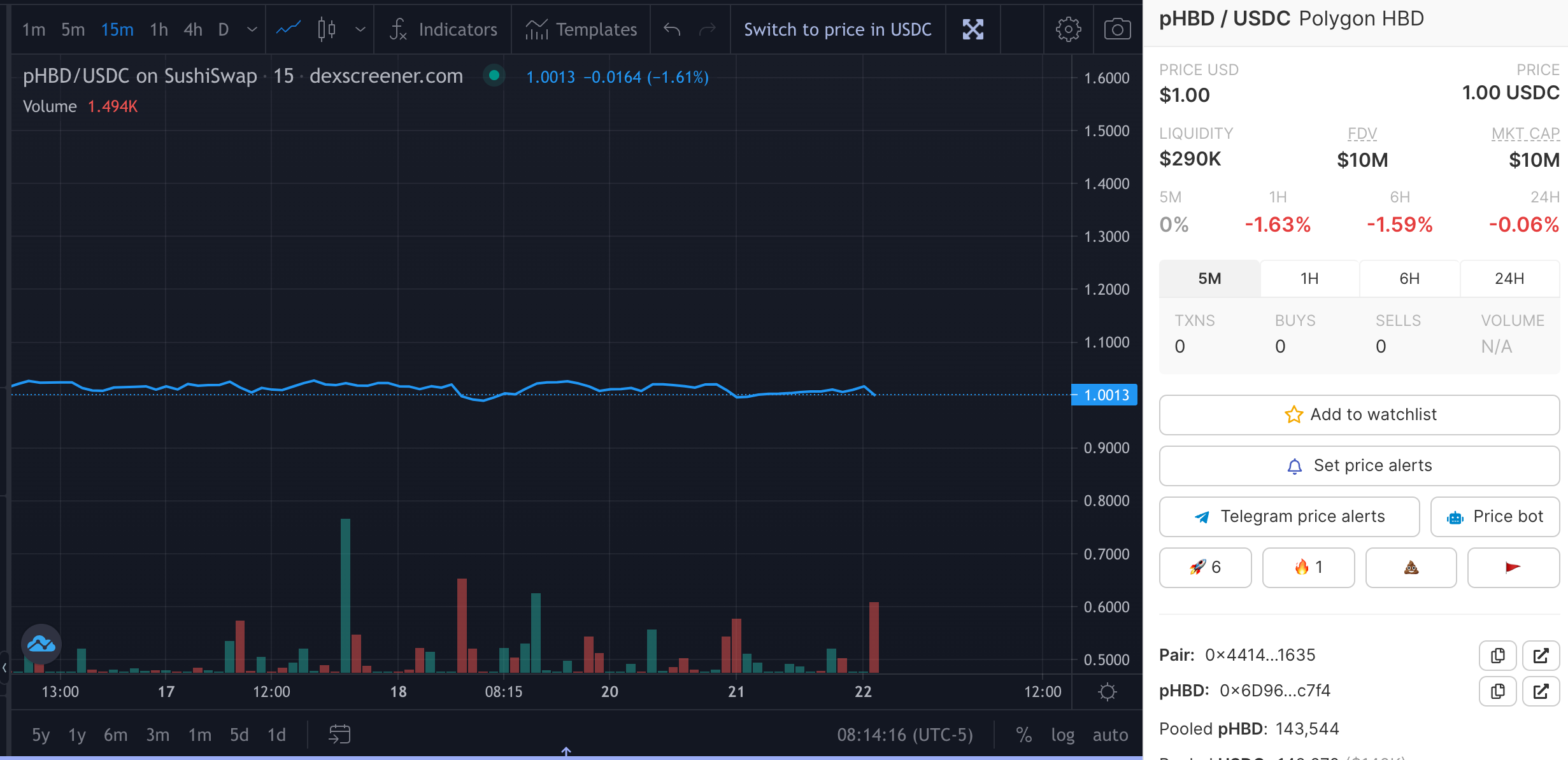 since launching, pHBD has maintained its peg to $1 at all times. Hovering temporarily to $1.02 until it is instantly arbitraged back down to $1. Since pHBD can always be redeemed to/from HBD instantaneously, arbitrage will always keep the value of pHBD and HBD equal
Hive-Backed Dollars (HBD) is an algorithmic stablecoin on the Hive blockchain. Essentially, it serves as a debt instrument that is backed by HIVE. At any time, HBD can be used to redeem HIVE and HIVE can be used to redeem HBD.
Mechanically speaking, HBD is designed to always hover around $1 USD in value (stablecoin).
In very much the same way, pHBD is designed to always have the same value as HBD since you can always redeem 1 pHBD with 1 HBD (Wrap) or vice versa: redeem 1 HBD using pHBD (Unwrap).
The wrapping mechanic allows you to wrap 1 HBD into 1 pHBD
The unwrapping mechanic allows you to unwrap 1 pHBD into 1 HBD
This means that the peg is always maintained because anyone can arbitrage the pHBD-USDC pool when it is off its peg. I.e. if pHBD starts trading over $1.01 and you can buy HBD on-chain for $1, then you can buy 1 HBD for $1, wrap it to pHBD and instantly sell it for $1.01 - making a 1% profit. You can also do the reverse if pHBD is ever trading for $0.99 - buy 1 pHBD for $0.99 and sell it on-chain for $1 USD (1% profit).
How to Verify the 1:1 Backing of pHBD
Verifying the supply of HBD to pHBD on the Hive and Polygon blockchains is extremely easy. Many have asked for a quick guide on how to do, so let's get into it.
Links you'll need:
PeakD wallet page for oracle account @p-hbd: https://peakd.com/@p-hbd/wallet
Step 1). Verify how much HBD is in the @p-hbd wallet: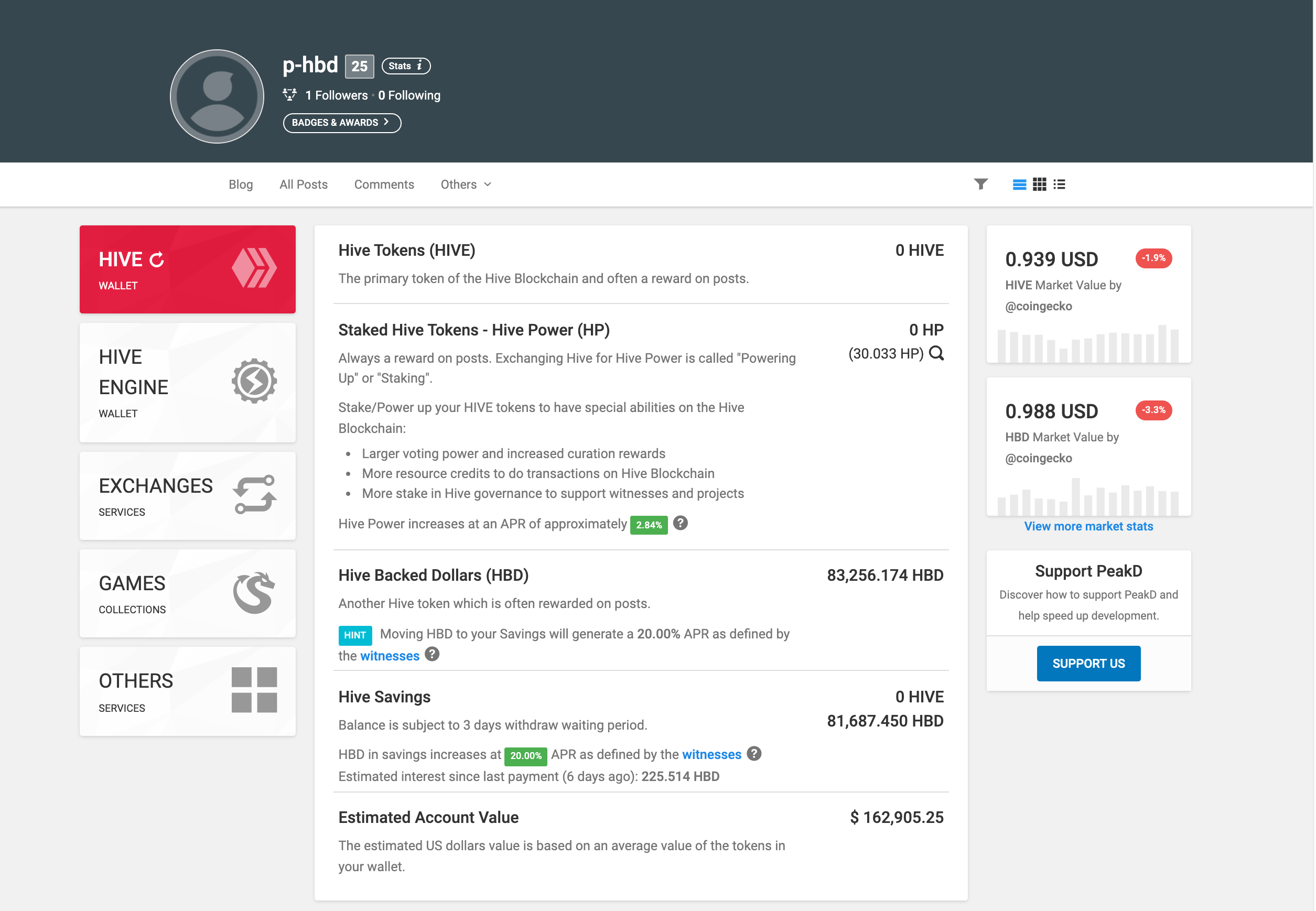 The pHBD oracle keeps 50% of the HBD reserves staked in savings. This is for two reasons: security and yield.
PolyCUB earns 20% yield on the HBD on-chain but only on 50% of the total holdings. This means that PolyCUB is earning a 10% APR on the total amount of HBD that is currently wrapped into pHBD. This helps drive yield for the pHBD-USDC pool.
The other 50% is liquid to service day-to-day wrapping and unwrapping.
To get the total amount of HBD that is held in this oracle account, simply add the liquid HBD and staked HBD amounts:
83,256.174 liquid
81,687.450 staked
= 164,943.624 HBD
Step 2). Verify how much pHBD is circulating on the Polygon Blockchain
Go to the pHBD Holders page to see which wallets are holding pHBD and corresponding amounts: https://polygonscan.com/token/0x6d969cea201e427d2875724fd4e8044833fbc7f4#balances
Here you'll see the following list. We included some labels for the Cold Wallet and Hot Wallet which hold "un-circulating" pHBD.
In the "Cold Wallet" there are pHBD reserves. We use this setup with pLEO, bLEO, wLEO to ensure security. This cold wallet setup has all of the pHBD that can ever be minted (pHBD cannot be minted by any wallet). This is because of a major security flaw when it comes to oracles minting tokens - we learned this with WLEO V1 and that's why we utilize a non-minting setup.
Major DeFi platforms have been hacked because of oracle minting setups. pHBD has no minting. This cold wallet holds the reserves of pHBD which are not wrapped and circulating. They simply sit in this wallet until the hot wallet needs to reload pHBD to service wraps. When users unwrap, their pHBD is sent to the cold wallet as well.
The Hot Wallet is the second address in the screenshot below. This quantity is also not counted in the circulating pHBD supply since it has not been issued to users. The Hot Wallet is there to handle wraps directly - when a user wraps HBD into pHBD, @p-hbd receives their HBD on the Hive blockchain and then the 0x..780a hot wallet send them pHBD on the Polygon network.
In this moment - when pHBD is sent from the hot wallet to the user - pHBD is actually added to the circulating supply. This is because it is now backed provably by the HBD that was sent to initiate the wrap.
Every other wallet address below these 2 should be counted as circulating supply.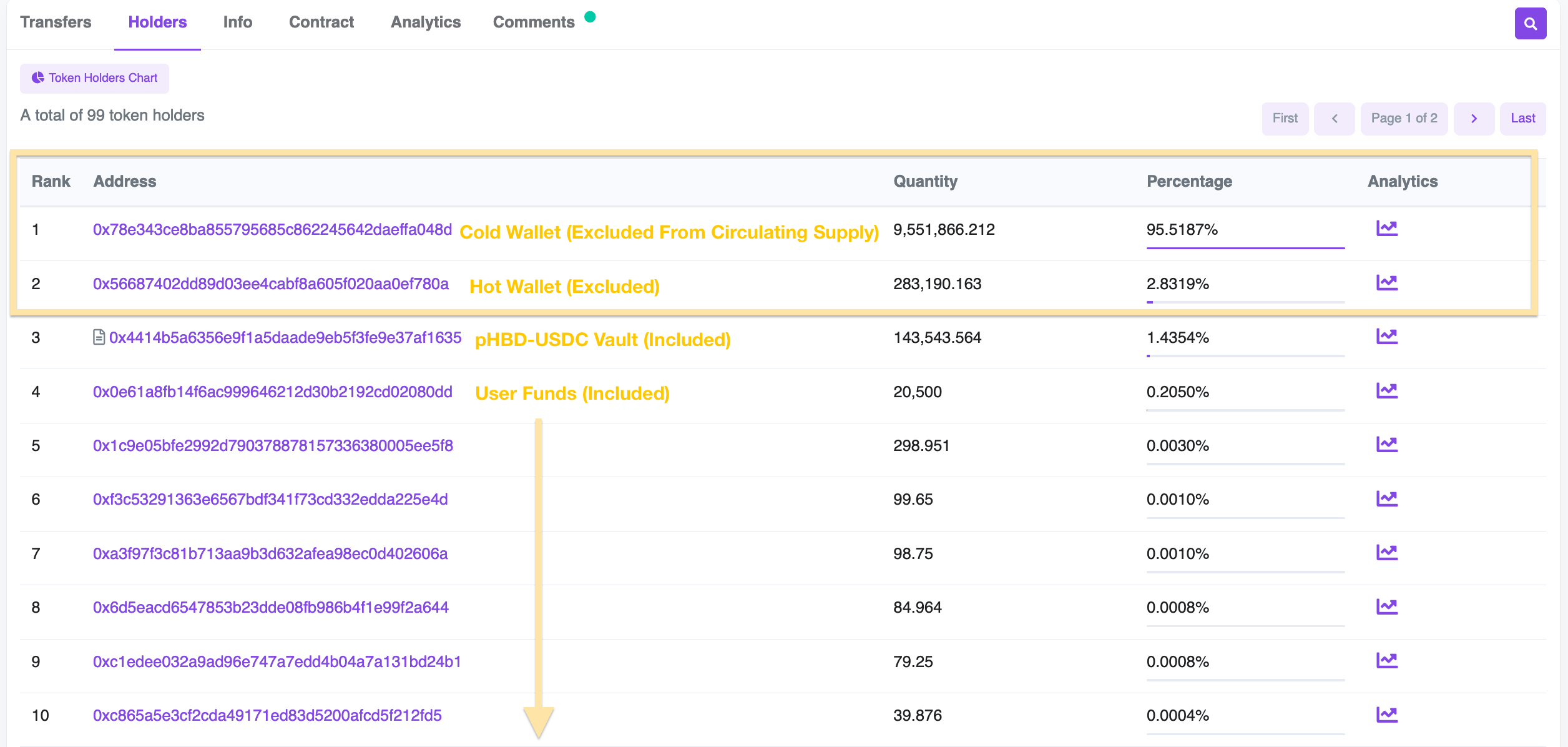 A quick tip for calculating circulating supply is to actually work in reverse order:
Add the quantity held by the first 2 wallets (the cold and hot wallets): 9,551,866.212+ 283,190.163 = 9,835,056.375 pHBD held in storage reserves (non-circulating)
Subtract the above number from the total supply of pHBD (exactly 10,000,000 - no more pHBD than 10M can ever be created): 10,000,000 - 9835056.375 = 164,943.625 pHBD
pHBD is 1:1 Backed by HBD
Remember the number we got when adding staked + liquid HBD in @p-hbd on Hive? 164,943.624 HBD
And now, the number we got when adding all the non-oracle wallets on the Polygon blockchain? 164,943.625 pHBD
Okay, you caught us... It's off by 0.001 HBD. Must be from a memo. Luckily, we'll make that up in about 21 seconds from the HBD Savings held by @p-hbd.

Verify the Supply, Then Provide Liquidity
The pHBD-USDC Pair on https://polycub.com/farms is about to hit $300k in liquidity after just 1 week of being live.
We believe that the last step needed for mass adoption of HBD as a fixed-interest rate stablecoin is to have deep onramp and offramp liquidity.
pHBD-USDC is the largest source of liquidity for HBD... EVER.
Now you can trade HBD through pHBD-USDC with less slippage than any other centralized exchange or DEX (i.e. internal market on Hive.blog).
You can track the growth of pHBD with the brand new Coingecko listing. We're also working with Coinmarketcap and a dozen other listing agencies to get pHBD listed everywhere.
In the past week, pHBD was listed on Coingecko and DeBank.
DeBank: https://debank.com (login with wallet pooling pHBD-USDC and you'll see something like the screenshot below to track your LP position)

We need your help - the Hive community - to build pHBD-USDC into a $5M liquidity pool. This is our ambition and we will continue to drive yield into the pHBD-USDC vault to make this a reality.
The purpose is to grow the entire Hive ecosystem. Growing Hive is great for the entire LeoFinance Web3 ecosystem and this is what we're all about.
HBD needs this source of liquidity. We've seen pHBD-USDC steadily grow since launching and we're going to keep pushing the bounds to make it grow exponentially to $5M and beyond.

Right now, you can pool your pHBD-USDC and earn a 45.82% APR (compounded = 58% APY - or nearly 3x what you can earn on-chain).

About LeoFinance
LeoFinance is a blockchain-based Web3 community that builds innovative applications on the Hive, BSC, ETH and Polygon blockchains. Our flagship application: LeoFinance.io allows users and creators to engage and share content on the blockchain while earning cryptocurrency rewards.
Our mission is to put Web3 in the palm of your hands.
Twitter: https://twitter.com/FinanceLeo
Discord: https://discord.gg/E4jePHe
Whitepaper: https://whitepaper.leofinance.io
Our Hive Applications
Join Web3: https://leofinance.io/
LeoMobile (IOS): https://testflight.apple.com/join/cskYPK1a
LeoMobile (Android): https://play.google.com/store/apps/details?id=io.leofi.mobile
Delegate HIVE POWER: Earn 16% APR, Paid Daily. Currently @ 2.8M HP
Hivestats: https://hivestats.io
LeoDex: https://leodex.io
LeoFi: https://leofi.io
Polygon HBD (pHBD): https://wleo.io/hbd
Web3 & DeFi
Web3 is about more than social media. It encompasses a personal revolution in financial awareness and data ownership. We've merged the two with our Social Apps and our DeFi Apps:
CubFinance (BSC): https://cubdefi.com
PolyCUB (Polygon): https://polycub.com
LEO Wrapping Bridge: https://wleo.io
Posted Using LeoFinance Beta
---
---