Volume Two, 2021: LeoFinance's Most Explosive Year of Growth Yet | 12 New Team Members, LeoMobile, LeoInfra, CubFinance and More!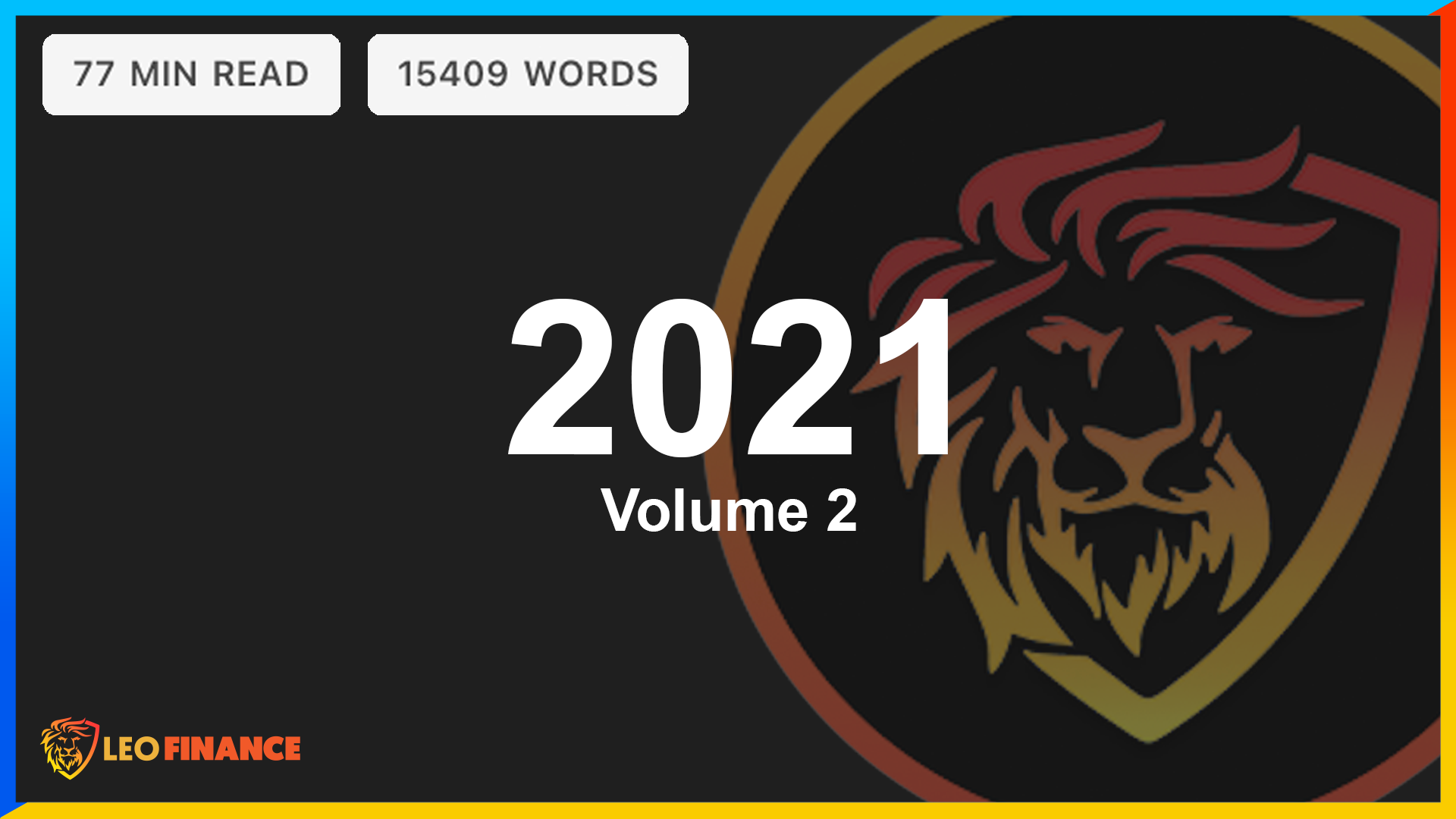 ---
---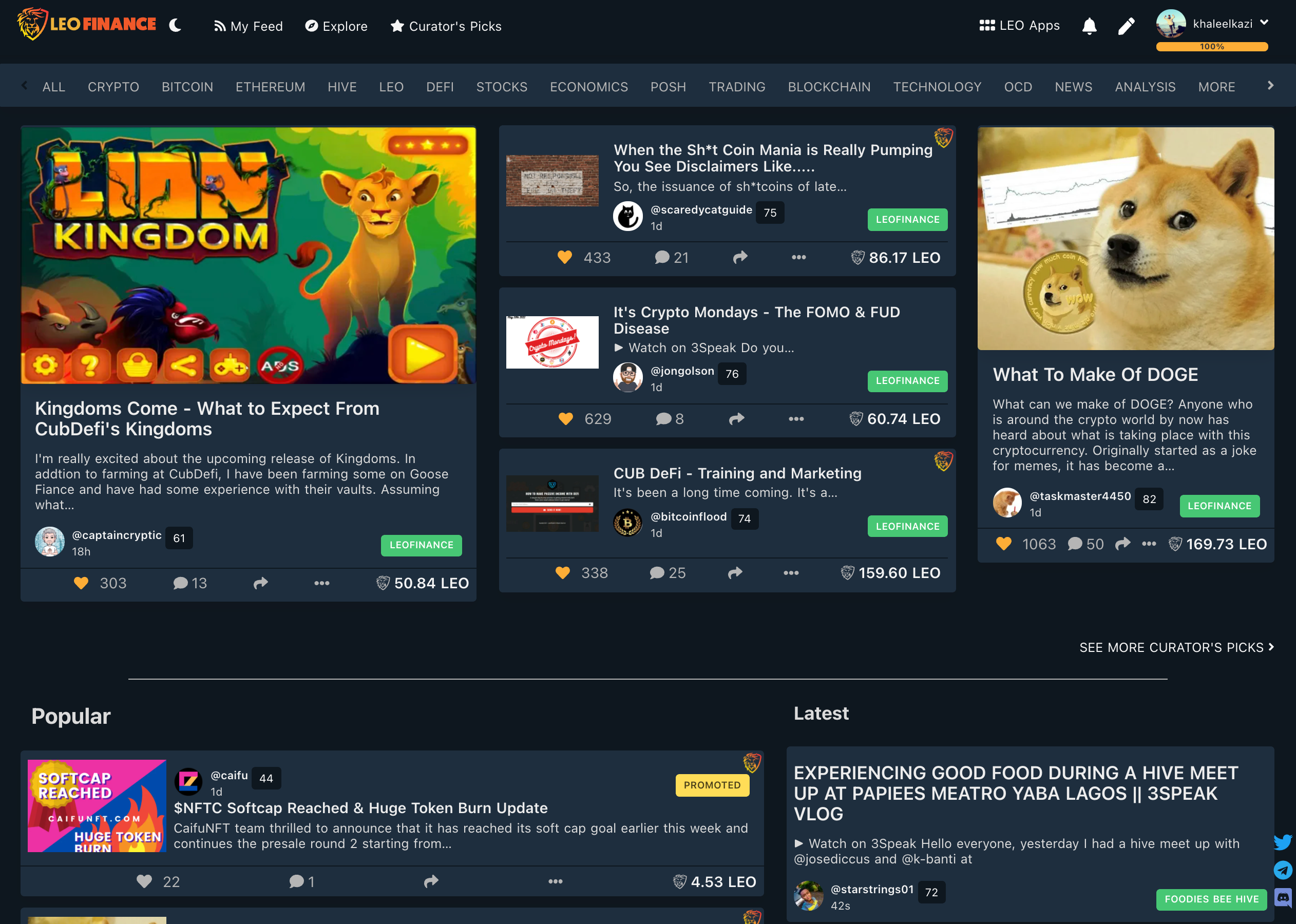 After an arduous 5-6 weeks of CUB, LeoFinance and LeoBridge developments, we came up for air in this post.
It was also around this time that one of the core strengths of the LeoFinance Team started lacking: Communication.
We've had a crazy 5-6 weeks of development surrounding CUB, LeoFinance and LeoBridge.

There is a disconnect that has been brought up in Discord and Telegram over that period of time related to development and communication.

LeoFinance has always been a project that put communication at the top of the stack in terms of importance but over the past several weeks, we've been developing a number of complex projects (LeoBridge, Kingdoms, Leo UI update, PBlank, etc.) and comms have taken a bit of a backseat.

Needless to say, comms have taken a bit of a back seat since the launch of CUB but the development pace has never been more aggressive for LeoFinance and Cub. We've never had so many irons in the fire and exciting things on the verge of launching.
We were working on so many projects at once while trying to simultaneously hire on new dev talent and administrative talent to handle the ridiculous growth we saw during the launch of CubFinance.
We were all over the place and stretched in a million different directions every single day.
In this update, we dropped some much needed social layer updates to the LEO UI.
Notifications
Mobile Post Feed Layout Update
Device Layout Optimizations
Footer Updates
Navbar Styling and App Link Update
Major bug fixes including Image Uploading issues
....
Growing Pains Galore
The growing pains were extremely tough in this time period. I made it my personal mission to go out and find as much talent as I could to add to the team.
It was around this timeframe that Shawn was brought into the project at a deeper level. Hence, the UI updates and many other great projects that he started to tackle.
Since then, Shawn has become a vital part of the LeoFinance team. he's now taken the lead on a number of projects and his pace is unprecedented.
Fast-paced development on LeoFinance and Cub that has never been seen before along with rapid and extensive communication like we had up until a few months back when the project expanded faster than the team could.
We've made a lot of progress on expanding our team in the ladder half of 2021. I'm excited for 2022 and showing what we can do with a 3x larger team that continue to grow each month as we find and hire new talent.
The first ever LeoFinance Weekly AMA!
These AMAs have become a staple for our community over the past several months. As mentioned in the previous section, the team experienced a lot of growing pains.
With the explosion in growth from CubFinance and LeoFinance's user base, we struggled to keep up with developing AND being able to communicate what we were working on.
We don't want ot be a project where we have to choose either communication or developing. We want to have both, as that is the vital path forward to achieve our mission of this Web3 community.
In this first episode, we covered the big topics surrounding everyones' questions about our pace of development and what the team was working on behind the scenes.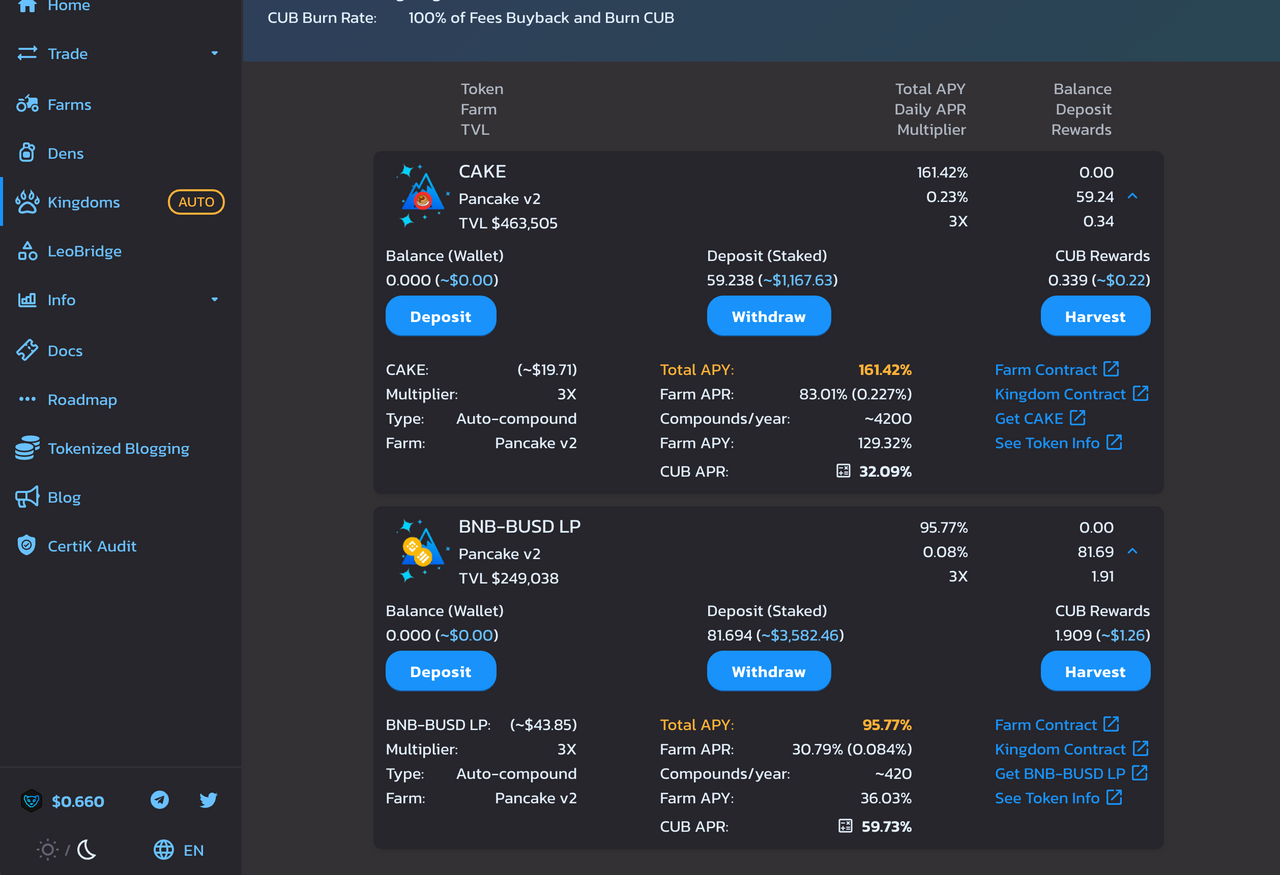 In June, we finally approached the launch of Kingdoms. It took months of development work - as we were quite literally changing the entire face and backend of the project.
Kingdoms represented a complete 180 in the direction of CubFinance. That much is abundantly clear when you look at 90% of other platforms that launched in the era of "DeFi 1.0" - all of whom died out. Innovation was the only path forward:
Kingdoms represent the migration of Cub Finance from "Goose-style farming" to "Autofarm-style farming". What this means is that Cub is becoming more of an autofarm-like platform that features:

Cross-platform farming
Higher APY
Collaborative vaults
Base asset autocompounding
Lower multipliers to non-CUB farms
Higher multiplier + fee redistribution to CUB den
Kingdoms represented such a large challenger that we ended up deploying only 2 vaults to start and considered it a "Soft Launch" to get the contracts rolled out into production and continue our work on the frontend. A valuable lesson in rolling out the minimum viable product and iterating rapidly from there.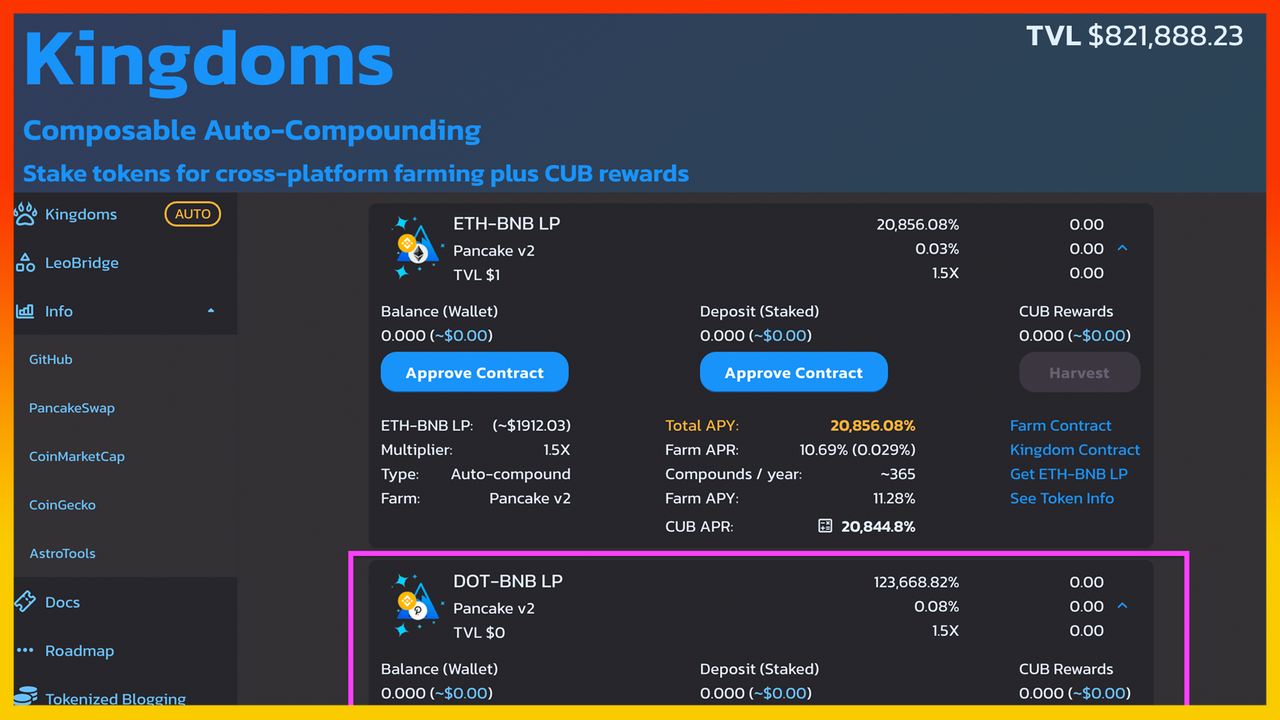 Cub started out as a fork of the popular GooseDeFi project on the Binance Smart Chain. Goose was one of the first yield applications to gain traction on BSC and showed the way for many other platforms to launch a simple yield app.

For us, we saw it as an opportunity to launch a base layer yield app. A basic application and token to gain distribution and traction on the Binance Smart Chain. We launched bLEO on top of the CubDeFi app which allowed the LEO token economy to expand alongside the new CUB token economy.
Launching a Base Layer DeFi Application
Building an initial base layer application in the DeFi space was the necessary first step to branch out the LEO token economy and extend our Web3 community to other blockchains.
CubFinance offered us that chance. With this basic idea in place for a yield application, we were able to seed the ground for future expansion.
Kingdoms have been in development for a long time. Just a few weeks after the Cub launch, we decided to scope out some really big ideas for the future of Cub Finance. Ambitions are high for our DeFi platform and it was important to us to figure out a way to build something that lasts and continually grows in the long run.

While we could chase after small potatoes - as many other platforms have done - the end result would have been the same: a slow and steady decline into nothingness.
"we could chase after small potatoes - as many other platforms have done"
Ah what a timeless quote for the developments we take on. One of our core differentiators as a platform is our desire to tackle big challenges.
On Hive, we wanted to solve onboarding. We created our own LeoInfra solution to deploy Hive Lite Accounts - something frequently talked about over the past 4-5 years but never actually developed
On Ethereum, we wanted to extend the liquidity and accessibility of the LEO token economy.. So we deployed Wrapped LEO (WLEO) and seeded liquidity on Uniswap by building the WLEO Geyser LP Model.
the list goes on and on...
Tackling big challenges means taking on the hardship and uncertainties of rapid development and changing tides. With Kingdoms, we learned this lesson a few times over.
Kingdoms started as one thing and continually changed as time went on. As we continued our development of the idea behind Kingdoms, we found the need to continually improve it. The end result was much different than what we set out to create but it is far more impactful in todays form than otherwise.
Other platforms tried much smaller but more rapid deployments to stave off their inevitable decline. Things like lotteries and giveaways.
Throughout our AMAs people continually asked why we weren't deploying those contracts as well... after-all, the development time behind them was almost nonexistent and it seemed like there was nothing to lose. To us, it meant losing focus on the bigger picture.
CubFinance is our base-layer platform and it is the seeded ground that we are leveraging to build massively important tools in the DeFi space for our Web3 Community of 🦁s.
Building innovative solutions on top of this base layer (like Kingdoms, LeoBridge, BNB Dividends, etc.) is just the beginning. We have so much planned for CubFinance-based DeFi in 2022.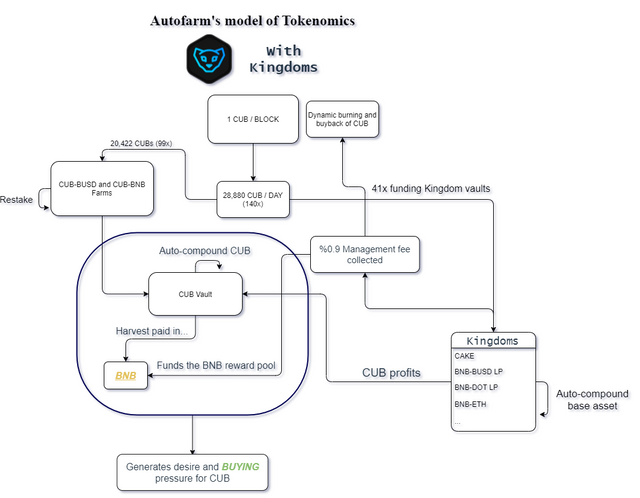 Kingdoms have already proven to make the CUB market cap sustainable - if you track the mCAP, CUB has been acting eerly like a Stablecoin. What the market is waiting for now is a catalyst to drive it upward. We believe many of the core developments we started in July 2022. Since the deployment of Kingdoms, we've been focusing deeply on releasing a number of large-scale developments (like our IDO Mechanism and soon-to-be-released Polygon Platform, PolyCUB).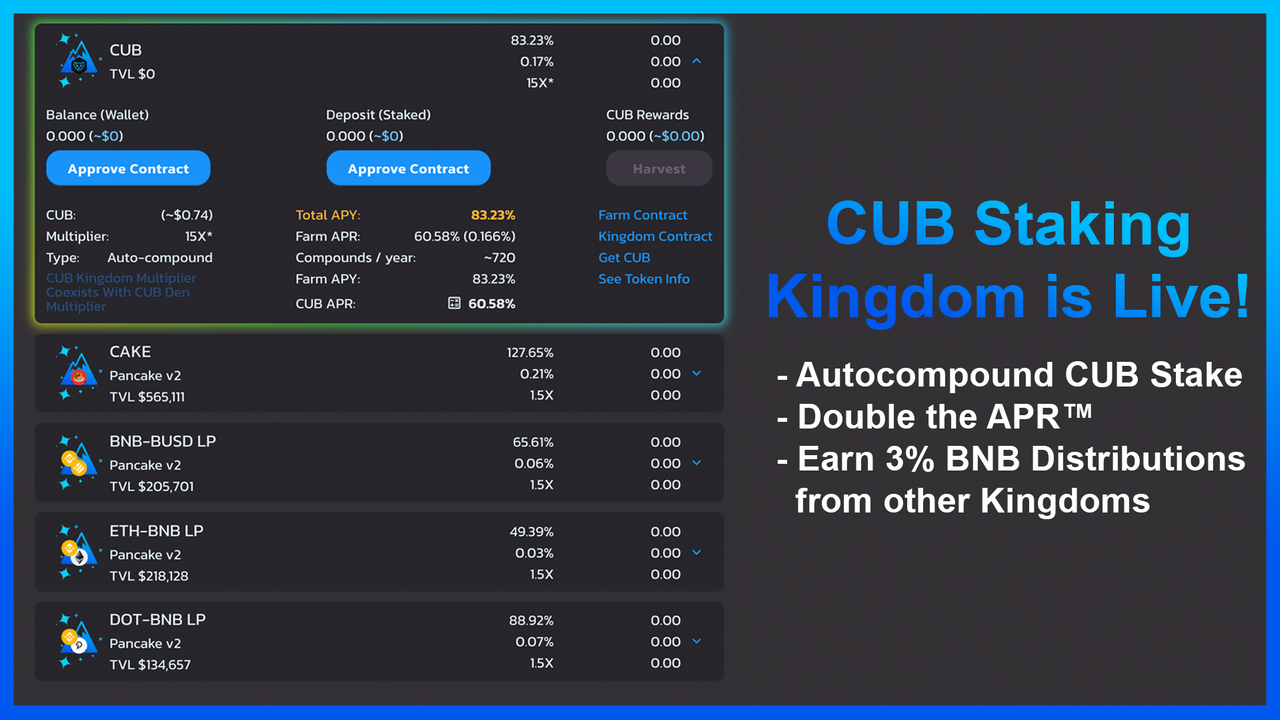 Launching today, the CUB Kingdom allows you to stake CUB by itself in an autocompounding yield vault. There are 4 main characteristics of this Kingdom:

Single asset CUB
Shares multiplier with CUB Den
Autocompounds CUB harvests back into CUB staked
Earns BNB Dividends from management fees on other Kingdoms
The CUB Kingdom was a major play for the CubFinance ecosystem. It turned the tide of CUB and changed the entire value proposition of what CubFinance started out as (a Goose-style farming platform).
The future of CUB became far more clear when the CUB kingdom launched.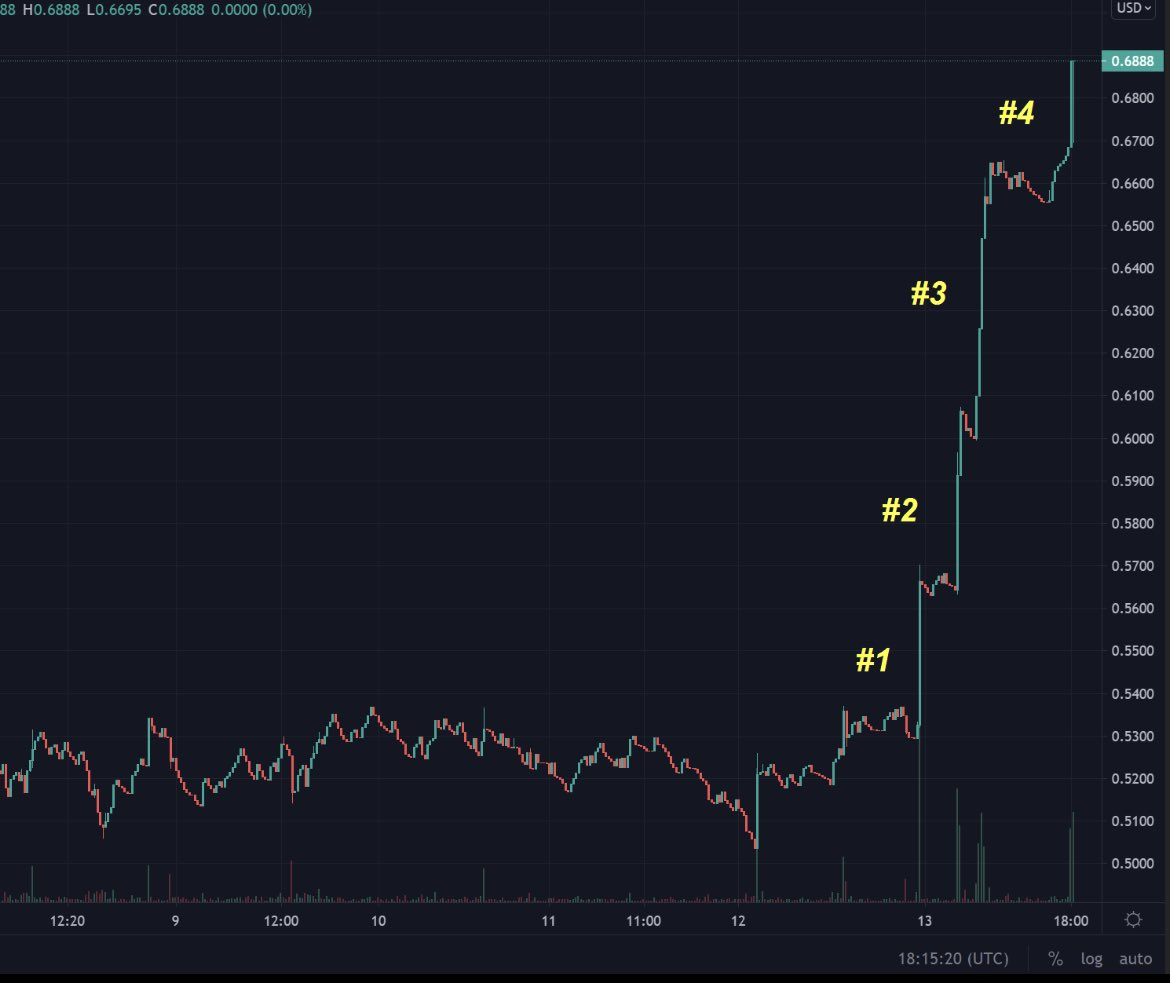 We consider the entire Kingdoms update to be "CubFinance V2"... V1 was entirely unsustainable. As you see with the majority of other platforms that launched with a similar model back in early 2021, the old mechanisms of "DeFi 1.0" would not last.
CubFinance has continually made efforts to migrate ourselves toward DeFi 2.0. With OHM gaining massive popularity and other mechanisms paving the path forward for sustainable DeFi, the next steps to push CUB in this direction have become increasingly clear.
The CUB Kingdoms release signified the first in a long-line of sustainable moves by CubFinance. In Q1 2022, you're going to see CUB undergo a massive change just like it did during Kingdoms. This change will forever impact the future of DeFi for LeoFinance.
In hindsight, we've also realized some important lessons from the 3% BNB Distributions. There is a better mechanism to deploy here and we'll be talking about this update (once again) in Q1 2022.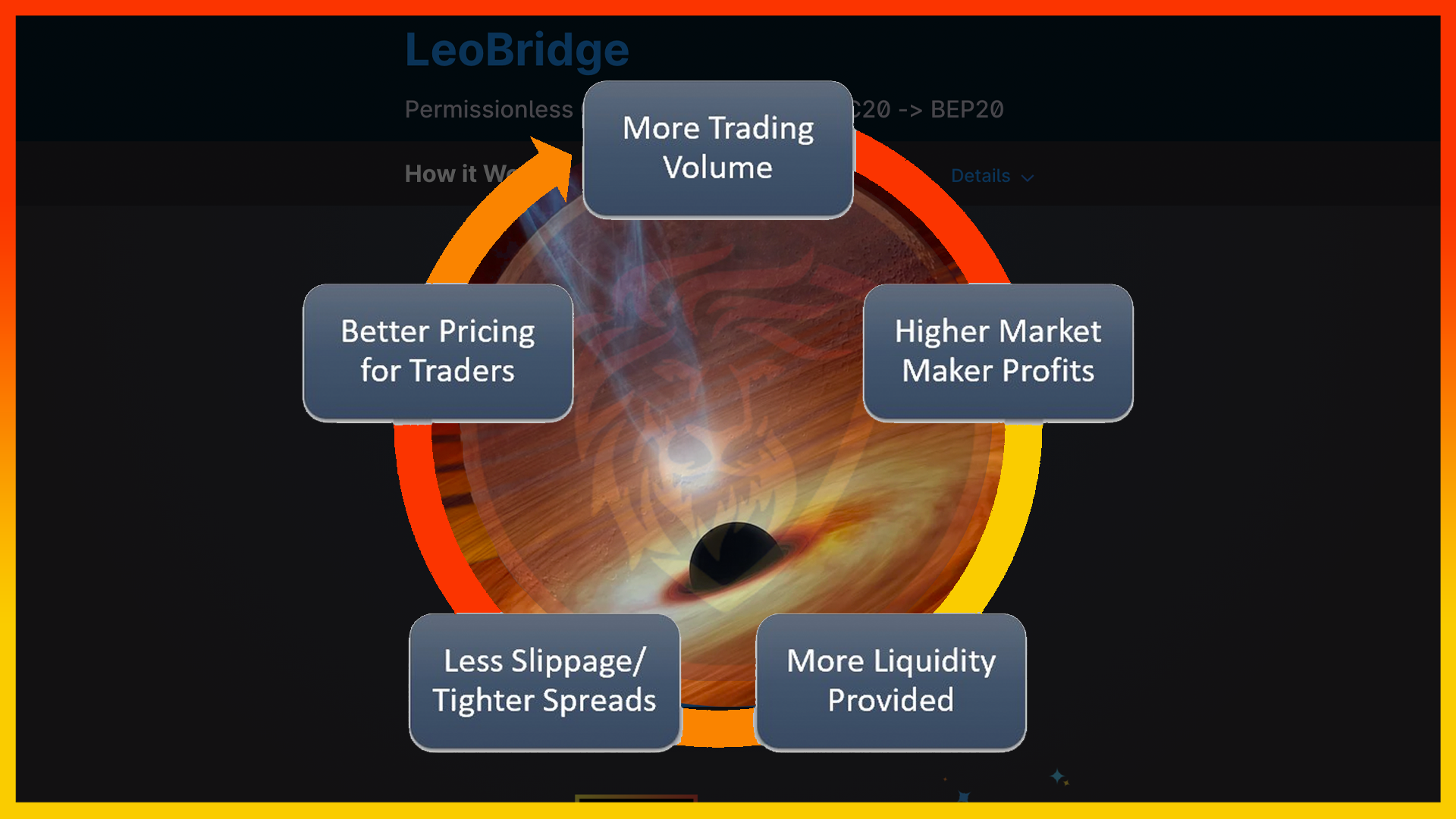 A few days ago, we launched the CUB Kingdom. One of the most highly anticipated updates to the Cub Finance project underneath the LeoFinance umbrella. In this post, we'll focus on one of the most ambitious projects LeoFinance has ever pursued: LeoBridge.
LeoBridge is the Future
LeoBridge is one of the hardest mechanisms we've ever managed to develop. It required a lot more dev hours than expected and the challenges are seemingly endless.
Despite this, we rolled out LeoBridge and managed to push it into production. We quickly realized that ETH Gas fees ruined the viability of any swap under $5,000 and a lack of pool depth on each side of the bridge hurt the viability of swaps over $5,000.
This puts LeoBridge in an awkward position. After realizing this early on, we decided to focus our efforts on building an extension to Polygon (pLEO & PolyCUB).
A successful LeoBridge (success measured by Bridge Trading Volume) will lead to a great deal of value continuously flowing through the LEO token economy. This value will deepen the market incentives for Liquidity Providers on all LEO token pairs and provide another form of utility for buying and staking LEO tokens in various liquidity pools now and in the future.
Permissionless, cross-blockchain swaps via smart contracts are now possible through the LEO token economy.
Polygon LEO (pLEO)
With LeoBridge's extension to Polygon, we're expecting a massive 180 in the usage of this bridge.
Right now, the bridge is barely used. With ETH Gas fees only on trending upward, users are unwilling to pay $200+ to swap across the bridge. Similarly, even if they have a large transaction, the slippage will eat away at their starting capital before moving across the bridge.
When pLEO launches, we're going to see a return of LeoBridge and all of these principles that the bridge was founded on still stand. The future of the Web3 LEO token economy is in interoperability and the multi-chain future.
By extending LEO to every chain we can, we're building a massive level of interoperability. With each expansion comes a new set of potential Web3 community members.
Expand the scope and scale of LeoFinance. That is the mission.
🔁 The virtuous cycle of LeoBridge and Trading Volume:

LeoBridge Volume Creates "1:3" Theoretical USD Trading Volume
Increased Trading Volume = Increased LP Trading Fees
Increased LP Trading Fees = Increased APY For Providing LEO Liquidity
Increased APY = Increased Incentive to Buy LEO and Stake in an LP
Buying and Staking LEO In an LP = Increased Liquidity Pool Depth
Increased Liquidity Pool Depth = Increased Potential LeoBridge Volume
Increased Potential LeoBridge Volume = Increase LP Trading Fees .... 🔁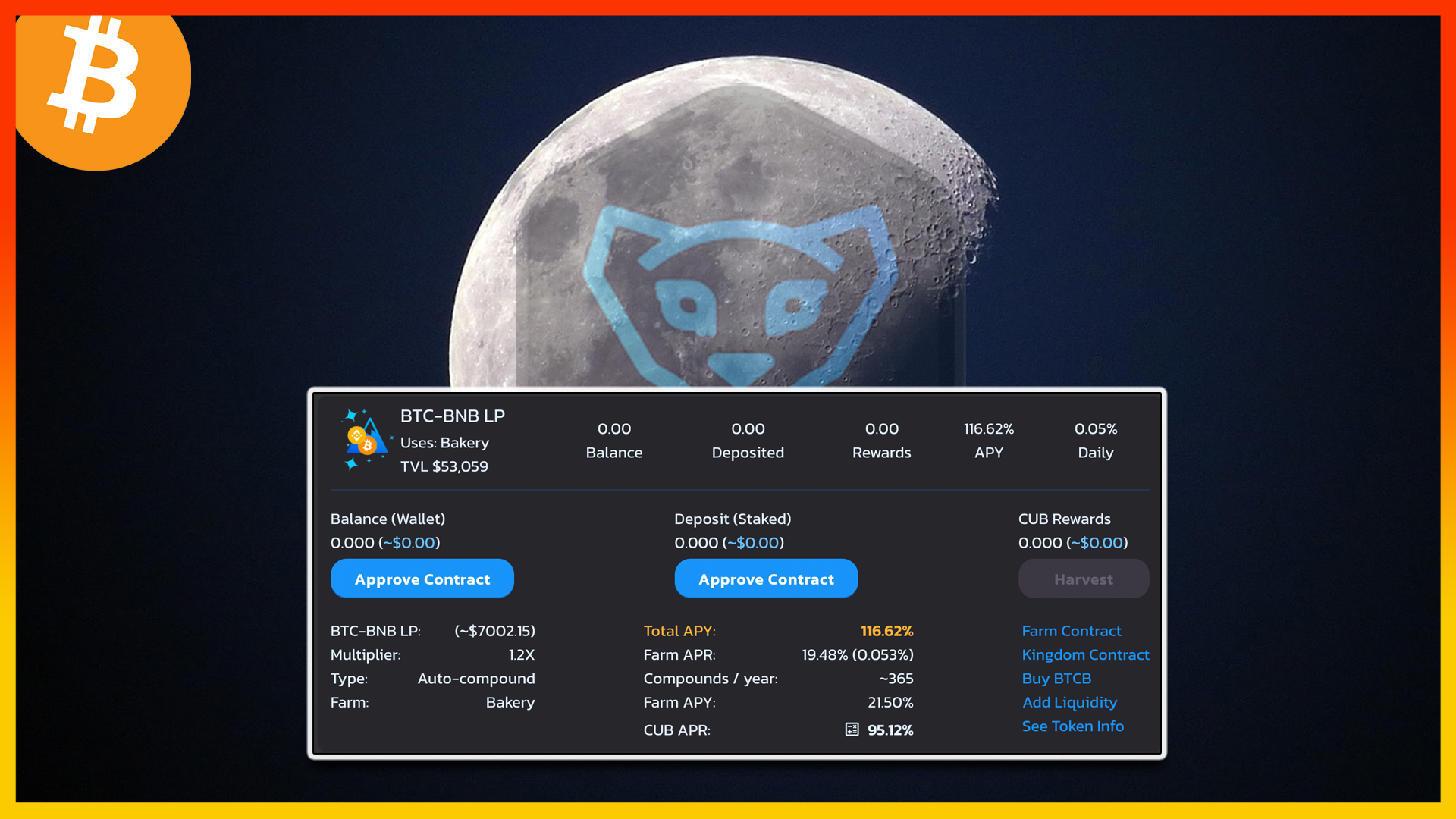 The release of Cub's most anticipated feature - Kingdoms - is chugging along. As we've mentioned in posts, tweets and AMAs, the release is set to roll out in stages.

Today, we're releasing the BTCB-BNB Kingdom which marks the 4th vault migration from standardized Farm/Den to Kingdom.
The rollout of Kingdoms continued throughout June and into July. Again, Kingdoms marked a complete change in the makeup of CubFinance. We deployed all new contracts and an all new frontend.
The development took about 3 months longer than we anticipated from the beginning but the end result was well worth it.
---
---

LeoFinance is a blockchain-based Web3 community that builds innovative applications on the Hive, BSC, ETH and Polygon blockchains. Our flagship application: LeoFinance.io allows users and creators to engage and share content on the blockchain while earning cryptocurrency rewards.
LeoFinance | CubFinance | Hivestats | LeoDex | LeoFi
Delegate HP & Earn 16% APR, Paid Daily. Currently @ 2M HP

Posted Using LeoFinance Beta
---
---