What's Next for Project Blank? | Mobile View, Show Parent Thread, GIFs and Image Stacking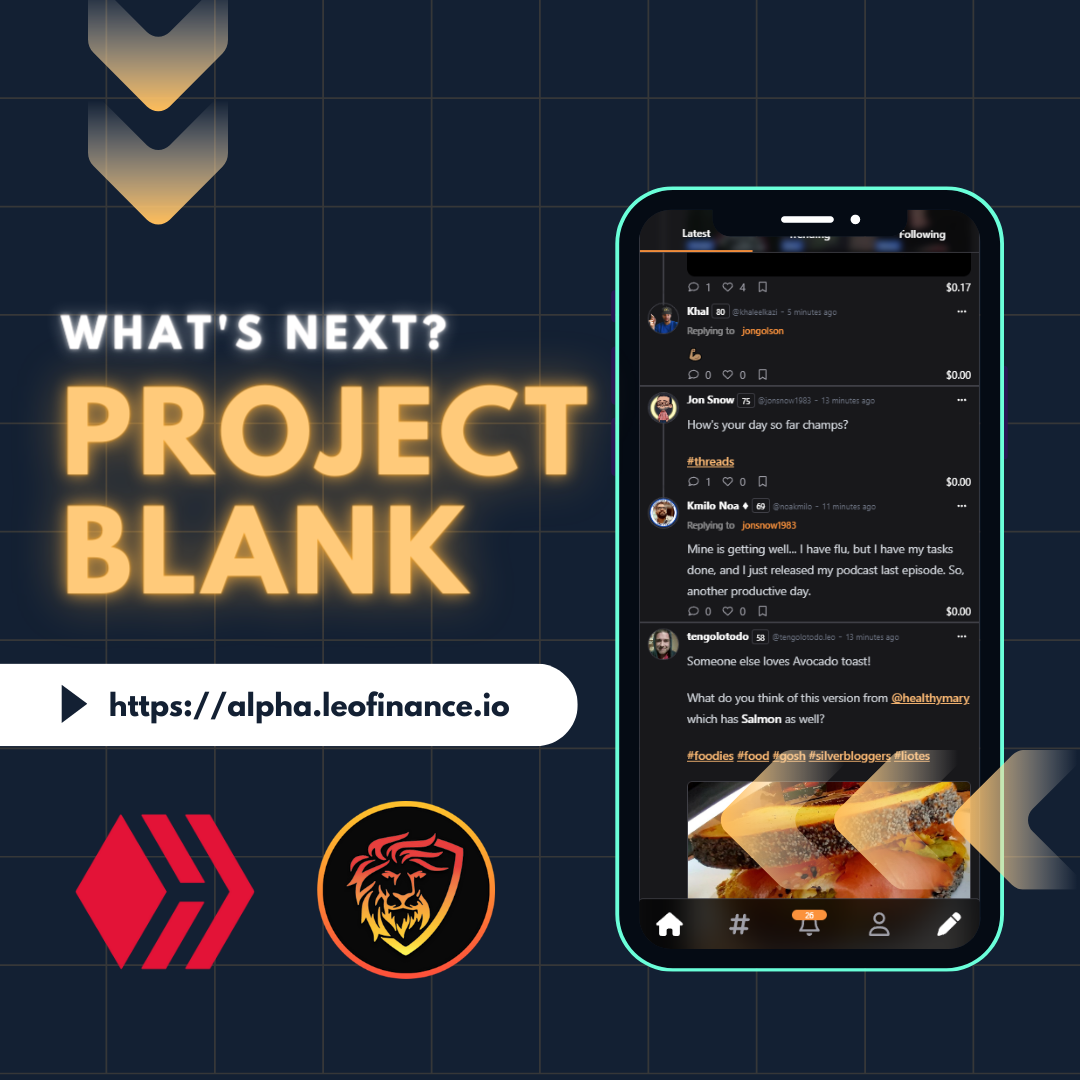 Project Blank - AKA, LeoThreads - has been improving at a rapid pace. If you've been using the new Alpha UI, then you'll see regular improvements, feature adds and updates.
We've been working hard toward our ultimate goal: moving from Alpha to Production. This will be the moment when we "flip the switch" on the current LeoFinance UI and replace it with the new Alpha UI.
Why Does it Matter?
The Alpha UI represents our vision for the future of Web3 on Hive. We're building "The Everything App" on Hive and our goal is to make it the ultimate Web3 experience.
Whether you're looking for long-form content or looking for a Web3 version of Twitter... or perhaps you want to launch a Decentralized Poll, Leo is where you'll do it.
This vision for the app is changing the entire LEO economy. We've got a lot planned on all fronts throughout 2023.
Some of our big ticket goals are:
5,000 Monthly Active Users by December 2023 (In January we had 500. We hit a new ATH in February of 1,046 - thanks to the new UI going live. Our Q2 goal is 1,500 MAUs)
Release the Production version of the https://alpha.leofinance.io UI
Launch our full Crew3 campaign
Launch LeoAds in its full glory and turn the LEO token economy into a high-powered growth machine
All 4 of these goals are closely aligned and they are all going to vastly improve the LEO Token Economy.
What's Next for Project Blank? | Mobile View, Show Parent Thread, GIFs and Image Stacking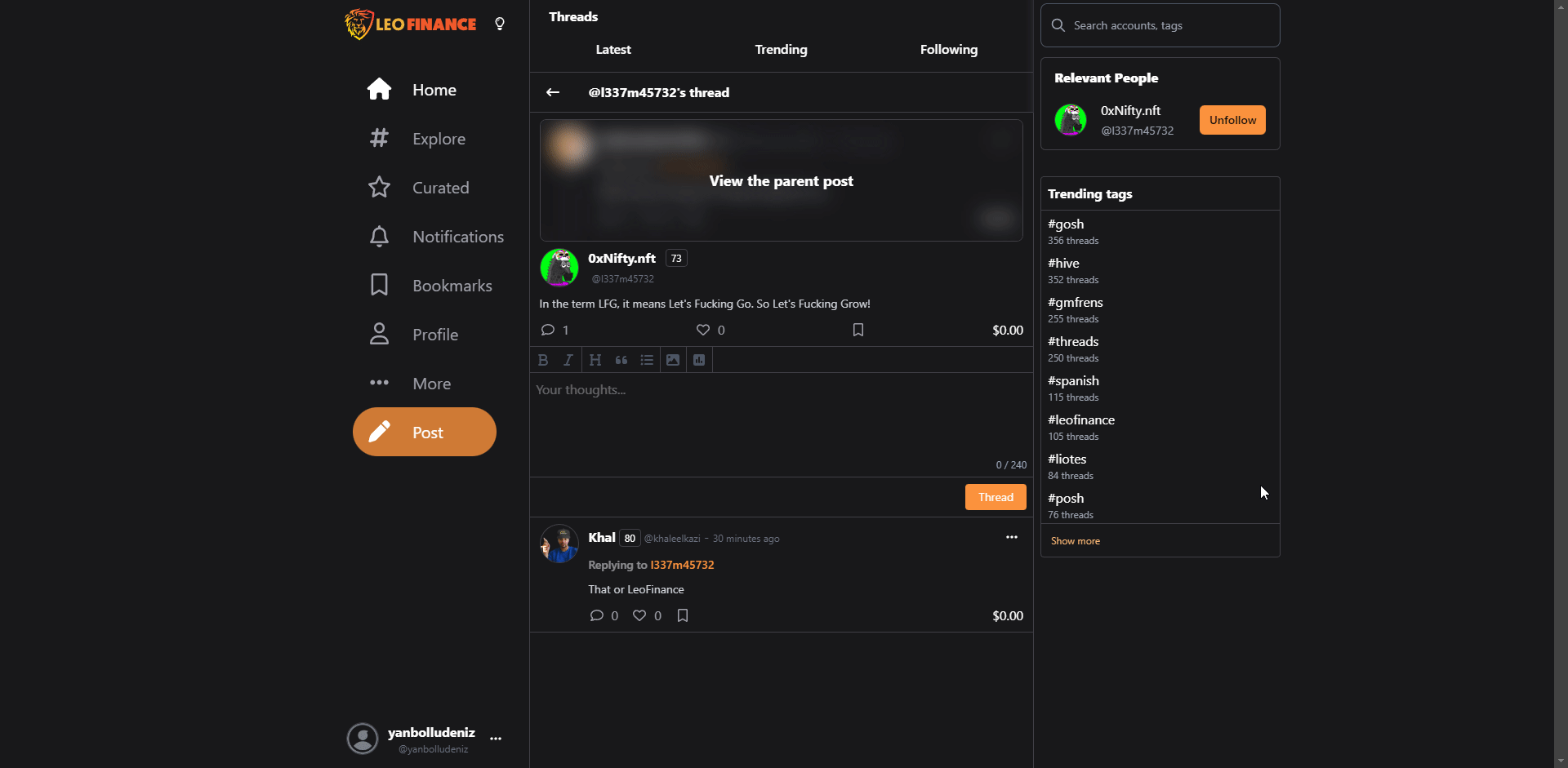 We've got a slew of updates in store for the next few weeks. We've also been working on a new schedule for releases.
Moving forward, we're going to be packaging releases and releasing them on Friday. Every Friday, you can expect some new features.
So far, we've been doing it a bit ad hoc. Adding features & bug fixes nearly on a daily basis to get things out as fast as possible. Now that the majority of core features are in, we'll be doing a patch (reminds me of my old WoW days) each Friday that includes both new features and bug fixes.
It'll be fun to add some predictability to our release schedule as well. As always, the big ticket items will get major debuts but all the small releases can be expected each Friday.
Mobile View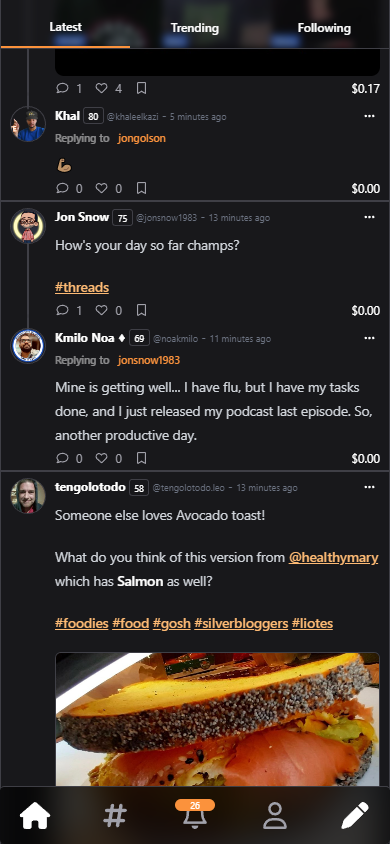 The new UI is going to be built in a highly robust way. We believe in having a robust web app that can be ported to any app store as a native app as well. This is how we're building the new LeoFinance.
The desktop, mobile and native app experience will feel seamless and amazing. Personally, I use Hive from my mobile browser all the time. I don't love native apps, but we will still build and maintain them.
This is the mobile view that will be released this Friday. If you're using threads on mobile, you're using the Keychain mobile app for now.
We're also working on the revamped version of LeoInfra which includes Hive lite accounts, Hivesigner, Posting Key and Hiveauth login options.
Show Parent Thread
This has been a slight issue since the Notifications UI launched. Sometimes when you want to jump into a conversation from the Notifications page - and now also the recently launched "Following Feed", you run into some issues. It's hard to see the context that came before what you clicked on.
That context is often necessary to properly respond.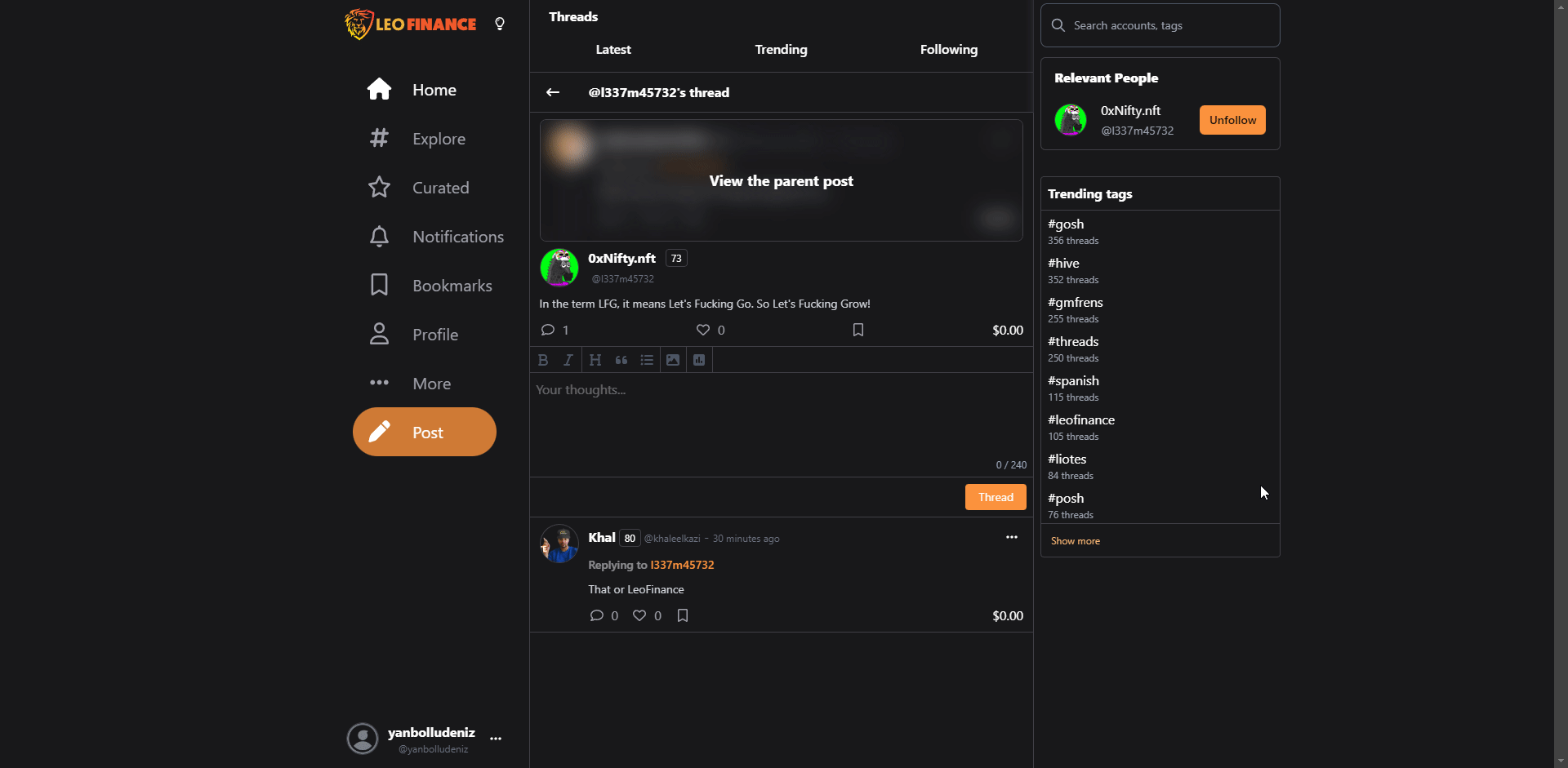 This Friday, we'll be releasing "Show Parent Thread". You can see it in action above and you'll be able to click parent thread and then keep clicking until you get all the way to the top parent (if you want to go that far). This will help you find the context you need, when you need it.
GIFs, Emojis and Image Stacking
We're aiming to have these either this Friday or next Friday. GIFs and Emojis are self explanatory. Image stacking will let you have multiple images in your Threads and will be 10x easier to manage.
The Future of Blank
The Everything App is really shaping up. The launch of Decentralized Polls on hive got a lot of people excited.
If you haven't tried that yet, go to https://alpha.leofinance.io and try creating a Decentralized Poll using the "Poll" icon.
It will totally change your perspective on the power of threads. Each Poll uses a Custom JSON matrix for voting.
That means that when a user votes on your poll, they are broadcasting a JSON to the Hive blockchain. Their vote is now written on-chain and can be seen by any other UI / block explorer.
This is a revolution in decentralized voting... and the UI/UX is built seamlessly into Threads.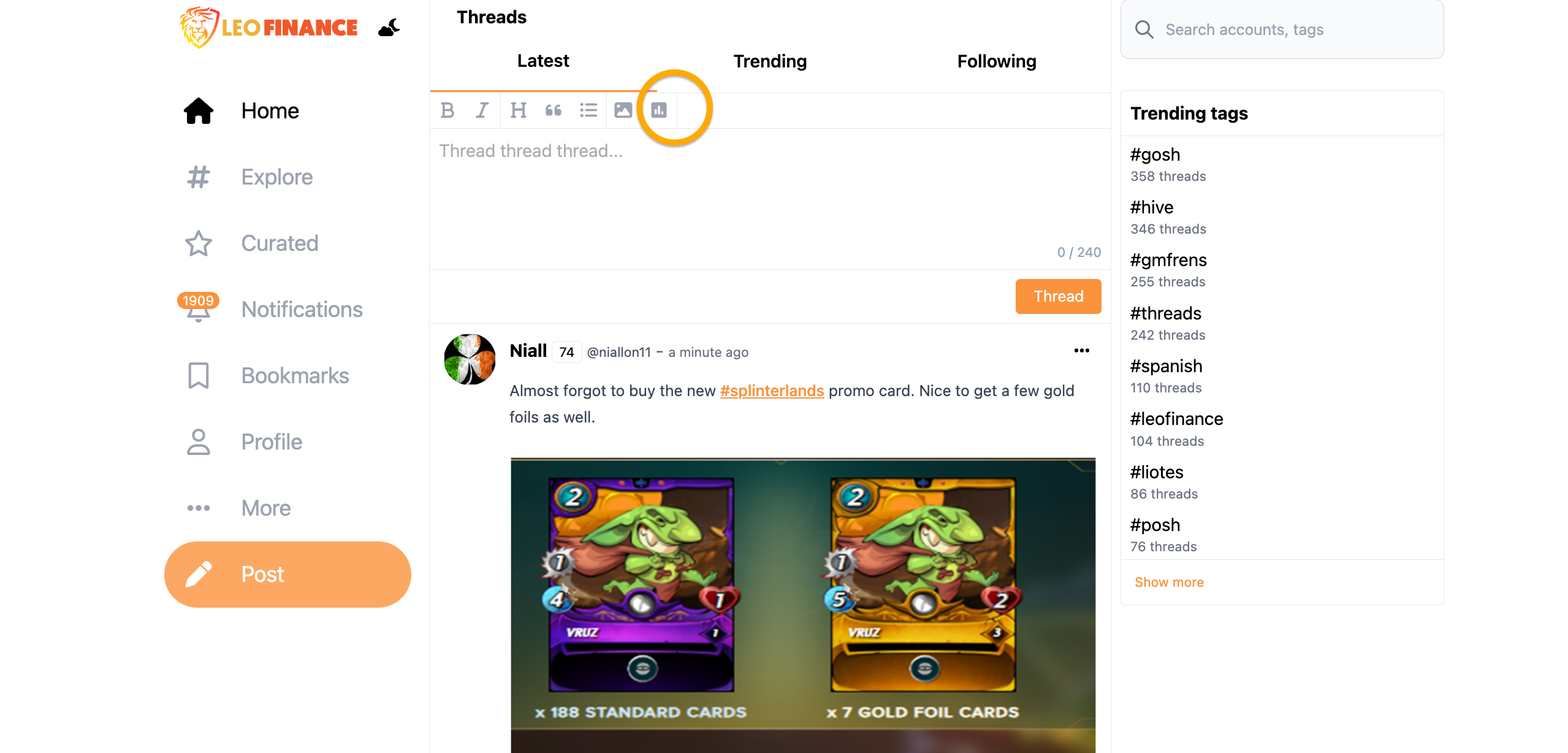 As we continue to release new features like the ones mentioned above and all the hundreds of features on our roadmap for this year and beyond, we think you'll see the everything app shape up as the ultimate Web3 experience. And it's all built on Hive 🦁🐝

About LeoFinance
LeoFinance is a blockchain-based Web3 community that builds innovative applications on the Hive, BSC, ETH and Polygon blockchains. Our flagship application: LeoFinance.io allows users and creators to engage & share micro and long-form content on the blockchain while earning cryptocurrency rewards.
Our mission is to democratize financial knowledge and access with Web3.
Twitter: https://twitter.com/FinanceLeo
Discord: https://discord.gg/E4jePHe
Whitepaper: https://whitepaper.leofinance.io
Our Hive Applications
Join Web3: https://leofinance.io/
Microblog on Hive: https://leofinance.io/threads
LeoMobile (IOS): https://testflight.apple.com/join/cskYPK1a
LeoMobile (Android): https://play.google.com/store/apps/details?id=io.leofi.mobile
Delegate HIVE POWER: Earn 16% APR, Paid Daily. Currently @ 2.8M HP
Hivestats: https://hivestats.io
LeoDex: https://leodex.io
LeoFi: https://leofi.io
BSC HBD (bHBD): https://wleo.io/hbd-bsc/
BSC HIVE (bHIVE): https://wleo.io/hive-bsc/
Earn 50%+ APR on HIVE/HBD: https://cubdefi.com/farms
Web3 & DeFi
Web3 is about more than social media. It encompasses a personal revolution in financial awareness and data ownership. We've merged the two with our Social Apps and our DeFi Apps:
CubFinance (BSC): https://cubdefi.com
PolyCUB (Polygon): https://polycub.com
Multi-Token Bridge (Bridge HIVE, HBD, LEO): https://wleo.io
Posted Using LeoFinance Beta
---
---