xPOLYCUB Governance | Our First Vote on Yield Dynamics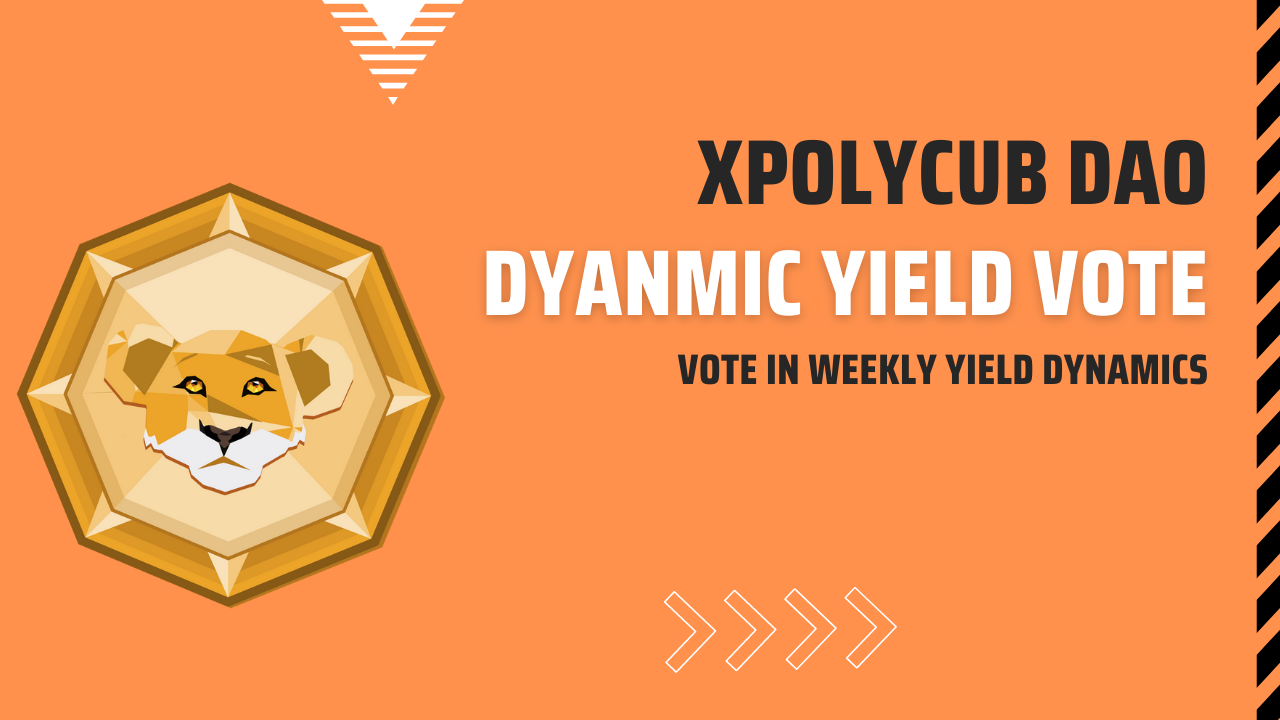 PolyCUB is becoming a highly efficient yield platform. With much feedback and dozens of iterations, we've radically changed the platform and I think we can all agree: for the better.
Before, PolyCUB focused on Kingdoms: a way to LP assets on other platforms and drive in yield. The problem with Kingdoms is that they only offer one single source of value accrual: a 10% management fee on the yield generated by Kingdoms TVL.
This model clearly had some sustainability issues. We went back to the drawing board several times and finally landed on a solution. We needed to create vaults that had several methods of deep value accrual for POLYCUB.
This is when we decided to launch pHBD and test our theory. pHBD has 4 methods of value accrual:
HBD - held as 1:1 collateral for the wrapped equivalent - staked on native platform (HBD on-chain savings) = value accrual for PolyCUB's PoL
HBD - 0.25% wrap and unwrap fee = value accrual for PolyCUB's PoL
HBD cross-chain arbitrage = value accrual for PolyCUB's PoL
pHBD-USDC holders need to buy more POLYCUB to stake as xPOLYCUB to control governance and drive the pHBD-USDC vault yield higher
The launch of pHBD was so successful in terms of value accrual - bringing in more revenue for PolyCUB's Protocol Liquidity than all of the Kingdoms combined in the first week - that it proved our theory and created a 180 degree shift in the future of PolyCUB as a Yield Platform.
Instead of focusing on Kingdoms, we are now completely focused on the Multi-Token Bridge Theory. Launching multiple Wrapped Derivatives on PolyCUB that are all paired to POLYCUB and generate multiple forms of value accrual.
Governance and Yield Dynamics
Governance is at the core of PolyCUB. We need governance to determine which vaults should gain the highest yield.
Governance can also be complex. As it stands, we have two forms of potential governance voting: static and dynamic.
We believe that the dynamic structure is the best, but it is hard to tell without real world data on how it performs.
The first Governance Vote will test our dynamic DAO voting system and see how it performs. From there, we'll continue to seek feedback from the community to tweak and improve the DAO Voting System.
Feedback
LeoFinance is built on candid community feedback. We need to hear your voice and see things in action to tweak them.
"Doing it live" is a fun meme in this community but it is somewhat true in how we do things. We implement, test and iterate based on your feedback.
The xPOLYCUB DAO is no different. We have models for how things should work but we need candid community feedback to tweak and improve them.
For this first round of governance voting, we ask that you:
Participate in xPOLYCUB Governance
Write a post about your experience
Include candid feedback on the governance system: what sucks. What doesn't suck. What do you want us to add/remove/tweak?
Every Crypto project in the world is trying to solve the DAO structure. We're now a part of this race as well: trying to come up with the best ways to decentralize power and give stakeholders a voice in the direction of the platform.
The First Governance Vote
Now, let's dive into the details of this first governance vote around yield dynamics. Again, please give feedback on this structure, what you think can be improved, etc.
2 Maximum Votes per xPOLYCUB Stakeholder
As an xPOLYCUB Holder, you can vote on any of the vaults listed on the /farms page (6 in total, currently).
You can cast 2 votes maximum. Subsequent votes will change your first two votes.
Example: if your first two votes are for pHBD-USDC and pHIVE-POLYCUB, then you cast a third vote for POLYCUB-WETH, your pHBD-USDC vote will no longer count and your updated votes will be POLYCUB-WETH and pHIVE-POLYCUB. If you want to keep voting for pHBD-USDC, then you will need to re-cast that vote to replace the pHIVE-POLYCUB vote.
Vote 1
Vote 2
Vote 3 replaces Vote 1
Vote 4 replaces Vote 2
Relative Vote Weighting
Yield dynamics will be determined based on relative vote strength.
This is a model that we borrowed from the Curve DAO and a few other DAO models that we like.
Each pool has a vote weight attached to it. This is determined by the amount of xPOLYCUB backing that pool relative to the total xPOLYCUB backing all pools.
xPOLYCUB Backing Pool A / xPOLYCUB Backing All 6 Pools = Relative Vote Weight %
We then take the Relative Vote Weight % and multiply it by the total Yield Available for the 6 farms to determine how much each Farm Vault should receive.
A minimum threshold and maximum threshold are in place (at least, in the beginning) as we continue to test and improve this Dynamic Governance Model:
Minimum: 0.35x Multiplier
Maximum: 3x Multiplier
Here's a rough example of what a dynamic vote might look like:

How to Vote - 2 Simple Steps
Again, we need to collect data on this dynamic model and see how it works in the real-world. The first vote will begin today and last for 7 days (Next Wednesday, May 27th).
If you own xPOLYCUB, now is the time to cast your vote.
If you LP Assets in any of the 6 pools, now is the time to have your voice and get more yield added to your favorite vault to drive up your own returns. If you see that a lot of xPOLYCUB is not backing your vault, you may want to buy more POLYCUB and stake it as xPOLYCUB to have more control over the yield dynamics.
Depending on how this voting structure goes and the tweaks we make to it, we will release the updated Governance UI to make voting as simple as clicking a button. For now, it's a two step process to vote via Metamask (or your preferred Polygon wallet).
Step 1). Decide Which Pools to Vote For
There are 6 pools you can vote on and you have 2 available votes. You vote based on PID of the vault:
POLYCUB-USDC PID: 4
POLYCUB-WETH PID: 5
pLEO-MATIC PID: 6
pHBD-USDC PID: 8
pHIVE-POLYCUB PID: 10
pSPS-POLYCUB PID: 11
To vote, send the corresponding amount of MATIC to the governance address:
POLYCUB-USDC PID: 0.0004
POLYCUB-WETH PID: 0.0005
pLEO-MATIC PID: 0.0006
pHBD-USDC PID: 0.0008
pHIVE-POLYCUB PID: 0.0001
pSPS-POLYCUB PID: 0.00011
Governance Address: 0x2CAA7b86767969048029c27C1A62612c980eB4b8
Step 2). Open Metamask (or whatever wallet you use for Polygon) and Cast Your Vote with a Simple Send TX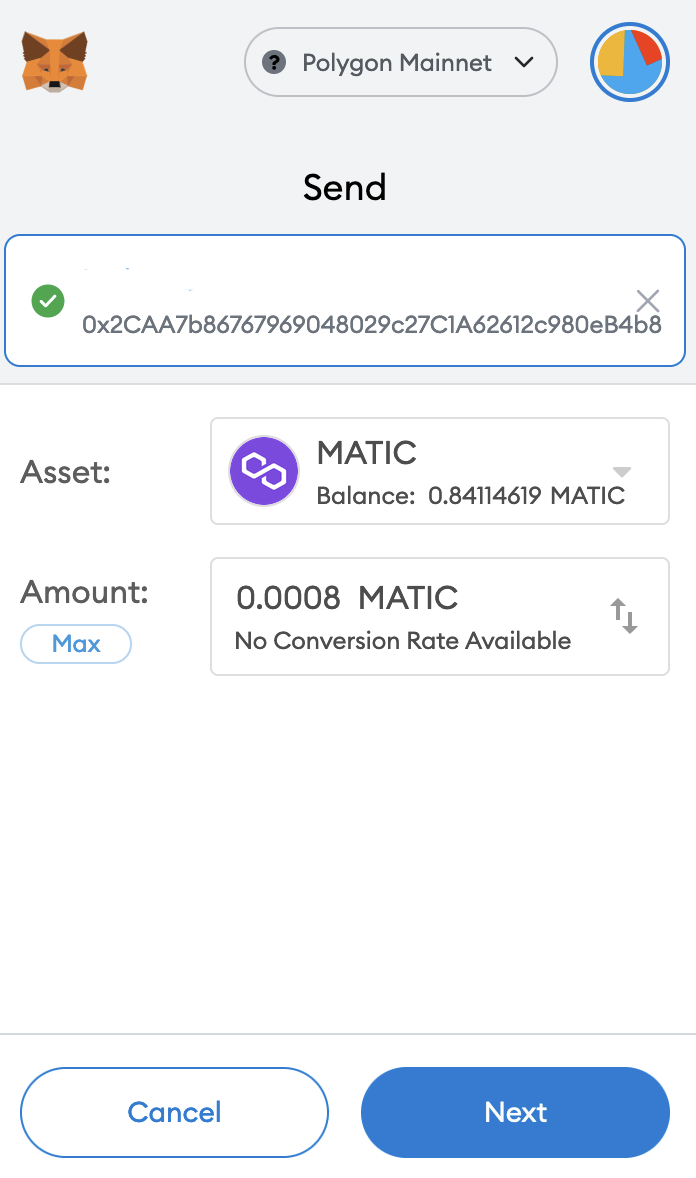 example TX to indicate voting for pHBD-USDC (PID 8)
The voting system is designed to have minimal complexity. All you have to do is send a simple TX to the governance address to indicate which vaults you'd like to vote for.
A few things to keep in mind:
Make sure you cast your vote from your address holding xPOLYCUB tokens
Each address can only vote twice. Votes beyond the first two will replace the first two
Voting is stake-weighted based on how much xPOLYCUB you hold - the more xPOLYCUB in your wallet, the more valuable your vote will be in determining how much yield a vault receives
The vote will close exactly 5 days from when this post goes live (May 25th at Noon EST).
Future Votes
The rounds will rotate on a weekly basis - just like Curve. It's a set it and forget it process, so if you vote for pHBD and pHIVE vaults and want to leave your vote cast for those two vaults each week, then just set your vote this week for those vaults and they will be auto-cast in each subsequent week - unless you change your vote.
If you change your vote, it will be updated in the next round.

About LeoFinance
LeoFinance is a blockchain-based Web3 community that builds innovative applications on the Hive, BSC, ETH and Polygon blockchains. Our flagship application: LeoFinance.io allows users and creators to engage and share content on the blockchain while earning cryptocurrency rewards.
Our mission is to put Web3 in the palm of your hands.
Twitter: https://twitter.com/FinanceLeo
Discord: https://discord.gg/E4jePHe
Whitepaper: https://whitepaper.leofinance.io
Our Hive Applications
Join Web3: https://leofinance.io/
LeoMobile (IOS): https://testflight.apple.com/join/cskYPK1a
LeoMobile (Android): https://play.google.com/store/apps/details?id=io.leofi.mobile
Delegate HIVE POWER: Earn 16% APR, Paid Daily. Currently @ 2.8M HP
Hivestats: https://hivestats.io
LeoDex: https://leodex.io
LeoFi: https://leofi.io
Polygon HBD (pHBD): https://wleo.io/hbd
Web3 & DeFi
Web3 is about more than social media. It encompasses a personal revolution in financial awareness and data ownership. We've merged the two with our Social Apps and our DeFi Apps:
CubFinance (BSC): https://cubdefi.com
PolyCUB (Polygon): https://polycub.com
LEO Wrapping Bridge: https://wleo.io
Posted Using LeoFinance Beta
---
---