Ellos creyeron y se bautizaron /They believed and were baptized
Hola hermosa comunidad de Hive / Hello beautiful Hive community
Este post es bilingüe/This post is bilingual
Hola amigos hoy comparto con ustedes lo que fue este 28 de agosto los bautizos en mi congregación. Una experiencia muy hermosa donde estuve por un mes dictando clases de bautismo y al pendiente de cada detalle para que se efectuará con todo amor y bendición ese día.
Hello friends, today I share with you what the baptisms in my congregation were like on August 28. A very beautiful experience where I was for a month teaching baptism classes and paying attention to every detail so that it will be carried out with all love and blessing that day.
---
Por tanto, id, y haced discípulos a todas las naciones, bautizándolos en el nombre del Padre, y del Hijo, y del Espíritu Santo.
MATEO 28:19
Go therefore, and make disciples of all nations, baptizing them in the name of the Father, and of the Son, and of the Holy Spirit.
MATTHEW 28:19
---
Realmente para mí es un privilegio, un honor poder servirle a Dios ¡Es mi pasión!
It is really a privilege, an honor for me to be able to serve God. ¡It is my passion!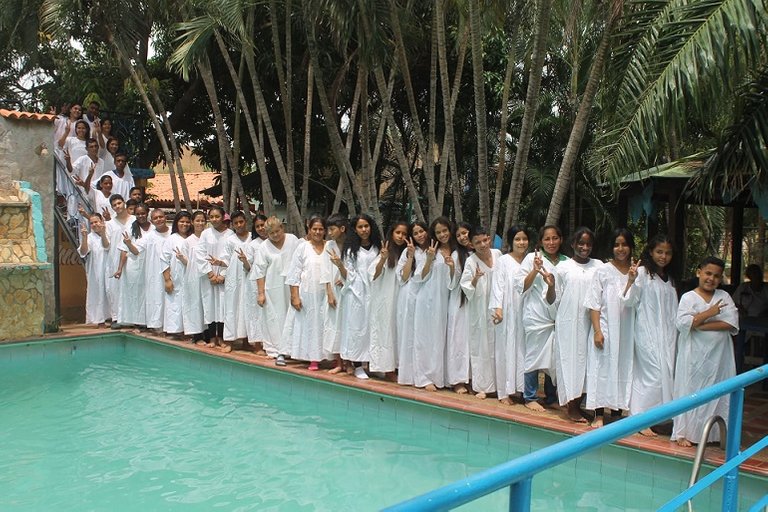 Les cuento que realizamos los bautizos en una granja. La apertura del bautismo es con una oración, cánticos de alabanza y unas palabras de parte de la Pastora de la congregación. Luego nos toca a los líderes bajar a la piscina, a las aguas y orar tomados de las manos por lo que estamos realizando para la gloria y honra del Señor, oración dando gracias a Dios y para echar fuera todo lo que no es de Él.
I tell them that we perform baptisms on a farm. The opening of the baptism is with a prayer, songs of praise and a few words from the Pastor of the congregation. Then it is up to the leaders to go down to the pool, to the waters and pray holding hands for what we are doing for the glory and honor of the Lord, prayer giving thanks to God and to cast out everything that is not His.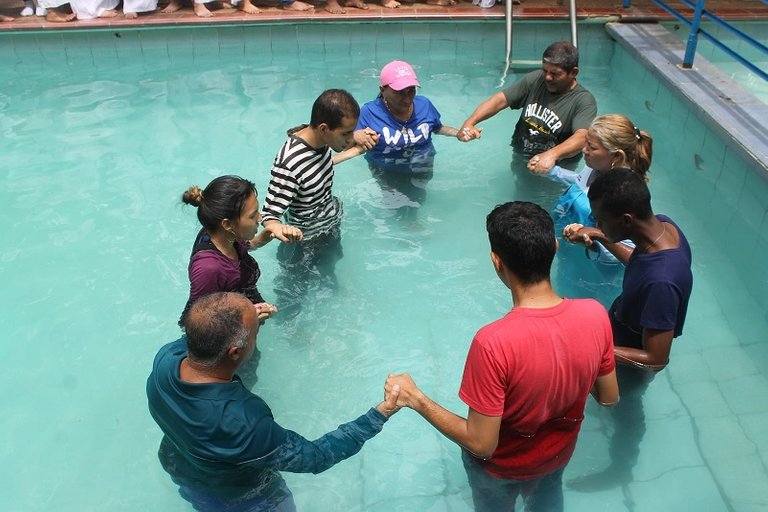 Brevemente, les comparto un poco sobre lo que representa este acto en la vida de un creyente, así como la experiencia vivida en ese día como líder de la congregación a cargo del grupo de 36 personas que bajaron a las aguas para afirmar su fe y en un acto público decir: Muero para el mundo y vivo para Cristo.
Briefly, I share a little about what this act represents in the life of a believer, as well as the experience lived on that day as the leader of the congregation in charge of the group of 36 people who went down to the waters to affirm their faith and in a public act to say: I die for the world and I live for Christ.

El bautismo / The baptism
Es un acto simbólico de inmersión, es decir, donde te sumergen en agua completamente. ¿Por qué decimos simbólico? Porque representa la muerte del viejo hombre y el comienzo de una nueva vida en Cristo Jesús. Tal como aconteció con Jesucristo, el cual, murió por amor a nosotros y resucito al tercer día de entre los muertos. Es representar esa sepultura, muerte y resurrección.
It is a symbolic act of immersion, that is, where you are completely submerged in water. Why do we say symbolic? Because it represents the death of the old man and the beginning of a new life in Christ Jesus. Just as it happened with Jesus Christ, who died out of love for us and rose again on the third day from the dead. It is to represent that burial, death and resurrection.
---
Romanos 6:4
Porque somos sepultados juntamente con él para muerte por el bautismo, a fin de que como Cristo resucitó de los muertos por la gloria del Padre, así también nosotros
andemos en vida nueva.
Romans 6:4
Because we are buried together with him to death through baptism, so that as Christ rose from the dead for the glory of the Father, so also we let's walk in new life.
---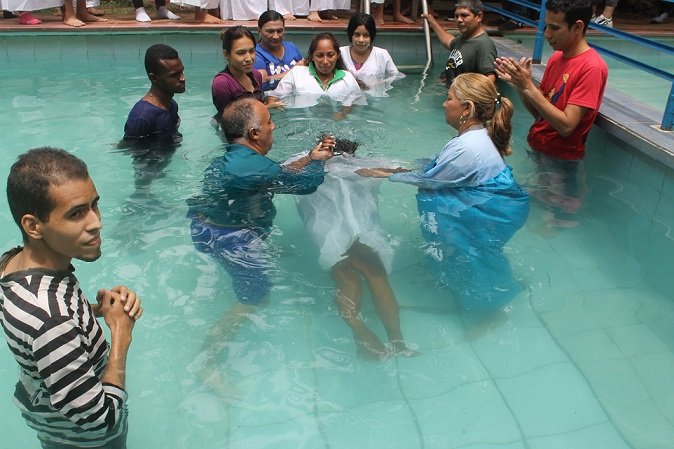 Pueden apreciar en la fotografía como la inmersión es completa en representación e ilustración del acto antes mencionado. Es algo completamente rápido, sumergir a la persona y levantarla.
You can see in the photograph how the immersion is complete in representation and illustration of the aforementioned act. It's a completely quick thing, submerging the person and lifting them up.

¿A qué muerte se refiere el bautismo? / What death does baptism refer to?
A nuestra manera de vivir anterior sin guardar de lleno los mandamientos del Señor y seguir las corrientes del mundo.
Our previous way of living without fully keeping the Lord's commandments and following the currents of the world.

El bautismo representa una proclamación pública de fe, de aquella persona que ha creído y acepta a Cristo Jesús como su único y suficiente Salvador. Es ese acto donde damos la muerte a lo viejo, a los pecados sumergiéndolos en el fondo de esas aguas, en el fondo del mar como especifican las Escrituras.
Baptism represents a public proclamation of faith, of that person who has believed and accepts Jesus Christ as his only and sufficient Savior. It is that act where we put the old to death, to the sins, submerging them in the bottom of those waters, in the bottom of the sea as specified in the Scriptures.
Miqueas 7:19
El volverá a tener misericordia de nosotros; sepultará nuestras iniquidades, y echará en lo profundo del mar todos nuestros pecados.
Micah 7:19
He will have mercy on us again; He will bury our iniquities, and will cast all our sins into the depths of the sea.
---
El bautismo es un mandato de Jesús para todo creyente, para dar rompimiento a su pasado y engendrar en ti un nuevo nacimiento. Con respecto al bautismo, Jesús es el mayor de los ejemplos, empezó su Ministerio luego de ser bautizado, por lo que, nosotros debemos seguir su ejemplo.
Baptism is a command of Jesus for all believers, to break their past and engender a new birth in you. Regarding baptism, Jesus is the greatest of the examples, he began his Ministry after being baptized, so we must follow his example.
---
Mateo 3:13-17
El bautismo de Jesús
(Mr. 1.9-11; Lc. 3.21-22)
13 Entonces Jesús vino de Galilea a Juan al Jordán, para ser bautizado por él.
14 Mas Juan se le oponía, diciendo: Yo necesito ser bautizado por ti, ¿y tú vienes a mí?
15 Pero Jesús le respondió: Deja ahora, porque así conviene que cumplamos toda justicia. Entonces le dejó.
16 Y Jesús, después que fue bautizado, subió luego del agua; y he aquí los cielos le fueron abiertos, y vio al Espíritu de Dios que descendía como paloma, y venía sobre él.
17 Y hubo una voz de los cielos, que decía: Este es mi Hijo amado, en quien tengo complacencia.
---
Matthew 3:13-17
The baptism of Jesus
(Mr. 1.9-11; Lk. 3.21-22)
13 Then Jesus came from Galilee to John at the Jordan, to be baptized by him.
14 But John opposed him, saying: I need to be baptized by you, and are you coming to me?
15 But Jesus answered him: Leave now, because that is how it is fitting that we fulfill all righteousness. Then she left him.
16 And Jesus, after he was baptized, then came up out of the water; and behold, the heavens were opened to him, and he saw the Spirit of God descending like a dove, and coming upon him.
17 And there was a voice from heaven, saying: This is my beloved Son, in whom I am well pleased.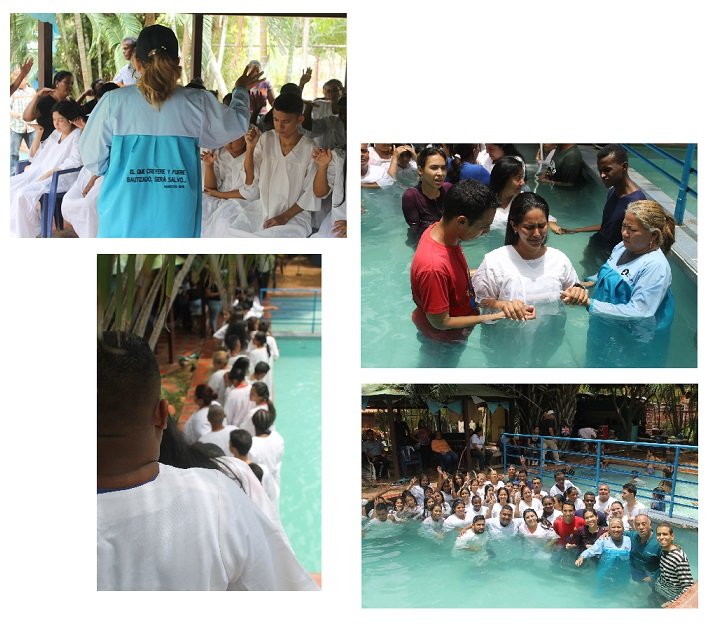 En el bautismo los cielos son abiertos para ti para ser bendecido por el Padre.Jesús no tenía necesidad de ser salvo, pero a través de este acto se identificaba con nosotros, con aquellos a los que vino a salvar y por los que dejo su zona de confort en los cielos (por así decirlo) para venir a darlo todo por nosotros sin merecerlo. Nos enseña a través de su ejemplo que debemos cumplir con este acto de obediencia.
In baptism the heavens are opened for you to be blessed by the Father. Jesus did not need to be saved, but through this act he identified himself with us, with those whom he came to save and for whom he left his zone. of comfort in heaven (so to speak) to come give everything for us without deserving it. He teaches us through his example that we must comply with this act of obedience.

En el evangelio para ser salvos debemos arrepentirnos del pecado y aceptar a Cristo Jesús; exponer al mundo, hacerle visible a este que nos bautizamos, que hacemos públicamente nuestra fe en Jesús y comenzamos una vida guardando sus mandamientos, lo que en las Escrituras está establecido.
In the gospel to be saved we must repent of sin and accept Jesus Christ; expose the world, make it visible to it that we are baptized, that we publicly make our faith in Jesus and begin a life keeping his commandments, which is established in the Scriptures.

Para mí es un momento tan hermoso y disfrute tanto compartir con ellos en las clases, responder sus interrogantes, que se abrieran en contarme cosas vividas, darles consejería, entre tanto y que ellos a la vez, me conocieran más de cerca, puesto que siempre tenemos una ocupación en la congregación ¡No paramos! y más cuando tu ministerio es el de evangelista, ocupados en buscar las almas para Cristo, trabajando en estrategias y diseños nuevos... Digamos que pudimos compartir más allá de vernos las caras en la iglesia y decir: Buenas, Dios le bendiga.
For me it is such a beautiful moment and I enjoy so much sharing with them in the classes, answering their questions, that they open up to tell me about experiences, give them counseling, in the meantime and that they, at the same time, get to know me more closely, since they always we have an occupation in the congregation We do not stop! and more when your ministry is that of an evangelist, busy looking for souls for Christ, working on strategies and new designs ... Let's say that we were able to share beyond seeing our faces in church and saying: Good, God bless you.
---
Que lindo es que un chico sordomudo recibió las clases de bautismo y dio este paso de fe, su mamá estuvo allí de interprete en el lenguaje de señas "contamos con este nuevo recurso en la congregación" ¡pensamos en todos! para que así aquellas personas con esta condición también conozcan de nuestro Salvador.
How nice it is that a deaf-mute boy received baptism classes and took this step of faith, his mother was there as an interpreter in sign language "we have this new resource in the congregation" we think of everyone! so that those people with this condition also know about our Savior.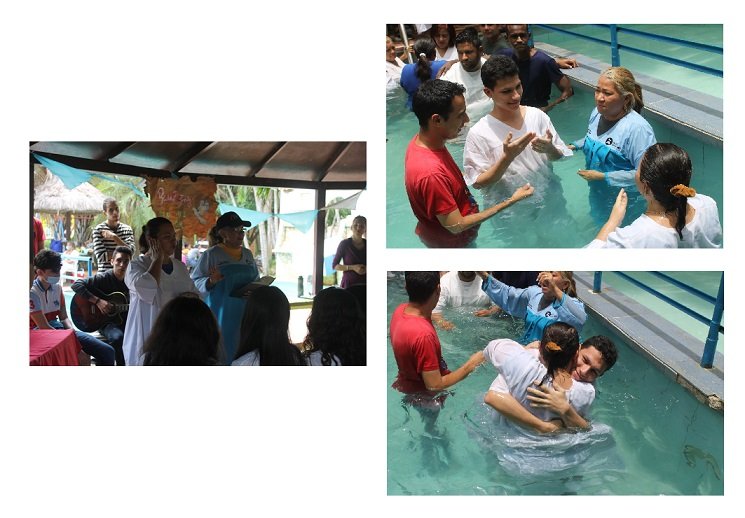 Fue un día maravilloso, lleno de la Presencia del Espíritu Santo de Dios y con un compartir muy bueno, un día donde hasta la comida se multiplico, ¡Que abundancia la que hubo! Cuan bueno es habitar los hermanos juntos y en armonía.
It was a wonderful day, filled with the Presence of the Holy Spirit of God and with a very good sharing, a day where even the food multiplied, what an abundance there was! How good it is to inhabit the brothers together and in harmony.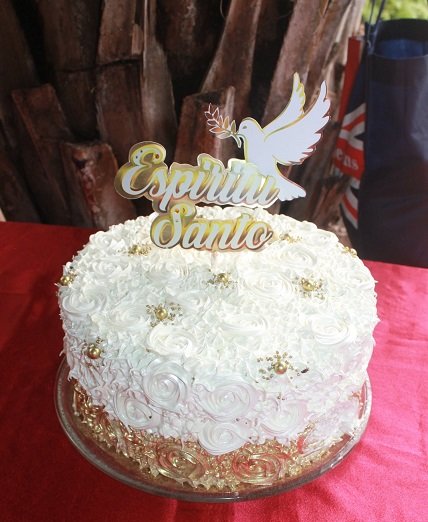 Esta belleza y delicia de pastel fue realizado por una de las hermanas bautizadas Keiny Coll/ This beauty and delight of cake was made by one of the baptized sisters Keiny Coll
Fue un mes algo largo donde había que preparar con el discipulado a estos hermanos hoy en Cristo y de responsabilidad para mí al pendiente de ellos y cada detalle. Pero te queda una gran satisfacción del trabajo en la obra del Señor.
It was a long month where it was necessary to prepare with discipleship these brothers today in Christ and responsibility for me to pay attention to them and every detail. But you still have great satisfaction from work in the Lord's work.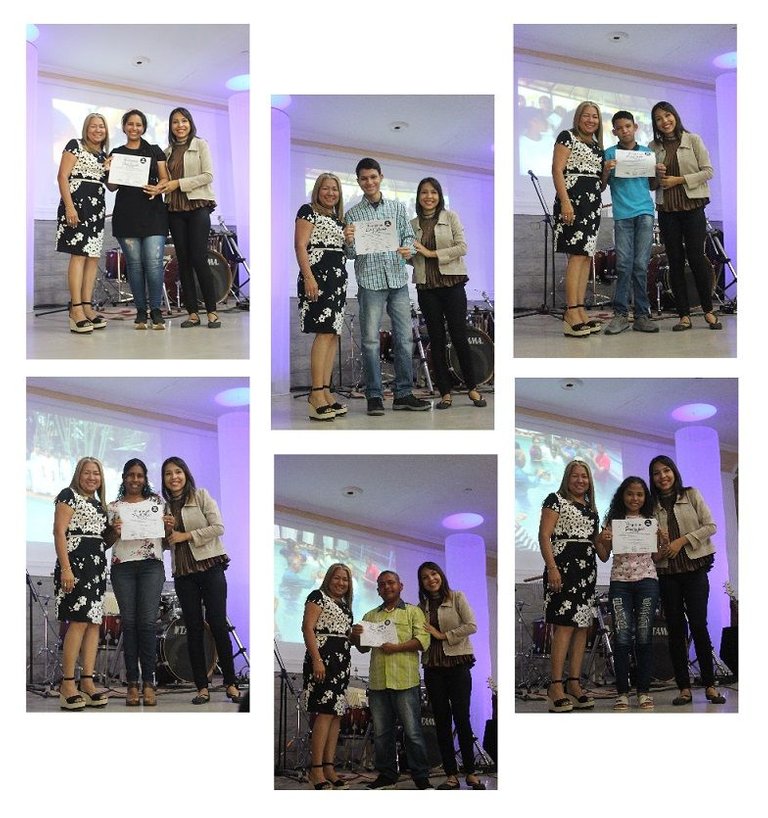 Allí pueden ver en fotos la entrega de sus certificados de bautismo /
There you can see in photos the delivery of your baptism certificates.
Espero que este contenido haya sido de tu agrado. Gracias por leer este post un rato/ I hope this content has been to your liking. Thanks for reading this post for a while.

Las fotografías son de @fotoestudio_estrella quien las facilito para publicarlas en redes sociales de la congregación/The photographs are from @fotoestudio_estrella who provided them to publish them on social networks of the congregation.

---
---