Sembrar en casa con los más pequeños. Importancia y beneficios / Sowing at home with the little ones
Saludos mis amigos (a) / Greetings my friends
Este post es bilingüe/This post is bilingual
Espero que mis amados lectores de esta linda comunidad se encuentren muy bien. Hoy les escribo compartiendo un espacio verde que estoy desde hace unos buenos meses atrás creando de a poquito en casa. En vista de que es puro piso nada de tierra para sembrar en mi hogar. Decidí sembrar en macetas todo tipo de plantitas, raíces, semillas... Todo lo que fuese "plantas" para darle verdor a mi hogar, especialmente para mis chiquititas en casa.
I hope that my beloved readers of this beautiful community are doing very well. Today I write to you sharing a green space that I have been creating little by little at home for a few good months. In view of the fact that it is pure ground, no land to sow in my home. I decided to plant in pots all kinds of plants, roots, seeds ... Everything that was "plants" to give my home greenery, especially for my little ones at home.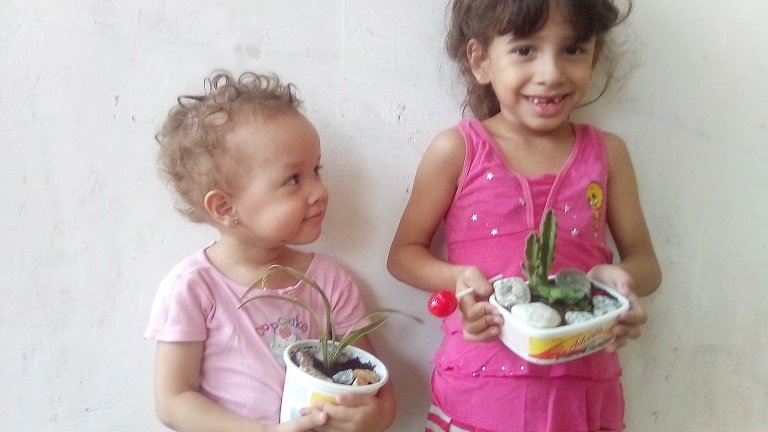 ---
Comencé primeramente con unas semillas de albahaca y una planta de sábila o áloe vera como se conoce en otros sitios. A ellas se integraron dos de orégano, unos cactus (me gustan muchísimos y a mis hijas también y tienen conocimiento que no las pueden tocar porque se pueden pinchar. Solo las admiran desde lejitos) de estas me gusta que no requieren de tanta agua y que puedo implantar mis plantas para obtener otras más en poco tiempo.
I started first with some basil seeds and an aloe vera plant as it is known elsewhere. They were joined by two oregano, some cacti (I like them a lot and my daughters too and they are aware that they cannot touch them because they can be pricked. They only admire them from afar) I like these that they do not require so much water and that I can implant my plants to obtain more in a short time.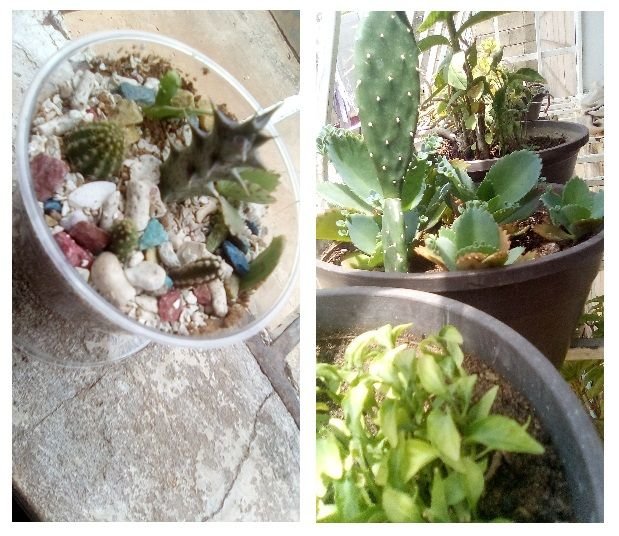 Contacto con la naturaleza / Contact with the nature
Siendo madre me gusta que mis hijas tengan contacto con la naturaleza por lo que me propuse crear ese lindo espacio en el patio de la casa, de sembrar en macetas y enseñarlas a plantar y regarlas. Esto me permite enseñarles responsabilidad en el cuido y hablarles del amor ¿Cómo así te preguntarás? Acaso no has leído por allí que el amor es como una planta que debes tener cuidado de ella, necesita de su abono, regarla con cuidado, darle su rayo de luz solar y hablarle con cariño para que crezcan hermosas. Así con ejemplos a través de las plantas les enseño el valor de amar y cuidar a quienes están a su alrededor.
Being a mother, I like my daughters to have contact with nature, so I decided to create that beautiful space in the backyard of the house, to sow in pots and teach them to plant and water them. This allows me to teach them responsibility in caring and talk to them about love. How will you ask yourself? Have you not read there that love is like a plant that you must take care of it, it needs its compost, water it carefully, give it its ray of sunlight and speak with affection so that they grow beautiful. So with examples through plants I teach them the value of loving and caring for those around them.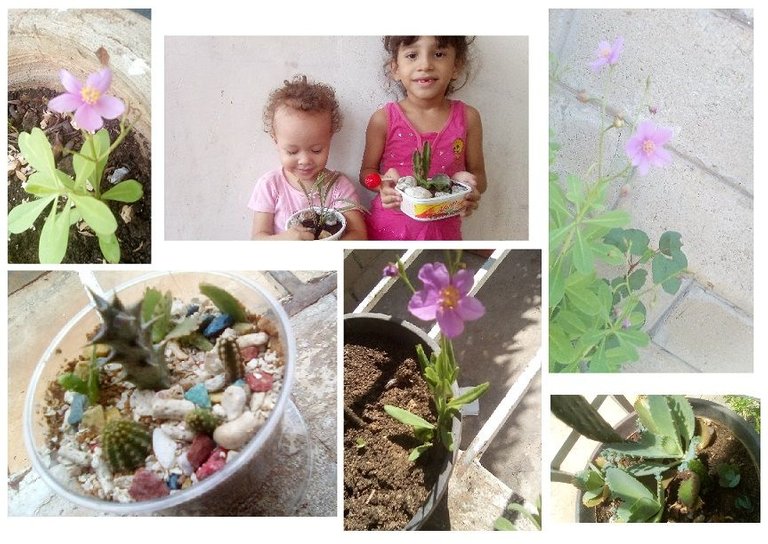 Es un momento tan especial, porque cuando vamos a implantar una de estas plantas o me aparezco en casa con una nueva para ser sembrada, mis nenas se alegran y de inmediato me dicen: ¡Mami vamos a sembrarla! Buscamos tierra, colocamos el abono y la regamos entre las tres y hasta decoramos con piedras bonitas que recolectamos para colocar alrededor.
It is such a special moment, because when we are going to implant one of these plants or I show up at home with a new one to be planted, my girls are happy and immediately tell me: Mommy, we are going to plant it! We look for soil, we place the compost and we water it between the three of us and we even decorate with beautiful stones that we collect to place around.
---
Les enseño con ello, además, a contribuir con el ambiente, en el sentido de que no desechamos en la basura los recipientes plásticos de mantequilla porque les damos el uso de macetas para nuestras plantas. Estamos escasas de pintura, pero tengo como fin comprar unas pinturas con lo que me genere Hive, para luego pintar estos potes o recipientes junto con mis nenas para ocultar la publicidad de estos para que luzcan más bonitos y a nuestro gusto; también para redactar un contenido creativo sobre el arte manual que hagamos juntas como mami e hijas.
I also teach them to contribute to the environment, in the sense that we do not dispose of plastic butter containers in the garbage because we give them the use of pots for our plants. We are short of paint, but my goal is to buy some paintings with what Hive generates for me, and then paint these pots or containers together with my girls to hide the advertising of these so that they look more beautiful and to our liking; also to write a creative content on manual art that we do together as mommy and daughters.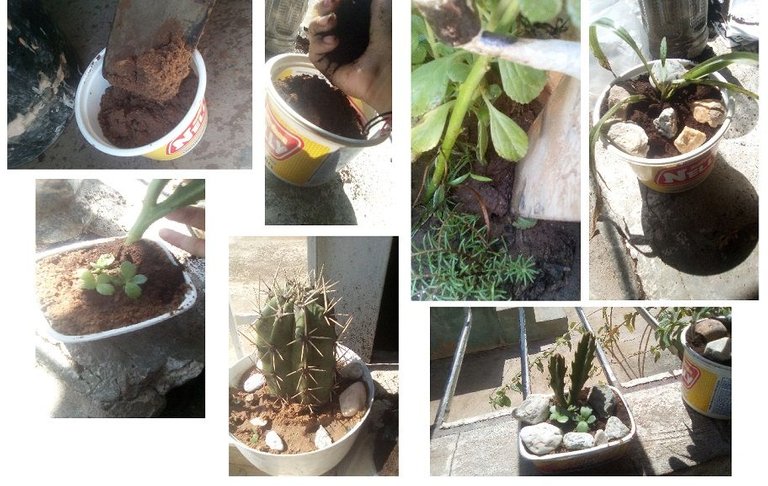 ¡Vamos a integrarlos! / ¡Let's integrate them!
Integra a los pequeños de la casa a darle valor a la tierra, a las plantas, al ambiente que habitamos. Si tu condición es como la de mi caso, nada de tierra en tu hogar o es un departamento, busca la alternativa de crear ese espacio tan único y especial lleno de naturaleza, con esos matices verdes, especialmente si hay niños en casa, que puedan sentir esa relación a lo natural con variedad de plantas, flores...
It integrates the little ones in the house to give value to the land, the plants, the environment we inhabit. If your condition is like my case, no land in your home or it is an apartment, look for the alternative of creating that unique and special space full of nature, with those green nuances, especially if there are children at home, who can feel that relationship to nature with a variety of plants, flowers ...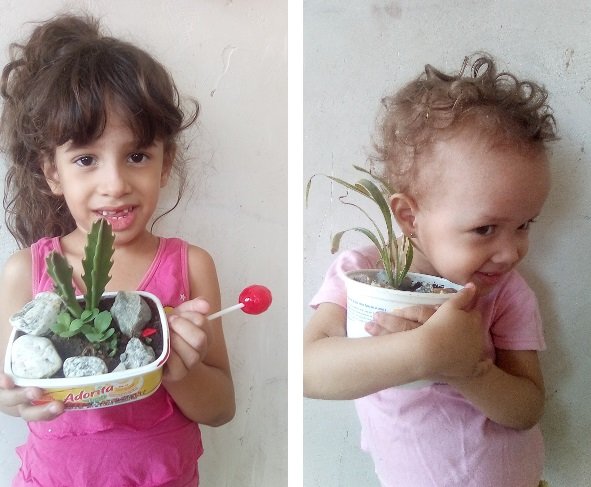 Beneficios de sembrar plantas en casa / Benefits of planting plants at home
Te hacen mantener la mente por un rato ocupada, reduciendo estrés, por ejemplo. / They make you keep your mind busy for a while, reducing stress, for example.
Sembrándolas con nuestros hijos permite tener momentos tan especiales, de cooperación y enseñanza. Además, que entretiene al niño/a despertando el interés, al cuidado y respeto a la naturaleza. Logrando ser un cúmulo de experiencias totalmente gratificantes. / Sowing them with our children allows us to have such special moments of cooperation and teaching. In addition, it entertains the child by awakening interest, care and respect for nature. Managing to be an accumulation of totally rewarding experiences.
Aromatizan tu hogar. En casa al haber una brisa en ese espacio donde esta la maceta de albahaca esta desprende su aroma, convirtiéndose en un ambientador natural del lugar. / They scent your home. At home, as there is a breeze in that space where the basil pot is, it gives off its aroma, becoming a natural air freshener of the place.
Te permite aderezar, tener aromatizantes frescos a la mano ( como el orégano,albahaca, menta... por ejemplo). También siembro cebollín para economizar, crecen rápido y me elimino ese gasto en el mercado. / It allows you to season, have fresh flavorings on hand (such as oregano, basil, mint ... for example). I also plant chives to save money, they grow fast and I eliminate this expense in the market.
Decoran el ambiente. / They decorate the environment.
Aprendemos su ciclo vital y podemos enseñarlo a los pequeños del hogar también. En mi caso me permite enseñar también sobre las Escrituras a mis hijas, como Jesús a través de las parábolas enseñaba y comparaba con lo relacionado a plantas, la siembra... por ejemplo:
/ We learn its life cycle and we can teach it to the little ones at home as well. In my case, it also allows me to teach my daughters about the Scriptures, as Jesus taught and compared through the parables with things related to plants, sowing ... for example:
La parábola del sembrador (Marcos 4:1-20) tiene la intención de mostrarnos cómo llega el reino de Dios a los corazones humanos. / The parable of the sower (Mr 4: 1-20) is intended to show us how the kingdom of God reaches human hearts.
Parábola de la semilla que crece en secreto (Marcos 4:26-29), trata del modo en que crece el reino de Dios. / The parable of the seed growing in secret (Mark 4: 26-29), deals with the way in which the kingdom of God grows.
La parábola de la semilla de mostaza (Marcos 4:30-32) nos muestra que aunque el comienzo del reino de Dios es insignificante, su final es sorprendente. / The parable of the mustard seed (Mark 4: 30-32) shows us that although the beginning of the kingdom of God is insignificant, its end is surprising.
El hogar se ve más acogedor. / The home looks more welcoming.
Algunas nos permiten disfrutar de un buen té o como tratamiento medicinal (En casa tengo toronjil) / Some allow us to enjoy a good tea or as a medicinal treatment (At home I have lemon balm)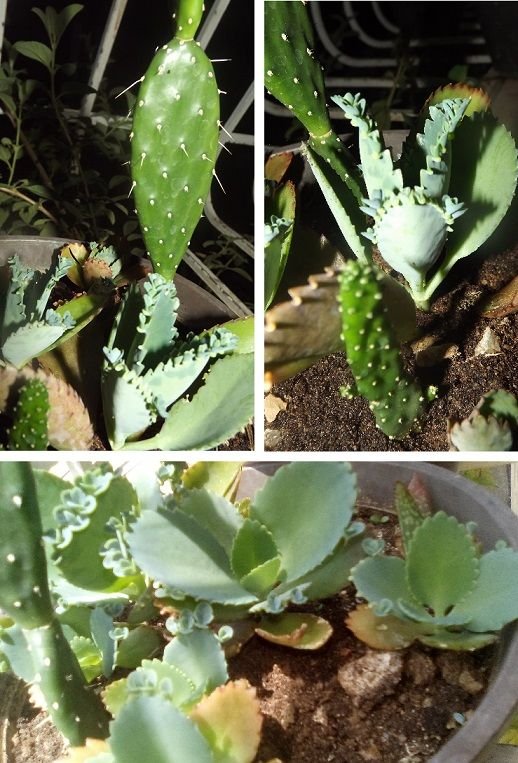 Cierro, comentándoles que para mí son todo un deleite visual y me enternece cuando veo a mis hijas obervándolas detenidamente, viendo la evolución de las plantitas en casa, si han florecido, si les falta agua, entre otros.
I close, commenting that for me they are a visual delight and it moves me when I see my daughters observing them carefully, seeing the evolution of the plants at home, if they have flowered, if they lack water, among others.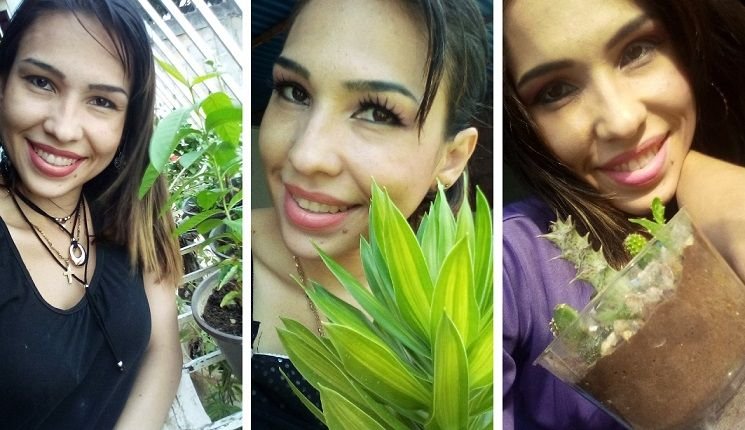 Espero que este contenido haya sido de tu agrado. Gracias por leer este post un rato/ I hope this content has been to your liking. Thanks for reading this post for a while.

Las fotografías son de mi autoría tomadas con mi cámara Fujifilm Finepix S4000 y también con mi celular Alcatel Tetra/ The photographs are my own, taken with my Fujifilm Finepix S4000 camera and also with my Alcatel Tetra cell phone.

---
---