Wochen Wahnsinns - Mein Schnäppchen of the year 2021
---
Mein Wahnsinns Schnäppchen of the year 2021 ist BXT für die ich via Swaps ca 1.25 pro BXT gezahlt habe.
Letztens erst ist mir aufgefallen das ich damit nun einen ganz anderen APR haben muss als es bei der Anzeige im Tool selber angegeben ist.
Und habe mir das ganze mal ausgerechnet, und bin in Hive betrachtet gerundet auf 215% APR gekommen. Und habe selber gestaunt.
Die Rechnung die ich gemacht habe ist.: 0.738:125 * 100 * 365 = 215.496%
Korrigiert mich falls ich falsch gerechnet habe aber nach meinen Schätzungen müsste das in etwa stimmen 😆
---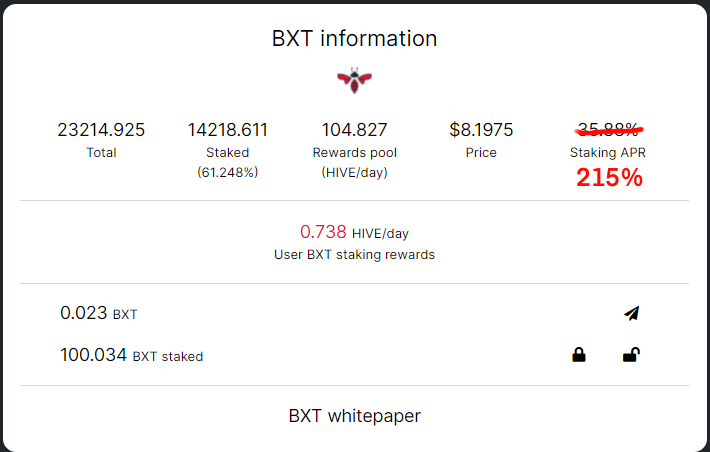 ---
Es ist Wahnsinn wie viel man mit 125 Hive bekommen kann wenn man zur richtigen Zeit am richtigen Ort über so geniale Projekte stolpert wie in dem Fall das Beeswap Tool und dessen Fee Distribution Token, von @Gerber.
dieses Prinzip hatte ich schon von anderen Plattformen gekannt und wusste, welch Wertschöpfung daraus entstehen konnte
---
Ich bin mir noch unschlüssig was ich mit diesem Wasserhahn anstellen soll..
#hashkings Landplots mieten, oder einen Tribetoken wie #CTP oder SMTs wie #MEME akkumulieren oder ganz was anderes..
Was würdet ihr mit diesen liquid Hive die täglich reintröpfeln anstellen?
---
---