Los Consejos de mis Abuelos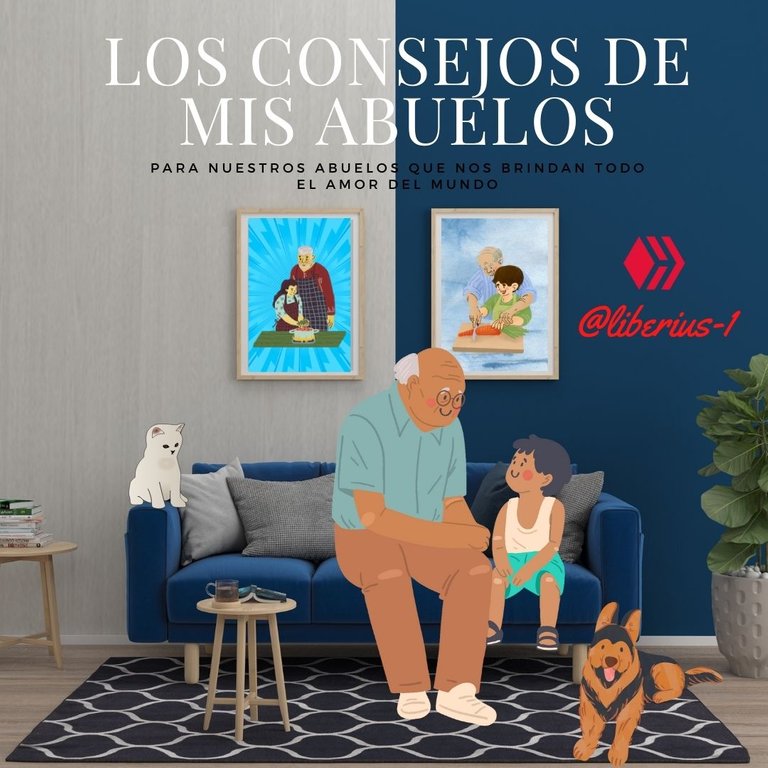 ---
En Honor a mis Abuelos // In Honor of my Grandparents
---

---
Feliz y Bendecido Dia para todos los Alegres Compañeros de la Comunidad Familia y Amigos, es para mi motivo de Alegría Compartir mi primer POST dentro de esta excelente Comunidad que resalta el valor de Nuestras Familias.
En esta oportunidad les traigo un tema que me despierta Nostalgia que representa la importancia de los Consejos de nuestros abuelos, aquellas palabras llenas de sabiduría que marcan nuestras vidas
Este post es en Honor a mis abuelos, los cuales ya no están presentes físicamente, pero viven permanentemente en los recuerdos de mi familia y en mi mente.
---
Happy and Blessed Day to all the Joyful Companions of the Community Family and Friends, it is for me a motive of Joy to share my first POST within this excellent Community that highlights the value of Our Families.
This time I bring you a topic that awakens nostalgia in me that represents the importance of the advice of our grandparents, those words full of wisdom that mark our lives.
This post is in Honor of my grandparents, who are no longer physically present, but live permanently in the memories of my family and in my mind.
---

---

---

---
El tiempo compartido con nuestros abuelos es invaluable, cuando se ganan el corazón de sus nietos y no hay nadie que pueda sacarlos de ese lugar especial, mis abuelos fueron ejemplos para toda su familia, personas que son inspiración hasta el dia hoy a pesar de no estar presentes físicamente
Cuando pienso en la relación que llevo con mi familia no puedo dejar de recordar la maravillosa relación que tuve con mis abuelos y para ser sincero me hacen mucha falta, sin embargo los consejos que recibí de parte de ellos desde mi infancia, palabras sabias que hoy hacen eco en mi mente y tienen mas sentido que nunca.
Al mirar a mis recuerdos encuentro muchos episodios en los cuales mis abuelos conversaban conmigo siempre compartiendo sus anécdotas y sus aprendizajes, podía pasar horas escuchándolos narrar sus historias, en las cuales siempre habían Consejos.
---
The time shared with our grandparents is invaluable, when they win the hearts of their grandchildren and there is no one who can take them out of that special place, my grandparents were examples for their entire family, people who are inspirations to this day even though they are not physically present.
When I think of the relationship I have with my family I can't help but remember the wonderful relationship I had with my grandparents and to be honest I miss them very much, however the advice I received from them since my childhood, words of wisdom that echo in my mind today and make more sense than ever.
Looking back in my memories I find many episodes in which my grandparents talked with me always sharing their anecdotes and their learning, I could spend hours listening to them narrating their stories, which were always accompanied by advice.
---

---

---

---
Mi abuelo materno era el centro de la familia, de descendencia Italiana, un hombre entusiasta, extrovertido, que siempre le sacaba al lado positivo a todo, a través de sus poemas nos narraba historias centrada en sus propias experiencias y años de juventud.
Siempre lo recuerdo animado, no se dejaba vencer con nada, siempre dispuesto ha trabajar, una actitud que mantuvo hasta el final de sus días.
Compartía con todos sus nietos, todos les decían PAITO, el alma de las reuniones con sus alegres Galerones con versos controversiales, un poeta sin fama, que siempre mencionaba un refrán.
"DEJE QUIETO AL QUE ESTA QUIETO, PORQUE ES QUE ESTA QUIETO SABE PORQUE LO ESTA, PELIGROSO NO ES EL HOMBRE QUE ALERDEA SINO AQUEL QUE HACE SILENCIO".
"MIJO, PICARO NO ES AQUEL QUE NO PAGA, ESE ES UN TONTO, EL VERDADERO PICARO ES EL PAGA, PORQUE EL QUE CANCELA SUS DEUDAS SIMPRE TENDRA LAS PUERTAS ABIERTAS A SU FAVOR". Estas palabras fueron algunos de los consejos de mi abuelo Rafael.
Mi abuelo Rafael siempre nos transmitía valores, respeto, honestidad, compañerismo, lealtad, enseñanzas que hoy en dia me han guiado en muchas de mis decisiones.
---
My maternal grandfather was the center of the family, of Italian descent, an enthusiastic, extroverted man, who always took the positive side of everything, through his poems he told us stories centered on his own experiences and years of youth.
I always remember him cheerful, he was always ready to work, an attitude he maintained until the end of his days.
He shared with all his grandchildren, everyone called them PAITO, the soul of the meetings with his cheerful Galerones with controversial verses, a poet without fame, who always mentioned a proverb.
"LEAVE STILL THE ONE WHO IS STILL, BECAUSE HE WHO IS STILL KNOWS WHY HE IS STILL, DANGEROUS IS NOT THE MAN WHO WARNS BUT THE ONE WHO MAKES SILENCE".
MIJO, PICARO IS NOT THE ONE WHO DOES NOT PAY, HE IS A FOOL, THE TRUE PICARO IS THE ONE WHO PAYS, BECAUSE THE ONE WHO CANCELS HIS DEBTS WILL ALWAYS HAVE THE DOORS OPEN IN HIS FAVOR". Words of my grandfather RAFAEL.
My grandfather Rafael always transmitted values, respect, honesty, companionship, loyalty, teachings that today have guided me in many of my decisions.
---

---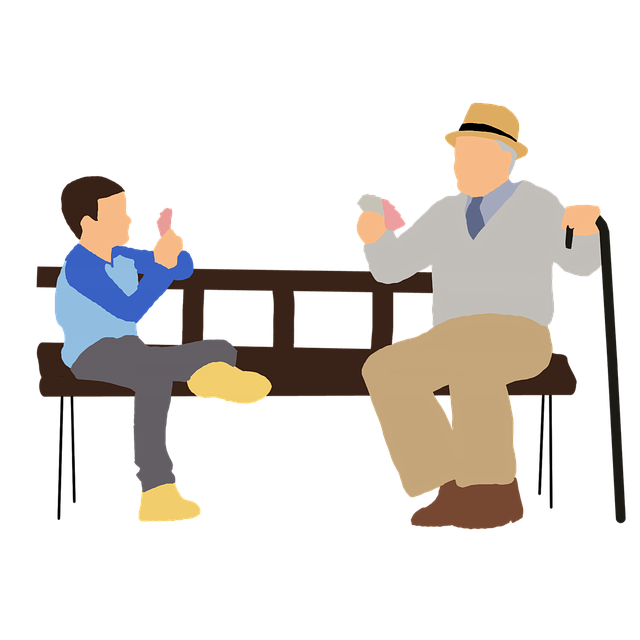 imagen de pixabay// image by pixabay
---

---
Mi abuelo Paterno fue un Hombre de fe, dedicado a su familia, que siempre resalto la importancia de PENSAR ANTES DE ACTUAR.
Tenia una forma muy particular de aconsejarme, era directo con sus palabras y siempre solía mencionar:
EL QUE TOMA CONSEJOS LLEGA A VIEJO, UN CONSEJO TE PUEDE SALVAR LA VIDA
Realmente fui una persona afortunada por tener estas dos personas en mi vida, mis abuelos y sus agradables consejos, hoy me arrepiento de no haber tomado en cuenta algunas de sus palabras, me hubiese evitado cometer muchos errores en mi vida
---
My paternal grandfather was a man of faith, dedicated to his family, who always stressed the importance of THINKING BEFORE ACTING.
He had a very particular way of advising me, he was direct with his words and always used to mention:
HE WHO TAKES ADVICE GETS OLD, ONE PIECE OF ADVICE CAN SAVE YOUR LIFE.
I was really a lucky person to have these two people in my life, my grandparents and their nice advice, today I regret not having taken into account some of their words, it would have prevented me from making many mistakes in my life.
---

---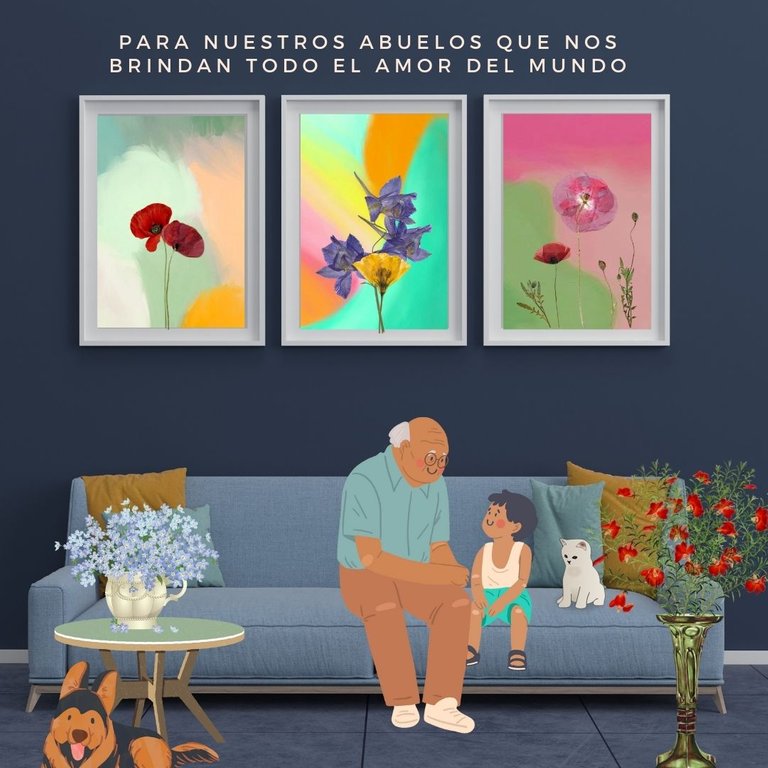 ---

Imagen Diseñada en Canva por @liberuis-1 // Image Designed in Canva by @liberuis-1
---
La figura de los abuelos en la familia es especial, ellos pueden dejarte grandes enseñanzas, legados extraordinarios.
Los Abuelos son fuentes de mucha experiencia, una figura que influye en nuestra formación, orientación, los pilares de una familia.
Espero este post sea de tu agrado, valoremos los consejos de nuestros abuelos, si los tuyos están vivos muéstrale su importancia, ellos también necesitan afecto de sus seres queridos.
---
The figure of grandparents in the family is special, they can leave you great teachings, extraordinary legacies.
Grandparents are sources of a lot of experience, a figure that influences our formation, orientation, the pillars of a family.
I hope this post is to your liking, let's value the advice of our grandparents, if yours are alive show them their importance, they also need affection from their loved ones.
---
gracias por leer este post
thank you for reading this post
---
Imágenes diseñadas en Canva por @liberius-1
Los separadores de texto y el Banner fueron diseñados en Canva.
Texto traducido en Deepl
Fotografía de mi propiedad.
---
Images designed in Canva by @liberius-1
The text separators and the Banner were designed in Canva.
Text translated in Deepl
Photograph of my property.
---

---
---