Farming Tales News, WAX Market Value Considerations and OneUp Cartel Investment Financial Report #14 (ENG/ITA)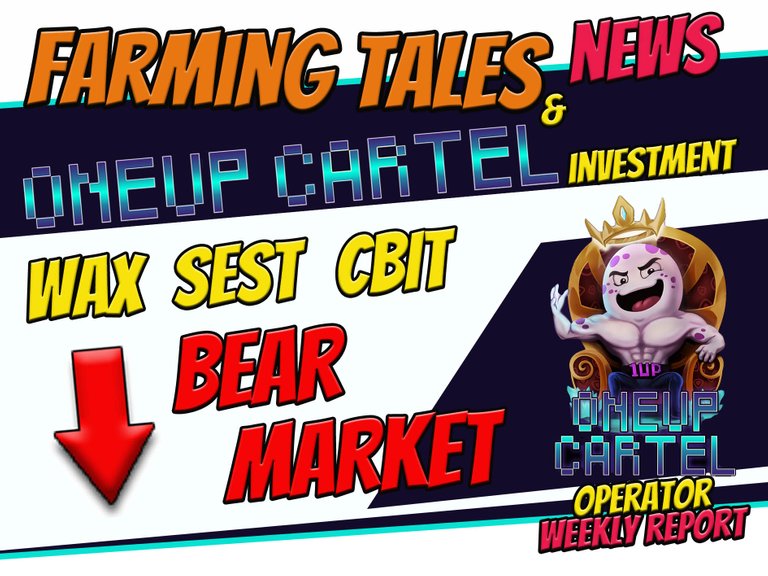 Logo Farming Tales owned by @farmingtales - Logo Oneup Cartel owned by @oneup-cartel - Edit by @libertycrypto27 - Font used is Open Source

La versione in italiano è subito dopo la versione in inglese - The Italian version is immediately after the English version

Farming Tales News, WAX Market Value Considerations and OneUp Cartel Investment Financial Report #14

---
Farming Tales is an NFT-based farming simulator built and developed on the WAX blockchain.
I decided to start playing and investing in Farming Tales because I saw peculiarities in this game that many other blockchain-based farming games don't have:
Farming Tales has beautiful graphics and uses a 3D graphics engine.
Farming Tales has some NFT that are linked to real goods from real farms (saffron, honey,...).

Another point in favor of Farming Tales over other farming games is that it chose my beloved Hive to:
In addition, Farming Tales' roadmap also includes a future goal to integrate on Hive blockchain (Q3 - 2022).

Source: Whitepaper of FarmingTales
After this brief introduction to the Farming Tales game, let's see what's new and updated about Farming Tales (reference period: May 4, 2022 - May 11, 2022).

Farming Tales News

Yesterday, May 10, Farming Tales informed its players, via its Discord server, about the progress and development progress made on the implementation of the future multiplayer game mode.
In fact in the near future there will be the release of
New Waxchester
, a major update that will make changes to the current game dynamics by introducing:
a new production system
the multi-player game mode.
As lykos wrote in the announcement message, the development of New Waxchester is well underway, much progress has been made, and by the time the new game mode is introduced, a first multiplayer event will also be available.

Another interesting news announced in the same message by the Farming Tales development team concerns Farming Tales promotion activities.
Mini-games with the same theme as Farming Tales will be developed that will run on different blockchains and serve to introduce Farming Tales and the WAX blockchain to more people.
The first mini-game will be released on the Solana blockchain.
I personally really like this idea and think it will be very useful to increase the number of players.

The latest news concerns the announcement of the sale of the **real Hemp Lands (land where hemp is grown) and the announcement of the stake of bees in the real hives.

Two days ago the seventh New Wanchester building was also sold: the Dairy.
As with the sale of the previous 6 building-type NFTs of New Waxchester, this time also the auction mode was chosen and it was the anatolia player who won the auction and exclusive ownership of the Dairy NFT with a purchase bid of 2875000 SEST tokens whose current dollar value is $1275.35.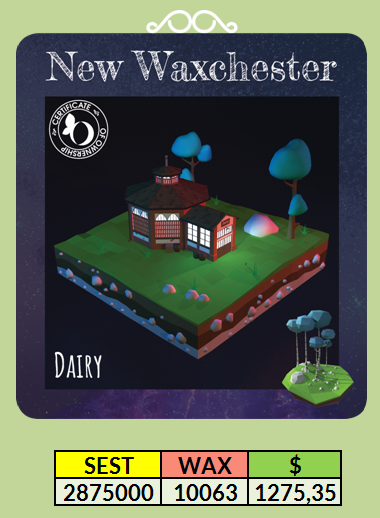 In the following image you can see all seven of New Waxchester's NFTs sold to date with an indication of the purchase price in terms of SEST tokens and a calculation of the current value in terms of WAX tokens and in dollar terms.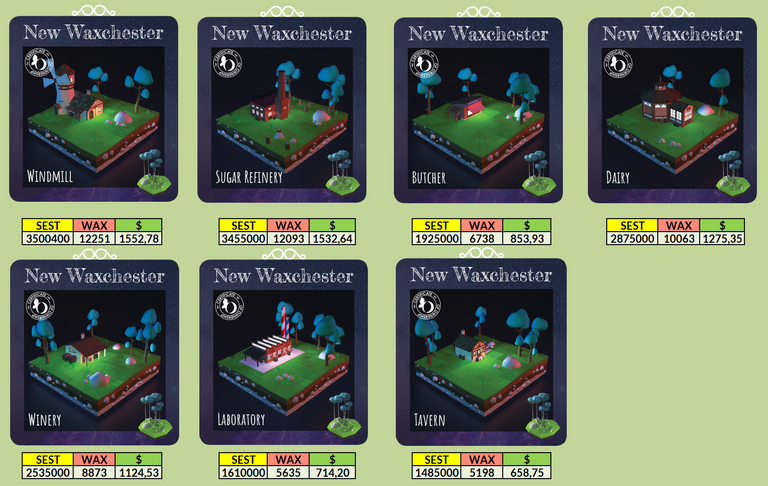 On May 9, 2022, the first Crafting Event ended, rewarding the players who used the most SEST tokens to purchase Farming Tales NFTs from the in-game Market section.
In the image below you can see the 3 awarded players and their prizes.
The theme for the current week is "Stables" so the players who have purchased the most Stable NFTs will be awarded.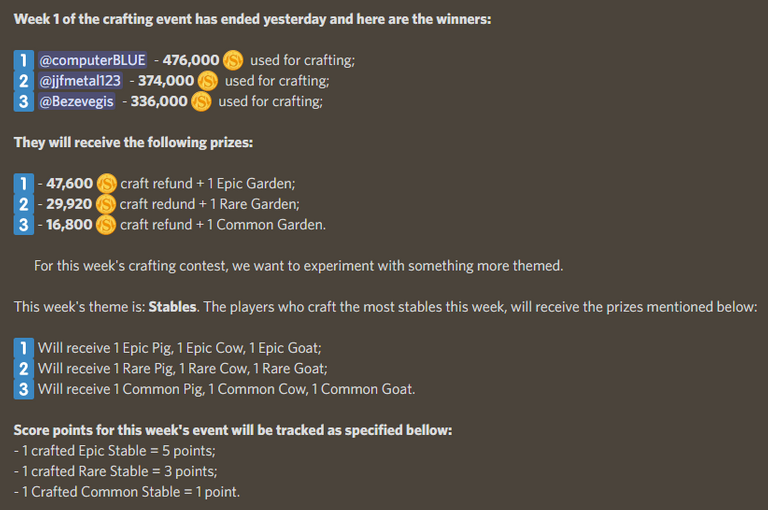 WAX Market Value Considerations

It is not a good time in general for the market value of cryptocurrencies.
The sharp decline in the value of BTC has dragged the market into a
Bear
phase.
As you can see from the image below all major coin charts are in red except for stable coins with the exception of the stable coin of the Terra blockchain (Terra USD) which has not withstood the selling pressures of the current particular moment.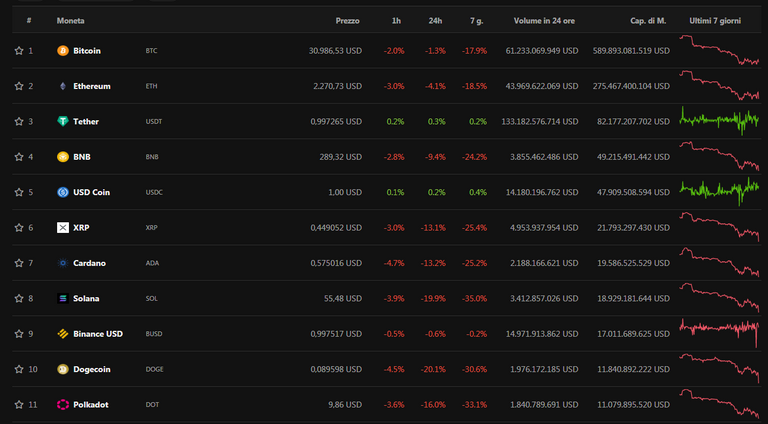 In this context, the WAX token also lost a lot of value.
In one week it went from a value of 0.2138$ to today's value of 0.1242$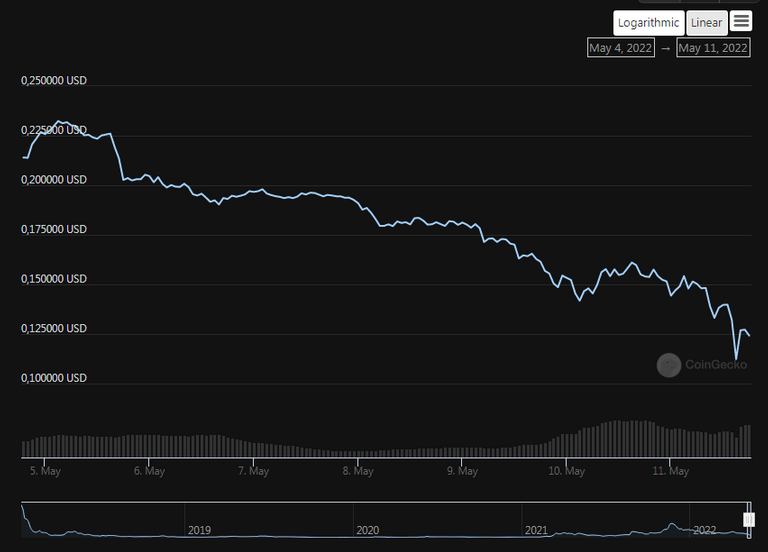 Today's value is very close to the value that the WAX token had on May 20, 2021 (0.1266$).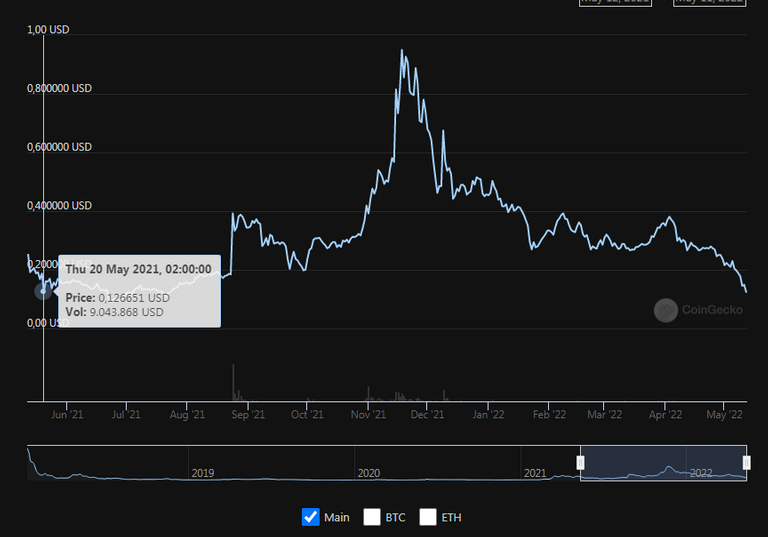 At this particular time the important thing is to look at the medium to long term, and I think that in the future the value of WAX tokens like the value of so many other blockchain projects will go back up.

Update on the value of SEST and CBIT tokens

Farming Tales game tokens also followed the general trend in the markets and lost value against the dollar.
The SEST tokens are the native Farming Tales game tokens that Farming Tales players receive from each Harvest operation.
CBIT tokens are utility tokens needed to perform food and water replenishment operations (Silo and Water Tower).
CBIT tokens can be purchased but can also be earned free of charge by stacking SEST tokens within the Wallet section of the Farming Tales game.
From the tables in the image below you can see the difference in value recorded over a 7-day time frame of the three tokens linked to the Farming Tales game: WAX, SEST and CBIT.


OneUp Cartel Investment Update

My gaming/investment activity on Farming Tales is double because I play two roles:
I am a simple player who has decided to invest in the purchase of NFT and tokens
OneUp is a community on the Hive blockchain focused on NFT games and blockchain games.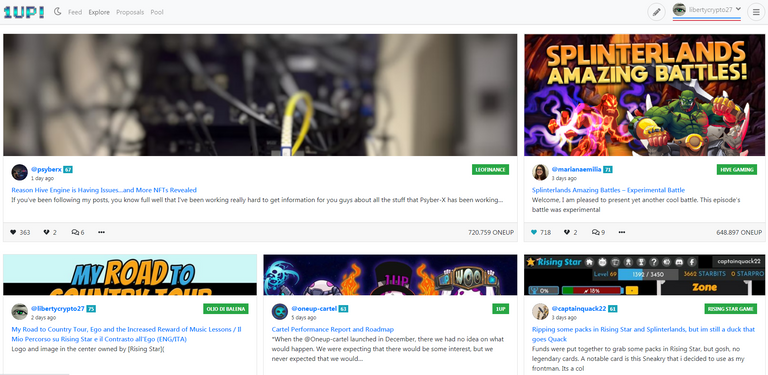 OneUp Cartel is a project of the OneUp community and is:
- a Meta Gaming Guild
- a Meta Curation
- a Meta Dividend Token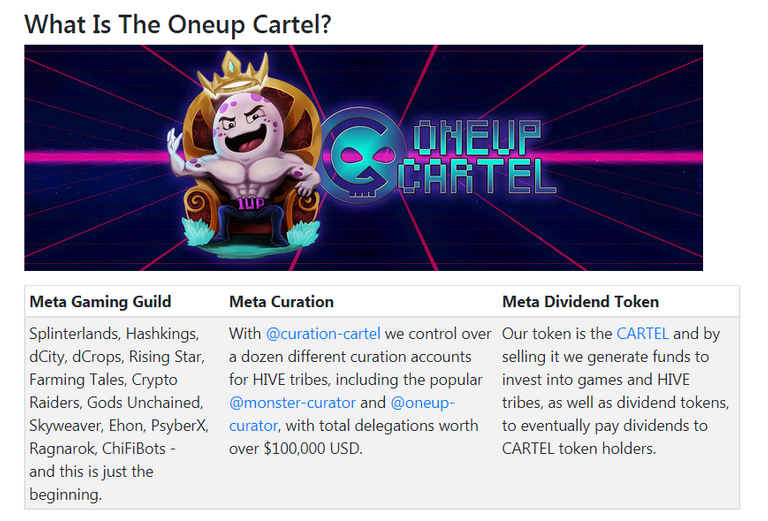 Screenshot from: https://www.1up.zone/@flauwy/1up-cartel-is-exploding-over-30k-usd-cartel-issued-only-4-days-left-for-base-price
---
I have been managing OneUp Cartel's investment in Farming Tales since January 29, 2022, and today, May 11, 2022, 102 days have passed.
OneUp Cartel invested in the Farming Tales project in two successive steps:
First investment: 500 HBD (January 29, 2022)
Second investment: 250 WAX (March 2, 2022)
From the conversion of HBD tokens to WAX tokens, I obtained 1583 WAX tokens, which when added to the second investment of 250 WAX produced a total of 1833 WAX tokens.
1833 WAX tokens is thus the total amount of tokens I had available to invest in Farming Tales.
---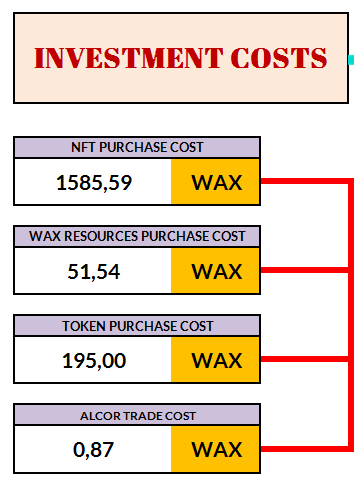 I used the 1833 WAX tokens in the following ways:
Purchase of NFT: 1585.59 WAX
Purchase of WAX Resources (CPU,RAM,NET): 51.54 WAX
Purchase of 14970 SEST tokens: 195.00 WAX
Cost of trading on Alcor Exchange: 0.87 WAX
---
In the last week I put up some NFTs for sale but none were sold so today I have entered lower sale prices for the same NFTs.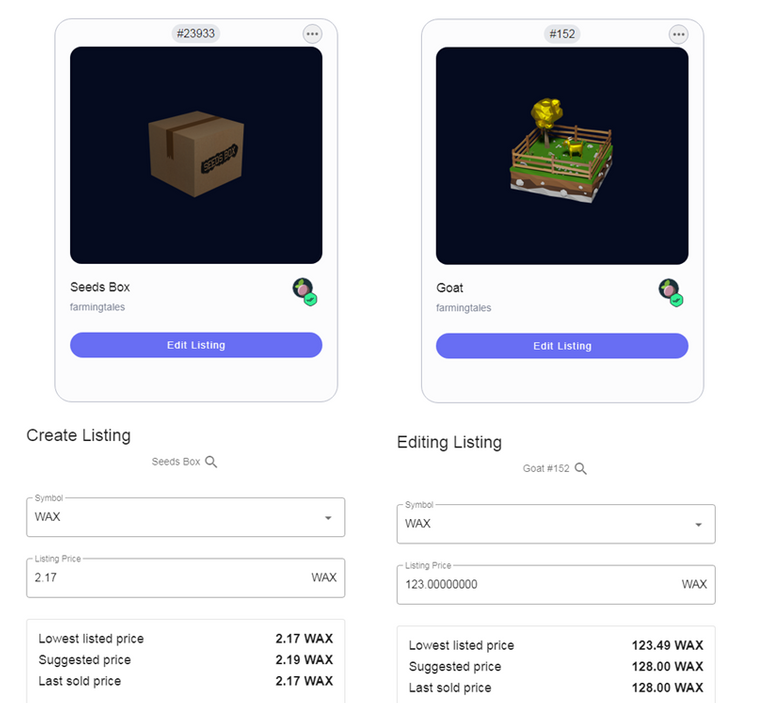 VALUE ASSETS + REWARDS

The collection value of NFT

In the table below you can see the list of NFTs owned by OneUp Cartel with an indication:
of the purchase prices
of the payment method used
of the current market prices on AtomicHub/NeftyBlocks
Of the difference between purchase price and current market value for each NFT purchased.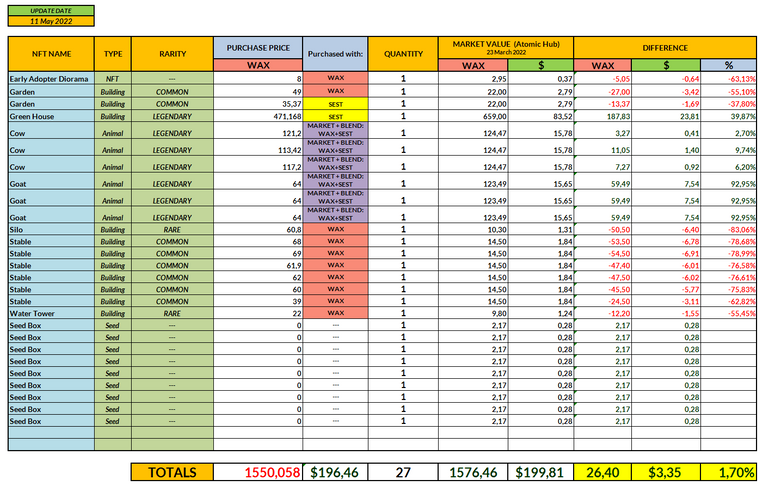 Compared to seven days ago, the value in WAX of some NFTs decreased while for others it increased such as the market value of NFT Green House which increased by +49 WAX.
Also this week the value of the difference between the total purchase cost and the total market value of the NFT collection is positive although the change is small: + $3.35 +26.40 WAX +1.70% (previous report: +3.44$ +16.26 WAX +1.05%)
In the list below you can see the trend of the difference (purchase value - market value) in dollars of the NFT collection from March 9, 2022 to today:
March 9: -10.25$
March 23: -10.76$
April 7: -125.92$
April 21: -53.30$
April 27: -71.47$
May 4: +3.44$
May 11: +3.35$

Profit and ROI

In the image below you can see the prospectus I created to concisely and immediately track the investment on Farming Tales that I manage for OneUp Cartel.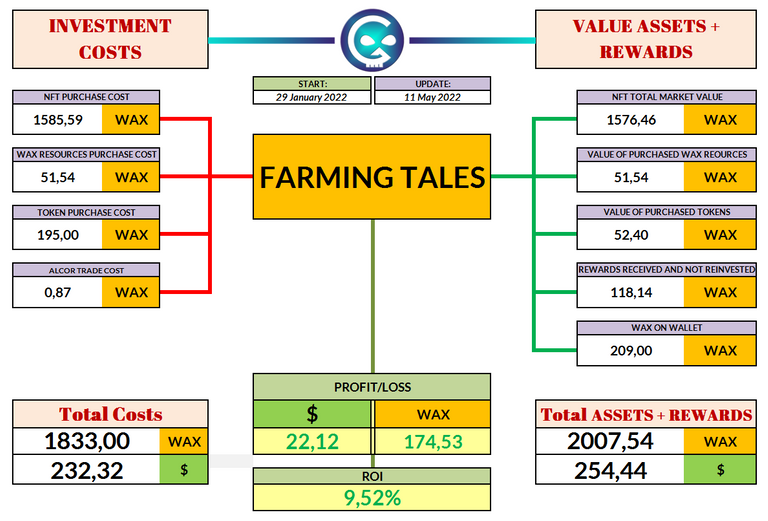 The financial results (Profit and ROI) are positive and even slightly better than the previous report:
Profit: +174.53 WAX = +22.12$ (Profit previous report: +132.63 WAX = +28.07$)
ROI: +9.52% (ROI previous report: +7.24%)

My investment plan on Farming Tales (Update)

In the prospectus I created, however, I considered as a starting point the amount of WAX tokens I had available initially to invest but we are in the midst of a bearish run and if I consider the current value of the HBD tokens invested initially by OneUp Cartle the financial result becomes negative.

But this bearish run will have to end sooner or later, and if the value of WAX tokens goes back up the financial results will be very different as you can see from the data in the simulations below.
With a WAX token value equal to $0.20 the ROI would be -20.68%.

With a WAX token value equal to $0.30 the ROI would be +18.98%.

With a WAX token value equal to $0.40 the ROI would be +58.64%.

Why did I show this data?
Because less than 30 days ago (April 14, 2022) the value of the WAX token was $0.28.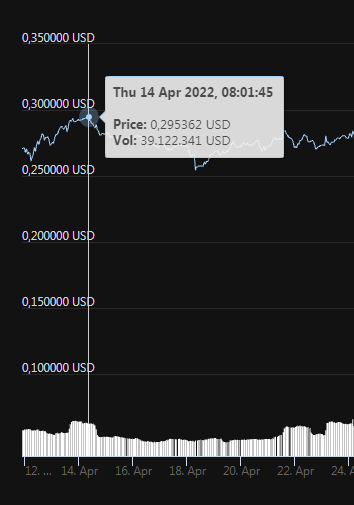 Just over 30 days ago (April 2, 2022) the value of the WAX token was 0.39$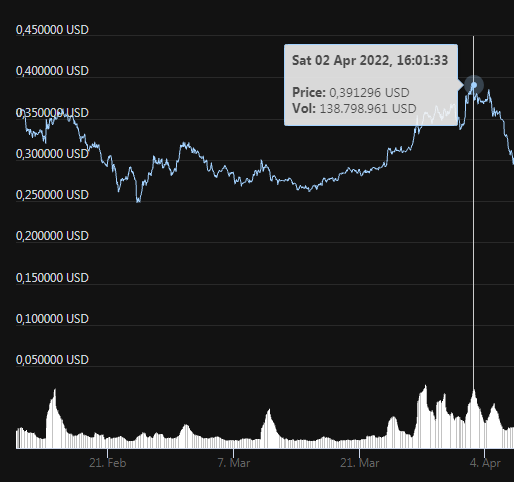 The above data show that in a Bear market, the best strategy is not to panic and to consider the value of a project from a medium- to long-term perspective.
Using and investing WAX tokens now does not make sense according to my personal assessments and so I will not do so until the valuation is better.
In the coming days my strategy on Farming Tales will be as follows:
accumulate rewards through Harvest operations.
sell the NFT SeedBoxes produced daily by the NFT Green House in exchange for WAX tokens
evaluate possible and potentially profitable trading operations on tokens and NFTs.
To recap my strategy in the near future will be to accumulate as many SEST and CBIT tokens as possible and most importantly I will try to accumulate as many WAX tokens as possible while waiting for the market to regain a general uptrend ;)
That is all for today and I hope you enjoyed my fourteenth operational report for the OneUp Cartel project and if you like follow me to read my future reports and posts on Farming Tales and OneUp Cartel.


Important Note:
---
Blockchain-based games that allow people to buy and sell tokens are not just games but are also investments and should be treated as such!
In any type of investment there is always a
risk factor
to evaluate and consider.
I am not a financial advisor and the information contained in this post is not financial advice
.
Before investing in a blockchain-based game you should always do your own research and personal evaluations.
My advice is to always only invest what you can afford to lose with a light heart!

The images in this post are screenshots taken from the sites:
https://farmingtales.io/
https://play.farmingtales.io/
https://wax.atomichub.io/market
https://neftyblocks.com/c/farmingtales
https://peakd.com/
https://www.1up.zone/
The images containing calculations, tables and formulas are my property
The font I used in my images or in the images edited by me is Open Source
The dividers with the Hive logo in this post were created by me and if you like them you can use them too, the Hive logo is property of https://hive.io/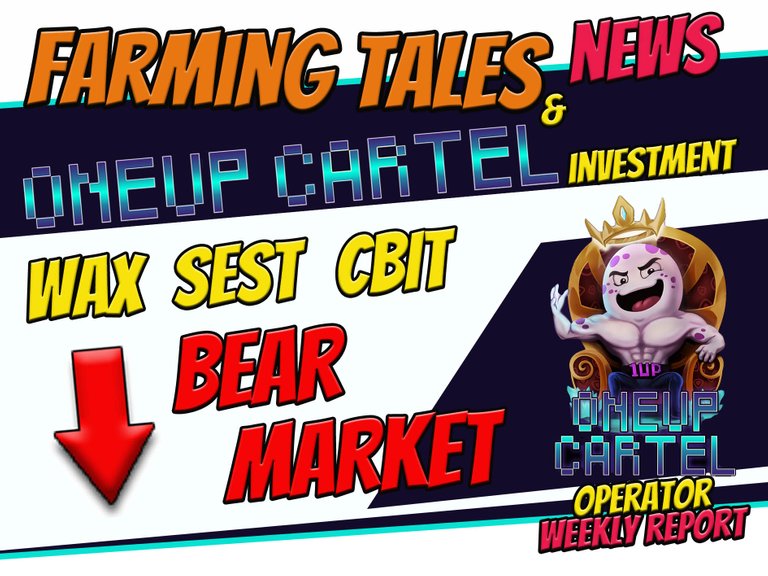 Logo Farming Tales owned by @farmingtales - Logo Oneup Cartel owned by @oneup-cartel - Edit by @libertycrypto27 - Font used is Open Source

Le Novità su Farming Tales, Valore dei token WAX e l'Investimento di OneUp Cartel: Report N.14

Cos'è Farming Tales?
(Breve Introduzione)

Farming Tales
è un simulatore di farming basato su NFT costruito e sviluppato sulla blockchain
WAX
.
Ho deciso di iniziare a giocare e ad investire su Farming Tales perchè ho visto delle particolarità in questo gioco che molti altri giochi di farming basati su blockchain non hanno:
Farming Tales ha una bella grafica e utilizza un motore grafico 3D
Farming Tales ha alcuni NFT che sono collegati a beni reali di reali fattorie (zafferano, miele,...).

Un'altro punto a favore di Farming Tales rispetto ad altri giochi di farming è che ha scelto la mia amata Hive per:
Inoltre il team di sviluppo di Farming Tales ha tra i suoi obiettivi futuri anche quello di integrarsi sulla blockchain di Hive (Q3 - 2022).

Source: Whitepaper of FarmingTales
Dopo questa breve introduzione al gioco di Farming Tales vediamo subito insieme le novità e gli aggiornamenti relativi a Farming Tales (periodo di riferimento 4 maggio - 11 maggio 2022).

Farming Tales News

Ieri 10 maggio Farming Tales ha comunicato ai suoi giocatori lo stato di avanzamento e i progressi di sviluppo effettuati sull'implementazione della futura modalità di gioco multiplayer.
Infatti Nel prossimo futuro ci sarà il rilascio della New Waxchester, un grande aggiornamento che introdurrà modifiche alle dinamiche di gioco attuali introducendo:
un nuovo sistema di produzione
la modalità di gioco multi-player
Come scritto da lykos nel messaggio di annuncio, lo sviluppo della New Waxchester è a buon punto, sono stati fatti molti progressi e nel momento dell'introduzione della nuova modalità di gioco sarà disponibile anche un primo evento multiplayer.

Un'altra interessante novità annunciata nello stesso messaggio dal team di sviluppo di Farming Tales riguarda l'attività di promozione di Farming Tales.
Saranno sviluppati dei mini giochi con lo stesso tema di Farming Tales che funzioneranno su diverse blockchain e serviranno per far conoscere Farming Tales e la blockchain di WAX ad un maggior numero di persone.
Il primo minigioco sarà rilasciato sulla blockchain di Solana.
Personalmente mi piace molto questa idea e penso che sarà molto utile per aumentare il numero dei giocatori.

L'ultima novità riguarda l'annuncio della vendita delle Hemp Lands reali (terreni in cui viene coltivata la canapa) e l'annungio dello stake delle api negli alveari reali.

Due giorni fa è stato venduto anche il settimo edificio della New Wanchester: il Dairy.
Come per la vendita dei precedenti 6 NFT di tipo edificio della New Waxchester anche questa volta è stata scelta la modalità di vendita all'asta ed è stato il giocatore anatolia ad aggiudicarsi l'asta e la proprietà esclusiva dell'NFT Dairy con un'offerta di acquisto di 2875000 token SEST il cui valore attuale in dollari è di 1275.35$.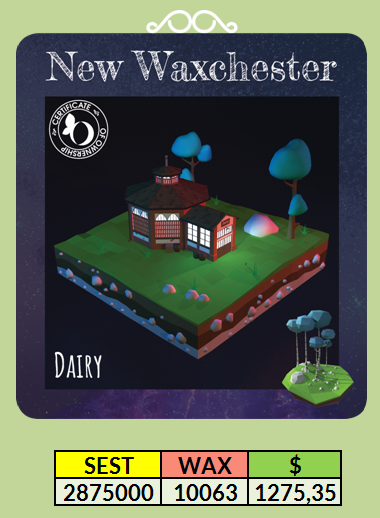 Nell'immagine seguente puoi vedere tutti e sette gli NFT della New Waxchester venduti fino ad oggi con l'indicazione del prezzo di acquisto in termini di token SEST e il calcolo del valore attuale in termini di token WAX e in termini di dollari.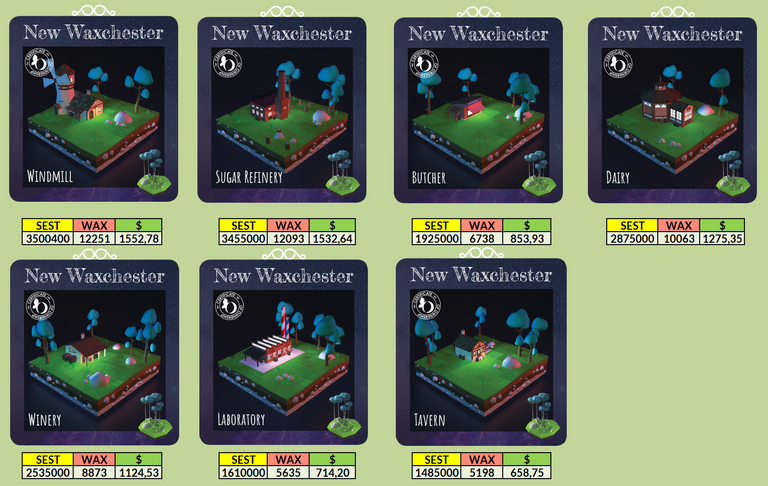 Il 9 maggio 2022 è terminato il primo Crafting Event che ha premiato i giocatori che hanno usato il maggior numero di token SEST per acquistare gli NFT di Farming Tales dalla sezione Market interna al gioco.
Nell'immagine seguente puoi vedere i 3 giocatori premiati e i relativi premi.
Il tema della settimana in corso è "Stables" e quindi saranno premiati i giocatori che avranno acquistato il maggior numero di NFT Stable.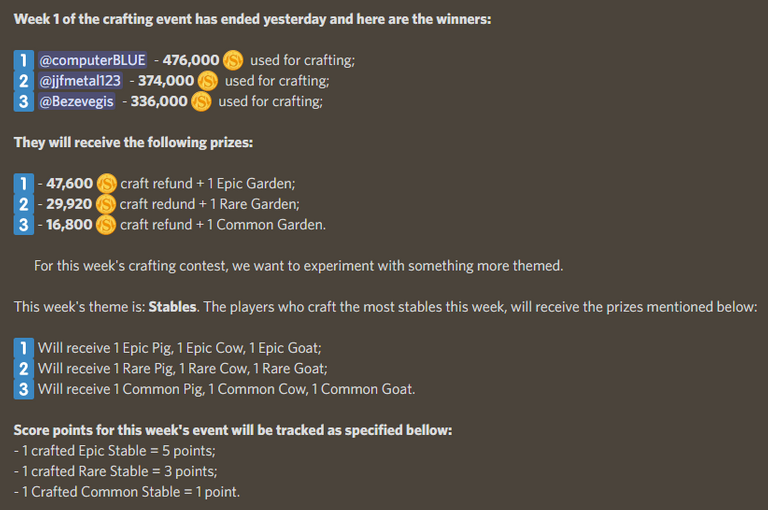 WAX Market Value Considerations

Non è un buon momento in generale per il valore di mercato delle crittovalute.
Il forte calo di valore di BTC ha trascinato il mercato in una fase
Bear
.
Come puoi vedere dall'immagine seguente tutti grafici delle principali coin sono in rosso ad esclusione delle stable coins con l'eccezione della stable coin della blockchain Terra (Terra USD) che non ha retto le pressioni di vendita del particolare momento attuale.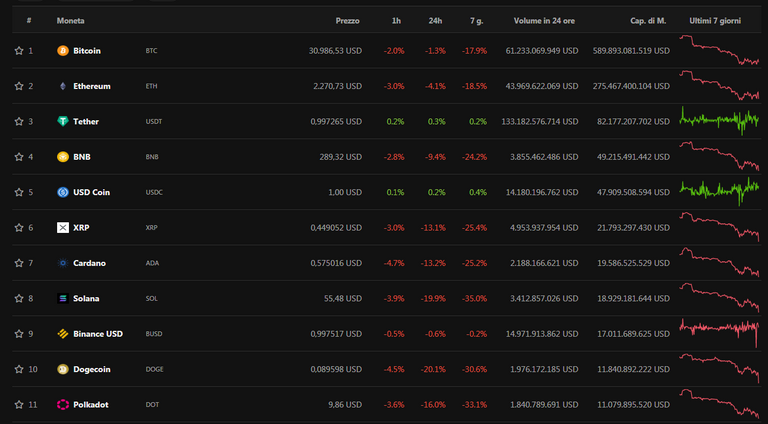 In questo contesto anche il token WAX ha perso molto valore.
In una settimana è passato da un valore di 0.2138$ ad un valore odierno di 0.1242$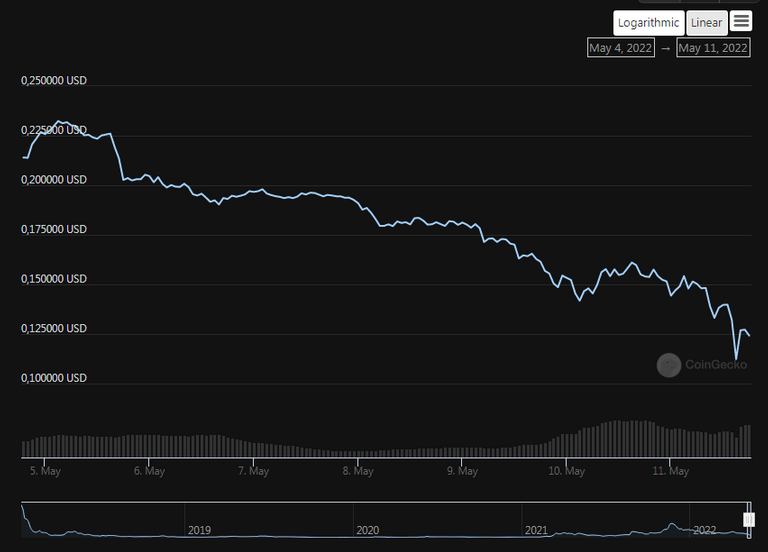 Il valore attuale è molto vicino al valore che il token WAX aveva il 20 maggio 2021 (0.1266$).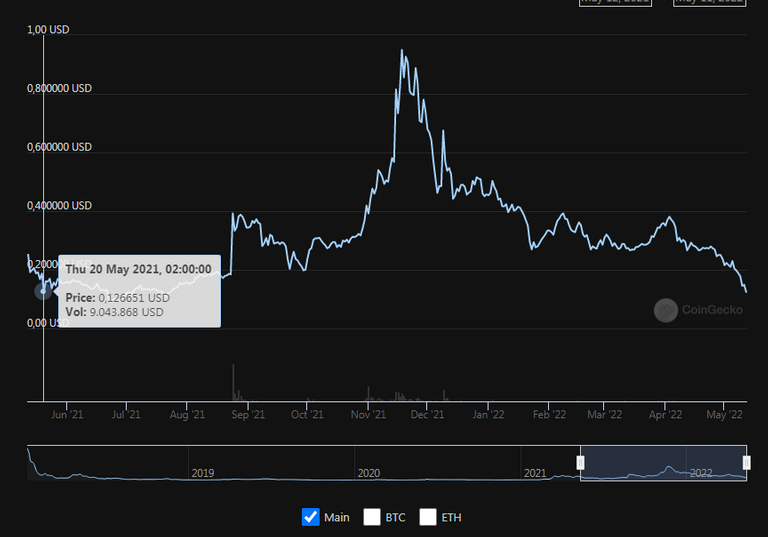 In questo particolare momento l'importante è guardare al medio-lungo periodo e io penso che in futuro il valore dei token WAX come il valore di tanti altri progetti blockchain ritornerà a salire.

Aggiornamento sul valore dei token SEST e CBIT

Anche i token del gioco di Farming Tales hanno seguito la tendenza generale dei mercati e hanno perso valore rispetto al dollaro.
I token SEST sono i token nativi del gioco di Farming Tales che i giocatori di Farming Tales ricevono da ogni operazione di Harvest.
I token CBIT sono degli utility tokens necessari per effettuare le operazioni di ricarica di cibo e acqua (Silo e Water Tower).
I token CBIT possono essere acquistati ma possono essere anche guadagnati in modo gratuito mediante l'operaione di stacking dei token SEST all'interno della sezione Wallet del gioco di Farming Tales.
Dalle tabelle presenti nell'immagine seguente puoi vedere la differenza di valore registrata in un arco temporale di 7 giorni dei tre token collegati al gioco di Farming Tales: WAX, SEST e CBIT.


OneUp Cartel Investment Update: Report #14

La mia attività di gioco/investimento su Farming Tales è duplice perchè svolgo due ruoli:
sono un semplice giocatore che ha deciso di investire nell'acquisto di NFT e tokens
OneUp è una comunità della blockchain di Hive focalizzata sugli NFT games e sui blockchain games.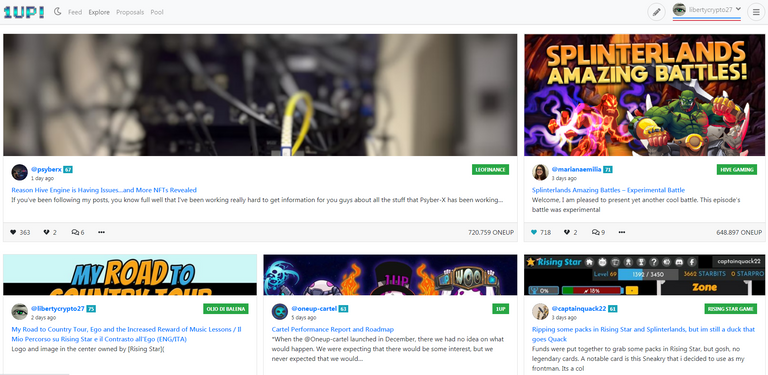 OneUp Cartel è un progetto della comunità di OneUp ed è:
- una Meta Gaming Guild
- una Meta Curation
- un Meta Dividend Token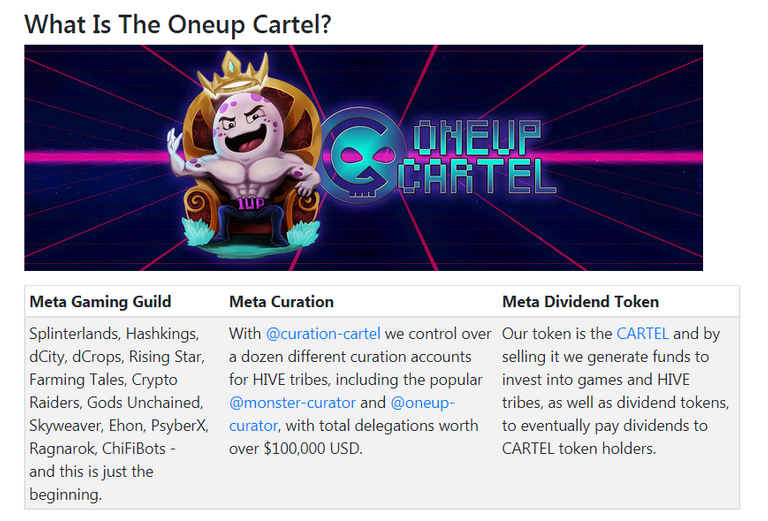 Screenshot from: https://www.1up.zone/@flauwy/1up-cartel-is-exploding-over-30k-usd-cartel-issued-only-4-days-left-for-base-price
---
Gestisco l'investimento di OneUp Cartel su Farming Tales dal 29 gennaio 2022 e oggi 11 maggio 2022 sono passati 102 giorni.
OneUp Cartel ha investito nel progetto di Farming Tales in due momenti successivi:
Primo investimento: 500 HBD (29 gennaio 2022)
Secondo investimento: 250 WAX (2 marzo 2022)
Dalla conversione dei token HBD in token WAX ho ottenuto 1583 token WAX che sommati al secondo investimento di 250 WAX hanno prodotto un totale di 1833 token WAX.
1833 token WAX è quindi il toltale di token che ho avuto a disposizione per investire su Farming Tales.
---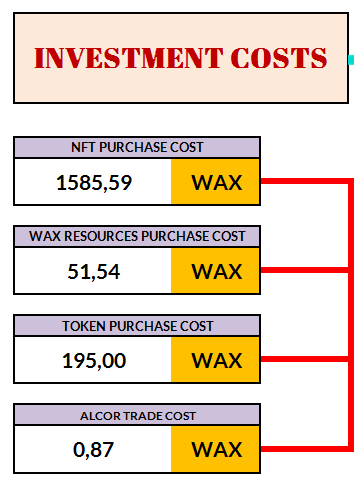 Ho utilizzato i 1833 token WAX nel seguente modo:
Acquisto di NFT: 1585.59 WAX
Acquisto di Risorse WAX (CPU): 51.54 WAX
Acquisto di 14970 token SEST: 195.00 WAX
Costi per operazioni di trading su Alcor Exchange: 0.87 WAX
---
Nell'ultima settimana ho messo in vendita alcuni NFT ma nessuno è stato venduto e quindi oggi ho inserito per qli stessi NFT dei prezzi di vendita più bassi.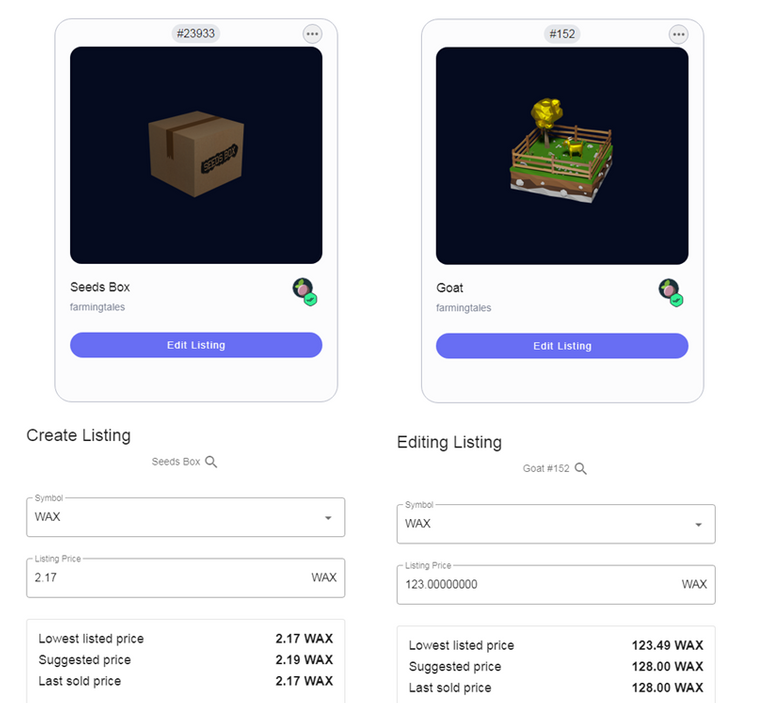 VALUE ASSETS + REWARDS

Il valore della collezione di NFT

Nella tabella seguente puoi vedere l'elenco degli NFT di proprietà di OneUp Cartel con l'indicazione:
dei prezzi di acquisto
del metodo di pagamento utilizzato
dei prezzi di mercato attuali su AtomicHub/NeftyBlocks
della differenza tra prezzo di acquisto e valore attuale di mercato per ogni NFT acquistato.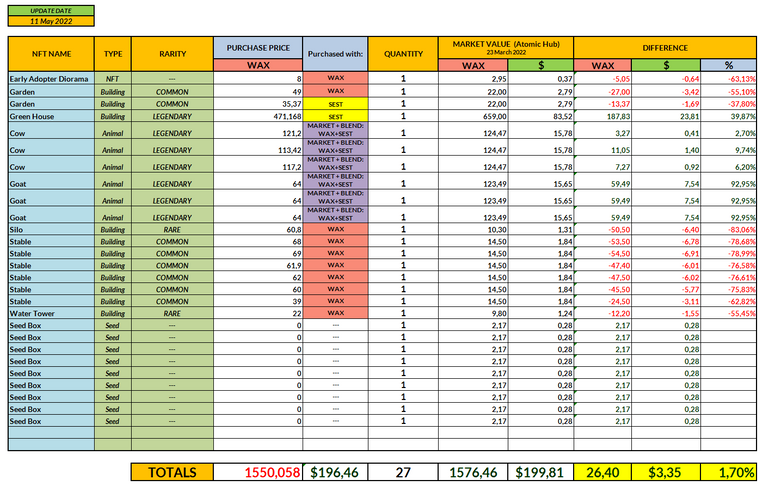 Rispetto a sette giorni fa il valore in WAX di alcuni NFT è diminuito mentre per altri è aumentato come il valore di mercato dell'NFT Green House che è aumentato di +49 WAX.
Anche questa settimana il valore della differenza tra il costo totale di acquisto e il valore di mercato totale della collezione di NFT è positivo anche se la variazione è piccola: + 3.35$ +26.40 WAX +1.70% (report precedente: +3.44$ +16.26 WAX +1.05%)
Nell'elenco seguente puoi vedere l'andamento della differenza (valore di acquisto - valore di mercato) in dollari della collezione degli NFT dal 9 marzo 2022 ad oggi:
9 marzo: -10.25$
23 marzo: -10.76$
7 aprile: -125.92$
21 aprile: -53.30$
27 aprile: -71.47$
4 maggio: +3.44$
11 maggio: +3.35$

Profit e ROI

Nell'immagine seguente puoi vedere il prospetto che ho creato per monitorare in modo sintetico e immediato l'investimento su Farming Tales che gestisto per OneUp Cartel.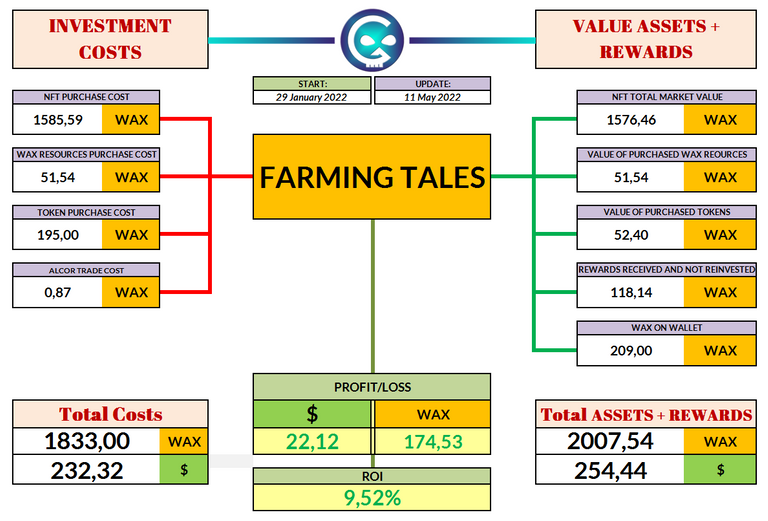 I risultati finanziari (Profit e ROI) sono positivi e anche leggermente migliori rispetto al report precedente:
Profit: +174.53 WAX = +22.12$ (Profit report precedente: +132.63 WAX = +28.07$)
ROI: +9.52% (ROI report precedente: +7.24%)

Il mio piano di investimento su Farming Tales (Update)

Nel prospetto che ho creato ho però considerato come punto di partenza il quantitativo di token WAX che ho avuto a disposizione inizialmente da investire ma siamo in piena bearish run e se considero il valore attuale dei token HBD investiti inizialmente da OneUp Cartle il risultato finanziario diventa negativo.

Ma questa bearish run dovrà finire prima o poi e se il valore dei token WAX ritornerà a salire i risultati finanziari saranno molto diversi come puoi vedere dai dati presenti nelle simulazioni seguenti.
Con un valore del token WAX uguale a 0.20$ il ROI sarebbe del -20.68%.

Con un valore del token WAX uguale a 0.30$ il ROI sarebbe del +18.98%.

Con un valore del token WAX uguale a 0.40$ il ROI sarebbe del +58.64%.

Perchè ho mostrato questi dati?
Perchè meno di 30 giorni fa (14 aprile 2022) il valore del token WAX era di 0.28$.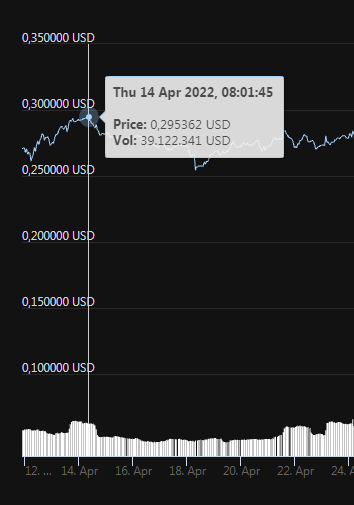 Poco più di 30 giorni fa (2 aprile 2022) il valore del token WAX era di 0.39$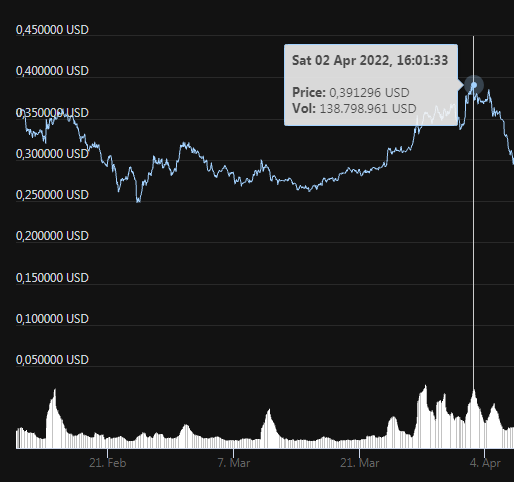 I dati precedenti mostrano come in un mercato Bear la migliore strategia è quella di non spaventarsi e di considerare il valore di un progetto in un'ottica di medio-lungo termine.
Utilizzare e investire i token WAX adesso non ha senso secondo le mie personali valutazioni e quindi non lo farò fin quando la valutazione sarà migliore.
Nei prossimi giorni la mia strategia su Farming Tales sarà la seguente:
ad accumulare ricompense tramite le operazioni di Harvest
a vendere gli NFT SeedBox prodotti giornalmente dall'NFT Green House in cambio di token WAX
a valutare possibili e potenzialmente profittevoli operazioni di trading su token ed NFT.
Ricapitolando la mia strategia nel prossimo futuro sarà di accumulare il maggior numero di token SEST e CBIT e soprattutto cercherò di accumulare il maggior numero di token WAX in attesa che il mercato riacquisti una tendenza generale di risalita ;)
Per oggi è tutto e spero che il mio quattordicesimo report operativo per il progetto OneUp Cartel ti sia piaciuto e se hai piacere seguimi per leggere i miei futuri report e post su Farming Tales e OneUp Cartel.


Nota Importante:
---
I giochi basati su blockchain che permettono di acquistare e vendere token non sono solo giochi ma sono anche investimenti e come tali devono essere trattati!
In ogni tipologia di investimento c'è sempre un
fattore di rischio
da valutare e considerare.
Io non sono un consulente finanziario e le informazioni contenute in questo post non sono consigli finanziari
Prima di investire in un gioco basato su blockchain devi sempre fare le tue ricerche e le tue personali valutazioni.
Il mio consiglio è di investire sempre e soltanto quello che puoi permetterti di perdere a cuor leggero!
---
The images in this post are screenshots taken from the sites:
https://farmingtales.io/
https://play.farmingtales.io/
https://wax.atomichub.io/market
https://neftyblocks.com/c/farmingtales
https://peakd.com/
https://www.1up.zone/



---
---