HashKings: Use and Evaluation of the MOTA Pool + My Game Activity / Utilizzo e Valutazione della MOTA Pool + La Mia Attività di Gioco (ENG/ITA)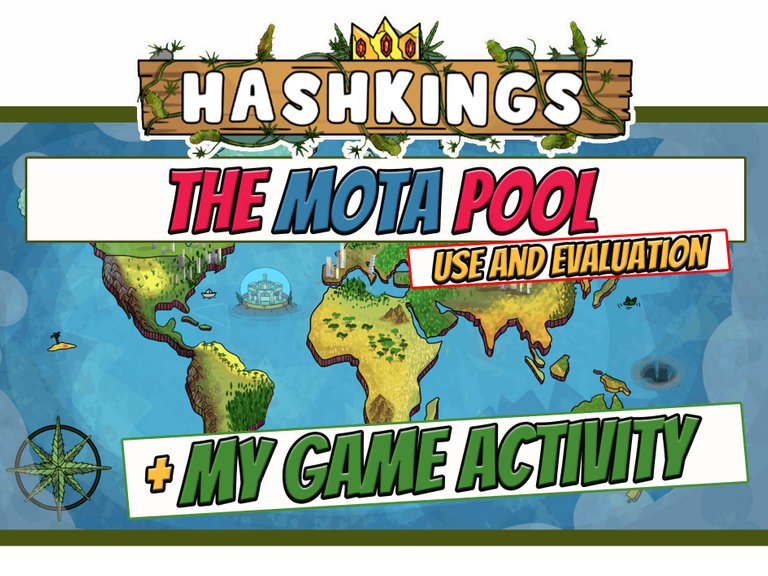 Logo image owned by @hashkings - Edit by @libertycrypto27 - Font used is Open Source
---

La versione in italiano è subito dopo la versione in inglese - The Italian version is immediately after the English version

Use and Evaluation of the MOTA Pool + My Game Activity

Hashkings is an NFT-based farming game created and developed on the most beautiful blockchain there is: Hive ;)

Game site: https://farm.hashkings.app/
Account on Hive: @hashkings
Discord channel: https://discord.gg/KwtgbAsTVF
Twitter account: https://twitter.com/HashkingsGame
Whitepaper: https://hashkings-2.gitbook.io/getting-started/starting-on-hashkings
---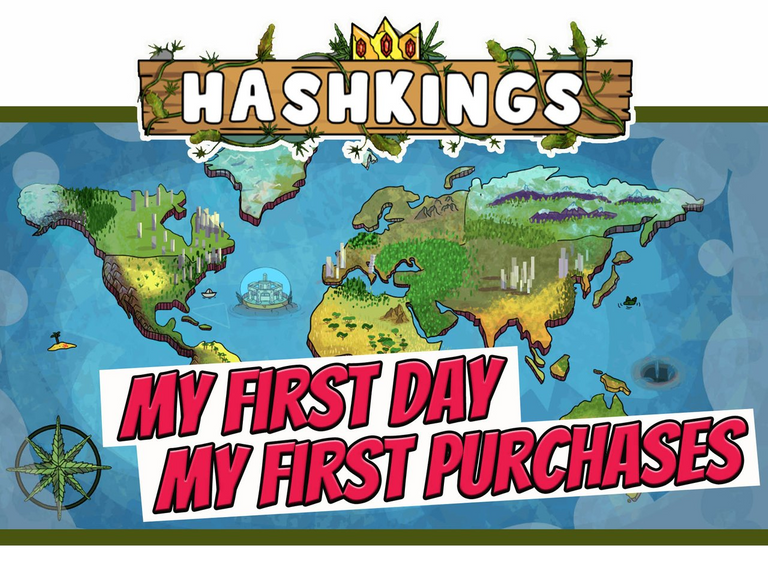 I started my gaming and investing adventure on Hashkings on February 8, 2022.
On the same day I wrote a short introduction to the game, shared my choice of my first purchases (Land cards and Seed cards) and also explained the reasons for my choices (estimated annual ROI).
In the same post I also showed the steps I performed to plant a Seed in a Land and start accumulating game rewards: My First Day, My First Purchases.
---
With today's post I continue to share my experience playing/investing in Hashkings.
The topics I will be covering are as follows:
my third harvest and the choice of new seeds to plant.
the MOTA pool and my first token BUDS burned.

My third harvest and the choice of new seeds to plant

To start playing Hashkings, you need to purchase a combination of NFTs plus a minimum amount of fungible tokens: the HK Water tokens.
To start playing on Hashkings I spent 10,536 SWAP.HIVE tokens with which I purchased:
1 Avatar (Farmer Shaggi): 1.5 SWAP.HIVE
1 South America land card: 9 SWAP.HIVE
1 Seed Panama Red card: 0.0375 SWAP.HIVE
504 HKWATER token

After my first investment I continued to invest and today I have 4 Land South America cards that allow me to plant 4 seeds at a time.
Today I made my third harvest and received a total of 1172 BUDS tokens.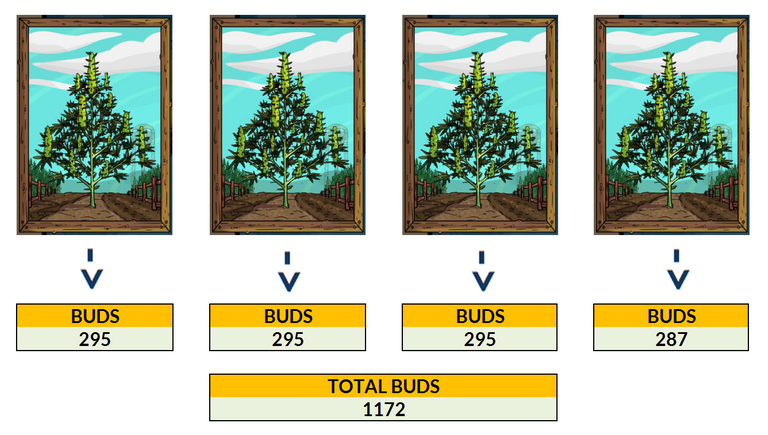 To harvest, I used the Multiple feature which allows the harvest from multiple Lands at once.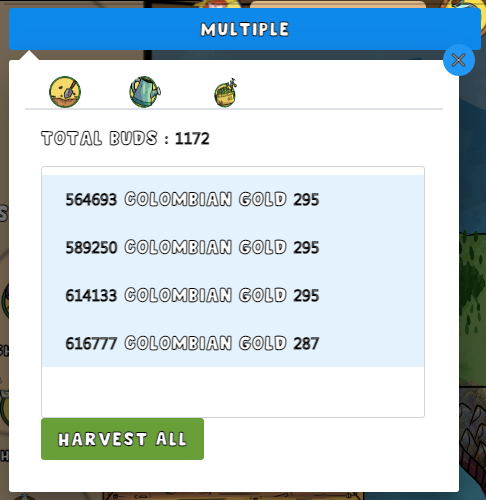 The current value of 1172 BUDS tokens is 0.3305 HIVE = $0.3011 (Highest Bid)

The value of the BUDS tokens has decreased since my last harvest, so I'm curious to see if the reward I got from the harvest this week will be enough to get production going again at 0 cost.
Let's find out together.
To restart my production I need to purchase 4 seeds and in my 4 land South America I can only plant two types of seeds:
All NFT of Hashkings can be purchased from https://nftm.art/buy/hkfarm using different payment methods and choosing which payment method to use is an important element to consider because there can be a lot of price difference from one method to another.
To quickly identify which seed to purchase I built a table using my spreadsheet.
Among the NFT seed type Panama Red and Colombian Gold the best buy was, for the second time in a row, the Colombian Gold seed when purchased with BUDS tokens.
In addition, the Colombian Gold seeds that I found for sale on the market also have a higher production than the Panama Red seeds and therefore their purchase was even more convenient (see image below).

Before making the purchase I realized I already had a Colombian Gold seed (perhaps won in a giveaway) and so I purchased only 3 Colombian Gold seeds and spent a total of 154 BUDS tokens
I planted the 4 Colombian Gold seeds in my 4 South America Lands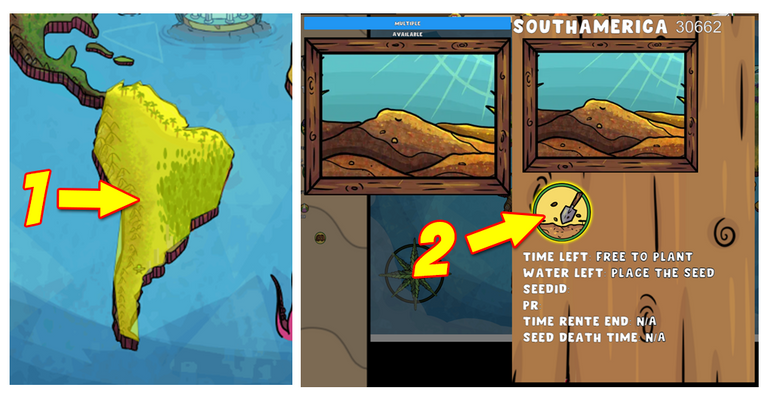 Each Colombian Gold seed has a germination period of 7 days and needs an amount of 560 HKWATER tokens.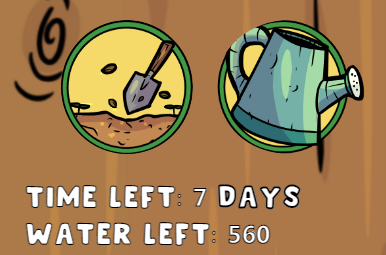 To water the seeds I planted, I purchased 2240 HKWATER tokens (560*4) from TribalDex(https://tribaldex.com/trade/HKWATER) and spent a total of 0.0672 SWAP.HIVE.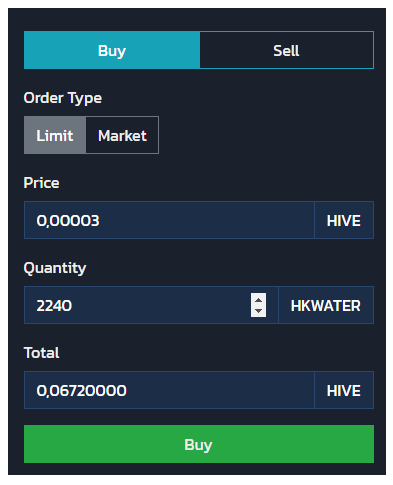 I want my farm to be self-sufficient and for this reason I recovered the previous expenditure by selling 241 BUDS tokens from which I got 0.06796441 SWAP.HIVE tokens.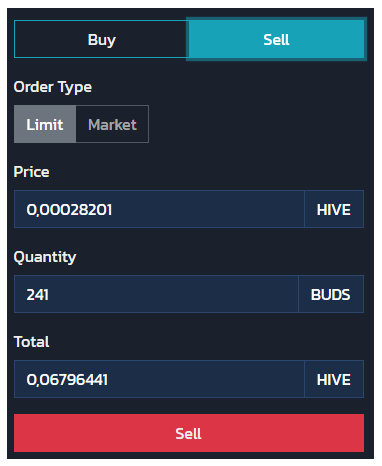 Then I went back to the Hashkings site and watered all the seeds using the handy Multiple feature.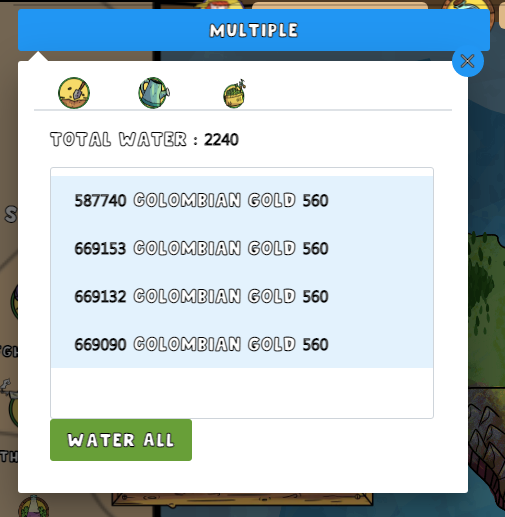 Doing some calculations:
from the harvest I got 1172 BUDS = 0.3305 HIVE = 0.3011 $
I bought 3 Acapulgo Gold seeds and I spent 154 BUDS = 0.0434 HIVE = 0.0396$
I sold 241 BUDS and earned 0.0679 HIVE.
I bought 2240 HKWATER and I spent 0.0672 HIVE = 0.0612$ = 238 BUDS
Also this week and despite the loss of value of the BUDS tokens compared to my previous harvest I got a profit whose value is 0.2878 HIVE = $0.2622.

I have been reconfirmed that my farm is self-sufficient and also guarantees me a profit.
To make my farm even more self-sufficient I'm going to buy a Water Tower that would free me from the purchase of HKWATER tokens but as I wrote in my previous post I will purchase a Water Tower only when I find a very good price that can guarantee me an estimated annual ROI of at least 30% but today I have not found this value so I will wait ;)

Mota Pool and Staking MOTA

On Hashkings there is a mechanism to get SEED-type NFTs without necessarily having to buy them from the market: the stacking of MOTA tokens.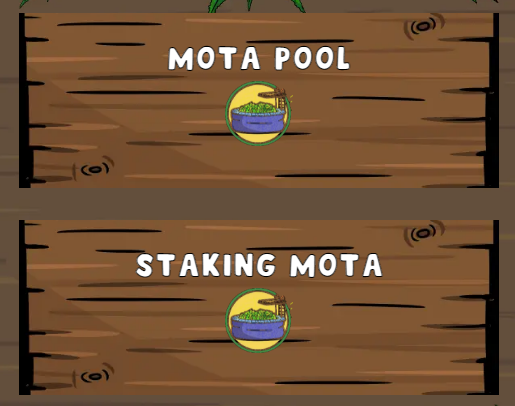 In fact, by stacking MOTA tokens you can obtain NFTs of SEED type.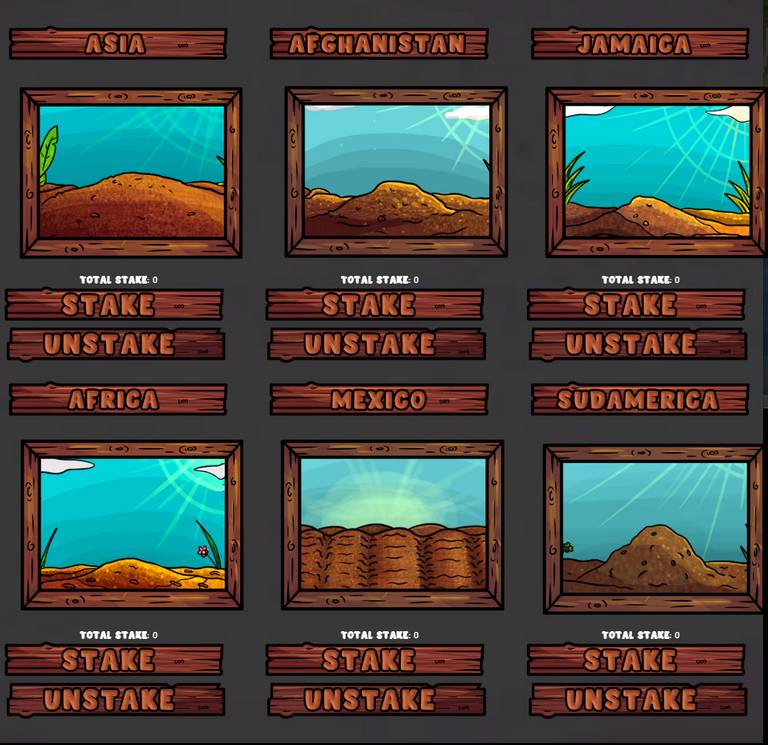 To get MOTA tokens you can buy them from external markets like Hive Engine or TribalDex or you can get them by burning BUDS tokens inside the MOTA POOL section of Hashkings.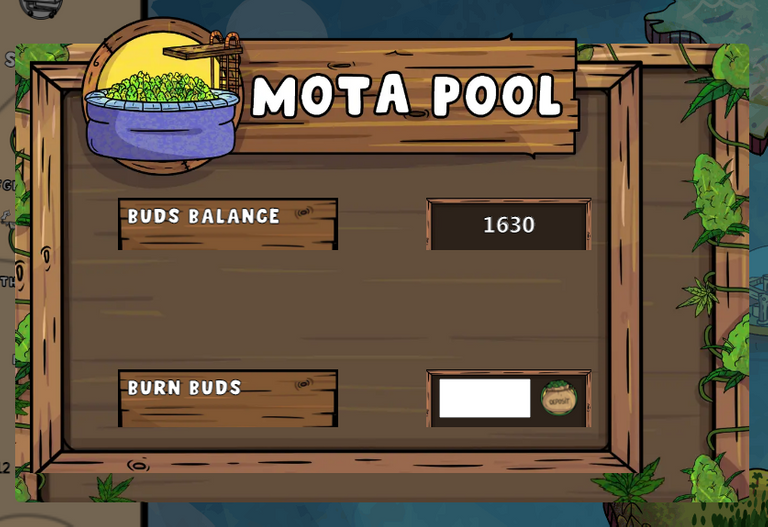 After my third harvest, I have accumulated and not reinvested a total of 1630 BUDS tokens.
I decided to burn these tokens in order to obtain MOTA tokens and to evaluate whether or not the BUDS token burning operation was worthwhile, I visited https://hk-stats.herokuapp.com/home.
Based on the statistical information on https://hk-stats.herokuapp.com/home I noticed that the player @furuno who burned 3500 BUDS should get 3,2057 MOTA tokens.
If I do the proportion I should get 1.4929 MOTA tokens by approximately burning 1630 BUDS tokens.
Given the current values of BUDS tokens and MOTA tokens...

...the BUDS token burning operation is an operation that generates a positive estimated profit of +0.0981$ (+0.1076 HIVE).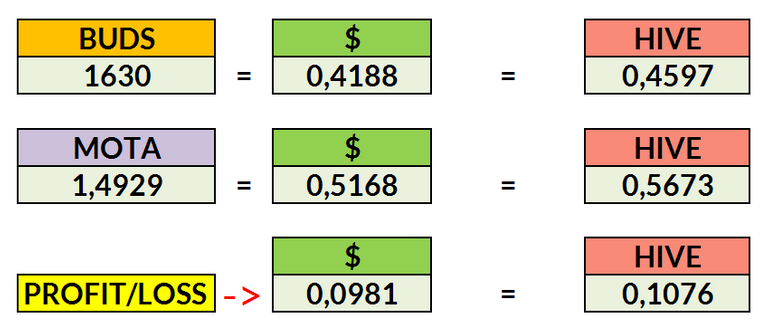 Because of this, I immediately burned my 1630 BUDS tokens.


Conclusion

The economics of the Hashkings game is really quite vast and there are many aspects and investment evaluations that can be made that I have yet to try or delve into.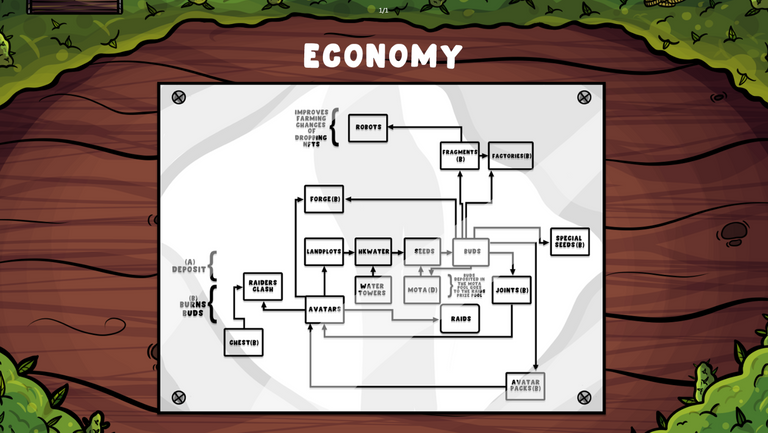 In this post I evaluated the functionality of burning BUDS tokens to obtain MOTA tokens (MOTA POOL).
As soon as I receive the MOTA tokens I will evaluate the functionality of stacking the MOTA tokens and understand if it is a convenient operation or not.
In the meantime I've moved forward and today I've also bought a pack of first generation avatars that will allow me to start using and testing the Battle Boss and Raids features of the Hashkings game...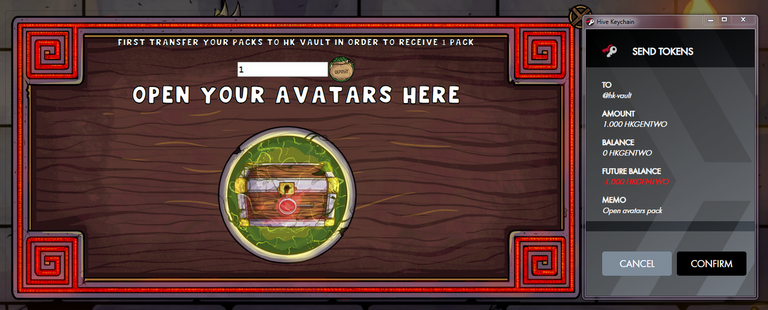 ...but that's all for today and MOTA token stacking and Battle Boss and Raids functionality will be the topic of a future post of mine.
I hope you liked this fourth post about the Hashkings game and if you like it, follow me to read my future posts and reports ;)

Important Note:

Blockchain-based games that allow people to buy and sell tokens are not just games but are also investments and should be treated as such!
In any type of investment there is always a
risk factor
to evaluate and consider.
I am not a financial advisor and the information contained in this post is not financial advice
.
Before investing in a blockchain-based game you should always do your own research and personal evaluations.
My advice is to always only invest what you can afford to lose with a light heart!

Unless otherwise indicated, the images in this post are screenshots taken from the sites:
https://farm.hashkings.app/
https://tribaldex.com/
The font used in the images related to the calculations and in the images edited by me is Open Source
---





Utilizzo e Valutazione della MOTA Pool + La Mia Attività di Gioco
---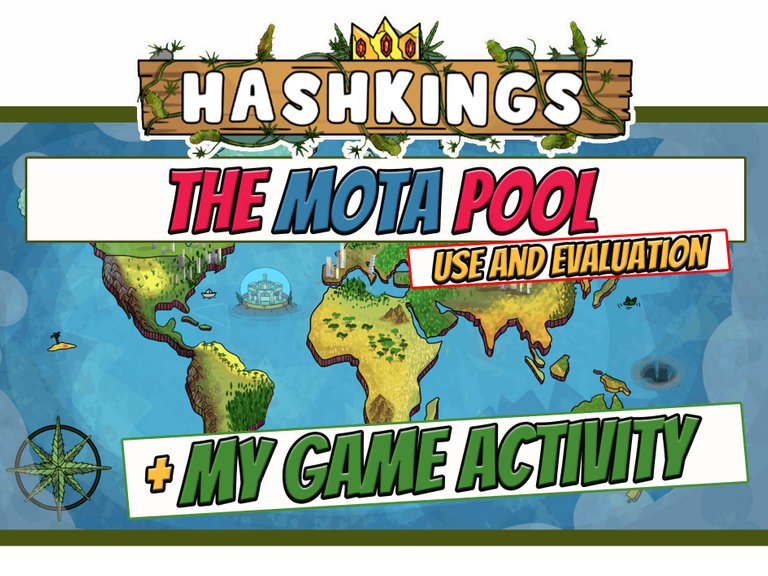 Logo image owned by @hashkings - Edit by @libertycrypto27 - Font used is Open Source

Hashkings è un gioco di farming basato su NFT creato e sviluppato sulla blockchain più bella che c'è: Hive ;)

Sito del gioco: https://farm.hashkings.app/
Account su Hive: @hashkings
Canale Discord: https://discord.gg/KwtgbAsTVF
Account Twitter: https://twitter.com/HashkingsGame
Whitepaper: https://hashkings-2.gitbook.io/getting-started/starting-on-hashkings
---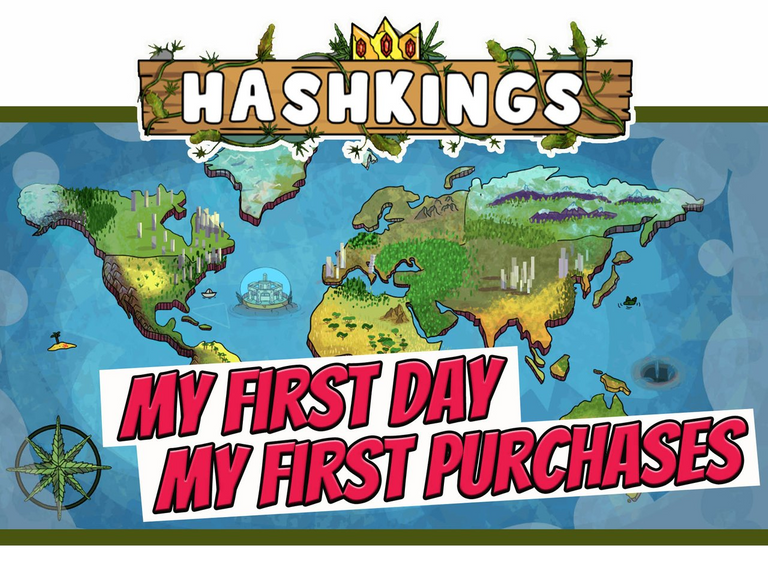 Ho iniziato la mia avventura ludica e di investimento su Hashkings l'8 febbraio 2022.
Lo stesso giorno ho scritto una breve introduzione al gioco, ho condiviso la scelta dei miei primi acquisti (carte Land e carte Seed) e ho spiegato anche i motivi delle mie scelta (ROI annuale stimato).
Nello stesso post ho mostrato anche i passi che ho eseguito per piantare un NFT di tipo Seme in un NFT di tipo Land e per iniziare ad accumulare le ricompense di gioco: My First Day, My First Purchases.
---
Con il post di oggi continuo a condividere la mia esperienza di gioco/investimento su Hashkings.
Gli argomenti che tratterò sono i seguenti:
il mio terzo raccolto e la scelta dei nuovi semi da piantare
la MOTA pool e i miei primi token BUDS bruciati

Il mio terzo raccolto e la scelta dei nuovi semi da piantare

Per iniziare a giocare ad Hashkings è necessario acquistare una combinazione di NFT insieme ad un minimo quantitativo di fungibile token: gli HK Water token.
Per iniziare a giocare su Hashkings ho speso 10.536 token SWAP.HIVE con i quali ho acquistato:
1 Avatar (Farmer Shaggi): 1.5 SWAP.HIVE
1 carta Land South America: 9 SWAP.HIVE
1 carta Seed Panama Red: 0.0375 SWAP.HIVE
504 token HKWATER

Dopo il mio primo investimento ho continuato ad investire e oggi ho 4 carte Land South America che mi permettono di piantare 4 semi alla volta.
Oggi ho fatto il mio terzo raccolto e ho ricevuto un totale di 1172 token BUDS.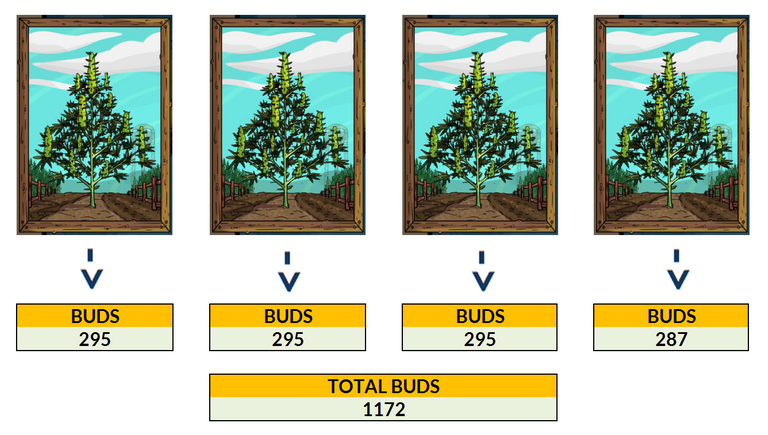 Per effettuare il raccolto ho utilizzato la funzionalità Multiple che permette di effettuare il raccolto da più Land contemporaneamente.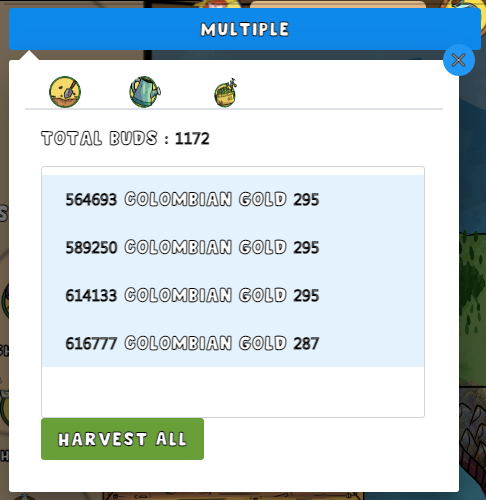 Il valore attuale di 1172 token BUDS è di 0.3305 HIVE = 0.3011$ (Highest Bid)

Il valore dei token BUDS è diminuito rispetto al mio ultimo raccolto e quindi sono curioso di vedere se anche questa settimana la ricompensa che ho ottenuto dal raccolto sarà sufficiente a far ripartire la produzione a costo 0.
Scopriamolo insieme.
Per far ripartire la mia produzione devo acquistare 4 semi e nelle mie 4 land South America posso piantare solo due tipi di semi:
Tutti gli NFT di Hashkings possono essere acquistati da https://nftm.art/buy/hkfarm utilizzando diversi metodi di pagamento e scegliere quale metodo di pagamento utilizzare è un elemento importante da considerare perchè ci può essere molta differenza di prezzo da un metodo ad un altro.
Per individuare velocemente quale seme acquistare ho costruito una tabella con il mio foglio elettronico.
Tra gli NFT di tipo seme Panama Red e Colombian Gold il miglior acquisto è risultato essere, per la seconda volta consecutiva, il seme Colombian Gold se acquistato con i token BUDS.
Inoltre i semi Colombian Gold che ho trovato in vendita sul mercato hanno anche una produzione maggiore rispetto ai token Panama Red e quindi il loro acquisto è risultato ancora più conveniente (vedi immagine seguente).

Prima di effettuare l'acquisto mi sono accorto di avere già un seme Colombian Gold (forse vinto in un giveaway) e quindi ho acquistato solo 3 semi Colombian Gold ed ho speso in totale 154 token BUDS
Ho piantato i 4 semi Colombian Gold nelle mie 4 Land South America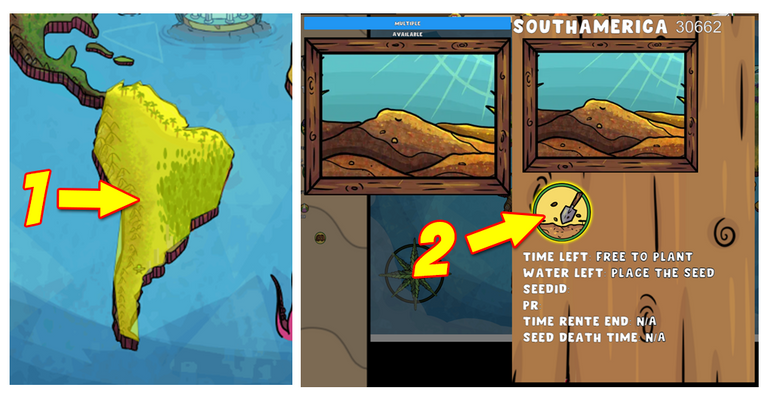 Ogni seme Colombian Gold ha un periodo di germogliazione di 7 giorni e ha bisogno di un quantitativo di 560 token HKWATER.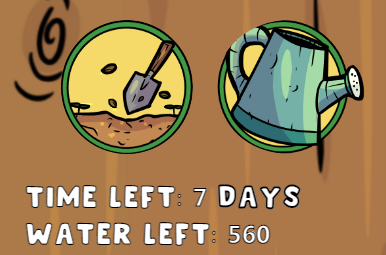 Per innaffiare i semi che ho piantato ho acquistato 2240 token HKWATER (560*4) da TribalDex(https://tribaldex.com/trade/HKWATER) e ho speso in totale 0.0672 SWAP.HIVE.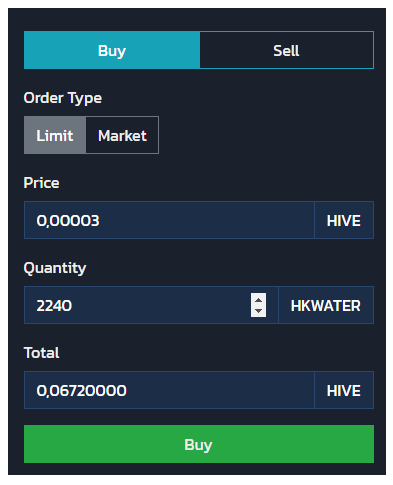 Voglio che la mia fattoria sia autosufficiente e per questo motivo ho recuperato la spesa precedente vendendo 241 token BUDS da cui ho ottenuto 0.06796441 token SWAP.HIVE.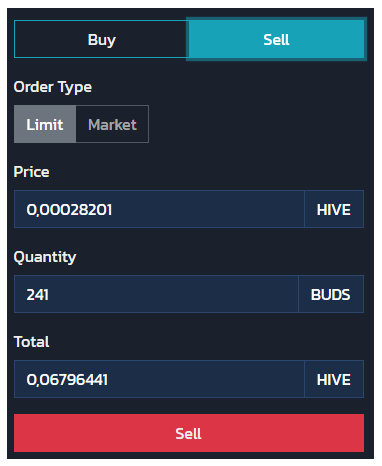 Poi sono tornato sul sito di Hashkings e ho innaffiato tutti i semi utilizzando la comoda funzione Multiple.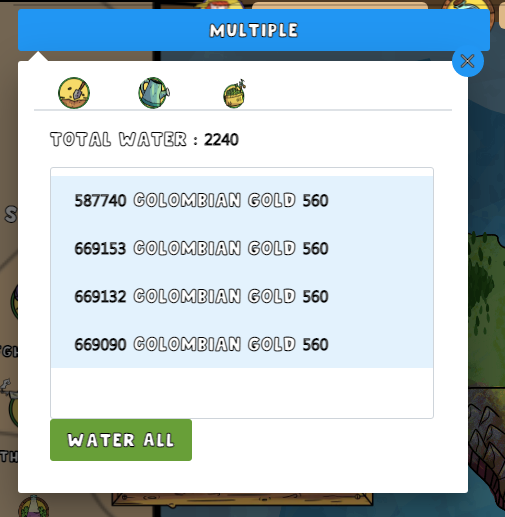 Faccio un pò di calcoli:
dal raccolto ho ottenuto 1172 BUDS = 0.3305 HIVE = 0.3011 $
ho acquistato 3 semi Acapulgo Gold e ho speso 154 BUDS = 0.0434 HIVE = 0.0396$
ho venduto 241 BUDS e ho guadagnato 0.0679 HIVE
ho acquistato 2240 HKWATER e ho speso 0.0672 HIVE = 0.0612$ = 238 BUDS
Anche questa settimana e nonostante la perdita di valore dei token BUDS rispetto al mio precedente raccolto ho ottenuto un profitto il cui valore è di 0.2878 HIVE = 0.2622 $.

Ho avuto la riconferma che la mia fattoria è autosufficiente e mi garantisce anche un profitto
Per rendere ancora più autosufficiente la mia fattoria ho intenzione di comprare una Water Tower che mi libererebbe dall'acquisto dei token HKWATER ma come ho scritto nel mio precedente post effettuerò l'acquisto di una Water Tower solo quando troverò un prezzo molto vantaggioso che mi possa garantire un ROI stimato annuo di almeno il 30% ma oggi non ho trovato questo valore e quindi aspetterò ;)

Mota Pool e Staking MOTA

Su Hashkings c'è un meccanismo per ottenere NFT di tipo SEED senza doverli necessariamente acquistare dal mercato: lo stacking dei token MOTA.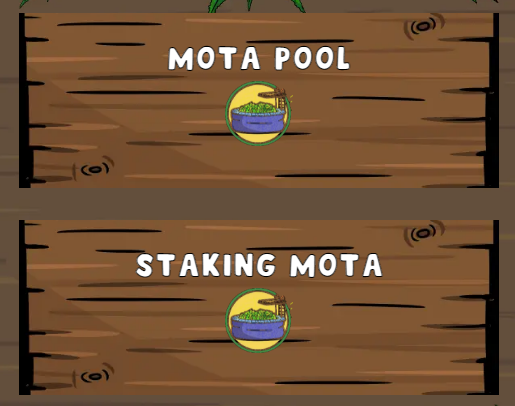 Infatti mettendo in stacking i token MOTA è possibile ottenere gli NFT di tipo SEED.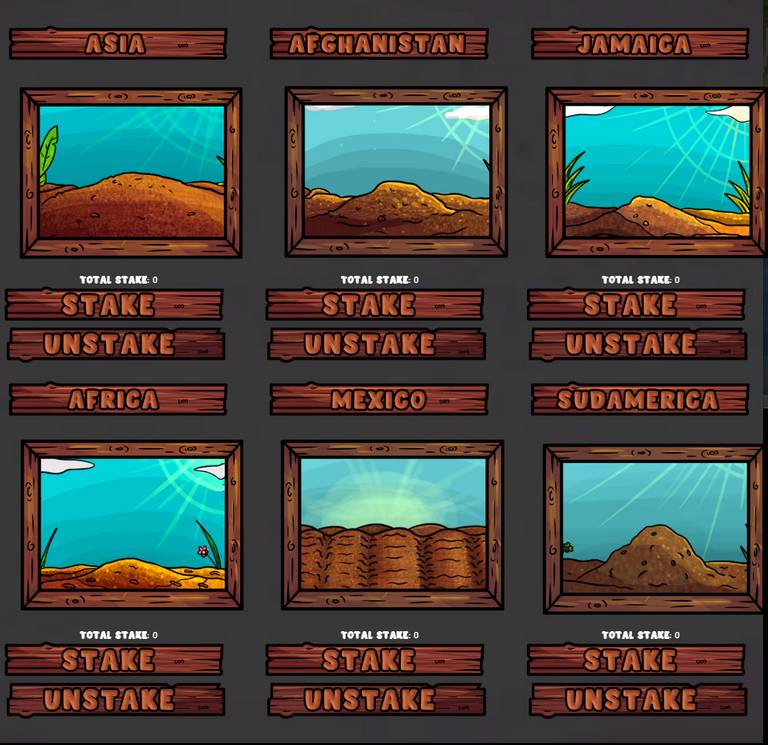 Per ottenere i token MOTA è possibile acquistarli dai mercati esterni al gioco come Hive Engine o TribalDex oppure è possibile ottenerli bruciando i token BUDS all'interno della sezione MOTA POOL di Hashkings.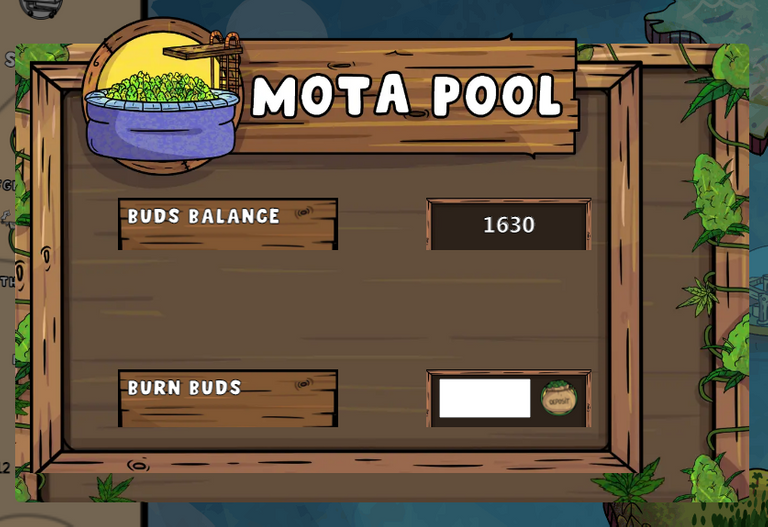 Dopo il mio terzo raccolto ho accumulato e non reinvestito un totale di 1630 token BUDS.
Ho deciso di bruciare questi token per ottenere token MOTA e per valutare se l'operazione di bruciatura dei token BUDS fosse conveniente o meno ho visitato il sito https://hk-stats.herokuapp.com/home.
In base alle informazioni statistiche presenti sul sito https://hk-stats.herokuapp.com/home ho notato che il giocatore @furuno che ha bruciato 3500 BUDS dovrebbe ottenere 3.2057 token MOTA.
Se faccio la proporzione io, bruciando 1630 token BUDS, dovrei ottenere 1.4929 token MOTA approssimativamente.
Considerati i valori attuali dei token BUDS e dei token MOTA...

...l'operazione di bruciatura dei token BUDS è un operazione che genera un profitto stimato positivo di +0.0981$ (+0.1076 HIVE).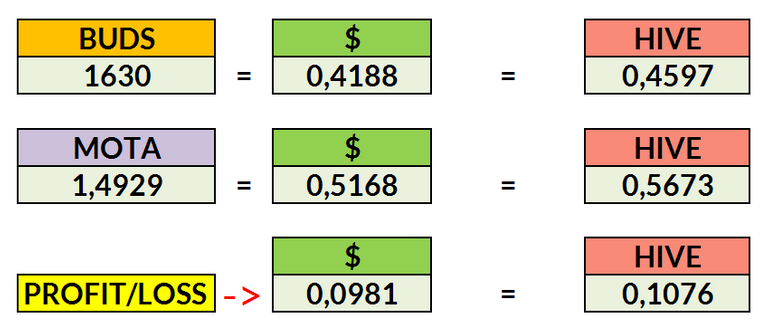 Per questo motivo ho subito bruciato i miei 1630 token BUDS.


Conclusione

L'economia del gioco di Hashkings è davvero molto vasta e sono molti gli aspetti e le valutazioni di investimento effettuabili e che devo ancora provare o approfondire.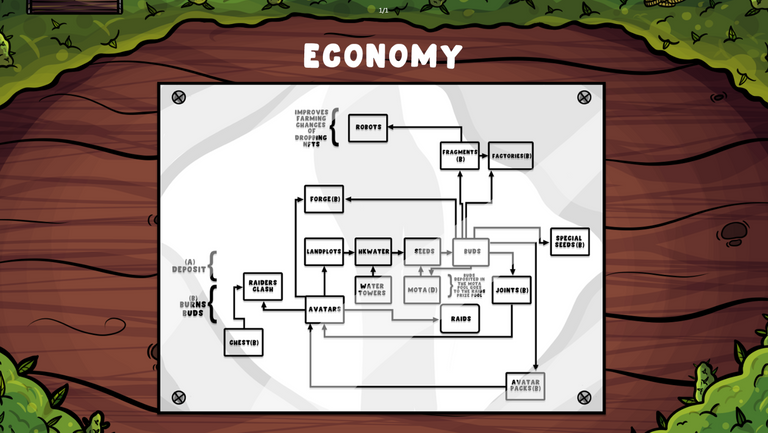 In questo post ho valutato la funzionalità della bruciatura dei token BUDS per ottenere token MOTA (MOTA POOL).
Appena riceverò i token MOTA valuterò la funzionalità dello stacking dei token MOTA e capirò se è un operazione conveniente o meno.
Nel frattempo mi sono portato avanti e oggi ho acquistato anche un pacco di avatars di prima generazione che mi permetterà di iniziare a usare e testare le funzionalità Battle Boss e Raids del gioco di Hashkings...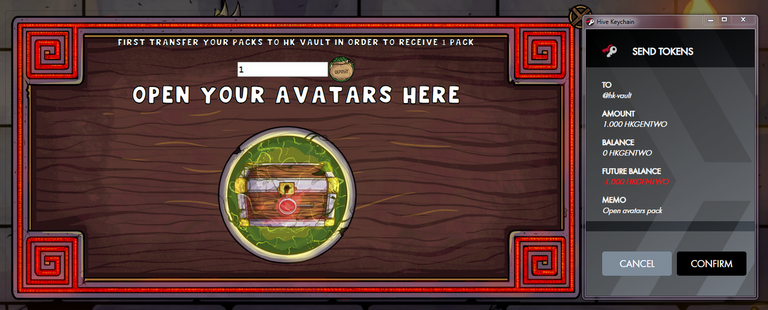 ...ma per oggi è tutto e lo stacking dei token MOTA e le funzionalità Battle Boss e Raids saranno l'argomento di un mio prossimo post.
Spero che questo mio quarto post inerente al gioco di Hashkings ti sia piaciuto e se ti fa piacere, seguimi per leggere i miei futuri post e report ;)


Nota Importante:

I giochi basati su blockchain che permettono di acquistare e vendere token non sono solo giochi ma sono anche investimenti e come tali devono essere trattati!
In ogni tipologia di investimento c'è sempre un
fattore di rischio
da valutare e considerare.
Io non sono un consulente finanziario e le informazioni contenute in questo post non sono consigli finanziari
Prima di investire in un gioco basato su blockchain devi sempre fare le tue ricerche e le tue personali valutazioni.
Il mio consiglio è di investire sempre e soltanto quello che puoi permetterti di perdere a cuor leggero!

Se non diversamente indicato, le immagini presenti in questo post sono screenshots presi dai siti:
https://farm.hashkings.app/
https://tribaldex.com/
Le immagini che contengono formule, tabelle e calcoli sono di mia proprietà
Il font usato nelle immagini relative ai calcoli e nelle immagini da me editate è Open Source
The dividers with the Hive logo in this post were created by me and if you like them you can use them too, the Hive logo is property of https://hive.io/



---
---