My DCROPS Strategy: In the Middle of Spring / DCROPS: Nel mezzo della Primavera (ENG/ITA)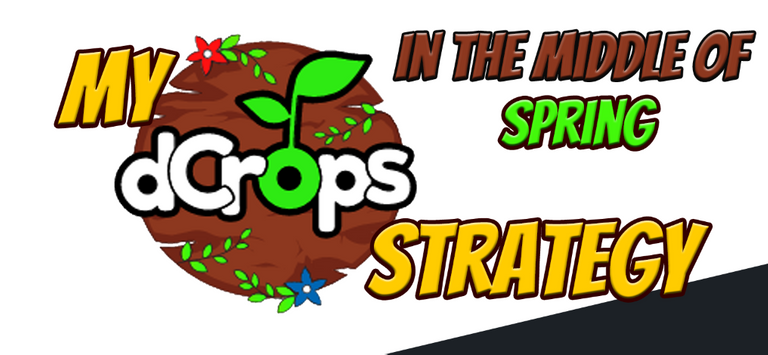 Logo image owned by @dcrops - Edit by @libertycrypto27 - Font used is Open Source
---

La versione in italiano è subito dopo la versione in inglese - The Italian version is immediately after the English version
---
My DCROPS Strategy: In the Middle of Spring
---
Dcrops (https://www.dcrops.com/) is a blockchain-based farming game and the home of Dcrops is the Hive blockchain.
Dcrops is an easy game to play and it is a game that requires little time but, at the same time, it is also a game that requires an initial investment.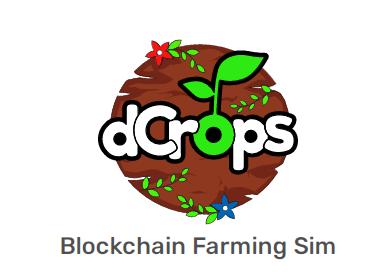 Screenshot from the site: https://www.dcrops.com/
To date I have invested a total of 101.63 HIVE in the game of Dcrops.
Most of the rewards I've gotten so far from my gaming activity I've reinvested to buy more cards from the game and I have in my wallet a total of about 4000 CROP tokens.

In the last seasons of Dcrops the number of active players has increased and compared to the first seasons also the CROP token has increased its value.
For this reason I decided to follow the growth trend of the game and I increased my investment budget to 150 HIVE (initially I had set it at 100 HIVE).
In the middle of Spring
On Dcrops, time is marked by seasons which are the same as in real life but only last for 15 days.
The current season is Spring, which started 7 days ago and will end in just over 8 days.

During the spring I used 35 seed cards (NFT) that I planted in the plots of my LAND cards.
As a result of using these cards, I earned 476 Shares points.
Shares points allow you to enter the Dcrops leaderboard which has a Reward Pool of 485186 CROP tokens.


Based on my 476 Shares points I occupy position 19 in the rankings and my estimated end of season reward is 4112,553 CROP tokens.
My ranking number and the value of my reward are obviously temporary values.
With 8 days to go before the end of the season and after harvesting and selling some crops I find myself with 10 Land cards completely unused and 17 plots without any seeds planted.

For this reason, I decided to continue investing in purchasing seed cards from the Dcrops marketplace.
There are five seed cards that can be used in the spring season:
Broccoli
Kale
Cauliflower
Potato
Strawberry

Except for the Couliflower card that has a production time of 10 days all other cards have a production time of less than 8 days so they are all possible choices for my purchase.
Which cards to buy?
To choose the cards to buy I calculated the Share Points/HIVE ratio for each card that can be used during the spring season and I restricted the calculation to cards that have a production time of less than 8 days.

I sorted the table data in the image above by Share Points/HIVE values (from largest to smallest).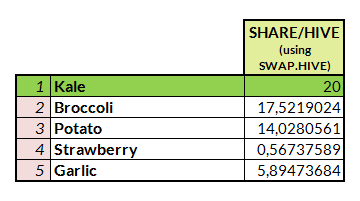 The card that has the highest SHARE/HIVE ratio value is the Kale card: SHARE/HIVE = 20.
If I buy the Kale card at the price of 0.7 I get 20 Shares points for every HIVE spent.
If I buy the Strawberry card I get only 0.56 Share points for each HIVE spent.
Once I made my choice I went to the Dcrops market and bought 17 Kale cards:
3 Kale cards priced at 0.699 each.
5 Kale cards at the price of 0.7 each.
9 Kale cards for 0.7859 each.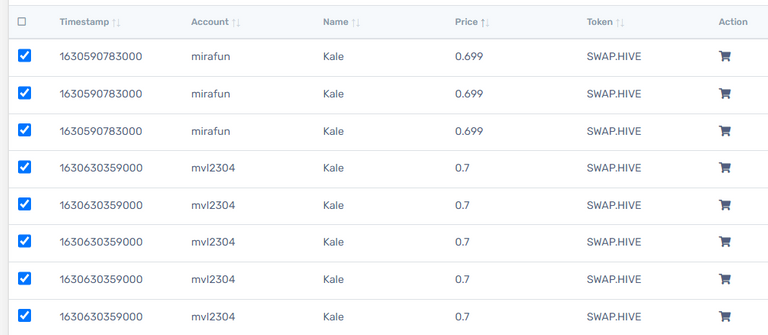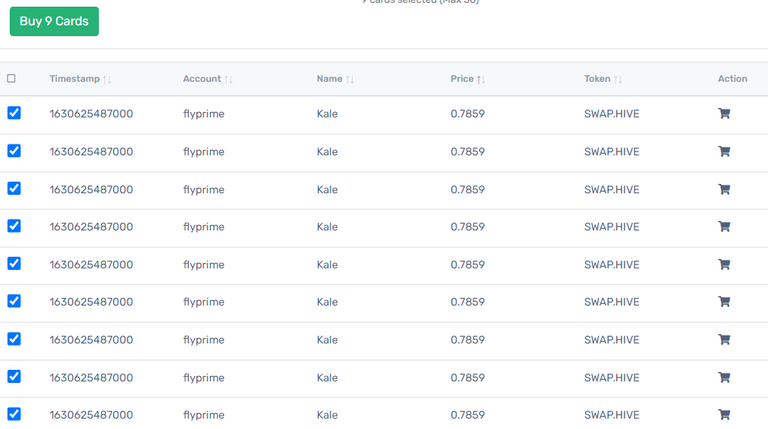 I spent a total of 12.67 HIVE.
All the seed cards purchased I immediately used and now have all the plots filled.

After my last purchase I can update the total cost of my investment on Dcrops which has now grown and is 114.30 HIVE.
The break-even point is getting closer but having raised my investment budget it is not my main goal at the moment and will become so only when I have invested 150 HIVE in the Dcrops game.

I hope you liked this report and if you like it, follow me to read my future posts and reports on Dcrops ;)
---
Important Note:
---
Dcrops more than a game is an investment and mainly as such should be considered.
In every kind of investment there is always a
risk factor
to evaluate and consider.
I am not a financial advisor and my post does not want to be in any way an invitation to invest on Dcrops but it is just the analysis and sharing of my personal investment on Dcrops on September 3, 2021.
My advice is to always invest only what you can afford to lose with a light heart!
---
Unless otherwise indicated, the images in this post are screenshots taken from the sites:
(https://www.dcrops.com/) (Ref.)
The font used in the images related to the calculations and in the images edited by me is Open Source
---

---

---
DCROPS: Nel mezzo della Primavera.
---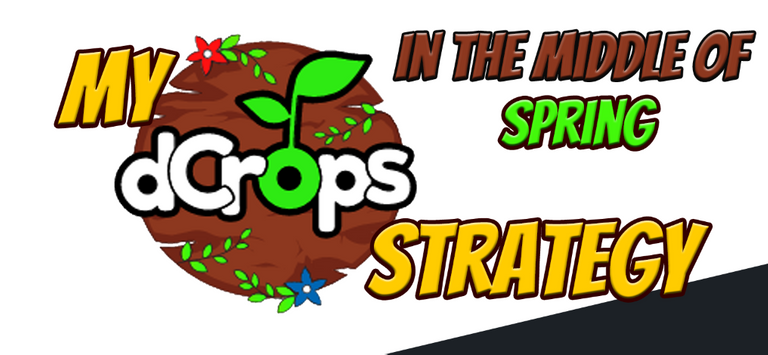 Logo image owned by @dcrops - Edit by @libertycrypto27 - Font used is Open Source
---
Dcrops (https://www.dcrops.com/) è un gioco di farming basato su blockchain e la casa di Dcrops è la blockchain di Hive.
Dcrops è un gioco semplice da giocare ed è un gioco che richiede poco tempo ma, allo stesso tempo, è anche un gioco che richiede un investimento iniziale.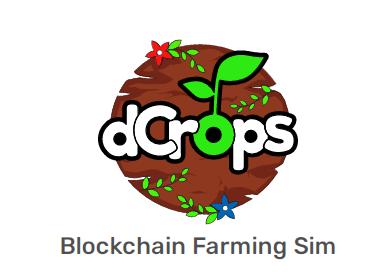 Screenshot from the site: https://www.dcrops.com/
Fino ad oggi ho investito nel gioco di Dcrops un totale di 101.63 HIVE.
La maggior parte delle ricompense che ho ottenuto fino ad ora dalla mia attività di gioco le ho reinvestite per acquistare altre carte del gioco e ho nel mio wallet un totale di circa 4000 token CROP.

Nelle ultime stagioni di Dcrops il numero dei giocatori attivi è aumentato e rispetto alle prime stagioni anche il token CROP ha aumentato il suo valore.
Per questo motivo ho deciso di seguire il trend di crescita del gioco e ho aumentato il mio budget di investimento a 150 HIVE (inizialmente lo avevo fissato a 100 HIVE).
Nel mezzo della Primavera
Su Dcrops il tempo è scandito dalle stagioni che sono le stesse della vita reale ma hanno una durata di soli 15 giorni.
La stagione attualmente in corso è la primavera che è iniziata da 7 giorni e terminerà tra poco più di 8 giorni.

Durante la primavera ho utilizzato 35 carte seme (NFT) che ho piantato nei plots delle mie carte LAND.
Grazie all'utilizzo di queste carte ho ottenuto 476 punti Shares.
I punti Shares permettono di entrare nella classifica di Dcrops che ha una Reward Pool di 485186 token CROP.


In base ai miei 476 punti Shares occupo la posizione 19 nella classifica e la mia ricompesa di fine stagione stimata è di 4112.553 token CROP.
Il numero della mia posizione in classifice e il valore la mia ricompensa sono ovviamente valori temporanei.
Ad 8 giorni dalla fine della stagione e dopo aver raccolto e venduto alcuni prodotti agricoli mi trovo con 10 carte Land completamente inutilizzate e 17 plots senza nessun seme piantato.

Per questo motivo ho deciso di continuare ad investire nell'acquisto di carte seme dal mercato di Dcrops.
Le carte Seme utilizzabili nella stagione primaverile sono cinque:
Broccoli
Kale
Cauliflower
Potato
Strawberry

Tranne la carta Couliflower che ha un tempo di produzione di 10 giorni tutte le altre carte hanno un tempo di produzione inferiore a 8 giorni e quindi sono tutte possibili scelte per il mio acquisto.
Quali carte comprare?
Per scegliere le carte da comprare ho calcolato il rapporto Punti Share/HIVE per ogni carta utilizzabile durante la stagione primaverile e ho ristretto il calcolo alle soli carte che hanno un tempo di produzione inferiore a 8 giorni.

Ho ordinato i dati della tabella nell'immagine in alto in base ai valori Punti Share/HIVE (dal più grande al più piccolo).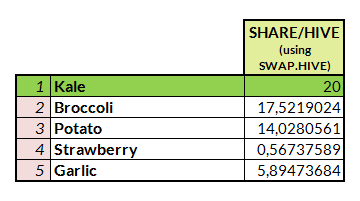 La carta che ha il valore del rapporto SHARE/HIVE più alto è la carta Kale: SHARE/HIVE = 20.
Se compro la carta Kale al prezzo di 0.7 ottengo 20 punti Shares per ogni HIVE speso.
Se compro la carta Strawberry ottengo solo 0.56 punti Share per ogni HIVE speso.
Una volta effettuata la scelta sono andato sul mercato di Dcrops e ho comprato 17 carte Kale:
3 carte Kale al prezzo di 0.699 l'una.
5 carte Kale al prezzo di 0.7 l'una.
9 carte Kale al prezzo di 0.7859 l'una.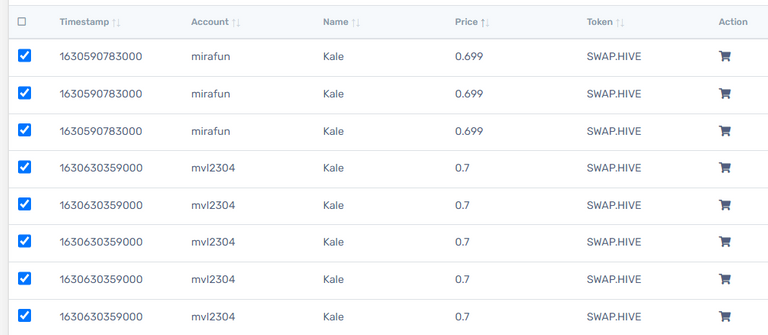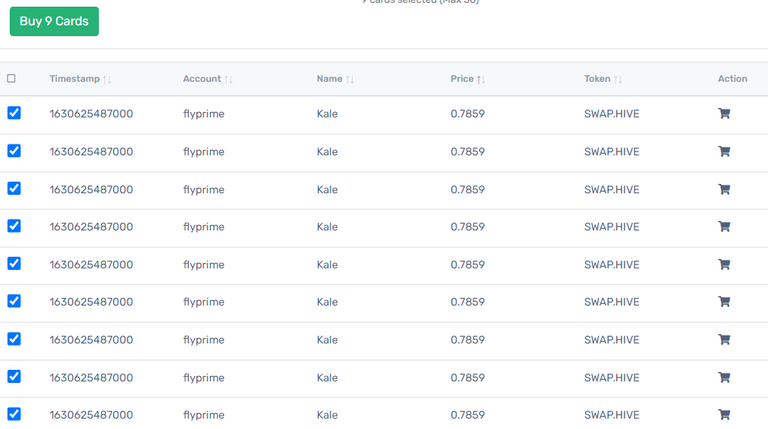 Ho speso in totale 12.67 HIVE.
Tutte le carte seme acquistate le ho subito utilizzate e adesso ho tutti i plots occupati.

Dopo il mio ultimo acquisto posso aggiornare il costo totale del mio investimento su Dcrops che adesso è cresciuto ed è di 114.30 HIVE.
Il punto di pareggio si allontana ma avendo alzato il mio budget di investimento non è al momento il mio obbiettivo principale e lo diventerà solo quando avrò investito 150 HIVE nel gioco di Dcrops.

Spero che questo mio post ti sia piaciuto e, se ti fa piacere, seguimi per leggere i miei futuri post e report su Dcrops ;)
---
Nota Importante:
---
Dcrops più che un gioco è un investimento e principalmente come tale dovrebbe essere trattato.
In ogni tipologia di investimento c'è sempre un
fattore di rischio
da valutare e considerare.
Io non sono un consulente finanziario e il mio post non vuole essere in alcun modo un invito ad investire su Dcrops ma è solo l'analisi e la condivisione del mio personale investimento su Dcrops in data 3 settembre 2021.
Il mio consiglio è di investire sempre e soltanto quello che puoi permetterti di perdere a cuor leggero!
---
Se non diversamente indicato, le immagini presenti in questo post sono screenshots presi dai siti:
(https://www.dcrops.com/) (Ref.)
Le immagini che contengono formule e calcoli sono di mia proprietà
Il font usato nelle immagini relative ai calcoli e nelle immagini da me editate è Open Source
---

---
---