My financial goals 2021: Hive, Leo, Hive Games and Time tokens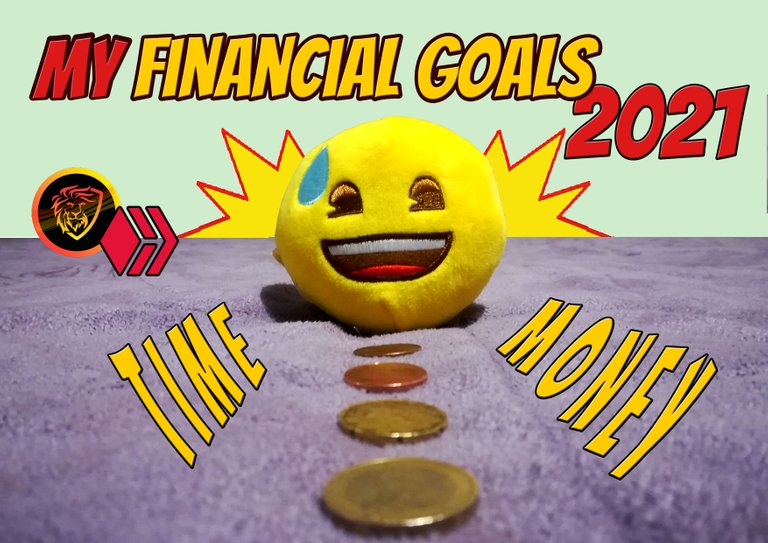 Photo owned by @libertycrypto27- Font used is Open Source
---
I'm really happy to participate to the initiative proposed by @theycallmedan and organized and promoted by @aliento, @hispapro and @tripode because I like to set myself goals and above all I like to have clear ideas about where I would like to arrive or what I would like to achieve.
---
My current situation
---
I am a happy father of a 7 years old girl, cheerful and sunny who fills my life with joy and serenity.
I do not have a permanent job, I work 4 different jobs that allow me to meet the needs of my family.
My wife has a small chocolate and gift store and in this particular time of health emergency the future for a business like hers is definitely uncertain.
I made this small introduction to make it clear that my financial investments may require very small financial resources.
When you don't have a lot of economic resources you can only invest one thing: time.
Unfortunately, I also have very little time.
One of the main financial rules is to diversify but I'm not in a position to do that so my financial goals for 2021 are focused only on the Hive blockchain.
---
Hive, Leo, Blockchain Games and Tempo Tokens
---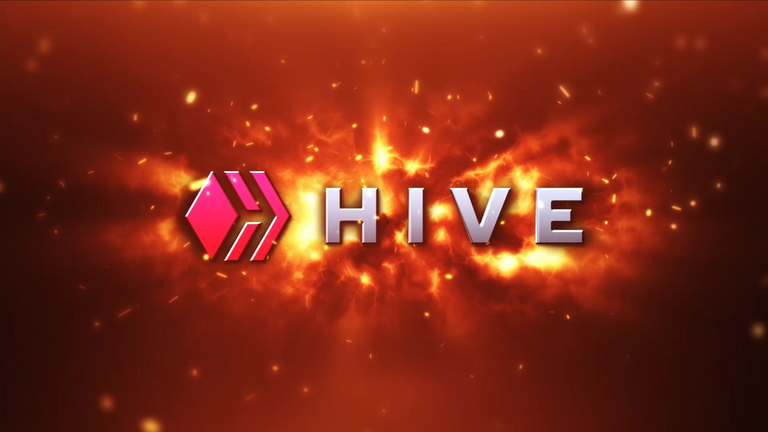 Author image: @doze
---
Hive
---
The gateway to the decentralized world I opened in 2019 when I bought an online course on cryptocurrencies and discovered Hive (which at the time was called something else, but I prefer not to mention it).
At the beginning it was not easy, so many things to understand but today after 22 months on Hive I feel at home even if it is a social and virtual home.
I enjoy writing on Hive and I really believe in Hive as a medium-long term project and for this reason I have never done a Power Down.
Hive is definitely much more useful than many other blockchain platforms that have very high value cryptocurrencies than HIVE.
On Hive:
I can make fast, transparent, secure and completely free transactions
I can publish ideas and thoughts without the fear of being censored
I can comment and interact with many users who are part of a large and strong community.
I can use many DAPP
I can play and have fun
....
How many other decentralized projects allow you to do all these things?
Few!
How many other decentralized projects have cryptocurrencies with high value even though they have no practical use after all?
Many!
My goal on Hive that I would like to achieve in 2021 is as follows: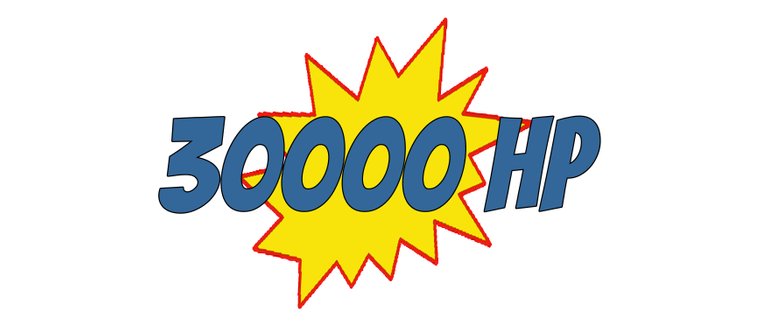 I have just under 12000 Hive Power on my wallet so I still have a long way to go.
---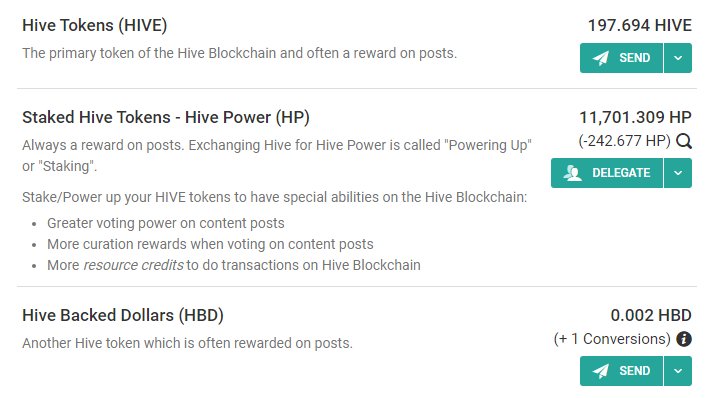 ---
For self-motivation and to monitor the path to my goal I created a simple table in which I calculated and set intermediate goals (monthly).

To speed up the achievement of my goal I will use other blogging platforms such as Publish0x that will allow me to get two results at the same time:
promote Hive
convert tokens earned to make Power Up on Hive.
---
LEO
---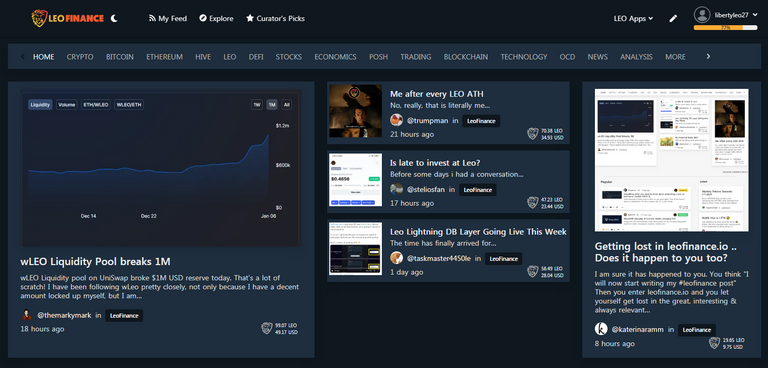 screenshot from https://leofinance.io/
---
I've been using the leofinance tag for a long time but I've started to publish directly from https://leofinance.io/ and to comment and interact with the community users since a short time but my experience, even if short, is very positive.
I have basic knowledge about the world of finance and on Leofinance I have the opportunity to expand my cultural background in finance because there are so many brilliant and competent authors.
Today December 6, 2020 1 LEO is worth more than three times of 1 HIVE
---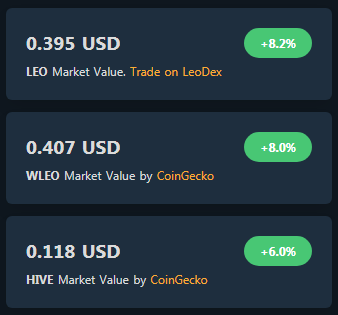 screenshot from https://leofinance.io/@libertyleo27/wallet
---
The success of Leofinance and the LEO token is a very good thing and it's also a great advertisement for HIVE because it shows how Hive is the best blockchain to grow projects, communities and is the perfect "cradle" for DAPP development.
I also use LEO Apps a lot:
My goal for 2021 is to cross the 1500 LEO threshold.
I currently have about 523 LEOs that I have delegated to my curation account @libertyleo27.

screenshot from https://leofinance.io/@libertyleo27/wallet
---
In order to reach my goal I need 976.32 LEO so I need to earn or buy about 82 LEO per month to reach my goal by the year 2021.
---
Other tokens (second layer of Hive)
---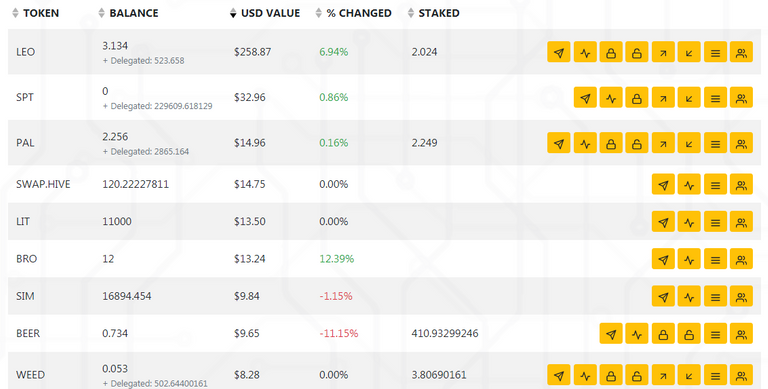 screenshot from https://leodex.io/
---
In 2021 I will continue to accumulate and stake not only LEO tokens but also the following tokens:
PAL (PALNET community token): 2865 (staked) - goal 2021: 5000 PAL
NEOXAG (NEOXIAN community token): 4200 (staked) - goal 2021: 10000 NEOXAG
CCC (CreativeCoin community token): 3582 (staked) - goal 2021: 10000 CCC
SPT (Splintertalk community token): 281000 (staked) - goal 2021: 1 Million SPT
WEED** (WeedCash community token): 512 (staked) - goal 2021: 1000 WEED
ARCHON (Archon community token): 70 (staked) - goal 2021: 500 ARCHON
SPORTS (Sports Talk Social community token): 100000 (staked) - goal 2021: 500000 SPORTS
---
Interesting tokens
---
Some time ago I bought 12 BRO (tokens from the @brofund project) and in 2021 I will try to buy more.
I would also like to buy some of the following tokens which might prove to be a good investment:
LBI - Leo Backed Investments account: @lbi-tokens
INDEX - Hive Engine Index issuer: @he-index
CTP (Clicktrackprofit community token)
I'm waiting with great curiosity to know the details about 3Speak tokens and surely they will be tokens that I will not sell but keep.
---
Hive Games
---
I am convinced that decentralized games are and will increasingly be an important part of getting people to know and appreciate the great value of decentralization.
I am subscribed to and play several games.
My favorites are:
Splinterlands
dCity
Rising Star
Each of these games has one or more related tokens (NFT) that can be bought and sold on LeoDex or Hive Engine.
Because of this, all of the games I listed above are basically investments as well.
I set annual goals for each of the games I participate in.
---
Splinterlands
---

screenshot from https://splinterlands.com/
---
Hive was my first blockchain, Splinterlands was my first decentralized game.
I've been playing Splinterlands for 14 months and I'm still having as much fun as the first day.
In addition, Splinterlands has also proven to be a good investment for me, which is why I will continue to invest the rewards from the game into upgrading my card collection.
I have a card collection worth $526 ( using Market Price ) and would like to bring my collection up to a value of at least $1000 by the end of 2021.

screenshot from https://peakmonsters.com/
---
By upgrading my collection I hope to get to and compete in the Champion leagues of the game.
---
dCity
---
dCity more than a game is an investment because it requires an initial investment while the time spent in the game is very little (I access the game every 10-15 days).
In the image below you can see my virtual city.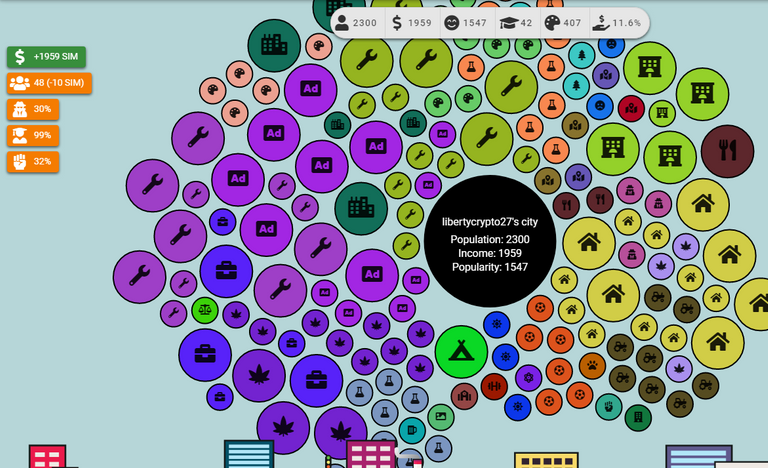 screenshot from https://dcity.io/
---
My city produces 1959 SIM per day which are dCity's Non Fungible Tokens.
1959 SIM have the equivalent value of 9.30 HIVE.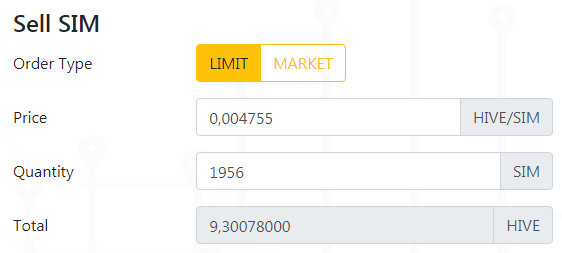 screenshot from https://leodex.io/market/SIM
---
My short term goal is to reach a daily production of 3000 SIM.
After that I will use the gained income in the following way:
50% purchase of cards from the game to expand my city
25% Hive Power Up
25% LEO Power Up
My annual goal is to reach a daily production of 10000 SIM per day.
---
Rising Star
---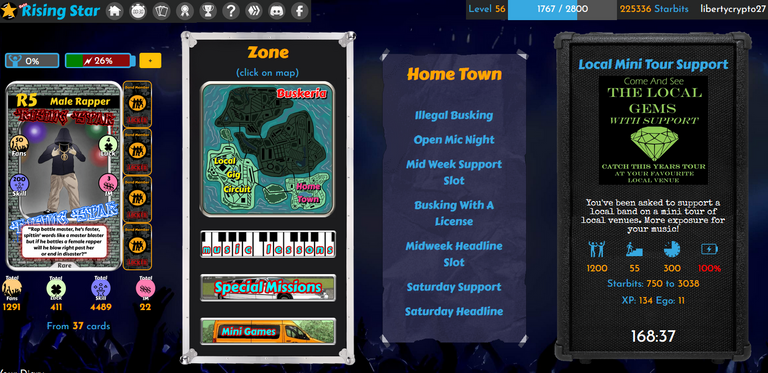 screenshot from https://www.risingstargame.com/
---
Rising Star is a lesser known game than Splinterlands and dCity but it's a great game, simple, fun and takes a few clicks a day.
It's a risk-free game because it requires no initial investment.
My annual goal is to become a millionaire!
I will hardly become a millionaire in my real life but at least on Rising Star I want to become one! :)
By December 31, 2021 I would like to accumulate 1 million STARBITS (NFT of Rising Star) and receive the prestigious Starbits Millionaire card.
On my game wallet I have 218795 STARBITS and I still have about 782000 STARBITS left to reach my annual goal.

---
Other cryptocurrencies
---
I have been accumulating small amounts of cryptocurrencies other than HIVE for free using sites like Coinbase Earn.
The total value of my wallet is a few dollars (about $150).
I will continue to use free methods to receive cryptocurrencies other than HIVE.
---
Time tokens
---
Photo of valentinsimon0 from Pixabay
---
Last I left my main goal for 2021:
accumulate as many
Time Token.
Since becoming a father, I have learned to give time its proper importance and weight.
Time tokens are invisible tokens that cannot be stored in any wallet and cannot be found in any exchange and yet they are the most important and valuable tokens.
A famous saying goes: time is money.
Money is important because without money no one can be happy and I challenge anyone to prove otherwise.
But time is by far the most precious asset!
Time should not be the means to more money, but it is money that should be the means to more time.
I work a lot, study a lot, and often my life resembles the famous video game Pac-Man.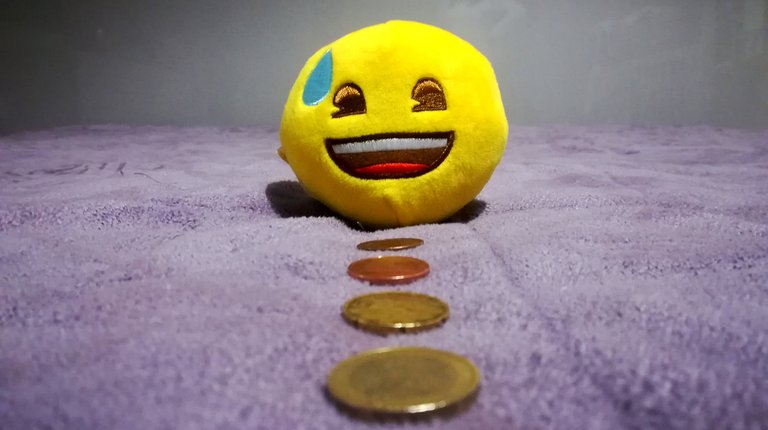 Photo owned by @libertycrypto27
---
Pac-man ran trying not to get caught by the ghosts and I often run trying not to get caught by bill deadlines and necessary expenses for my family.
In this constant race I often have little time to devote to my daughter and my loved ones.
I live for the happiness of my loved ones, I breathe thanks to the smiles and laughter of my daughter and my family and friends.
I wish I had more time to play and joke with my daughter.
I wish I had more time to devote to my parents who are becoming elderly to repay them for the love they have given me since I was a child.
I wish I had more time!
Collecting Tempo Tokens is not only the main goal I would like to achieve in 2021 but it is mostly my life goal...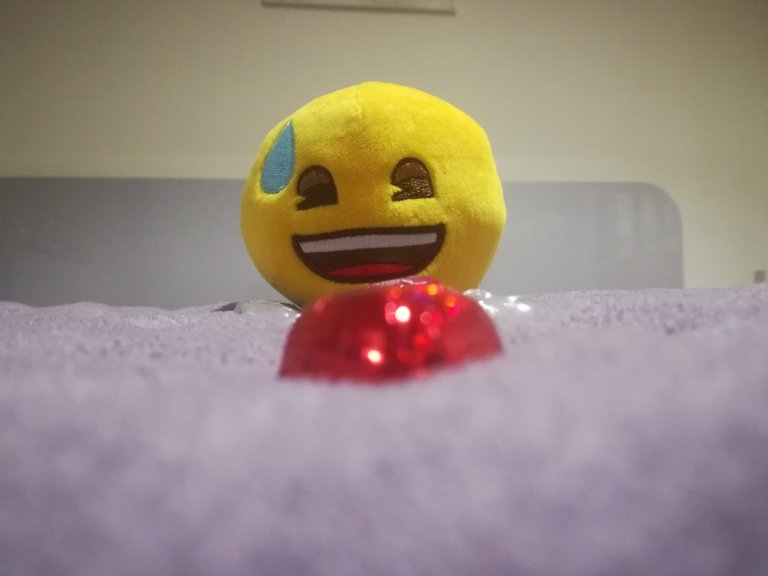 Photo owned by @libertycrypto27
---
My prediction for the price of Hive and LEO in 2021
---
I am convinced that 2021 will be a good year for both Hive and LEO.
HIVE: 0.5$ - 0.8$
LEO: 0.8$ - 1.0$
These are my predictions but I hope the values are much but much higher :)
---
HIVE ON and LEO ON
---

Posted Using LeoFinance Beta
---
---