My Road to Country Tour, Ego and the Increased Reward of Music Lessons / Il Mio Percorso su Rising Star e il Contrasto all'Ego (ENG/ITA)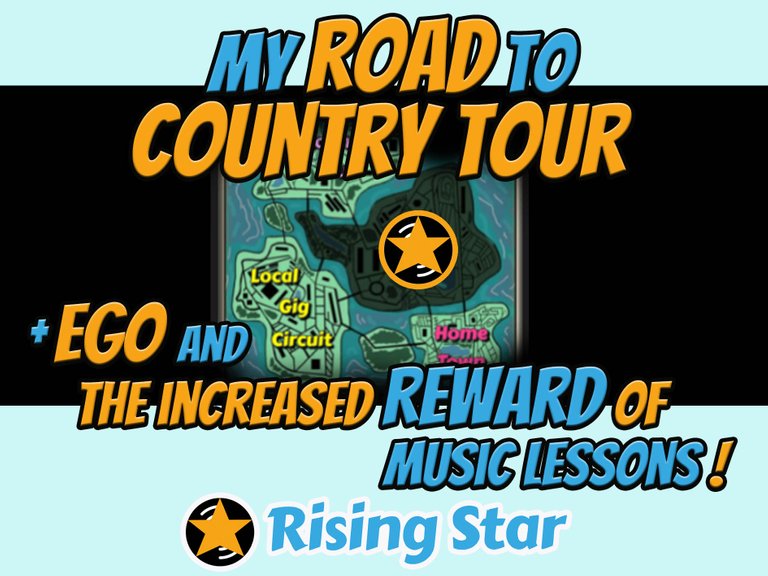 Logo and image in the center owned by Rising Star - Font used is Open Source - Edit by @libertycrypto27
---

La versione in italiano è subito dopo la versione in inglese - The Italian version is immediately after the English version

My adventure as a virtual singer on Rising Star began in mid-August 2020 and today, May 9, 2022, it's been just under a year and 9 months since I was a simple street singer and had to watch out for the police because I didn't have a license to sing in the street :)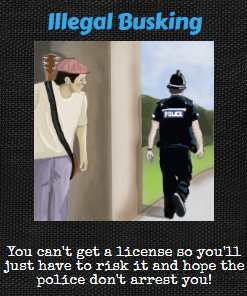 Today I have my own band, I have many musical instruments, I have 4 vehicles to move between my city and the Local Gig Circuit and the County Zone.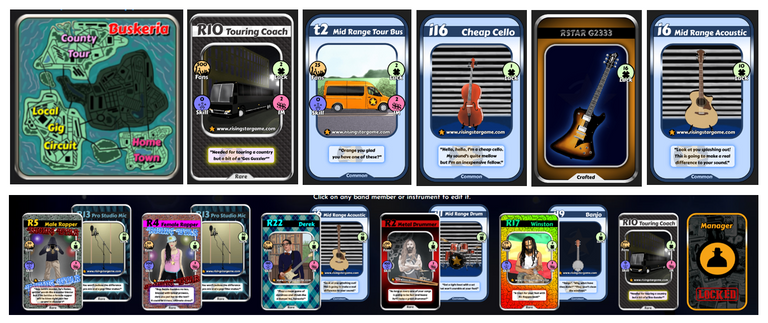 I have performed 3757 times and through these performances I have gained 4216 Fans who love my music and follow me everywhere.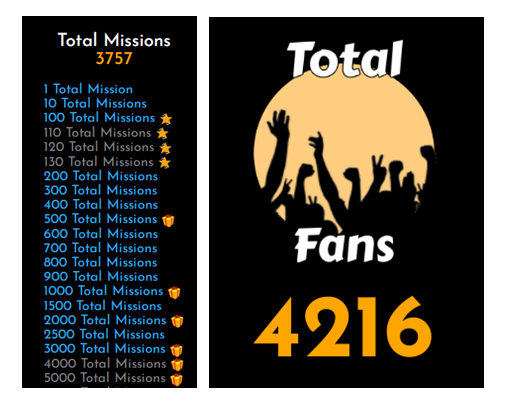 At the beginning of my musical career I had an enemy to defeat: the Ego.
Today I have overcome this problem, I have my feet on the ground and I have realized that I still have a long way to go, I have many more fans to conquer and I have a lot to improve and for this reason I have not lost the healthy habit of improving myself by attending music lessons.
I am the lead singer of my band so I practice my singing a lot with my vocal coach who has been with me since the beginning of my career.
I know, more than a few people think that I attend singing lessons because my teacher is very beautiful with her yellow dress but it's not so... maybe :)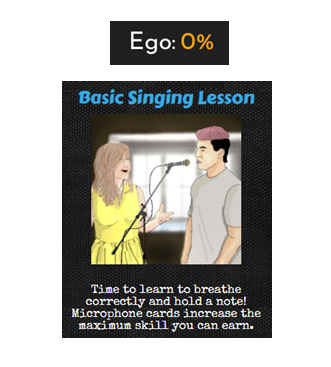 I'm happy with the progress I've made and continue to make and I'm also happy with the earnings I've made so far, you won't believe it but thanks to Rising Star I've become a Millionaire!
I have accumulated a total of 1 million STARBITS tokens but I didn't spend it all and I decided to keep my first million in the bank.
The bank of Rising Star appreciated my gesture and rewarded me with a VIP card, the STARBITS Millionaire Card, thanks to which I can get 10000 STARBITS per day with a single mission!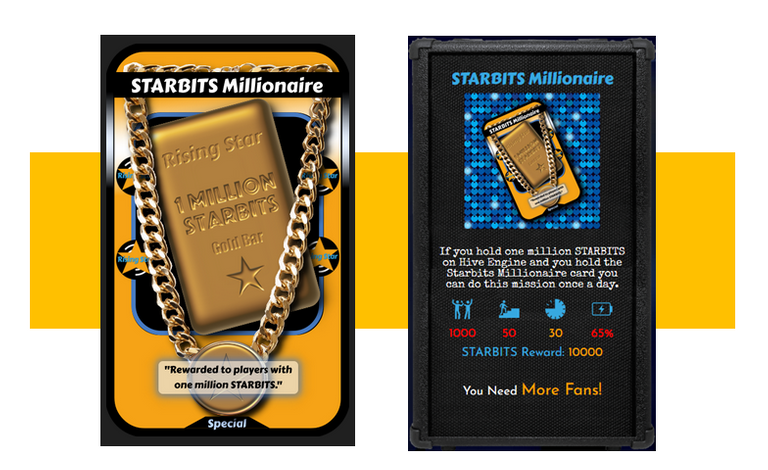 I wish banks like this existed in the real world!
So my musical career is going very well, I'm very well known in my town (Home Town) and in the Local Gig Circuit Area but I'm not a musical star yet and there is still a long way to go for me and my band.
Now we have to become famous also in the County Zone and after rehearsing our music for ten long days in a small garage, a more famous band heard us and asked us to support them on their tour.

And it's all gone well so far but now the goal is to attend the County Festival Auditions....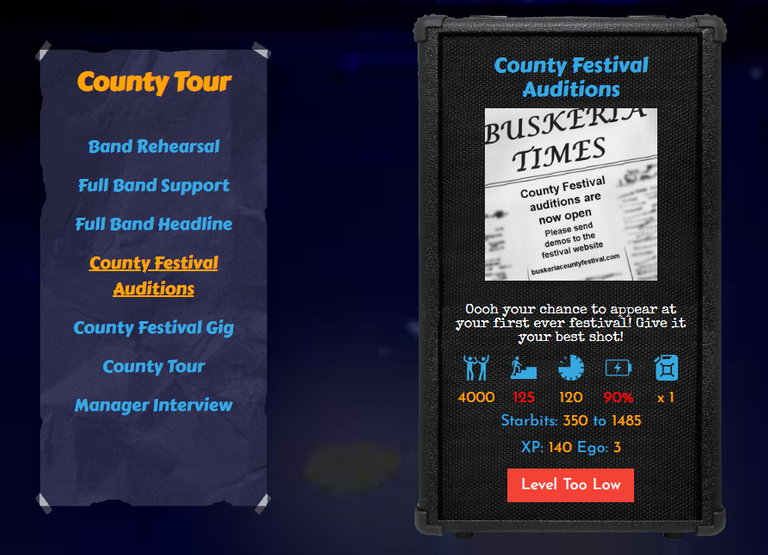 To access the County Festival Auditions I need to increase my game level which is currently level 112 and I need to bring it up to level 125.

To do this I need to earn lots of experience points (XP) which is the equivalent of doing lots of in-game missions.
Each completed mission allows you to earn XP points and STARBITS tokens but at the same time each mission contributes to increasing the total amount of EGO points which if greater than the total amount of SKILL points produces a decrease in the maximum reward of each game mission.
The Ego must always be kept under control!
Today I decided to optimize the accumulation of STARBITS tokens by improving the SKILL points reward of the music lesson I usually play.
If I get more Skill points from completing a single music lesson, I will have more time and energy available to perform missions that have STARBITS tokens as a reward.
For example, the same amount of time it takes to complete one music lesson (60 minutes) could be used to complete one Shopping Mall mission or 4 Full Band Support missions and as a result I could earn more STARBITS tokens.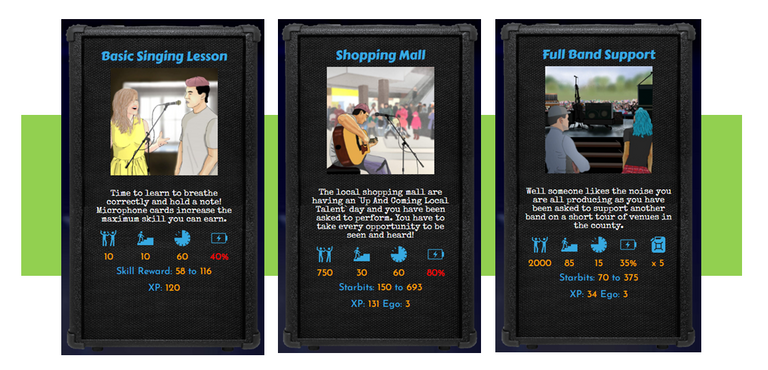 Ego and the Increased Reward of Music Lessons

My current game stats are as follows:
Total Fans: 4216
Total Luck: 1314
Total Skill: 14684
Total IM: 70
Ego: 0%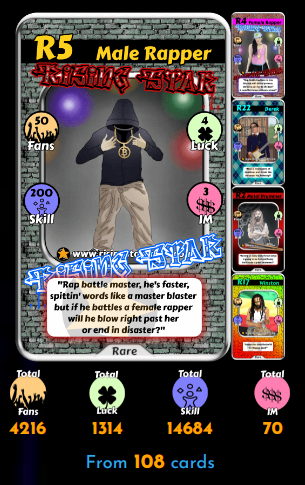 My Ego is 0% because my total Skill points are greater than my total Ego points:
Skill Points - Ego Points = 14684 - 14616 = 68 = Ego 0%.
My favorite Music Lesson is the Basic Singin Lesson because it has the highest Skill point reward of all my music lessons.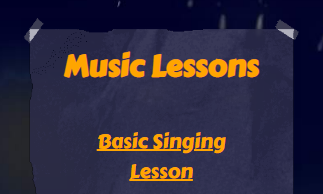 In fact, every time I complete a Basic Singing Lesson I get a number of Skill Points in the range 58 - 116.

I would like to increase the minimum value of Skill Points from 58 to 100 and to do that I need to buy instrument cards.
Each music lesson has a specific type of instrument cards that can increase the reward received from the completion of the music lesson.
In fact, if I buy instrument cards of microphone type I can increase the minimum value and the maximum value of the reward of the Basic Singing Lesson.
For the choice of the microphone cards to buy I used the site Rising Star Game Fam (https://rsgfam.com/) created by @foxon

Rising Star Game Fam is really very useful because it allows to find in a short time the most convenient cards to buy to increase:
the number of Fans
the number of Skill Points
the number of Luck points according to the musical mission for which an instrument card is functional.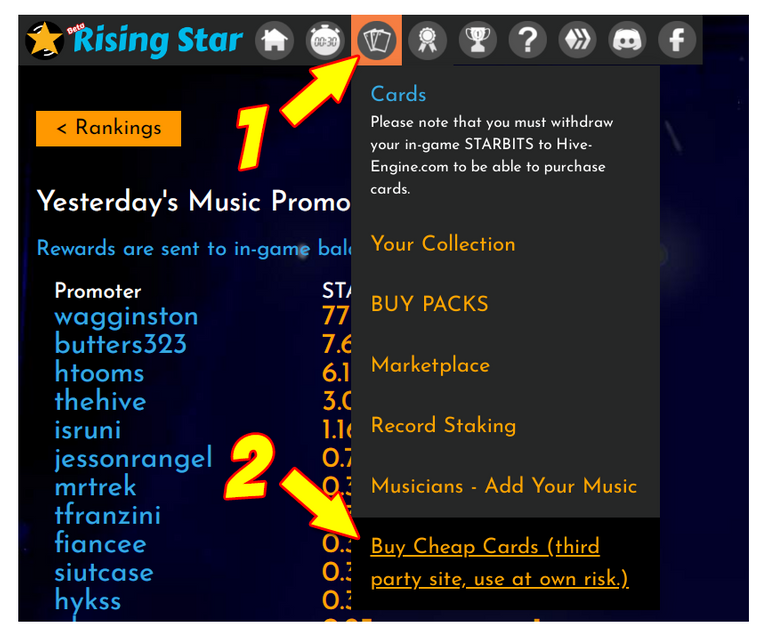 From Rising Star Game Fam's SHOP menu, I selected Lessons and then, on the next screen, selected Singing and finally clicked Submit.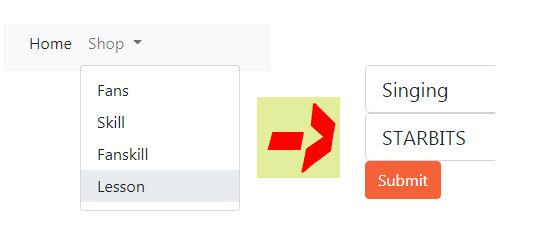 In the following image you can see the list of cards of type microphone with the best STARBITS/LUCK ratio displayed by Rising Star Game Fam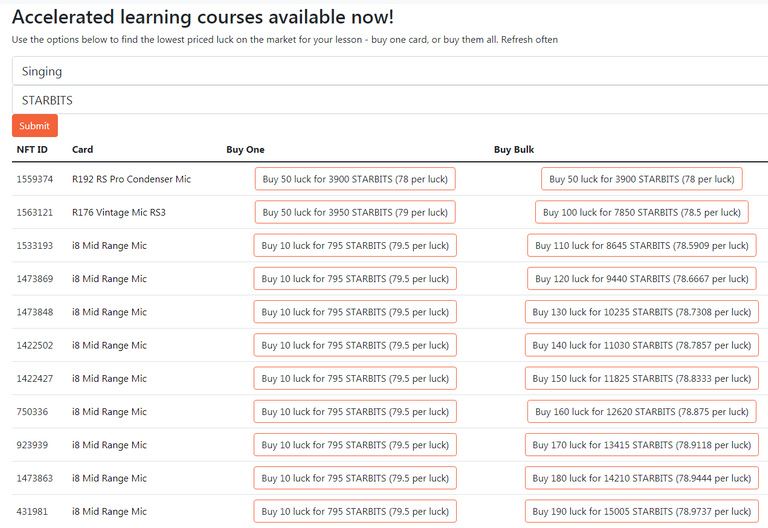 Based on Rising Star Game Fam's helpful suggestions I purchased:
1 R192 RS Pro Condenser Mic (+50 Luck for NFT)
1 R176 Vintage Mic RS3 (+50 Luck for NFT)
22 i8 Mid Range Mic (+10 Luck for NFT)
I spent a total of 25343 STARBITS and got 320 LUCK points,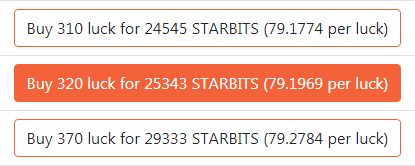 Next, I went to check the effect of my purchase on the Basic Singing Lesson.
As you can see from the following image, the minimum reward has increased by 16 points (58->74) and the maximum reward by 32 points (exactly double the increase of the minimum reward).
I didn't reach my goal so I went back to the marketplace and again used the Rising Star Game Fam site to research and purchase the microphone type cards.
I spent an additional 39843 STARBITS tokens to get an additional 500 Luck Points.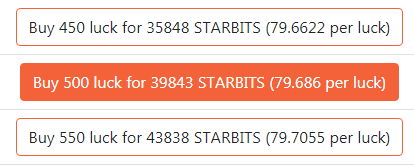 After my second purchase I didn't meet my goal, minimum reward of 100 Skill points, for just one point.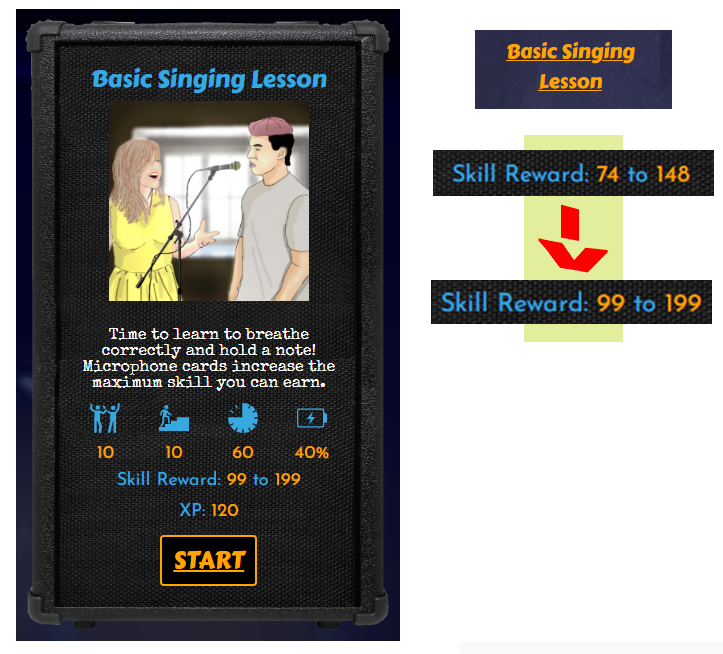 So I invested another 4794 token STARBITS

And I finally reached my goal ;)
To recap, today I spent a total of 69980 STARBITS tokens to:
add 36 NFT instrument type microphone to my collection
increase my Luck points by 880
increase the reward (Skill points) of the Basic Singing Lesson by

44 skill points (minimum reward)

89 skill points (maximum reward).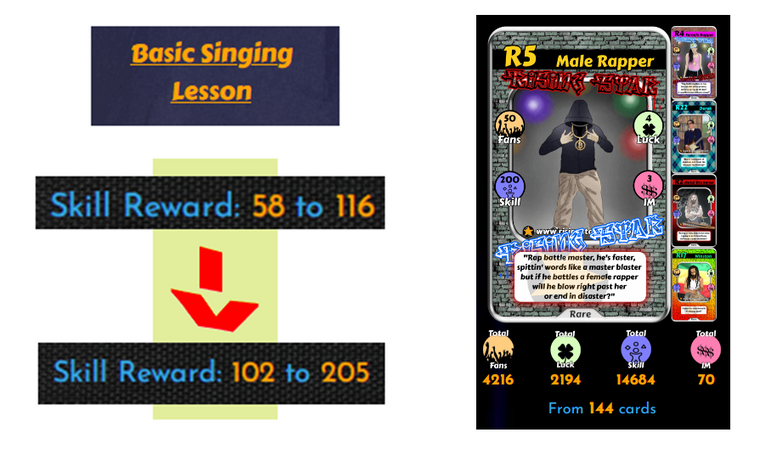 Now controlling the Ego and its negative effects will be much easier for me and most importantly it will require me to do less music lessons = more time to do more other missions.
I can now better focus on earning and accumulating STARBITS tokens and choosing the best combination of missions to complete each day...but that will be the topic of my next Rising Star post.
I hope you liked this post and I thank you for reading and taking the time to read it :)
HIVE ON and ROCK ON!

Are you not a Rising Star player?

If you decide to register at Rising Star, you can do it from this link:
https://www.risingstargame.com?referrer=libertycrypto27
of course only if you like to use my refferal link... :)
---
Do you want to know 6 reasons why you should play Rising Star?
Read the following post:
https://peakd.com/hive-146620/@libertycrypto27/6-reasons-why-you-should-play-rising-star-6-motivi-per-cui-dovresti-giocare-a-rising-star-engita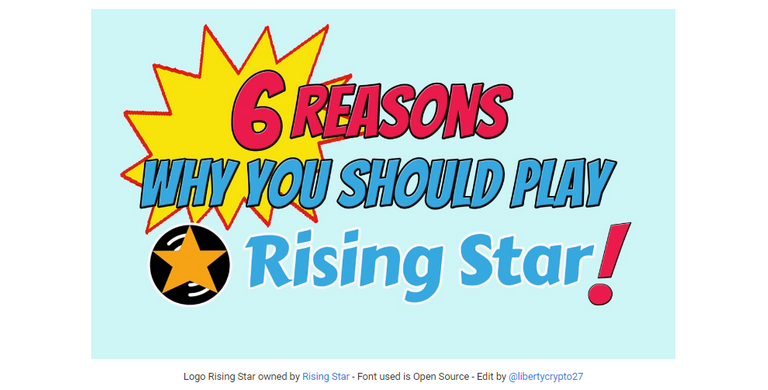 A selection of my previous posts on Rising Star


Unless otherwise indicated, the images in this post are screenshots taken from the game's website Rising Star
and the sites:
https://rsgfam.com/shop/fans
https://tribaldex.com/
https://hive-engine.com/
https://leodex.io/richlist/STARPRO
Images containing calculations, tables and formulas are my property
The font used in my images or edited by me is Open Source
The dividers with the Hive logo in this post were created by me and if you like them you can use them too, the Hive logo is property of https://hive.io/

Important Note:

Blockchain-based games that allow people to buy and sell tokens and NFT are not just games but are also investments and should be treated as such!
In any type of investment there is always a
risk factor
to evaluate and consider.
I am not a financial advisor and the information contained in this post is not financial advice
.
Before investing in a blockchain-based game you should always do your own research and personal evaluations.
My advice is to always only invest what you can afford to lose with a light heart!
HIVE ON and ROCK ON!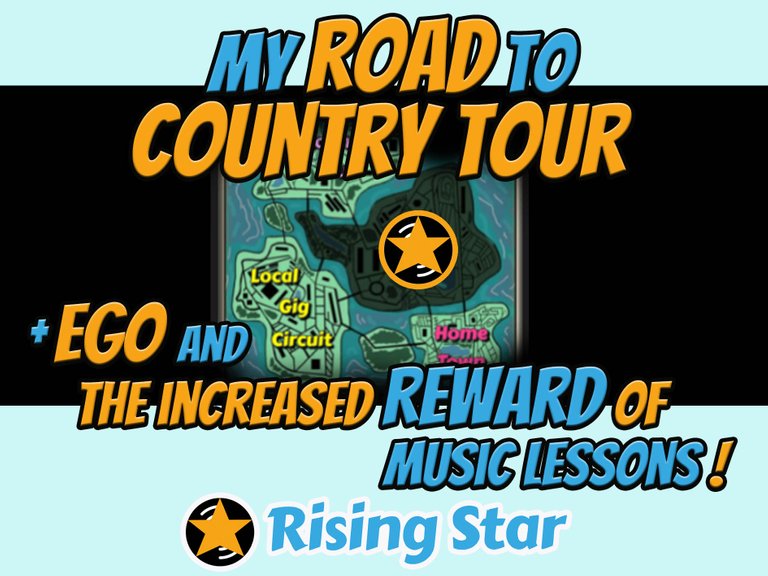 Logo and image in the center owned by Rising Star - Font used is Open Source - Edit by @libertycrypto27

La mia avventura di cantante virtuale su Rising Star è iniziata a metà agosto 2020 e oggi 9 maggio 2022 sono passati poco meno di un anno e 9 mesi da quando ero un semplice cantante di strada e dovevo stare attento alla polizia perchè non avevo la licenza per cantare in strada :)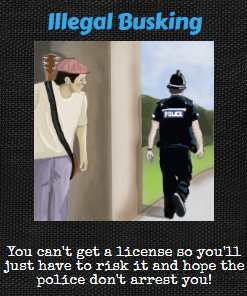 Oggi ho una mia band, ho tanti strumenti musicali, ho 4 veicoli per spostarmi tra la mia città e la Local Gig Circuit e la County Zone.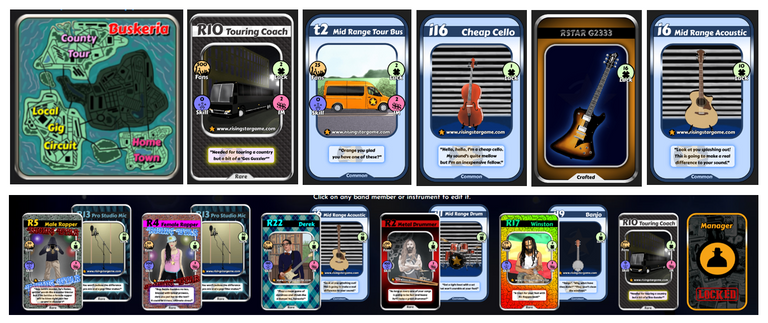 Mi sono esibito 3757 volte e grazie a queste esibizioni ho conquistato 4216 Fans che amano la mia musica e mi seguono ovunque.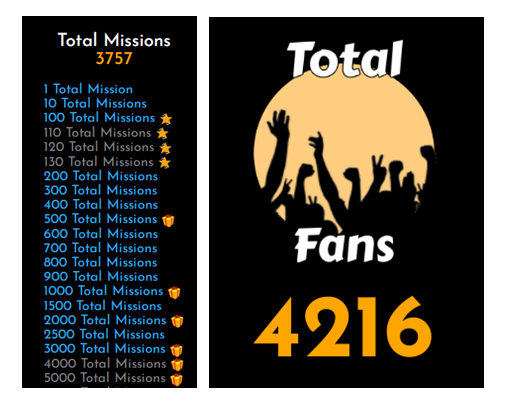 All'inizio della mia carriera musicale ho avuto un nemico da sconfiggere: l'Ego.
Oggi ho superato questo problema, ho i piedi per terra e ho capito che ho ancora tanta strada da fare, ho tanti altri fan da conquistare e ho molto da migliorare e per questo motivo non ho perso la sana abitudine di migliorarmi frequentando delle lezioni di musica.
Sono il cantante della mia band e quindi mi esercito molto nel canto con la mia maestra di canto che mi segue fin dall'inizio della mia carriera.
Lo so, più di qualcuno pensa che frequento le lezioni di canto perchè la mia insegnante è molto bella con quel suo vestitino giallo ma non è così :)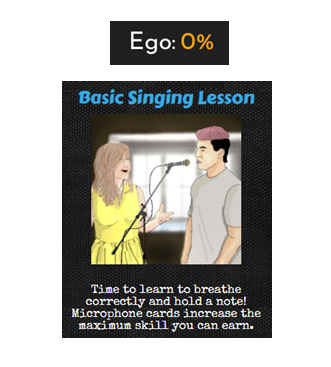 Sono soddisfatto dei progressi che ho fatto e che continuo a fare e sono anche contento dei guadagni che ho ottenuto fino ad ora, non ci crederai ma grazie a Rising Star sono diventato Milionario!
Ho accumulato un totale di 1 milione di token STARBITS ma non ho speso tutto e ho deciso di tenere il mio primo milione in banca.
La banca di Rising Star ha molto apprezzato il mio gesto e mi ha premiato con una carta VIP, la STARBITS Millionaire Card, grazie alla quale posso ottenere ben 10000 STARBITS al giorno!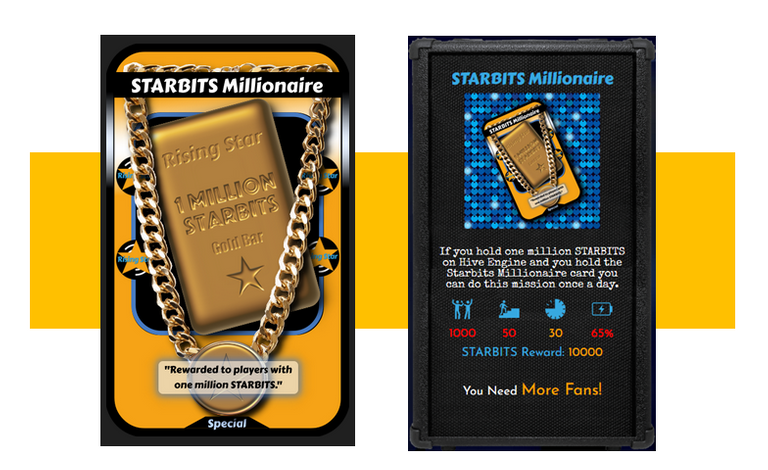 Magari esistessero banche così nel mondo reale!
La mia carriera musicale va quindi a gonfie vele, sono molto conosciuto nella mia città (Home Town) e nella Local Gig Circuit Area ma non sono ancora una Star musicale e la strada che io e la mia band dobbiamo percorrere è ancora molto lunga.
Adesso dobbiamo diventare famosi anche nella County Zone e dopo aver provato e riprovato per dieci lunghi giorni la nostra musica in un piccolo garage, una band più famosa di noi ci ha sentito e ci ha chiesto di supportarli nel loro tour.

Ed è andato tutto bene fino ad ora ma adesso l'obiettivo è partecipare alle Audizioni del County Festival...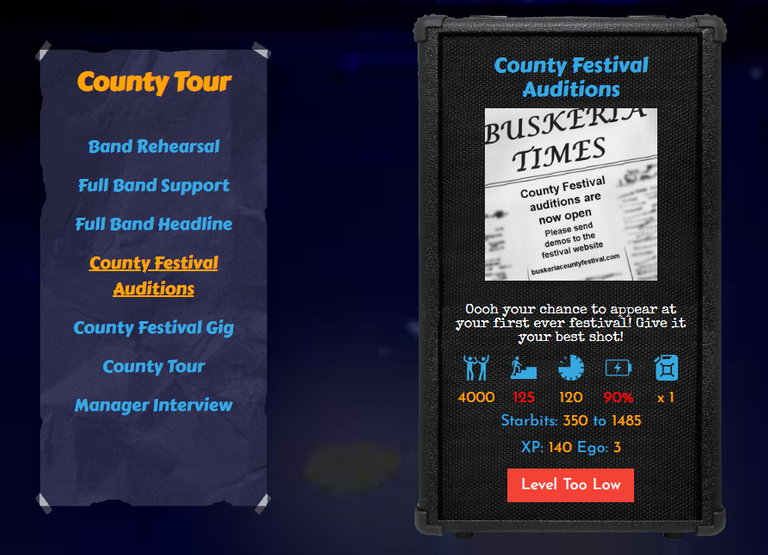 Per accedere alle County Festival Auditions devo aumentare il mio livello di gioco che è attualmente il livello 112 e devo portarlo fino al livello 125.

Per farlo devo guadagnare tanti punti esperienza (XP) il che equivale a svolgere tante missioni di gioco.
Ogni missione completata permette di guadagnare punti XP e token STARBITS ma allo stesso tempo ogni missione contribuisce ad aumentare il totale dei punti EGO che se maggiore del totale dei punti SKILL produce una diminuzione del premio massimo di ogni missione di gioco.
L'Ego va sempre tenuto sotto controllo!
Oggi ho deciso di ottimizzare l'accumulo dei token STARBITS migliorando il premio in punti SKILL della music lesson che svolgo abitualmente.
Se ottengo più punti Skill dal completamento di una singola music lesson avrò più tempo ed energia disponibile per svolgere missioni che hanno come premio i token STARBITS.
Ad esempio lo stesso tempo impiegato per completare una music lesson (60 minuti) lo potrei impiegare per svolgere una missione Shopping Mall oppure 4 missioni Full Band Support e di conseguenza potrei guadagnare un numero maggiore di token STARBITS.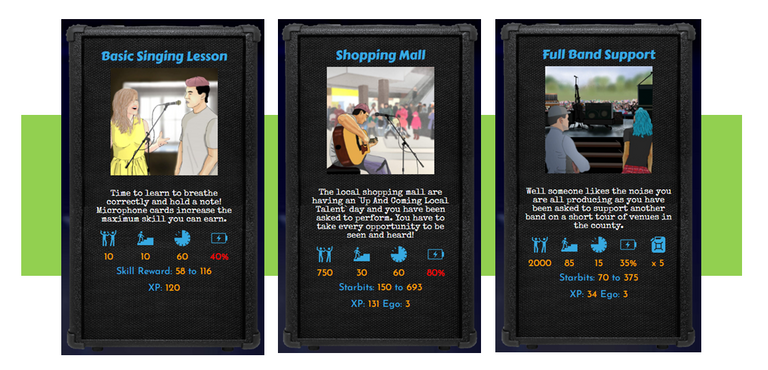 Shopping al Mercato di Rising Star

Le mie statistiche di gioco attuali sono le seguenti:
Total Fans: 4216
Total Luck: 1314
Total Skill: 14684
Total IM: 70
Ego: 0%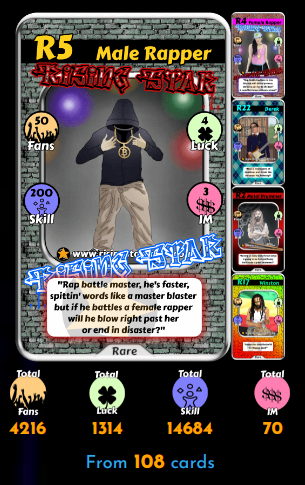 Il mio Ego è 0% perchè il totale dei punti Skill è maggiore del totale dei punti Ego:
Punti Skill - Punti Ego = 14684 - 14616 = 68 = Ego 0%
La mia Music Lesson preferita che è la Basic Singin Lesson perchè è la missione che ha il premio in punti Skill più alto tra le mie music lessons.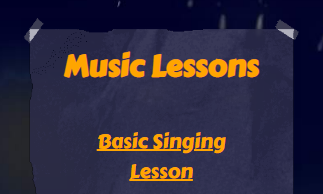 Infatti ogni volta che completo una Basic Singing Lesson ottengo come premio un numero di Punti Skill compreso nel range di valori 58 - 116.

Mi piacerebbe portare il valore minimo di punti Skill da 58 a 100 e per farlo devo acquistare carte strumento.
Ogni lezione di musica ha una precisa tipologia di carte strumento capace di aumentare il premio ricevibile dal completamento della lezione di musica.
Infatti se acquisto carte strumento di tipo microfono posso aumentare il valore minimo e il valore massimo della ricompensa della Basic Singing Lesson.
Per la scelta delle carte strumento di tipo microfono da comprare ho utilizzato il sito Rising Star Game Fam (https://rsgfam.com/) creato da @foxon

Rising Star Game Fam è davvero molto utile perchè permette di trovare in poco tempo le carte più convenienti da acquistare per aumentare:
il numero di Fans
il numero dei punti Skill
il numero dei punti Luck in base alla missione musicale a cui una carta strumento è funzionale.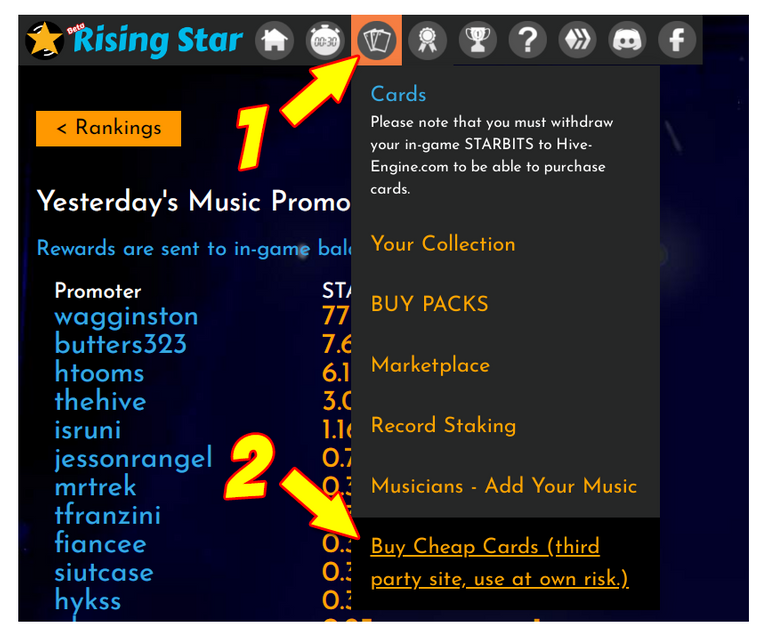 Dal menu SHOP di Rising Star Fam ho selezionato Lessons e poi, nella schermata successiva, ho selezionato Singing e ho infine cliccato su Submit.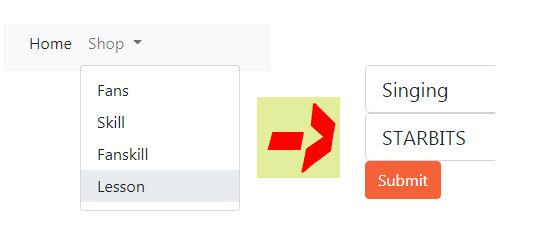 Nell'immagine seguente puoi vedere l'elenco delle carte di tipo microfono con il miglior rapporto STARBITS/LUCK visualizzate da Rising Star Game Fam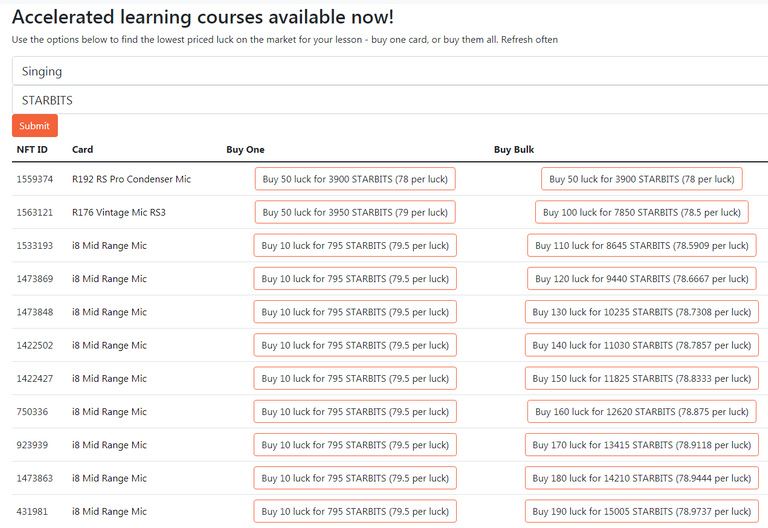 In base alle utili indicazioni di Rising Star Game Fam ho acquistato:
1 R192 RS Pro Condenser Mic (+50 Luck per NFT)
1 R176 Vintage Mic RS3 (+50 Luck per NFT)
22 i8 Mid Range Mic (+10 Luck per NFT)
Ho speso in totale 25343 STARBITS e ho ottenuto 320 punti LUCK,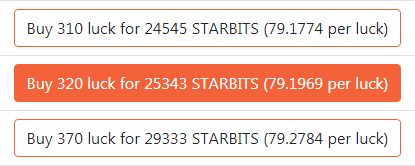 Dopo sono andato a verificare l'effetto del mio acquisto sulla Basic Singing Lesson.
Come puoi vedere dall'immagine seguente la ricompensa minima è aumentata di 16 punti (58->74) e la ricompensa massima di 32 punti (esattamente il doppio dell'incremento della ricompensa minima).
Non ho raggiunto il mio obiettivo e quindi sono tornato sul mercato e ho utilizzato sempre il sito Rising Star Game Fam per la ricerca e l'acquisto delle carte di tipo microfono.
Ho speso altri 39843 token STARBITS per ottenere 500 punti Luck aggiuntivi.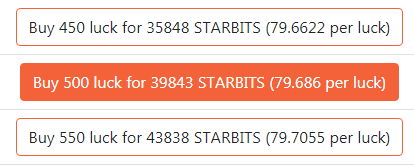 Dopo il mio secondo acquisto non ho raggiunto il mio obiettivo, ricompensa minima di 100 punti Skill, per un solo punto.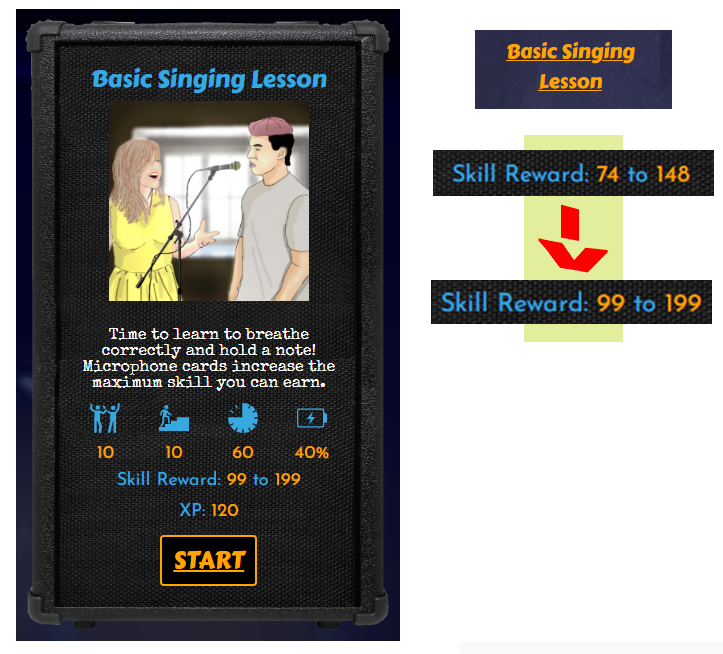 Ho investito altri 4794 token STARBITS

E finalmente ho raggiunto il mio obiettivo ;)
Ricapitolando, oggi ho speso in totale 69980 token STARBITS per:
aggiungere 36 NFT strumento di tipo microfono alla mia collezione
aumentare i miei punti Luck di 880 unità
aumentare la ricompensa (punti Skill) della Basic Singing Lesson di

44 punti skill (ricompensa minima)

89 punti skill (ricompensa massima).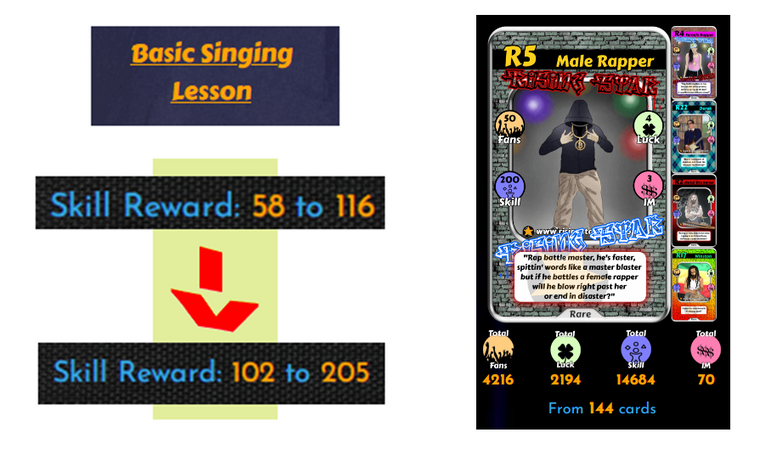 Adesso controllare l'Ego e i suoi effetti negativi sarà molto più semplice per me e soprattutto mi richiederà meno missioni di musica = più tempo per fare altre missioni.
Posso adesso focalizzarmi meglio sul guadagno e l'accumulo dei token STARBITS e sulla scelta della migliore combinazione di missioni da completare ogni giorno...ma questo sarà l'argomento del mio prossimo post su Rising Star.
Spero che questo post ti sia piaciuto e ti ringrazio per la lettura e per avermi dedicato il tuo tempo :)
HIVE ON and ROCK ON!

Non sei un giocatore di Rising Star?

Se decidi di registrarti a Rising Star, puoi farlo da questo link:
https://www.risingstargame.com?referrer=libertycrypto27
ovviamente solo se hai piacere ad usare il mio refferal link... :)
---
Vuoi conoscere 6 motivi per cui dovresti giocare a Rising Star?
Leggi il seguente post:
https://peakd.com/hive-146620/@libertycrypto27/6-reasons-why-you-should-play-rising-star-6-motivi-per-cui-dovresti-giocare-a-rising-star-engita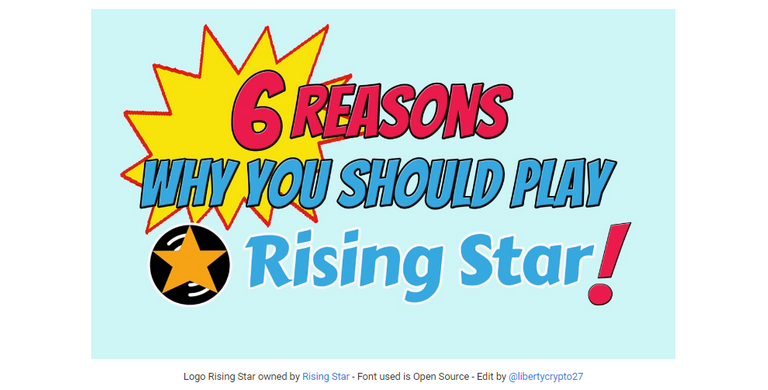 A selection of my previous posts on Rising Star


Se non diversamente indicato, le immagini presenti in questo post sono screenshots presi da:
Sito del gioco Rising Star
https://rsgfam.com/shop/fans
https://tribaldex.com/
https://hive-engine.com/
https://leodex.io/richlist/STARPRO
Le immagini che contengono calcoli, tabelle e formule sono di mia proprietà
Il font usato nelle immagini mie o da me editate è Open Source
The dividers with the Hive logo in this post were created by me and if you like them you can use them too, the Hive logo is property of https://hive.io/
HIVE ON and Rising Star ON

Nota Importante:

I giochi basati su blockchain che permettono di acquistare e vendere token e NFT non sono solo giochi ma sono anche investimenti e come tali devono essere trattati!
In ogni tipologia di investimento c'è sempre un
fattore di rischio
da valutare e considerare.
Io non sono un consulente finanziario e le informazioni contenute in questo post non sono consigli finanziari
Prima di investire in un gioco basato su blockchain devi sempre fare le tue ricerche e le tue personali valutazioni.
Il mio consiglio è di investire sempre e soltanto quello che puoi permetterti di perdere a cuor leggero!
---

---
---
---