BTC down on Bitcoin day!
Yesterday, finally EI Salvador passed the Bitcoin legal tender there and celebrated Bitcoin day. Also to remember this day, president Nayib shared $30 worth Bitcoin to every citizen of EI Salvador. Also from a tweet of Nayib, we came to know that he bought an additional 200 BITCOIN to remember this day. But what happens after this?
The market went down like the market went down during the bear season. In fact, this dump is more than bear season as the dump occurs so fast and within one hours bitcoin is down from 49k to 44k something. But why did this happen? There are a few reasons behind this. So let's talk about it.
From the tweet of Nayid we come to know something unique. Let's see it.

Some power full whale wanted threat EI salvador people about do not use Bitcoin. To prove the threat they even dumped the market like shit within hours as I have mentioned earlier . Do not know who those whales are but i am pretty sure they are from Centralized finance who do not want Bitcoin to be a legal tender in another country again. In fect, they want to explain to people that bitcoin is volatile so when ever the price will drop you will have an effect on your business or daily payment. But this is not true actually because as far as I know in EI Salvador they mostly use a time strike payment system where bitcoin will immediately be converted to USD. So that trader or business man will not face any value problem. But if someone wants to take bitcoin to store bitcoin then they can too. In this case, there has no problem for normal user to pay via bitcoin or take payment via bitcoin. So why just people should feel fear? This is the time to protest this centralized finance made by govt.
On the other hand, we got another information from coinbase exchange that sec want to or going to take legal action to coinbase on it lend product. This maybe another reason why retail investor keep selling their btc within row and this is what lead the market down. But this all still under fomo. We none understand the exact reason. But potential point be the EI salvador legal tender.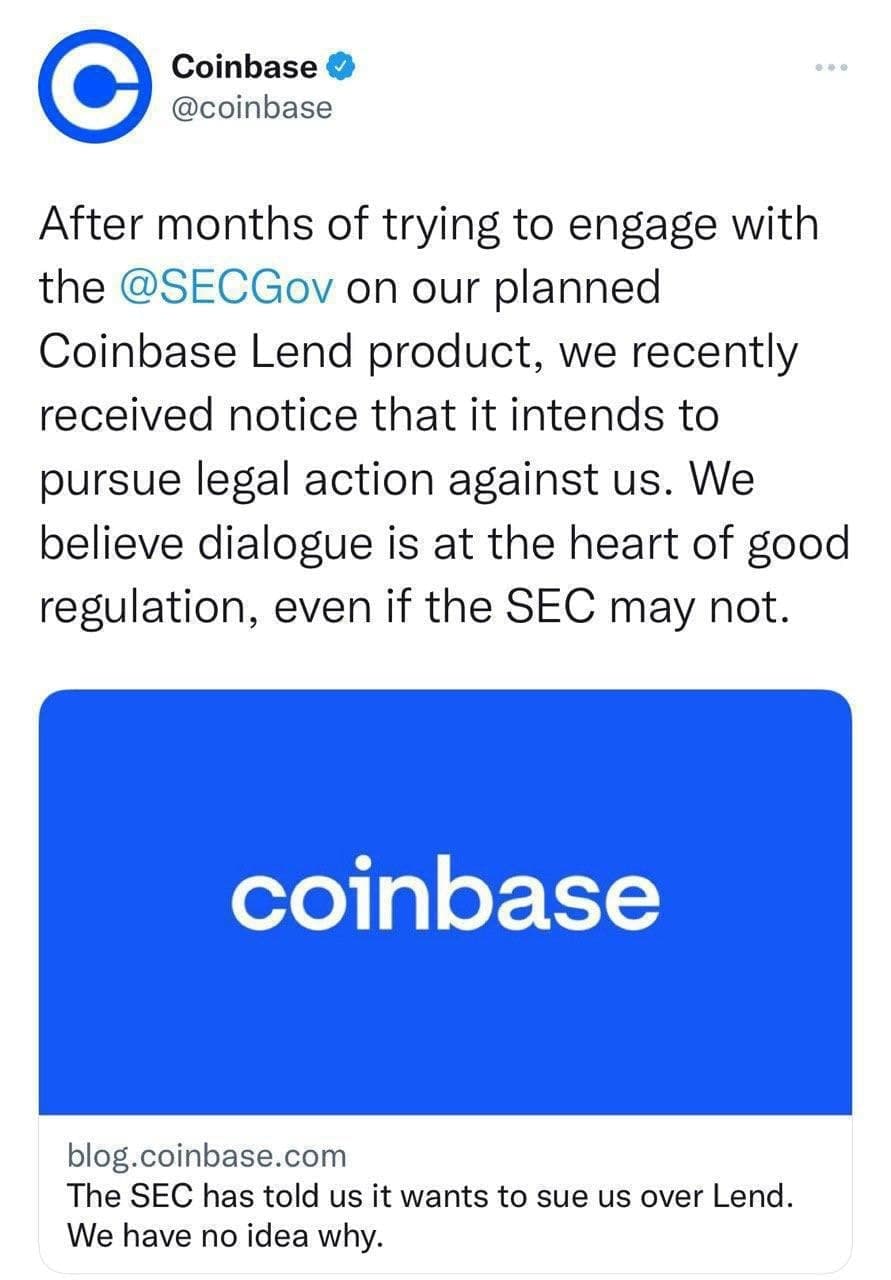 Thanks for read guys!
Posted Using LeoFinance Beta
---
---