The Liotes community has added more than 31'000 Hive Power during the last month!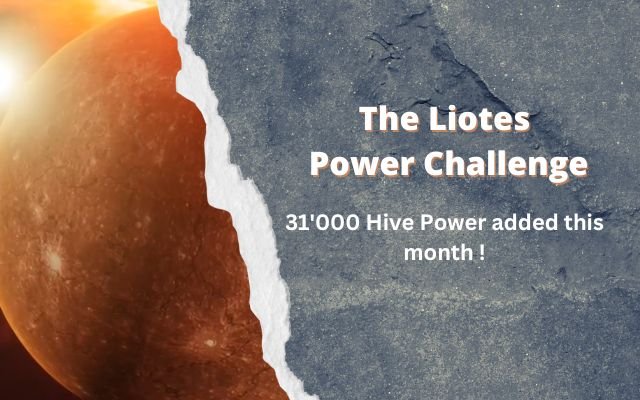 At the end of 2022, we started the Liotes Power Challenge. The idea is to stake as much Hive power as possible during 2023. The more you power up, the more rewards you will earn.
The reward pool
The @liotes.one account is the reward pool of this challenge. The income of this account is powered up and delegated to the liotes.voter account. This generates daily dividends in the form of LEN tokens. At the end of the challenge, in December 2023. All the LEN tokens will be distributed to the participants.
50% of the rewards of this post directly go to @liotes.one, the reward pot of this challenge
Check how much is in the reward pool in the comment below this post.
How will the reward pool be distributed?
The total amount of the pot will be distributed to all the people who have a positive sold in Hive Power. The amount that each participant receives will be according to the ranking. The higher your rank, the more you will earn.
The ranking (23.09.2023)
We have staked 247'000 HP in 9 months
At the beginning of this challenge, all participants together owned 950'863 HP. Today, we collectively own 1'204'658 Hive Power. This is an increase of 247'726 HP over 9 months. This also comprehends the people who actually powered down Hive.
During the last month (since 22.8.2023), we have increased our collective Hive Power by more than 31'000 Hive Power. Let's say we are doing pretty well!
There are only 3 months to go in this challenge. Let's stake some more!
Liotes
A project run by @ph1102 and @achim03
Resources
---
---