I Can Do Missions in Two Zones So Now I Want to Play More Often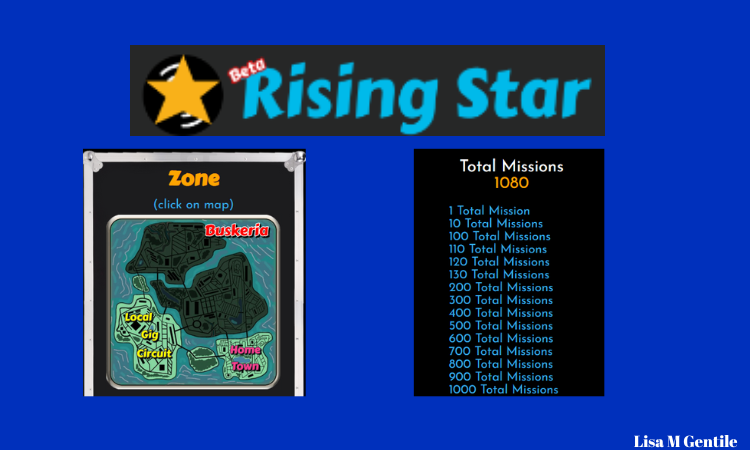 Created in CanvaPro
First Post About My Rising Star Journey
I decided that it is time that I started posting about my Rising Star Journey outside of my weekly update.
My goal is to play a little bit every day.
And buy more cards with the Starbits that I am earning.
I have to admit that one of the attractions for me is the ability to start a mission and let it run while I am doing other things.

This Week's Progress
As of last night I had 11785 Starbits in the game.
6,251 Starbits earned this week on top of the 5534 that I left in the game last week.
I took all the Starbits out this week and added them to the 24,584 Starbits in my HE Wallet.
New total of 36,342 Starbits
Going to hold on to them right now and earn some more from playing the game before I buy more cards.
Up to Level 33 with 1388/1650 XP
Recently I had the Local Gig Circuit Zone unlocked for me.
The most I can do there is the Shopping Mall gig because I need to be at Level 40 to Record a Demo.
Managing to keep my Ego at 0%
I did notice that I have a couple more Music Lessons open for me.
When I was doing the lessons previously I was only able to do the Basic Singing Lesson and the Guitar Lesson.
I can do the Production Lesson and the Piano Lesson now as well.
What type of Instrument Cards are good to buy for the Production Lessons?
I was getting a bunch of skill points from the cards I was buying.
That is why I haven't been doing Music Lesson Missions.
But I will continue to keep my eye on that Ego.
If it starts going up too much I will be back on the Music Lessons.
---
---