Increased Holdings of Passive Income Tokens and Opened 24 More Rising Star Cards Packs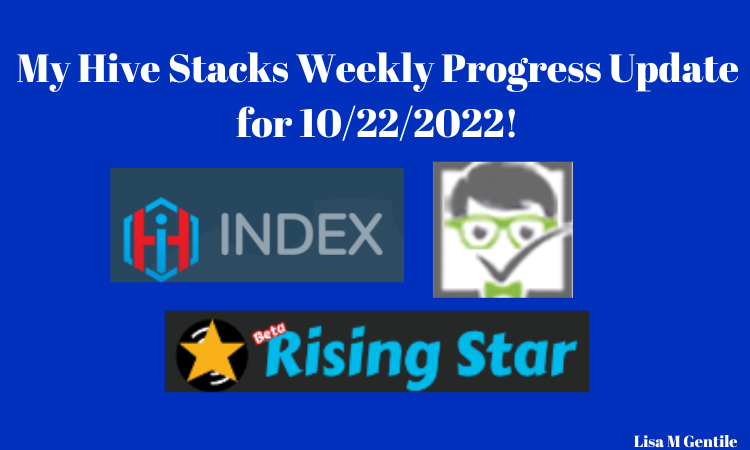 Image Created in Canva.com
Getting Ready for Dad's Surgery
November 9th is the date for Dad's Orbital Decompression procedure.
Before that he has to get his COVID booster, flu vaccine, bloodwork, and a pre op physical. It's all arranged. Got that done as soon as we got the date.
He is spending the weekend down in Chicago at his condo one last time before all that.
A friend of ours took him down there yesterday and my nephew and his wife will pick him up tomorrow with their littles and go walking around downtown.
Hubby and I are holding down the fort here at home.
My husband and I have taken on the role of General Contractors as well.
More him than me. Not completely by choice. But that means Dad is having to let go of certain things to which he has a sentimental attachment so that the work can get done.
A story for another post on another day.

This Week's Progress Report
Friday Buy Day 10/21/2022
I did my fiat dollar cost average investment of $15 and that yielded $13.43 USD worth of LTC to send to Blocktrades to purchase Hive tokens.
Received 28.938 Hive tokens
Already had 1.89993377 Swap.Hive in my Hive Engine
Received 28.880 Swap.Hive from HivePay Swap.
New total: 30.77993377 Swap.Hive
That's a nice amount to work with.


HE-INDEX
HE-INDEX
Bought 25 more Index tokens at 0.48 Swap.Hive each for a total of 12 Swap.Hive
New HE-INDEX total 2061.41045811
The plan is to continue to accumulate and build up a good passive income with them.


Rising Star Game
Making some pretty steady progress here too.
Between last week and today's report I have earned 12,756 STARBITS playing the game.
Average of 1822 STARBITS a day.
I have also been doing a couple lessons a day to keep my Ego from getting out of control.
I have 22123 STARBITS in my wallet on Hive Engine.
My plan is to keep accumulating those to buy more Booster cards.
Now that I have discovered that I like opening packs instead buying cards individually, I bought 200000 more STARBITS. They were 0.00005125 SWAP.HIVE each for a total of 10.25 SWAP.HIVE.
Then I bought 24 Rising Star Card packs and opened twelve yesterday and
the other 12 this morning.
Pretty happy with the results.
Will share details in another post.
My cost for opening the packs was around $4.56 USD.
And I can do the Halloween Mission.


LISTNERDS Staked on ListNerds
Total as of 10/15: 37667.531
10/16: Claimed and staked: 187.908 (88.802 from Solo Mail sent and instantly verified on 10/15 and paid today and 99.106 from LISTNERDS earn passively)
New total: 37855.439
10/17: Claimed and staked: 10.402 New total: 37865.841
10/18: Claimed and staked: 10.388 New total: 37876.229
10/19: Claimed and staked: 10.373 New total: 37886.602
10/20: Claimed and staked: 10.376 New total: 37896.978
10/21: Claimed and staked: 10.151 New total: 37907.129
Used remaining 10 Swap.Hive to buy more LISTNERDS at 0.011 Swap.Hive each
Received 909.091 LISTNERDS
Transferred them from Hive-Engine and Staked for new total 38816.22
10/22: Claimed and staked: 10.651 New total: 38826.871
1,159.34 (3%) increase in staked LISTNERDS tokens this week
1,173.129 away from next goal of 40,000 staked LISTNERDS
97% of goal achieved


CTP Power on CTPtalk
Total as of 10/15: 55708.493
10/16: Claimed and staked: 44.822 New total: 55753.315
10/17: Claimed and staked: 39.885 New total: 55793.2
10/18: Claimed and staked: 37.664 New total: 55830.864
10/19: Claimed and staked: 20.305 New total: 55851.169
10/20: Claimed and staked: 17.792 New total: 55868.961
10/21: Claimed and staked: 24.364 New total: 55893.325
10/22: Claimed and staked: 34.915 New total: 55928.24
219.747(0.39%) increase in CTP Power this week.
19,071.76 CTP Power away from next goal of 75,000 CTP Power
~75% of goal achieved

Only 425.582 HP away from the 5500 I need to get to Dolphin Status.
92% of that goal achieved.
So close and yet still so far away.
That is all for this week.
Enjoy the rest of your day and weekend.
See you next time.
---
---