Personal Power Up Day for Hive Tokens to Get a Little Closer to My Goal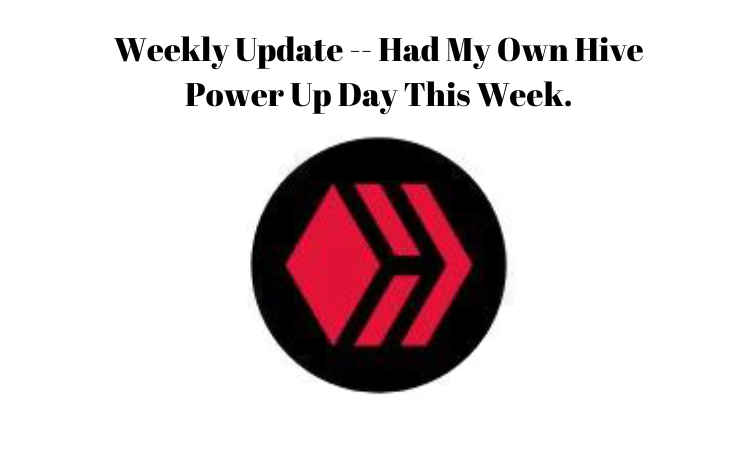 Image Created with Canva Pro
Bought and Staked Hive This Week!
I briefly thought about buying my way to Dolphin since the price of Hive dipped to below 0.35 USD per token. Then I chose to just keep going the way I am. The dollar cost averaging every week is working for me so I saw no reason to mess with it.
The 31.184 Hive came from my fiat investment of $12.50 which got me around $11.05 worth of Litecoin. The amount that transferred to Blocktrades to buy the Hive was around $11.03 after fees.
I also got a .200 Hive tip from @jongolson for commenting on this week's @ctpchat post with a question for the CryptoManiacs Podcast.

So at this point I only need 226.174 more staked Hive tokens to make it to Dolphin. Or I am 95.4% there.

CTP Power on CTPtalk:
Total as of 6/11: 51590.409
6/12 Claimed and staked: 73.717 New total: 51664.126
6/13 Claimed and staked: 20.254 New total: 51684.38
6/14 Claimed and staked: 24.54 New total: 51708.92
6/15 Claimed and staked: 19.927 New total: 51728.847
6/16 Claimed and staked: 21.413 New total: 51750.26
6/18 Claimed and staked: 63.278 New total: 51813.538
Increase of 223.129 of staked CTP tokens or 0.43%
Goal: 75000 Staked CTP tokens
23,186.462 Needed to reach goal or 69% there.

LISTNERDS Staked on ListNerds
Total as of 6/11: 5868.652
6/12 Claimed and staked: 353.886 (239.260 from Solo mail sent, verified and paid on 6/11 and 114.626 earned passively from staked LISTNERDS) New total: 6222.538
6/13 Claimed and staked: 122.819 New total: 6345.357
6/14 Claimed and staked: 338.225 (216.330 from email sent on 6/7 that was verified and paid and 121.898 earned from having LISTNERDS staked on the site) New total: 6683.582
6/15 Claimed and staked: 130.516 New total: 6814.098
6/16 Claimed and staked: 364.642 (234.010 from email sent on June 8th and verified and paid yesterday. 130.632 earned passively from having LISTNERDS staked) New total: 7178.740
Increase of 1,310.088 or 22% Staked LISTNERDS tokens
Goal: 7500 staked LISTNERDS tokens
321.26 needed to reach goal. 95.7% there.
This is a shorter and quicker update this week.
Have a great week and see you next time.
---
---