Weekly Update for 7/2/2022 -- Continuing to Grow My Stacks and Added a Rare Rising Star Card to My Collection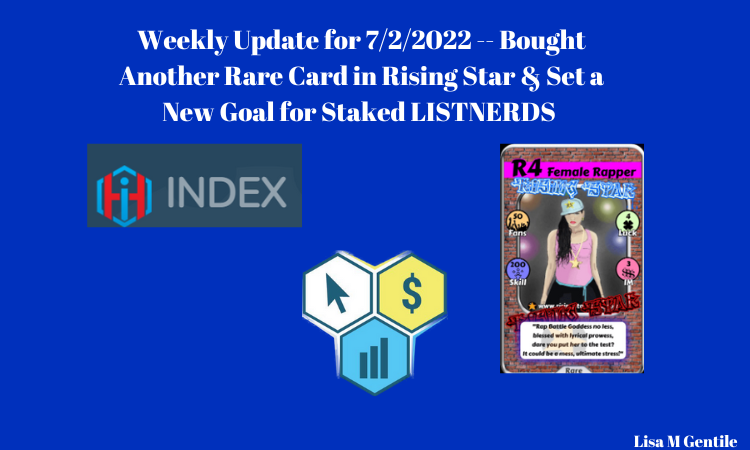 Image Created in Canva Pro
So Close to Dolphin I Might Change My Mind and Buy In

Or at least get a little closer.
Yes, I am only 209.431 staked Hive away from Dolphin or 95.8% there.
Yesterday I was not focused on my online work or anything for that matter. It was one of those days where things weren't going well because I wasn't focused and I had to push myself to keep going.
Fridays are when I pay my Pizza Plan affiliates their commissions for promoting the program. I looked at the admin back office and it said that I owed $10.20 in commissions. So I went to Transak on PeakD to buy some Hive to pay the commissions.
Once I got the Hive and went to pay the commissions I realized that neither person to whom I owed commissions had the 10 dollar minimum to get paid this week. So I had 59 Hive that I could have powered up right then and got a badge for Power Up Day.
Instead, I put it into savings but I didn't buy HBD first which was what I would have done had I been focused. So, I took it out of savings and now when it is available again I will power it up to bring me down to 150.152 Hive away from Dolphin.
I applied for a contract job yesterday too. If I get that I will consider just buying the rest of the Hive I need to get to Dolphin. It's starting to make me a little crazy.

Friday Buy for the 1st of July
This is what kept me going and motivated yesterday.
I had .200 Hive sitting in my wallet when I logged in yesterday. That was a tip from @jongolson for commenting on the CTPchat post with a question for yesterday's Cryptomaniacs episode.
I got 21.093 Hive from Blocktrades after sending the just over 10 dollars worth of Litecoin that I purchased on Coinbase. I do that purchase every week automatically.
Starting with 2.15160813 Swap.Hive in my wallet on Hive Engine and after a few more trades and depositing my Hive tokens I had about 23 Swap.Hive to work with.


I have been earning more Starbits to invest in cards but I used 5.80918084 Hive to buy 29716 Starbits to add to the 9516 I already had because I want to buy another good card to get more skill points in the game.
I now have 39232 Starbits.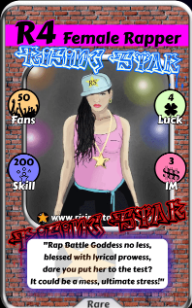 Bought her because she has more skill than fans to keep my Ego in check. And she is another rare and discontinued card. I used 29000 Starbits for this one.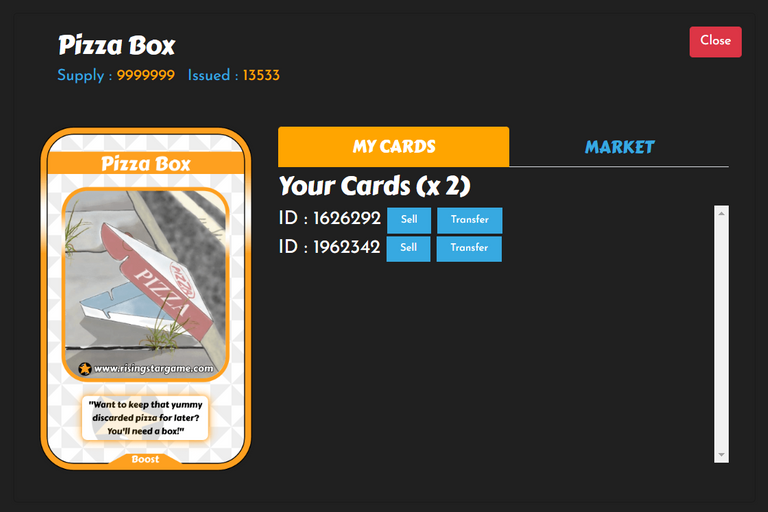 Had enough left to buy another Pizza Box to store energy for when I need it more. Got the Pizza Box for 7500 Starbits.
These purchases helped my game play already and I have another 2,732 Starbits sitting in my Hive Engine wallet to start accumulating more for the next purchase.


Bought 30 more HE-Index @0.4774 Hive each for a total of 14.322 Hive New HE-Index total: 1657.0000879


Bought another 300 CTP @0.0167 Hive each for a total of 5.01 Hive
Gonna give the Pizza Plan another boost.
I was only able to get 293.298 on the first try.
Cancelled the remaining open order.
Put in another order for 8 more CTP tokens @0.0176 Hive each for a total of 0.1408 Hive.
0.702 more CTP to make it an even 302 CTP
Transferred to @pizzaplan account and staked it there.

On to the Rest of the Week's Progress
CTP Power on CTPtalk
Total as of 6/25: 52006.532
6/26: Claimed and staked: 50.022 New total: 52056.554
6/27: Claimed and staked: 15.215 New total: 52071.769
6/28: Claimed and staked: 20.907 New total: 52092.676
6/29: Claimed and staked: 27.523 New total: 52120.199
6/30: Claimed and staked: 15.841 New total: 52136.04
7/1: Claimed and staked: 20.745 New total: 52156.785
7/2: Claimed and staked: 15.606 New total: 52172.391
Increase of 165.859 CTP tokens staked this week or about 0.32%
22,827.609 CTP tokens away from next goal of 75000 staked CTP or 70% of goal achieved.

LISTNERDS Staked on ListNerds
Total as of 6/25: 8372.722
6/26: Claimed and staked: 653.608 (492.024 from solo mail sent, verified and paid instantly and 161.584 earned passively from having staked LISTNERDS) New total: 9026.330
6/27: Claimed and staked: 785.651 ( 611.554 from email sent on 6/20 verified and paid today and 174.097 earned passively from staked LISTNERDS) New total: 9811.981
6/28: Claimed and staked: 188.410
New total:10000.391 And my new goal is:15000 staked LISTNERDS.
6/29: Claimed and staked: 629.092 (436.166 earned from email sent on 6/21 and 192.926 earned passively from staked LISTNERDS) New total: 10629.483
6/30: Claimed and staked: 657.524 (452.173 earned from solo mail sent on 6/29 that was instantly verified and paid and 205.351 earned passively from staked LISTNERDS tokens) New total: 11287.007
7/1: Claimed and staked: 216.566 New total: 11503.573
7/2: Claimed and staked: 218.234 New total: 11,721.807
3,349.085/40% Increase in staked LISTNERDS this week.
Set new goal on Tuesday of 15000 staked LISTNERDS.
3,278.193 away from that or 78% of goal acheived.

That is about it for this week.
Happy Fourth of July to my friends in the USA.
Happy Weekend to Everyone!
Enjoy and be safe!
---
---