Introducing LlunaSoul (from Grow&Bow) [Spanish Below]
Lluna Soul (ink/art)
Aloha Family!!!!!
I'm so happy to make my own and personal introductory post, but I have to say that some of you already know me! I am Lluna from @growandbow, the account I had with my babe Mazin Fu.
Well, time has arrived that I make my own account more focused on my interests and the people I interact. This way, you guys won't get confuse in knowing with who you are actually talking, fair, right?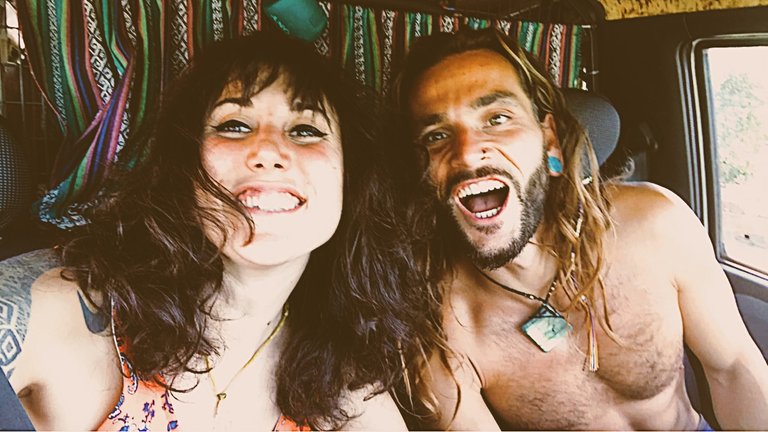 Australia 2020, Lluna (left) Mazin (right) :)
Time for the intro.
My name is Lluna, I am from the well known city Barcelona, Catalonia. Many people would ask, Luna with two L? Yep. This is the meaning of moon in my mother language, Catalan.
I spent my childhood between the big city and small towns in the mountains. But I always had a big curiosity to k ow what was out there.
When I finished my studies in Audiovisuals and Multimedia, I left my hometown, at 23 years young. Since then I've been exploring other countries, Germany, Poland, Thailand, India, Australia, Mexico… and more, dreaming to find a place where to settle.

Poland 2021
Before I studied that career, I knew I wanted to paint and create with my hands, and even better, when it would involve people. Well, then tattooing was a profession that attracted me since I was a child, nevertheless, it was not an easy profession to choose for me, due to the old fashioned ideas of someone from my family, but I still went this path.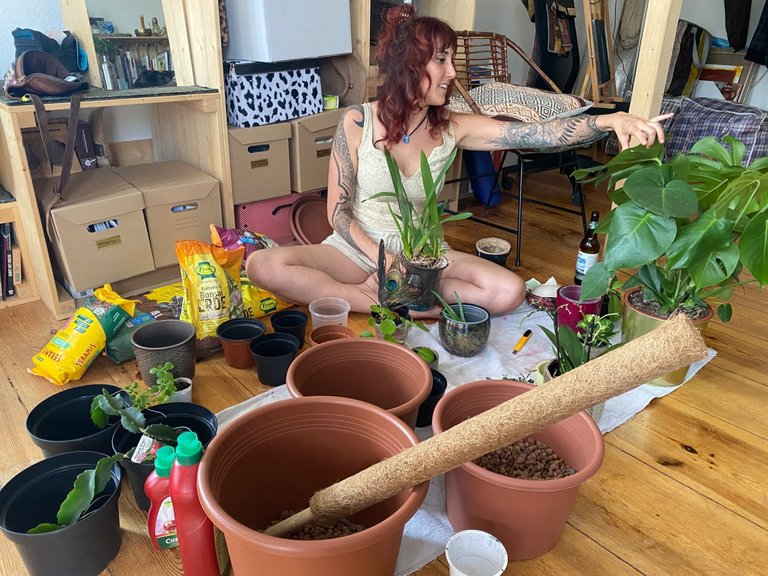 Berlin 2022
In my research I grew knowledge about the connection between tattoos and the effect in our subtle body, how does it affect us, as humans, to do modifications in our bodies and skin. Because of that I differentiate my manner of working of tattooing from the way that one can normally see at a conventional tattoo studio.
When I tattoo someone, I want to invest the time and importance that this process has, because this person has opened their trust in me, to intentionally receive a mark that they will carry in their body for the rest of their lives.
But the search didn't end here, and I will gladly tell you more of how I work in the further posts. I also went crazy in developing in as many other mediums as I could. I am learning about watercolour, oils, gouache, acrylic, spray paint, airbrush, etc and not forgetting the art of drawing.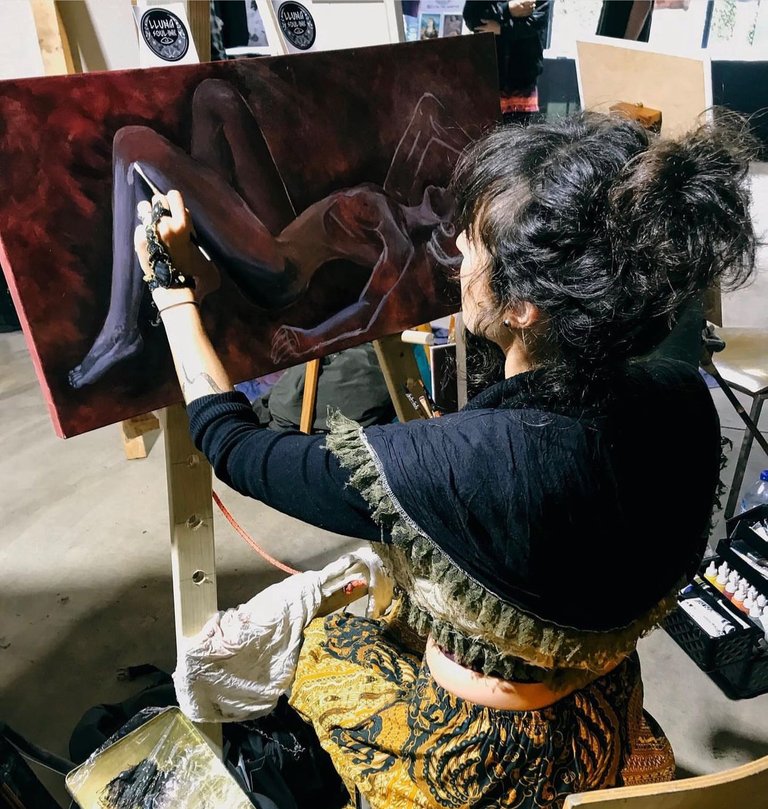 Australia 2019
After having been in many different countries, now 10 years later, I'm going back with Mazin to my mother land.
It is time to root and do what makes us happy. From December, we will be in Barcelona working on a coworking space, that will be the nest for those creative minds that want to work together. Will be a safe space for many activities, for art, for many kinds of ceremonies such as moon ceremonies, cacao ceremonies, tattoo ceremonies, etc.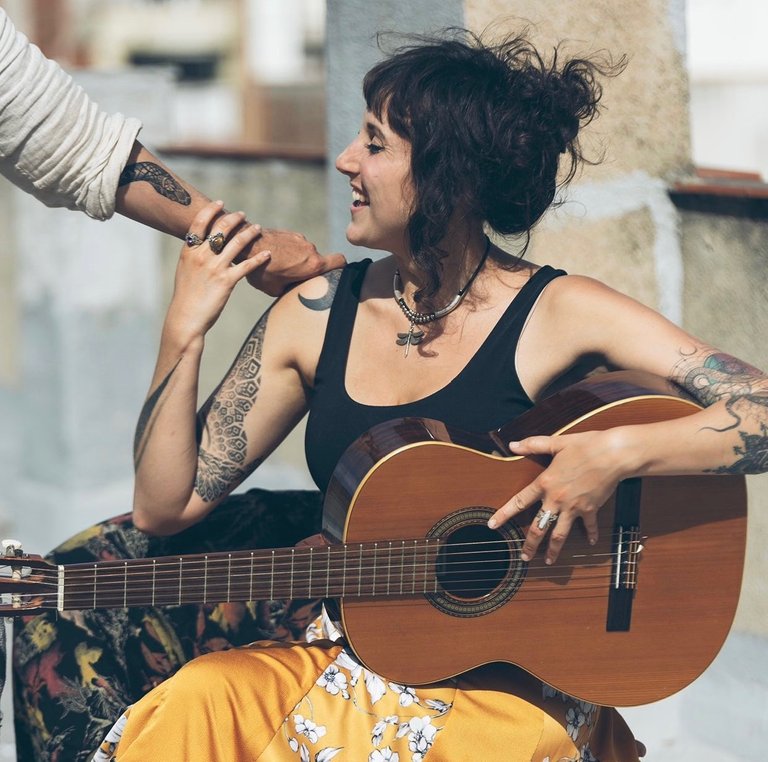 Barcelona, 2021, Bobby with his fresh snake tattoo and Lluna
But step by step, we will be cocreating this space with all the ideas that the magical Barcelona city will bring us.
Then , my intention in hive is to share and expand the connections with likeminded people and to keep learning from many different brunches.
I'm so happy to start this new journey. I advance you that on my posts you will find lots about art process, tattoos, stories, philosophy, events, and way more.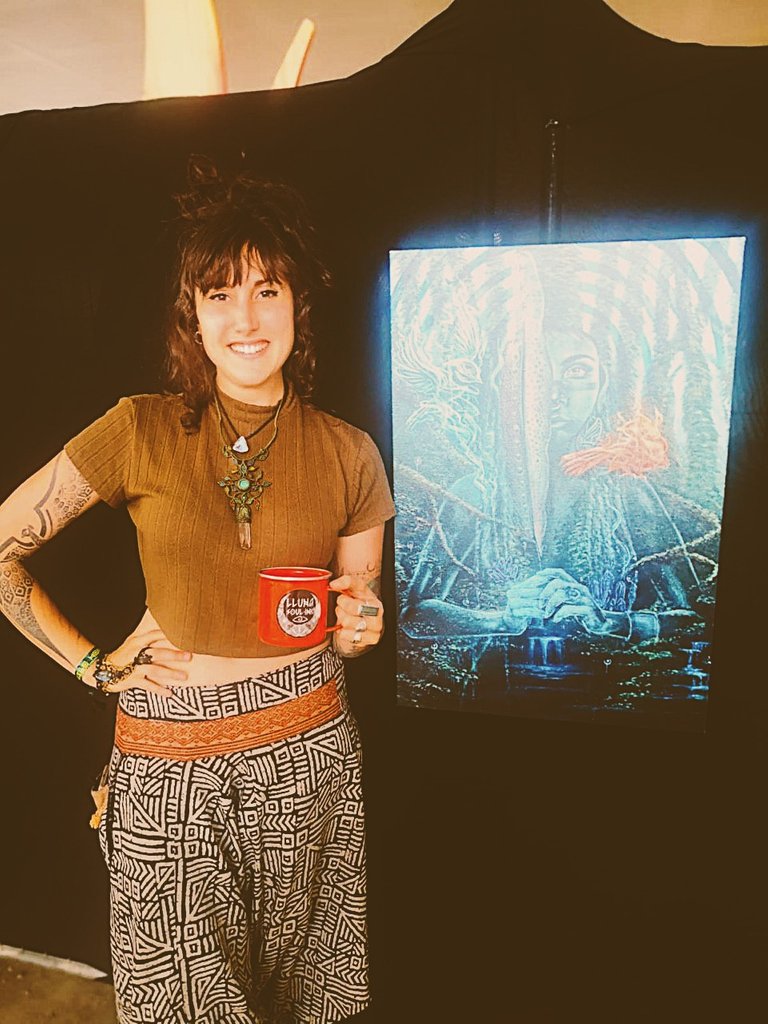 Australia 2019, Lluna with Ego painting print
Please help me connect with the accounts that I was connected with on my other account, shoot a comment or a follow and I will keep on track ♥️.
Thanks for reading.
PS: My account on instagram is @llunasoul.ink and my art one (underconstruction) @llunasoul.art
Credits: all the photos are taken by friends.
Version en Español
¡¡¡¡¡Aloha Familia!!!!!
Estoy muy contenta de hacer mi propio y personal post de presentación, ¡pero tengo que decir que algunos de vosotros ya me conocéis! Soy Lluna de @growandbow, la cuenta que tenía con mi chico Mazin Fu.
Pues bien, ha llegado el momento de que haga mi propia cuenta más enfocada a mis intereses y a la gente con la que me relaciono. De esta manera, no os confundiréis en saber con quién estáis hablando en realidad, justo, ¿no?
Es hora de hacer la introducción.
Mi nombre es Lluna, soy de la conocida ciudad de Barcelona, Cataluña. Muchos se preguntarán, ¿Luna con dos L? Sí. Este es el significado de luna en mi lengua materna, el catalán.
Pasé mi infancia entre la gran ciudad y los pequeños pueblos de la montaña. Pero siempre tuve una gran curiosidad por saber qué había ahí fuera.
Cuando terminé mis estudios de Audiovisuales y Multimedia, dejé mi ciudad natal, con 23 años. Desde entonces he estado explorando otros países, Alemania, Polonia, Tailandia, India, Australia, México... y más, soñando con encontrar un lugar donde asentarme.
Antes de estudiar esa carrera, sabía que quería pintar y crear con mis manos, y aún mejor, cuando tratara con personas. Pues bien, el tatuaje fue una profesión que me atrajo desde niña, sin embargo, no fue una profesión fácil de elegir para mí, debido a las ideas anticuadas de alguien de mi familia, pero aun así seguí este camino.
En mi investigación crecí el conocimiento sobre la conexión entre los tatuajes y el efecto en nuestro cuerpo sutil, cómo nos afecta, como humanos, hacer modificaciones en nuestros cuerpos y piel. Por eso diferencio mi manera de trabajar el tatuaje de la manera que se puede ver normalmente en un estudio de tatuaje convencional.
Cuando tatúo a alguien, quiero invertir el tiempo y la importancia que tiene este proceso, porque esta persona ha abierto su confianza en mí, para recibir intencionadamente una marca que llevará en su cuerpo para el resto de su vida.
Pero la búsqueda no terminó aquí, y con gusto les contaré más de cómo trabajo en los próximos posts. También me volví loca en desarrollar en todos los otros medios que pude. Estoy aprendiendo sobre la acuarela, el óleo, la témpera, el acrílico, la pintura en spray, el aerógrafo, etc., sin olvidar el arte del dibujo.
Después de haber estado en muchos países diferentes, ahora 10 años después, vuelvo con Mazin a mi tierra natal.
Es el momento de echar raíces y hacer lo que nos hace felices. A partir de diciembre, estaremos en Barcelona trabajando en un espacio de coworking, que será el nido de aquellas mentes creativas que quieran trabajar juntas. Será un espacio seguro para muchas actividades, para el arte, para muchos tipos de ceremonias como ceremonias de la luna, ceremonias de cacao, ceremonias de tatuajes, etc.
Pero paso a paso, iremos cocreando este espacio con todas las ideas que nos aporte la mágica ciudad de Barcelona.
Entonces, mi intención en hive es compartir y ampliar las conexiones con personas afines y seguir aprendiendo de muchos brunches diferentes.
Estoy muy contenta de empezar esta nueva andadura. Os adelanto que en mis posts encontraréis mucho sobre el proceso artístico, tatuajes, historias, filosofía, eventos y mucho más.
Por favor, ayúdame a conectar con las cuentas con las que estaba conectada en mi otra cuenta, dispara un comentario o un follow y seguiré el camino ♥️.
Gracias por leer.
Pueden encontrarme en Instagram @llunasoul.ink @llunasoul.art

---
---