🤣 LOLZ Project Update - Crazy High APRs for FUN and LOLZ Curation, New Tokens added to LOLZ Defi, Changes Coming to LOLZ Dividends, New Server, Bugs Squashed, To-Do List, and LOLZ Free For All 🤣
Project Update
Hey all! Sorry we have been a bit quiet lately, but trust us, we have been busy! Read on to hear all the latest with The LOLZ Project and the FUN and LOLZ tribes.
Have You Seen the APRs for FUN and LOLZ? WOW!
When we setup the FUN and LOLZ tribes we targeted an initial APR of around 150% for FUN and 75% for LOLZ. Well based on the earnings our @lolz.fun and @lolz.lolz curation bots are getting we can see that we missed our target by a lot. Our actual APRs are much higher!
Our daily APR for LOLZ has been ranging anywhere from 100% to 200%. And for FUN we see the daily APR ranging from 250% to nearly 400%!
You Read That Right - Nearly 400% APR On FUN Curation!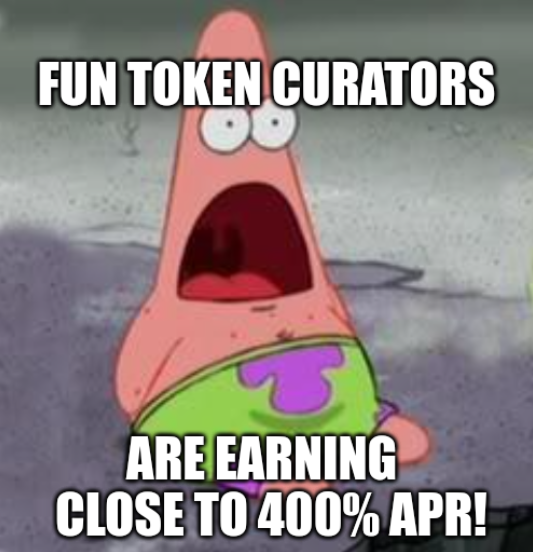 Why did we miss our target so bad? Well, that has to do with our stakers. Right now, we believe there is a big percentage of staked FUN that is not earning curation rewards. That means those who are curating the #fun tags (#fun, #lolz, and others) are getting more rewards for their efforts.
But don't expect these high APRs to last. Like most tribes, as more and more FUN and LOLZ gets staked, the lower the APRs will go. Also, as more people curate with their FUN tokens, the further the rewards will be spread and the lower the APRs will be.
But the curation APRs for FUN and LOLZ are sky high right now!
New Tokens Added to LOLZ Defi
We had hinted at it last update, but we are officially announcing that we have added three new tokens (FUN, LOLZ, and PHOTO) to LOLZ Defi. We will talk about what that means with regards to LOLZ curation, LOLZ farming, and LOZ dividends below.
LOLZ Curation
We have added three new curation bots to LOLZ Defi - @lolz.fun, @lolz.lolz, and @lolz.photo. Like all our other curation bots, these bots will randomly upvote our !LOLZ users and the posts they are tipping when they are tip posts using the respective tribal tags.
LOLZ Farming
People can also now farm LOLZ by delegating their FUN and PHOTO to @lolz.fun and @lolz.photo, respectively. Both of these tokens have sky high APRs at the moment which will give you an easy way to earn lots and lots of LOLZ farming rewards.
LOLZ can not be delegated so you won't be able earn farming rewards by delegating to @lolz.lolz.
LOLZ Dividends
We have also added LOLZ and FUN to the tokens we reward our Headliners in dividends. Like most of the other tokens are are curating in, we are paying out 40% of our FUN and LOLZ curation earnings in dividends to our Headliners (currently those holding 512 LOLZ or more, but that will be changing, see below).
We are not adding PHOTO to our dividends program at the moment because 100% of curation rewards for PHOTO come staked. We will look into options to add PHOTO to the list of dividends we payout, but for now PHOTO will not be included in the dividends we pay out.
Learn more about LOLZ Dividends in our introduction to LOLZ Defi post.
Changes To LOLZ Dividends
For a number of reasons, we are changing the LOLZ Dividend program in order to ensure the program manageable with regards to the time and Resource credits needed to run the dividends scripts, as well as ensure that we can provide a meaningful dividend to our top stakers.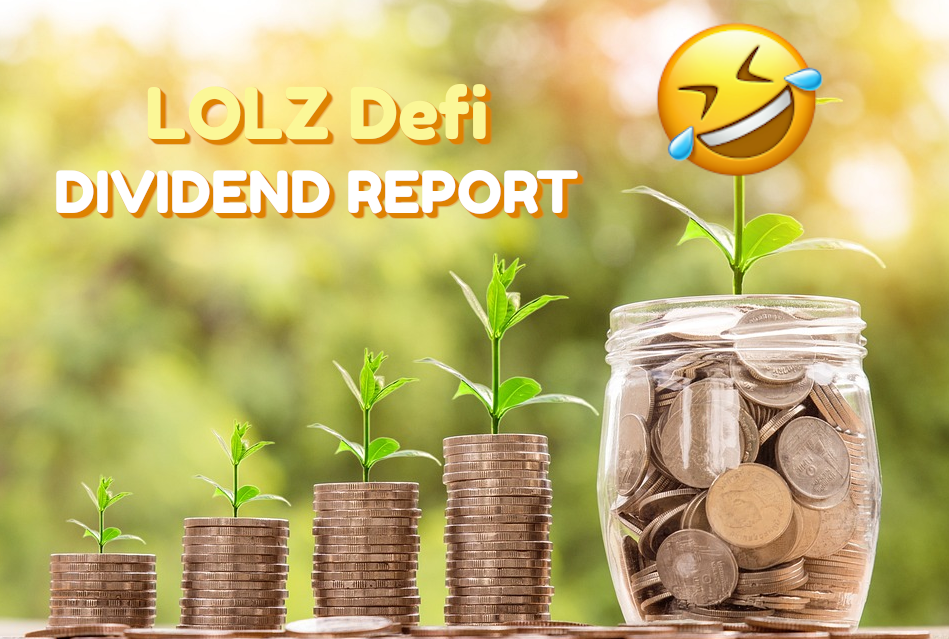 Currently, dividends rewards are paid to those who have a fixed amount of LOLZ staked (512 LOLZ to be exact). However, after a vote of our LOLZ Govenors, we will be changing the Dividends program such that the top 125 stakers are included in the dividend pool.
In deciding where to set the threshold for being included in the dividend pool, we wanted to make sure that all existing Headliners would be included. Just over 100 stakers are currently staking 512 LOLZ or more.
We also wanted to be fair to those who have been working towards Headliner. So we decided to set the threshold at the top 125 stakers.
This change will (in the short term) lower the threshold for receiving dividends to just over 330 LOLZ. However, we expect the level to increase over time. Our daily LOLZ Dividend reports will make it easy for people to see how much LOLZ they will need to stake to be included in the dividend pool.
We plan to implement this change December 1, 2022.
New Server
As we stated in our last update, we needed to move our LOLZ Defi scripts to a new server. That turned out to be a bit larger or an ordeal than we had hoped, but we are happy to say that we have moved all our scripts and bots to a new much more powerful server that we are running.
While it wasn't a lot of fun, we have learned a lot and have reduced our dependency on 3rd parties and will save a little money too.
Bugs, Bugs, and More Bugs!
As if moving to a new server wasn't enough, we were really battling bugs this last month. First the Hard Fork crashed @lolzbot (and most other tipping bots). We figured out a fix and shared it with our friends and managed to get back to spreading laughter and LOLZ pretty quickly.
But that was just the beginning. Next Hive-Engine made a change that crashed LOLZ Defi. We were dead in the water for 2 days until the folks at Hive-Engine were kind enough to let us Devs know what they had changed. Thanks to @gerber and the Hive-Engine team for all you guys do!
Then as we migrated our scripts to our new server, the slight differences in Linux versions being run (Debian vs. Ubuntu) caused even more bugs to pop up. Ugh...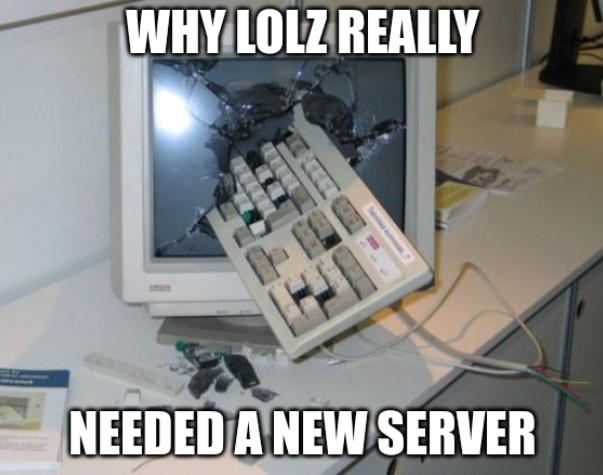 But we are happy to say we have everything back up and running. Fingers crossed we can get back into the groove and move on to more #fun project development tasks.
To-Do List
So speaking of FUN tasks, lets have a quick look at our To-Do List
Setup Team of LOLZ Curators
Begin Weekly Fun Contests
Continue Weekly Meme Contests
Update Jokes Database
Develop FUN games
LOLZ Free For All
What would an LOLZ Update be with out a LOLZ Free For All? And since this is a big Update, we are super sizing our Free For All. While this post is active, you can earn up to 9 LOLZ!
Drop us a comment below (1 LOLZ)
Tag a friend in your comment (1 LOLZ per friend up to 3 friends)
Re-blog this post and tell us you did in the comments (5 LOLZ)
Note all rewards will come staked.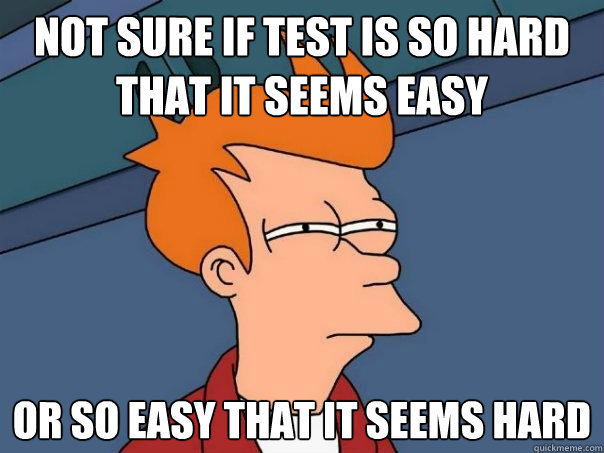 (source)
About the LOLZ Project
The LOLZ Project is an engagement project with the mission of spreading laughter and joy on the Hive blockchain.

---
---