The Golden Snitch - Wins in 20 Rounds! Marvel at his endurance! (Strategy post includes video)
Hello and welcome to this celebration of The Golden Shadow Snitch! I tested him out this week as part of the #Splinterlands' weekly Share-Your-Battle, and let me tell you - it was an epic battle with a card I rarely have used, but it certainly made the difference in earning me the win. And let me tell you, the DEC you win for a battle like this, is certainly worth every bit of it's #play2earn value!
The Ruleset:

In an equalizer battle, you always want to try and play as many cards as possible, this will maximise your total health, meaning your opponent will need to do far more damage total than you, if they play fewer cards.
In these equalizer battles, I've noticed that a lot of opponents will play a lot of low mana cards to get to six cards, but in doing so, often play sneak+snipe+opportunity etc. What this ultimately means is, you are weakening many of my cards - but not killing any. My strategy is the opposite. I aim at your tank, and take you down one-by-one.
To do this, I played:
Lord Arnak as my Summoner. He gives each of my cards +1 Armour, while letting me play leveled up cards. My death summoners are not leveled up - so this is a good way to access them.
Then, I play the Djinn in the tank position. I like his high melee attack (3), combined with his thorns (2) he does 5 damage per turn. To this, I add in the Snitch's +1 Melee - adding up to +6 damage total. Moving along my team, I play both Venari Bonesmith and the Life Sapper. These two cards take my total damage to +8 - all aimed at his tank.
In addition, my two magic cards both have Life Leech - this is important as it means that they have used the equalizer ruleset to start with quite high health (+9) rather than than normal 2 or 3 health. The ruleset will allow them to gain a lot of health, and when my opponent uses SNIPE on them - each round, I will be gaining health to offset his hits. In a nutshell, it will take him a long time to knock me over.
This is exactly how the battle played out, with 20 rounds! In the end, it was my strategy to focus on the first position only which beat my opponent who played a SNEAK and a SNIPE card.

Before you click play on the battle, have a look at the Death Snitch's stats again: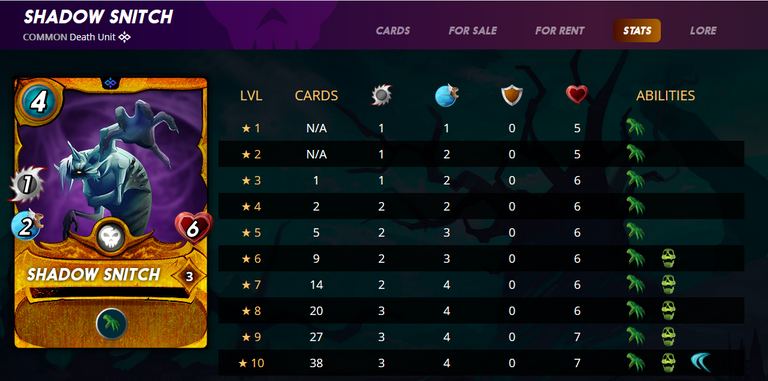 Now you're ready for the battle, sit back, relax - this is going to take a while. 20 rounds!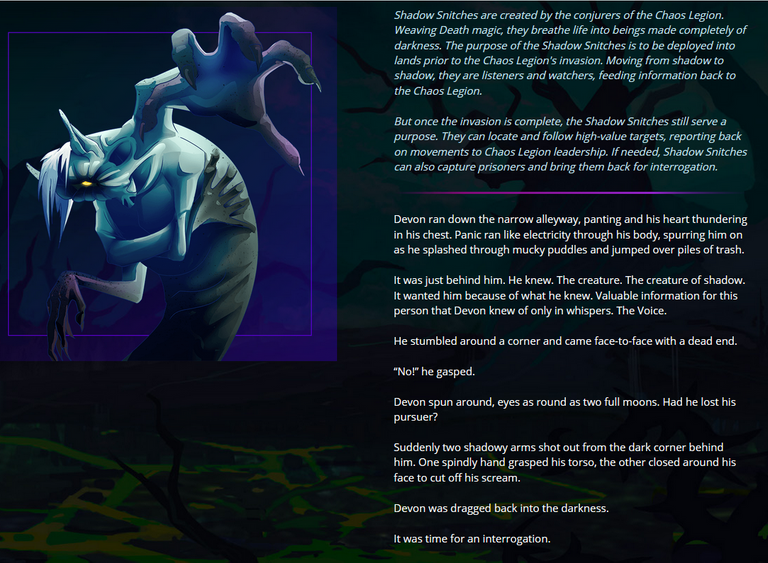 All images sourced from www.splinterlands.com
If you enjoyed my battle, Sign Up Here
#splinterlands #spt #play2earn #opg #archon #leo #pal #neoxian #ctp #proofofbrain #pal #leofinance
---
---