Non serve capire tutto qui su Hive, semplicemente sviluppa il tuo talento, e aiuta gli altri a sviluppare il loro [ITA-ENG] No need to understand everything here on Hive, just find your talent and help others develop theirs [ITA-ENG]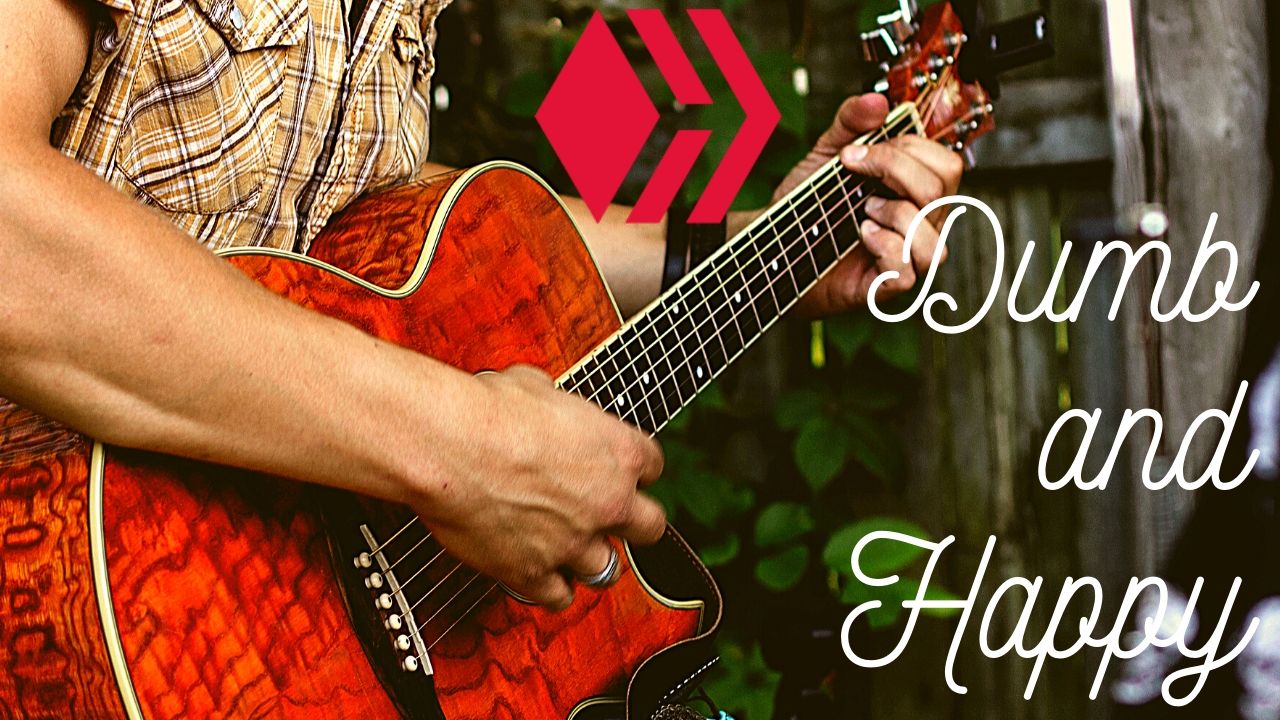 I created this picture presentation using Canva
La strada
Ormai da oltre 2 anni condivido contenuti musicali su Hive, quasi sempre originali, quasi sempre canzoni composte da me. Questa volta voglio proporvi Dumb dei Nirvana, perché non c'è canzone più adatta per descrivere le emozioni di questa avventura. Ogni giorno cerco di capire quale sia il miglior modo di operare su hive, quali contenuti condividere, in che forma, attraverso DTube, 3Speak, Peakd. Certo e si iniziassi anche a giocare su Splinterland oppure Dcity. Insomma tutti i giorni la mia strada cambia e mi sento stupido e felice.
Stupido e felice sono forse le due facce della solita medaglia. Non so voi ma dopo oltre 2 anni non sono riuscito ancora a capire cosa sia Hive. Una community, una cryptomoneta certo e poi?
Comunque sia molto spesso mi ritrovo a sentirmi stupido e felice.
Stupido
Stupido nel senso che ogni giorno mi adatto a quello che Hive offre, un contest, una community, un preciso user e ogni giorno rimetto la bussola al centro. Un giorno cerco il nord, un giorno cerco il sud, un giorno mi perdo. Assomiglia molto di più all'andamento di un ubriaco. In realtà un filo condutture l'ho trovato, un sottile filo che mi lega all'inizio a circa 2 anni fa. La musica. In questo cammino su Hive la musica è il cammino. Come una lanterna nel buio, come una nave nella tempesta, come un oasi nel deserto. Per questo incoraggio ogni musicista e soprattutto i cantautori ad unirsi a Hive e iniziare a condividere il loro miglioramento quotidiano, a imparare a raccontarlo, imparare a descrivere il loro cammino. Perché sarà il cammino la cosa più importante. L'arrivo secondo me conta meno. La felicità è il cammino
Felice
Sicuramente realizzare i propri sogni giorno dopo giorno ci rende felici, riuscire a esprimere i nostro talento e ricevere un supporto da una community è una grande soddisfazione. Unire contemporaneamente il valore artistico, il guadagno e la solidarietà sono i tre pilastri della felicità. Non che tutti i giorni sia facile, perché devi comunque fare i conti con la timidezza, con la svalorizzazione interna, con l'indecisione, la paura di mostrare chi sei, ma. Hive e la blockchain sono il posto giusto per imparare a valorizzare la propria azione. I primi 1000 post sono solo un inizio. Descrivere il vostro cammino, il vostro volo. Hive è un alveare a siamo tutti api i cerca di polline per un po di miele. Il polline lo troverete nei fiori che farete crescere intorno a voi. Il mio fiore è prevalentemente la musica. Spero che vi piaccia questa versione di Dumb dei Nirvana un po' acustica cantata dal mio balcone qualche giorno fa grazie alla quarantena.
The way (English Translation)
For over 2 years now I have been sharing music content on Hive, almost always original, almost always songs composed by me. This time I want to offer you Dumb by Nirvana, because there is no more suitable song to describe the emotions of this adventure. Every day I try to understand what is the best way to operate on hive, what content to share, in what form, through DTube, 3Speak, Peakd. Of course and you also started playing on Splinterland or Dcity. In short, every day my path changes and I feel stupid and happy.
Stupid and happy are perhaps the two sides of the usual medal. I don't know about you but after more than 2 years I still haven't managed to understand what Hive is. A community, a certain cryptocurrency and then?
However it is very often I find myself feeling stupid and happy.
Stupid
Stupid in the sense that every day I adapt to what Hive offers, a contest, a community, a specific user and every day I put the compass at the center. One day I look for the north, one day I look for the south, one day I get lost. It looks much more like a drunken man. In fact, I found a piping thread, a thin thread that binds me at the beginning about 2 years ago. The music. In this journey on Hive, music is the journey. Like a lantern in the dark, like a ship in the storm, like an oasis in the desert. This is why I encourage every musician and especially the songwriters to join Hive and start sharing their daily improvement, learning to tell it, learning to describe their path. Because the path will be the most important thing. The arrival in my opinion counts less. Happiness is the way
Happy
Surely making your dreams come true day after day makes us happy, being able to express our talents and receiving support from a community is a great satisfaction. Simultaneously combining artistic value, gain and solidarity are the three pillars of happiness. Not that every day is easy, because you still have to deal with shyness, with internal devaluation, with indecision, the fear of showing who you are, but. Hive and the blockchain are the right place to learn how to value your action. The first 1000 posts are just a start. Describe your path, your flight. Hive is a beehive and we are all bees i look for pollen for some honey. You will find pollen in the flowers that you will grow around you. My flower is mainly music. I hope you like this slightly acoustic version of Dumb by Nirvana sung from my balcony a few days ago thanks to the quarantine.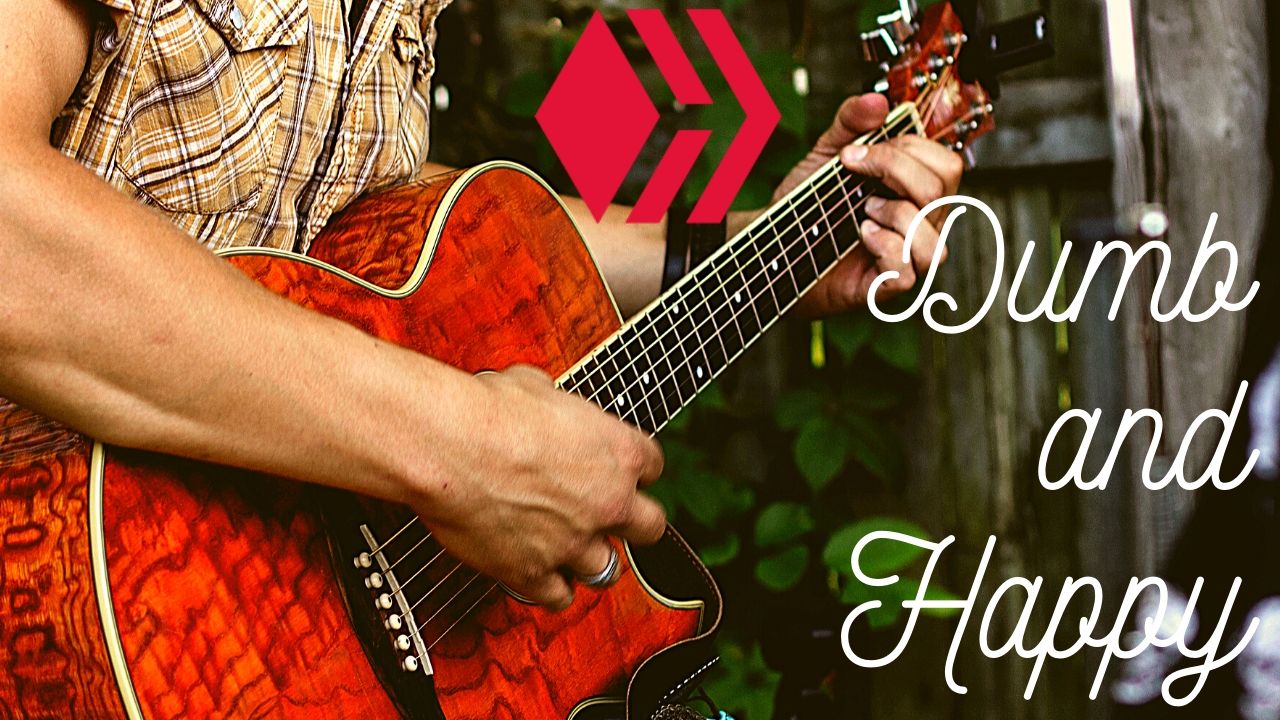 Stupido by Nirvana
Non sono come loro
ma posso fingere
Il sole se n'è andato
Ma io ho una torcia
Il giorno è passato
Ma mi sto divertendo
Penso di essere stupido
O forse semplicemente felice
Penso di essere felice
Penso di essere felice
Penso di essere felice
Il mio cuore è spezzato
Ma ho della colla
Aiutami a sniffarla
E ripararlo (il cuore) con te
Fluttueremo
E faremo un viaggio tra le nuvole
Poi torneremo giu
E avremo una sbronza
Avremo una sbronza
Avremo una sbronza
Avremo una sbronza
Spella il sole
Addormentati
Sogna
L'anima è scadente
Avendo imparato la lezione
Augurami buona fortuna
Allevia la bruciatura
Svegliami
Non sono come loro
ma posso fingere
Il sole se n'è andato
Ma io ho una torcia
Il giorno è passato
Ma mi sto divertendo
Penso di essere stupido
Penso di essere felice
Penso di essere felice
Penso di essere felice
Penso di essere felice
Penso di essere stupido…
---
---