PGM POWER UP DAY (1-7 Agosto) - Ecco la mia partecipazione! - (ITA/ENG) - PGM POWER UP DAY (1-7 August) - Here is my participation!
Buongiorno a tutti e ben ritrovati
In questa calda mattinata di inizio agosto, eccomi approfittare del tempo in più che mi sono ritrovato ad avere a disposizione, a causa della mia seconda positività al Covid annuale, giusto per non farci mancare nulla dopo il mio infortunio, per dedicarmi ad un post che in realtà avrei già voluto pubblicare, cosa che, però, finora, non mi era riuscito di fare.
Mi sto riferendo, ovviamente, come credo abbiate già intuito dal titolo di queste mie poche righe, al nuovo contest del progetto PGM, lanciato qualche giorno fa da @zottone444, creatore tanto del contest che del relativo token, che sinceramente ho sempre amato fin dagli inizi, e voglio supportare con decisione.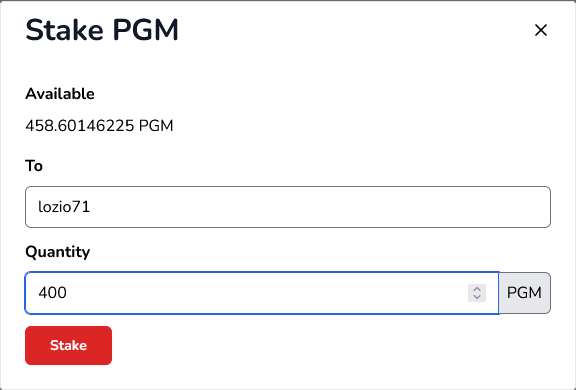 Nato come "TIP Token", con il tempo ha aggiunto sempre più funzionalità, e casi d'uso, fino a diventare, senza dubbio alcuno, uno dei più interessanti nel mondo dei "Token di secondo livello" che la blockchain di Hive consente di creare.
Per chi non sapesse cosa si intende con TIP Token ecco la spiegazione :
Quando un token ha la funzione di TIP , vuol dire che quando si va a rispondere a un commento o ad un post qui su HIVE , una volta digitato il comando !PGM partirà una mancia ad un utente o a più utenti. Queste ricompense molto spesso partono da account che distribuiscono queste ricompense quindi voi non perderete nulla! Nel caso di PGM i token vengono distribuiti dal bot @pgm-curator .
Grazie a tutto il lavoro portato avanti con una dedizione invidiabile dal suo creatore, ed a tutte le continue collaborazioni strette dallo stesso, attualmente chiunque abbia la possibilità di utilizzare il comando !PGM invierà i seguenti token:
0.1 PGM
0.1 LVL
1 STARBITS
0.05 DEC
15 SBT
Anche se, rispetto ad un po' di tempo fa, alcune cose sono cambiate, ed essendo terminate alcune collaborazioni non vedete più alcuni token precedentemente presenti (SIM e BUDS), possedere ed utilizzare PGM, rimane un'opportunità più che interessante che, a seconda della quantità di PGM in stake posseduti, va, poi, ad incrementarsi ulteriormente con crescite esonenziali che rendono il tutto sempre più interessante, e profittevole, per tutti gli utilizzatori, soprattutto a partire dai 500 token in stake, visto che, da lì in poi, i token non solo si inviano, ma si ricevono (trovate maggiori informazioni in merito quì : HOW TO USE THE COMMAND !PGM).
Per chi, come me, poi, avesse almeno 5000 PGM in stake, il tutto diventa ulteriormente interessante, poichè, in quel caso, per ogni comando che invierete, riceverete ricompense ancora maggiori, e più precisamente :
0.2 PGM
0.2 LVL
2 STARBITS
0.1 DEC
30 SBT
0.00000002 SWAP.BTC
Credo che a questo, quindi, punto abbiate compreso il mio entusiasmo verso questo progetto e verso il lavoro che sta facendo, con entusiasmo e dedizione, @zottone444 e perché sono, di conseguenza subito corso a fare il mio nuovo Power Up Day, sperando diventi un evento ricorrente, ed a scrivere queste mie poche righe.


Uno dei requisiti per partecipare a questo contest era, ovviamente, effettuare un Power Up, mettendo in stake almeno 50 PGM, ma sinceramente, come potete vedere dalle immagini qui sopra, io ho messo in stage quasi tutti i PGM che possedevo, per un totale di 400, per approfittare ulteriormente di tutti i vantaggi che ne conseguono.
Potete trovare maggiori informazioni sul contest nel post dedicato che trovate quì https://peakd.com/hive-146620/@zottone444/pgm-power-up-week-1-7-august-ita-eng ma, comunque, i requisiti per partecipare all'iniziativa per il Power UP PGM sono i seguenti:
Power Up di almeno 50 PGM
Post con tag #pgmpowerupweek e #pgm
almeno 100 parole nel post
3 post per partecipare
A fronte della vostra partecipazione al contest, poi, i premi che potreste aggiudicarvi sono i seguenti:
Voti da 25% a 100% da @pgm-curator e @token-curator
Voti da curatore @tipu
2500 PGM delegati a 3 utenti
5000 THG delegati a 3 utenti con + di 5K PGM in stake
Per farla breve, insomma, si tratta di un contest dove venite premiati solo per andare ad aumentare, ulteriormente, le vostre possibilità di guadagno, derivanti dallo mettere in stake i vostri PGM, un'opportunità a dir poco straordinaria che dubito altre realtà possano offrire.
Al di là del contest, comunque piacevole e divertente, avrei presto effettuato lo stesso un Power Up, mettendo in stake i PGM in mio possesso, per aumentare le mie possibilità di guadagno, e la mia partecipazione a questo concorso, in realtà è fatta più per cercare di far conoscere a quante più persone possibili questo progetto, che ritengo veramente interessante degno di nota, che per qualsiasi altro motivo.
Ritengo, infatti, e non l'ho mai nascosto, che sia uno tra i migliori attualmente in circolazione, e la mia speranza è che, grazie a questo nuovo contest, possa diventare sempre più conosciuto, e sempre più utilizzato, accrescendo, ulteriormente, il successo che sta già ottenendo.
Non mi resta altro da fare, quindi, per stamattina, se non porgervi i miei saluti, augurandovi una buona giornata, ma, soprattutto, invitarvi, caldamente, a correre, al più presto possibile, a fare anche voi il vostro Power Up di PGM e, magari, perché no, a partecipare a questo contest per potervi aggiudicare uno dei premi.
---
Hello everyone and welcome back
On this hot morning in early August, here I am taking advantage of the extra time that I found myself having available, due to my second positivity to the annual Covid, just so that we do not miss anything after my injury, to dedicate myself to a post that in fact I would have already wanted to publish, which, however, until now, I had not been able to do.
I am referring, of course, as I believe you have already guessed from the title of these few lines, to the new contest of the PGM project, launched a few days ago by @ zottone444, creator of both the contest and the relative token, which I have sincerely always loved since start, and I want to support strongly.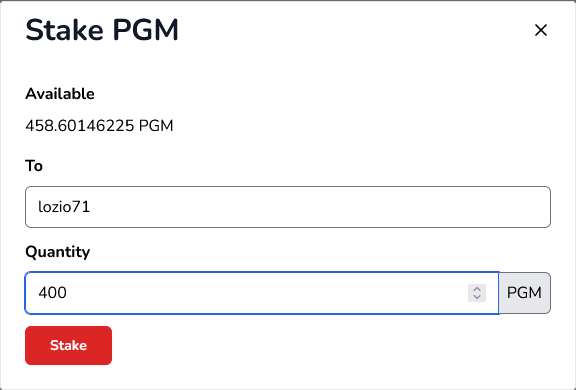 Born as "TIP Token", over time it has added more and more features, and use cases, until it becomes, without a doubt, one of the most interesting in the world of "second level tokens" that the Hive blockchain allows to create.
For those who do not know what is meant by TIP Token here is the explanation:
When a token has the function of TIP, it means that when you go to reply to a comment or post here on HIVE, once the command! PGM is typed, a tip will be given to a user or to several users. These rewards most often start from accounts that distribute these rewards so you won't lose anything! In the case of PGM the tokens are distributed by bot @ pgm-curator.
Thanks to all the work carried out with an enviable dedication by its creator, and to all the continuous collaborations made by the same, currently anyone who has the possibility to use the! PGM command will send the following tokens:
0.1 PGM
0.1 LVL
1 STARBITS
0.05 DEC
15 SBT
Even if, compared to some time ago, some things have changed, and having ended some collaborations you no longer see some previously present tokens (SIM and BUDS), owning and using PGM remains a more than interesting opportunity which, depending on the quantity of PGM stakes owned, it then goes on to further increase with exonential increases that make everything more and more interesting, and profitable, for all users, especially starting from 500 tokens staked, given that, from there on then, the tokens are not only sent, but received (find more information about it here: HOW TO USE THE COMMAND !PGM).
For those who, like me, had at least 5000 PGM staked, everything becomes even more interesting, since, in that case, for each command you send, you will receive even greater rewards, and more precisely:
0.2 PGM
0.2 LVL
2 STARBITS
0.1 DEC
30 SBT
0.00000002 SWAP.BTC
I believe that at this point, therefore, you have understood my enthusiasm for this project and for the work it is doing, with enthusiasm and dedication, @ zottone444 and because I am therefore immediately running to do my new Power Up Day, hoping it will become a recurring event, and to write these few lines of mine.


One of the requirements to participate in this contest was, of course, to perform a Power Up, stakes at least 50 PGMs, but honestly, as you can see from the images above, I have interned almost all the PGMs I owned, for a total 400, to further take advantage of all the resulting benefits.
You can find more information about the contest in the dedicated post that you can find here https://peakd.com/hive-146620/@zottone444/pgm-power-up-week-1-7-august-ita-eng but, in any case, the requirements to participate in the initiative for the Power UP PGM are the following:
Power Up of at least 50 PGMs
Posts tagged #pgmpowerupweek and #pgm
at least 100 words in the post
3 posts to participate
In view of your participation in the contest, then, the prizes you could win are the following:
Votes from 25% to 100% from @ pgm-curator and @ token-curator
Votes from curator @tipu
2500 PGMs delegated to 3 users
5000 THG delegated to 3 users with + 5K PGMs staked
In short, in short, this is a contest where you are rewarded only to further increase your earning possibilities, deriving from stake your PGMs, an extraordinary opportunity to say the least that I doubt other realities can offer. .
Beyond the contest, however pleasant and fun, I would soon carry out a Power Up anyway, stake the PGMs in my possession, to increase my earning possibilities, and my participation in this competition, is actually made more to try to make this project known to as many people as possible, which I think is really interesting worthy of note, than for any other reason.
I believe, in fact, and I have never hidden it, that it is one of the best currently in circulation, and my hope is that, thanks to this new contest, it can become more and more known, and more and more used, increasing, further, the success it is already achieving.
There is nothing left for me to do, therefore, for this morning, other than to give you my greetings, wishing you a good day, but, above all, to invite you, warmly, to run, as soon as possible, to do your PGM Power Up too. and, perhaps, why not, to participate in this contest to be able to win one of the prizes.
---
---