HPUD : Almost Near To Reach 4k Hive power
---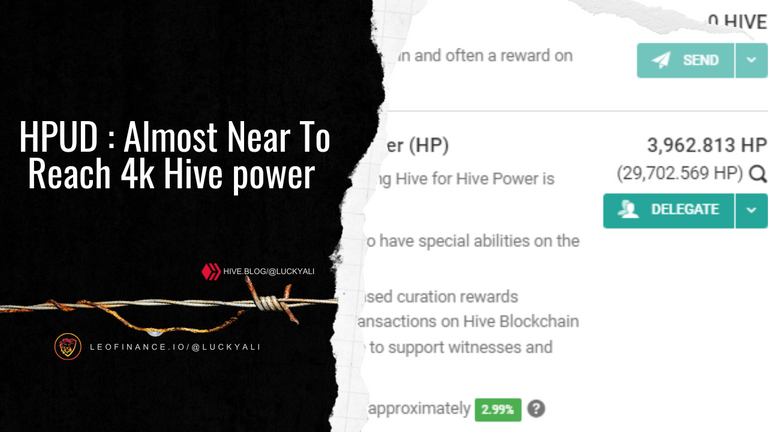 ---
So finally HPUD is here and months are running like Deer. So here I have powered up 31.763 hp and after doing this right now I have 3962 hp total. Within two days I will reach 4k hive power which is a precious moment for me. The hive price is fluctuating between 0.34 to 0.36 USD and I think this is the right time for your HBD to convert and get a good amount of hive tokens I think most of the people doing it for sure. Ever since the price down is going on, since then I sell Hbd and convert it to Hive.
---
It's been six months since I started joining hpud. Last month I powered up around 40 hives on that day. I power up daily in terms of author and curation reward but to celebrate this great day it is obvious to do even small power up at least 10+ hp. Lots of people power up on this day so this shows how strong the hive community is. Currently, I am getting around 100 hp per week by author rewards and 52 hp by curation reward so It is easy for me to power up more hive.
---
Before doing powerup I just share tweet and thread to remind more people about hpud. Spreading awareness is an excellent idea. In case, if someone forgets about this so you can remind them. Everyone will do this then we can trend the #hpud tag on every 1st day of the month. Sounds good? Must try it the next month. Along with this, I am also focusing on lpud which is coming on the 15th of the month. It is good to power up leo tokens as well because leo token is undervalued and we can expect leo to reach $1 in the next bull market.

---
Do not wait for the opportunity, create the opportunity. I am joining lpud event since October 2022 so it's been a long time. My target is to reach up to 10k hp and 10k leo power. The way is tough but not impossible and consistency and smart work can achieve these goals. LPUD's main purpose is to set goals and achieve them. The goal is already set but now it is time to achieve it. I have powered up 31.763 HP on this day. Cheers!
---
Thank you, everyone.
---
Lucky Ali
---
Image source
---
○_________________○___________________○
| 👇 | | |
| --- | --- | --- |
| | | Hi I am lucky ali from gujarat, india. I am a crypto enthusiast, blogger, and SEO developer. I am always interested to learn new things and getting new experiences. You can find me on hive, twitter and discord (Lucky Ali#6343). Sharing is caring, Thank you hive family ♥ |
Posted Using LeoFinance Alpha
---
---