Road To 10K GLX: Reached 3300+ Tokens In Staking
---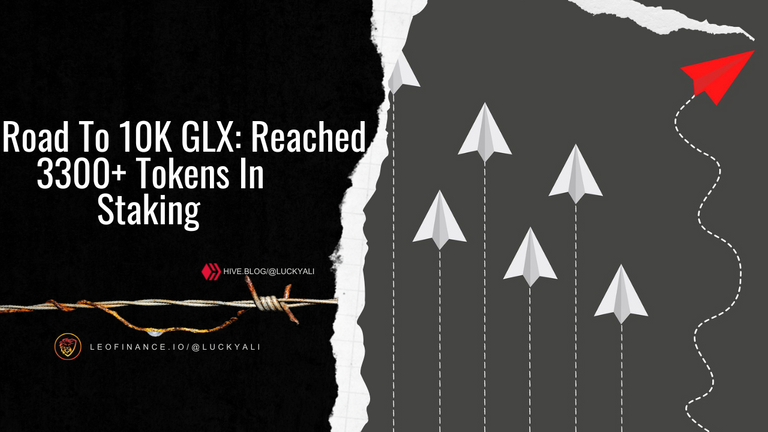 ---
It is feeling good that every week I am going near to my goal. I am chasing the 10k GLX token. After completing the 100k sps tokens goal it looks like a very small amount for me but what can I do? You know after reaching one step you can dream for the second step and this is what I am doing here. The simple meaning is If I reach at least 10k then it will open 20k to 25k doors for me and that is what I am planning.
---
Thankfully I have taken smart steps by selling some extra cards so that I have reached my goal of sps otherwise it will take 2 years to reach there. But I have completed that goal within 1 month. Smart accumulation is also a great strategy but I thought that this is the time. Maybe in the future, we will not get sps at this price so it is better to accumulate in cheap rather than waiting for more deep.
---
Let me give you an example of smart accumulation. In smart accumulation, you focus on part buying. I mean to say buying small amounts daily. Let's say you are earning $5 USD from curation reward and the author rewards another $5 USD from trading and another $5 USD from somewhere else. In this case, you are getting $15 USD daily so you can invest daily 25% of your total income. 25% means 3.75 USD per day investment in sps. This way you can achieve your target with good speed of accumulation.
---
One of my friends bought 66k sps token by using this idea. So it is the best but you have to maintain your consistency which is not an easy task.
---
GLX Is The SPS Of Genesis League Game
---
SPS is the governance token of the splinterlands game similarly GLX is the governance token of the Genesis League sports game. As I said in my many posts that sps has the potential because it is the main asset like that, GLX has the potential and that is the reason my focus is on more glx token staking.
---
In June or July beginning, we will see that game launch. There is a good possibility that the price will rise so it can be good to accumulate more glx tokens. Because GLX will get more use case when the game will launch and more use case means benefit in the price. So you can be prepared for this.
---
3300+ GLX Stake Achieved
---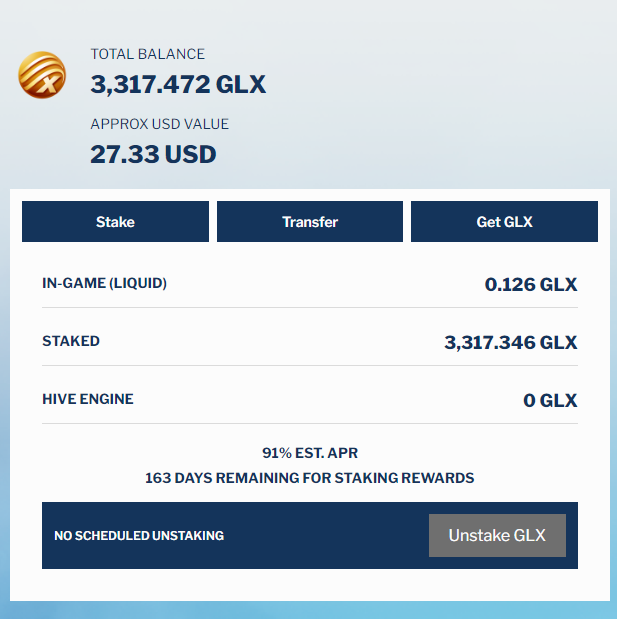 ---
3300 is not a big deal because lots of users hold more than 100k GLX tokens. Currently, I have no plan to reach 100k GLX tokens because no one saw the future but you should know my near future targets. My first target is to reach 10k GLX tokens and then I will try to achieve the 25K glx token goal once I reach 25k glx tokens in staking then my next target will be 50k glx tokens but you can't see 100k here.
---
Even Reaching 50k GLX tokens will take two years and if the price will go higher then we should forget these goals. This is still a new game and GLX will see an all-time high in the next bull season. So that means we should complete our buying before the bull season? Let me know in the comment section.
---
Plan Is To Hold More
---
It is obvious that I have a long-term plan for the GLX which is why I keep accumulating daily. The current price of the GLX token is $0.008 which is the lowest ever. Well, one thing that I want to share is that the DEC burning event is going on and whales burning lots of DEC tokens which means soon the price will go up, and at that time people will like to book profit so they can buy the cheap tokens including GLX.
---
I am also holding some DEC tokens so If I will get the opportunity to buy GLX tokens cheaply, I would never miss it. Currently, We have to wait for the dec to hit the peg price first. This is just the first day of burning. I really liked this burning idea hat's off to the splinterlands team. Thank you and share this post with #play2earn and #splinterlands tags.
---
Have a good day
---
Lucky Ali
---
Image source
---
○_________________○___________________○
| 👇 | | |
| --- | --- | --- |
| | | Hi I am lucky ali from gujarat, india. I am a crypto enthusiast, blogger, and SEO developer. I am always interested to learn new things and getting new experiences. You can find me on hive, twitter and discord (Lucky Ali#6343). Sharing is caring, Thank you hive family ♥ |

Join splinterlands
Posted Using LeoFinance Alpha
---
---