Understanding The Importance Of Bitcoin Halving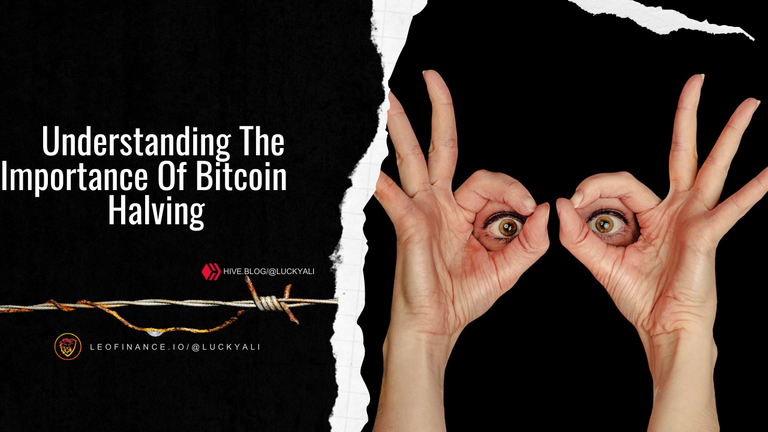 ---
Bitcoin halving simple definition is reducing reward by 50%. This is the process of cutting the rewards of miners and the result will be less supply of bitcoin. Supply is low demand is high so the price will always grow. Bitcoin is the door to enter in crypto so first money comes in bitcoin and then in other coins. If you want to monitor this specific thing then just keep an eye on bitcoin dominance. When Bitcoin's dominance will go lower then the other crypto will go up and this is the same pattern repeated again and again and it will be repeated always.
---
Controlling supply is the main factor and most of the economy failed to do this but Satoshi Nakamoto who is the founder of Bitcoin designed the Bitcoin whitepaper differently. And now another crypto is following the way of bitcoin. Another crypto has halved too and litecoin is the best example of it. Litecoin is also a reputed and top cryptocurrency. So there are more coins available in the crypto space but bitcoin is different.
---
When it comes to decentralization bitcoin is ahead and the most decentralized cryptocurrency. That is why it is literally impossible to ban Bitcoin. This is proof of work crypto and POW crypto is more valuable than proof of stake. Although, proof of stake has its own value so we can't ignore it. Because of bitcoin halving, there is a limited quantity of bitcoin and because of this reason most people are focusing more on accumulating bitcoin and there is still time to accumulate it.
---
Especially when manipulating bitcoin prices and multiplying their bitcoin. You know very well how whales manipulate Bitcoin. Bitcoin is not a legal tender in many countries but there is a country that names El Salvador which is a big fan of Bitcoin. El Salvador's president understands the technology of bitcoin and that is why spreading awareness of crypto.
---
Comparing Halving With The Paper Money Printing
---
There is no comparison but we are heavily dependent on cash so we have to talk about it. I have talked about this many times in my previous posts but let me share this one more time. Government has the right to print fiat so whenever the crisis happens they print more fiat and it increases the inflation and overall it is not good for the people.
---
So if you say that your money is yours but in reality it is not yours because the government controlling it. And your fiat currency losing its value. Another side, bitcoin halve every four years by 50%. Supply is going down in bitcoin and in fiat the supply is going up. In this case, if you want to fight inflation then obviously bitcoin is the best option. You can see when Bitcoin was born the price was very lower and compare with the current price, you will understand the game.
---
Bitcoin Halving And Cycle
---
When supply is cut by 50% it will effect the market after some time and this effect is very positive for bitcoin and because of this specific reason, you will see the cycle in bitcoin price. In simple words, you have to know that before the one year of halving, it is a bear cycle, and after the one year of halving bitcoin creates a new all-time-high. Now These simple mathematics give you the perfect signal to buy and sell. For long-term holders, taking entry before one year of halving is a perfect time, and booking profit after one year of halving.
---
So you can follow this cycle. You can check the history for confirmation. In the short-term, there is a lot of volatility but if you have a long-term vision of bitcoin then you are the person who gets the benefit from here. so that's what I want to share in this post, don't forget to share and reblog this post.
---
Thank you, everyone.
---
Lucky Ali
---
Image source
---
○_________________○___________________○
| 👇 | | |
| --- | --- | --- |
| | | Hi I am lucky ali from gujarat, india. I am a crypto enthusiast, blogger, and SEO developer. I am always interested to learn new things and getting new experiences. You can find me on hive, twitter and discord (Lucky Ali#6343). Sharing is caring, Thank you hive family ♥ |
Posted Using LeoFinance Alpha
---
---