[ENG-ESP] Texto Narrativo: ¿Dimensiones encontradas? /Narrative Text: Dimensions in conflict?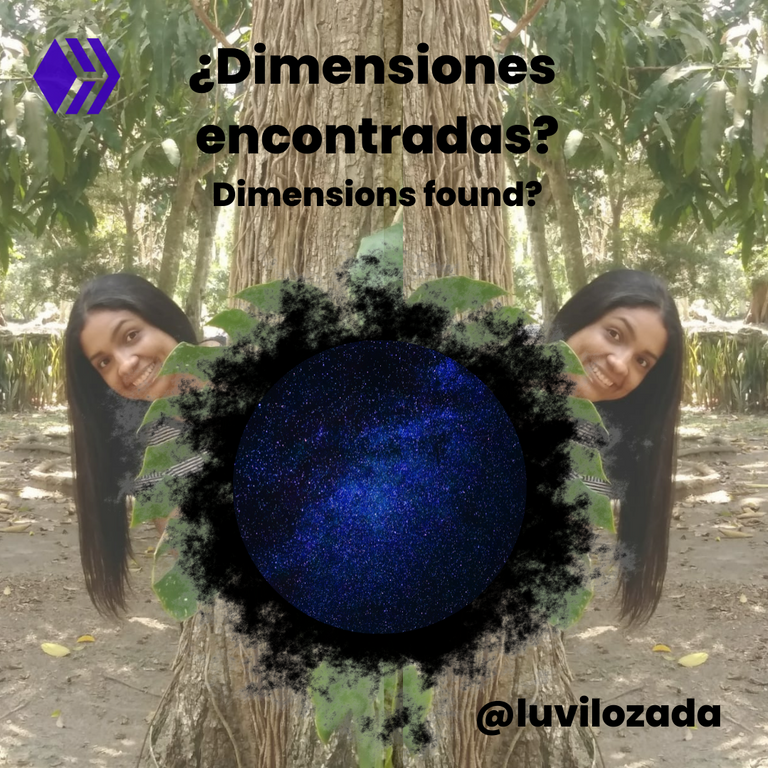 Edition canva
Me complace saludar a la comunidad Writing Club, tengo algún tiempo sin escribir, pero muy atenta a las publicaciones, he estado en algunas responsabilidades que me han demandado tiempo, sin embargo, nunca dejo de estar en Hive, revisando, comentando, pensando o escribiendo ideas que pueda aportar para la comunidad.
El día de hoy quiero hacer algo distinto a lo que vengo escribiendo en Hive, hoy quiero compartir un texto tipo narrativo con estilo de crónica, de vivencia personal.
Quienes me conocen saben lo amante que soy de esas historias que erizan la piel, que conmocionan más allá del hecho y permiten revelar las capacidades humanas que están detrás de muchos relatos que solamente siembran el misterio, horror o miedo, cuando hay más que eso.
---
I am pleased to greet the Writing Club community, I have some time without writing, but very attentive to the publications, I have been in some responsibilities that have demanded me time, however, I never stop being in Hive, reviewing, commenting or thinking and writing ideas that I can contribute to the community.
Today I want to do something different from what I have been writing in Hive, today I want to share a narrative text with a chronicle style, a personal experience.
Those who know me know how much I love those stories that make your skin crawl, that move you beyond the fact and allow you to reveal the human capacities that are behind many stories that only sow mystery, horror or fear, when there is more than that.

Comienzo: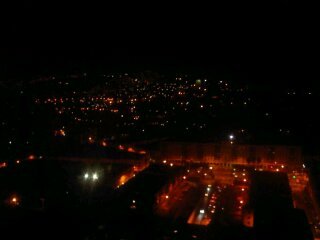 Foto propia/Own photo
En Caracas, el 19 de julio del año 2016, son más de las 11:00 pm, me encuentro en el piso 32 de un conocido edificio del que me reservo el nombre, estoy temporalmente por cuestiones laborales, ya casi cumplimos un año en este inmueble identificado como el 16-11 que quedó atrapado en el tiempo por su decoración nostálgica de interiores, que si bien poco conozco creo se remota al estilo de los años 80.
La residencia tiene dos niveles, 3 habitaciones están ubicadas abajo junto a un baño de uso común que lo separa una pared de las escaleras que une ambos piso, entre tanto arriba se encuentra la cocina, sala, comedor y otro baño, lo que más me gusta es su amplio ventanal que da paso al balcón para contemplar el cielo caraqueño.
Compartimos este techo con 2 compañeros que residen en otras habitaciones, esta noche se acostaron a dormir temprano, mientras tanto estoy en la habitación, ya casi lista para dormir, espero a mi esposo quien se baña, de hecho desde donde estoy alcanzo a escuchar la regadera, todo lo demás está en silencio, incluso si alguien sale de su habitación, se escucha claramente el sonido molesto de cada puerta al abrirla o cerrarla.
No tenemos televisor dentro del cuarto de dormir, así que todo está tan quieto y calmado, mientras tanto estoy acostada en la cama, siento el clima frío de caracas que traspasa las paredes y sabanas, todo el lugar es muy blanco, me encanta admirarlo así que, observo el techo y pienso en muchas cosas que hice durante el día.
De pronto, escucho pasos acelerados en las escaleras, parece que alguien sube o baja, no distingo muy bien, no logro entender si sigo escuchando la regadera, quiere decir que aun mi esposo se baña, reflexiono que no son nuestros compañeros porque tienen rato durmiendo y no escuché ninguna puerta que hayan abierto.
---
Beginning:
In Caracas, July 19, 2016, it is past 11:00 pm, I am on the 32nd floor of a well-known building of which I reserve the name, I am temporarily for work issues, we are almost a year in this property identified as the 16-11 that was trapped in time for its nostalgic interior decoration, that although little I know I think it is removed to the style of the 80s.
The residence has two levels, 3 rooms are located downstairs next to a common bathroom that separates a wall of the stairs that connects both floors, meanwhile upstairs is the kitchen, living room, dining room and another bathroom, what I like most is its large window that leads to the balcony to contemplate the sky of Caracas.
We share this roof with 2 roommates who live in other rooms, tonight they went to bed early, meanwhile I am in the room, almost ready to sleep, I wait for my husband who is taking a bath, in fact from where I am I can hear the shower, everything else is silent, even if someone leaves his room, you can clearly hear the annoying sound of each door when opening or closing it.
We don't have a TV inside the sleeping room, so everything is so still and calm, meanwhile I'm lying on the bed, I feel the cold caracas weather coming through the walls and sheets, the whole place is very white, I love to admire it so I look at the ceiling and think about many things I did during the day.
Suddenly, I hear the accelerated steps on the stairs, it seems that someone is going up or down, I do not distinguish very well, I can not understand if I still hear the shower, it means that my husband is still taking a bath, I think that they are not our partners because they have been sleeping for a while and I did not hear any door that they have opened.

El momento crucial
Permanezco quieta como esperando explicación alguna, suenan pasos nuevamente en las escaleras y se me eriza la piel, no entiendo quien está afuera, analizo en salir del cuarto, pero no me atrevo, espero mejor a mi esposo, me paro y me siento en la cama, comienzo a armar conjeturas, creer muchas posibilidades y siento algo de temor hasta que, escucho claramente en mi mente esta frase:
"No existen fantasmas, existen dimensiones encontradas".
Inmediatamente sentí una extraña paz, una total calma, tomé aire, busqué mi libreta y anoto rápidamente esta frase, es un cuaderno que reúne cosas importantes para mí, especialmente todos los hechos que vivimos sobre situaciones parecidas a estas.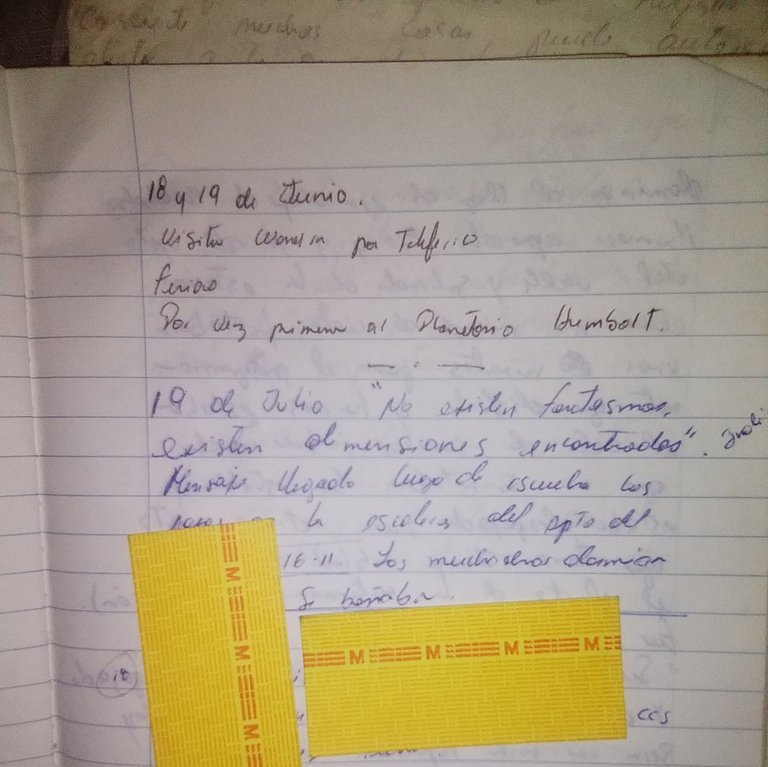 Foto propia: Cuaderno/Own photo: Notebook with note
Ya no escucho la regadera, me percato que mi esposo abre la puerta del baño y se dirige al cuarto, abro la puerta cuidadosamente y ambos nos vemos frente a frente, solo espero que me diga algo, no le pregunto nada, y me dice: -¿tú subiste las escaleras hace un momento?- Le respondo: pensé que tú subiste y no tenía sentido que dejaras la regadera abierta, pero no entiendo, no escuché la puerta y tampoco los muchachos salieron de sus habitaciones.
Él me dice: -escuché la primera vez y no le di mucha importancia, luego a la segunda cerré la regadera y escuche las escaleras-. Ambos quedamos perplejos, sin entender y nos decidimos a dormir. La mañana siguiente corroboramos y le comentamos a los compañeros lo ocurrido, ambos nos confirmaron que dormían, que nunca salieron del cuarto, que mucho menos escucharon algo de lo que relatamos. Todo concluyó en risas y extrañeza.
---
The crucial moment
I remain still as if waiting for an explanation, footsteps sound again on the stairs and my skin crawls, I do not understand who is outside, I think about leaving the room, but I do not dare, I wait better for my husband, I stand up and sit on the bed, I begin to make conjectures, I believe many possibilities and I feel some fear until I hear clearly in my mind this sentence:
"There are no ghosts, there are found dimensions".
Immediately I felt a strange peace, a total calm, I took a breath, I looked for my notebook and quickly wrote down this sentence, it is a notebook that gathers important things for me, especially all the facts that we live about situations similar to these,
I don't hear the shower anymore, I notice that my husband opens the bathroom door and goes to the bedroom, I open the door carefully and we both see each other face to face, I just wait for him to tell me something, I don't ask him anything, and he tells me: -did you go upstairs a moment ago?- I answer him: I thought you went upstairs and it didn't make sense that you left the shower open, but I don't understand, I didn't hear the door and the boys didn't come out of their rooms either.
He tells me: -I heard it the first time and didn't think much of it, then the second time I closed the shower and heard the stairs-. We were both perplexed, without understanding and we decided to go to sleep. The next morning we corroborated and told our companions what had happened, both confirmed that they were asleep, that they never left the room, much less heard anything of what we told them. Everything ended in laughter and surprise.

A manera de cierre
Hay días en los que se construyen nuevas visiones sobre el mundo, la manera de comprender algunas cosas o incluso aceptarlas porque no tiene explicación para nuestra razón. Hasta ese día sentí miedo hacia lo invisible, pude pensar que fue mi idea, pero mi esposo también lo vivió, aun cuando se estaba bañando no le impidió escuchar los pasos corriendo que de ese alguien o algo que no vimos, pero escuchamos y sentimos.
Decido contar esta historias porque son hechos tácitos del cotidiano, que a veces no hablamos para que no se nos señale o burle, son situaciones que ocurren y nos dan miedo porque nos enseñaron el lado negativo de algunas cosas, no obstante, cuando le damos otro enfoque podemos asumirlo de una manera más ligera para contar nuevas historias que nos lleven a repensar nuestras vivencias, como estas donde juega el tiempo y el espacio de una forma que trasciende nuestro limite mental.
¿Se tratará entonces de dimensiones encontradas?
---
By way of closing
There are days when we build new visions about the world, the way to understand some things or even accept them because they have no explanation for our reason. Until that day I felt fear towards the invisible, I could think it was my idea, but my husband also lived it, even when he was taking a bath it did not prevent him from hearing the running footsteps of that someone or something that we did not see, but we heard and felt.
I decide to tell these stories because they are unspoken facts of everyday life, that sometimes we do not talk about so that we are not pointed out or mocked, they are situations that occur and frighten us because they taught us the negative side of some things, however, when we give it another approach we can assume it in a lighter way to tell new stories that lead us to rethink our experiences, like these where time and space play in a way that transcends our mental limit.
So, is it a question of conflicting dimensions?
---
Fotos propias, tomadas de Alcatel 5059s y Vtelca telepatria.
Separador de texto y banner inferior editado en: canva
Uso: bimoji
Own photos, taken from Alcatel 5059s and Vtelca telepatria.
Edited text separator and lower banner: canva
Usage: bimoji
---

---
---