About

updated 03/27/2022
Goal
LUVshares has a simple goal and mission: The goal of LUVshares is to spread love around the Hive blockchain.
Maybe you like a certain post, or comment, or image, or the person behind it. Maybe that person could use a little love. Give that post an upvote!
But, you also might give it some LUV. Here's the LUV roadmap.
---
LUVbot
The LUVbot is how LUV is given out in what might be called Proof-of-Love mining. Unlike Proof-of-Work Bitcoin or Proof-of-Stake Ethereum where your effort rewards you, with Proof-of-Love, your effort rewards others. It is giving and expecting nothing in return.
Anyone with a Hive username can receive LUV. Anyone with at least 10 LUV in their wallet can freely share LUV tokens simply by replying to a post or comment with one of the LUV commands included in the reply: !LUV or !luv or !Luv or !love. Example: "I !love the look on your dog's face!"
The bot allows 3 or fewer "!" commands in a , else the LUV command will be skupped.
| Reply with... | Result | Note |
| --- | --- | --- |
| One of the commands above | 1 LUV will be sent, from you, for free, to whomever you are replying. | How much LUV you can give per day depends on your LUV Level (see below). |
Notes
You need to have 10 LUV tokens in your wallet as a minimum to use the bot.
With more LUV, you can give more. The amount of LUV per day increases with your LUV Level. (see below)
Sending LUV tokens through the bot does not decrease your LUV wallet amount. The LUV is freely given from @luvshares on your behalf.
These are the current settings. They may be tweaked in the future.
"Ping-Pong giving" is frowned upon. Ping-Pong giving is frequent, repeated, somewhat planned, back-and-forth token giving. Such giving is not the intent of LUVshares.
---
Check your wallet (or get LUV)
"How much LUV do I have?" - You can check your current LUV amount in the wallets linked below. Or, PeakD can be used by simply choosing "Wallet" and then "Hive Engine Wallet".
You can buy or sell LUV on Hive-Engine, TribalDex, or Leo DEX.
---
Use-cases
What can this LUV token be used for? This question has been asked and answered here. A summary of some LUV uses:
To spread some love around the Hive blockchain.
To bring a smile.
To meet and engage with other people.
To learn about trading. This is a low-risk way to learn about order books, depth charts, and how to trade.
To collect NFTs. Yes, you can buy-with-LUV in the LUVstore.
To have fun.
To give a +1 reward even after the upvote time period has expired.
---
Richlist and LUV Levels
Check the LUV richlist. Where are you on the list? This determines how much LUV-per-day you can give for free. (LUV levels were introduced here.)
| | LUV Levels | LUV needed | Maximum LUV you can give per day | Note |
| --- | --- | --- | --- | --- |
| 6 | LUV Legend | 750 | 10 | Once a legend, always a legend. Achieving reaching this level, even if you drop below again, you'll always be a LUV Legend. And you get a LUV Legend badge! |
| 5 | Romeo and Juliet | 375 | 5 | |
| 4 | Cupid | 225 | 4 | |
| 3 | Connected | 135 | 3 | |
| 2 | Crush | 10 | 1 | This amount currently qualifies you to call the LUVbot. |
| 1 | Cooties | <10 | 0 | |
---
The LUVstore
The official LUVstore is at https://crrdlx.websavvy.work/luvstore/index.html where some LUV NFTs are up for sale. They can be purchased with LUV, or several other Hive-Engine tokens.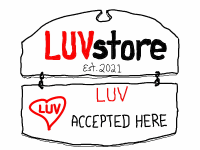 click to check the LUVstore
Any purchases help keep LUVshares going, thank you.
---
Numbers
At this point, almost all LUV that is released into the ecosystem is done by Hive users giving to others using one of the following LUV commands included in the reply: !LUV or !luv or !Luv or !love. Proof-of-Love mining mining in action.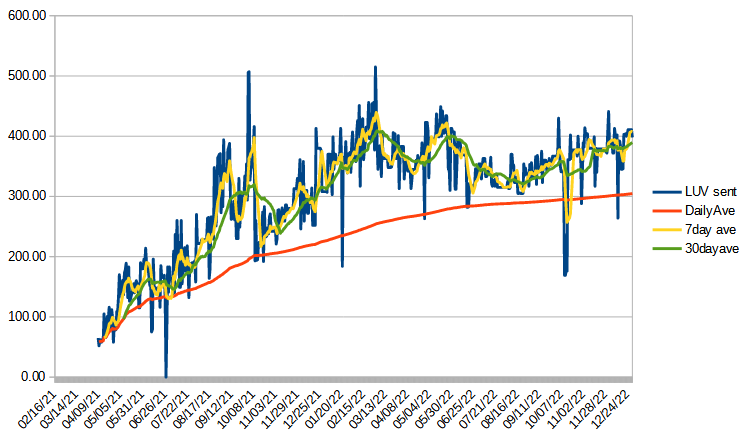 The above graph shows the emission rate of LUV using the bot. Q4 2022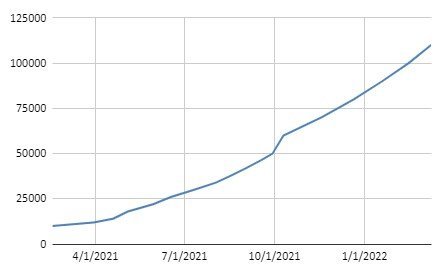 The graph above shows the circulating supply of LUV. Q4 2022
The goal is to keep these rates growing as stably and predictably as possible. From the start, I've tried to be as open and transparent about things as possible as well as being approachable if there are questions. So, I try to update numbers each quarter with a "Quarterly Report." See https://peakd.com/@luvshares for the latest report.

---
Art is free-to-use
I draw all of the "art" on @LUVshares and I'll give it "open usage rights." If you'd like to copy or remix any of the images or gifs here or in posts, that's certainly fine. We've had a couple of remixes already and they're awesome to see. Although it's not necessary, it would be nice if you gave a link back to @LUVshares. :)

Logos: heart-png-1 | heart-png-2 | heart-gif-transparent | heart-gif-whitebg | heart-no-letters


I have different sizes for these images...ask me.

LUVbot v0.0.3 is below: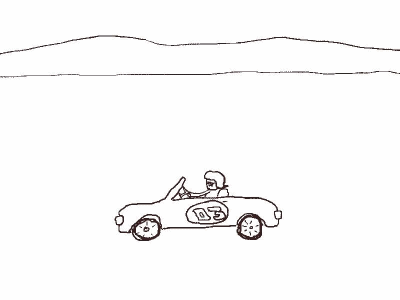 LUVbot v0.0.2 is below:

---

LUVbot v0.0.1 is below:

Loov and Luvee show that getting to LUVtown takes time. But, they'll get there.
---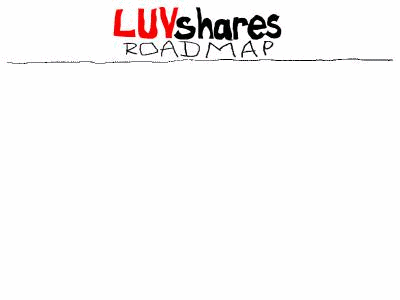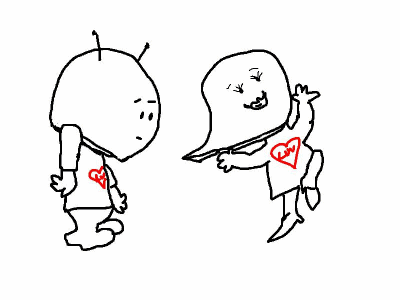 ---

Like LUVshares? You can support the project through BuyMeBerries.

Not on Hive? The top benefits of the Hive blockchain: (1) no ONE person/group runs it, (2) YOU own your content, and (3) YOU earn the rewards that your content generates. Learn more or consider using my referral link to get your free account here.

<><
---
---