The FUN Token (25% APY)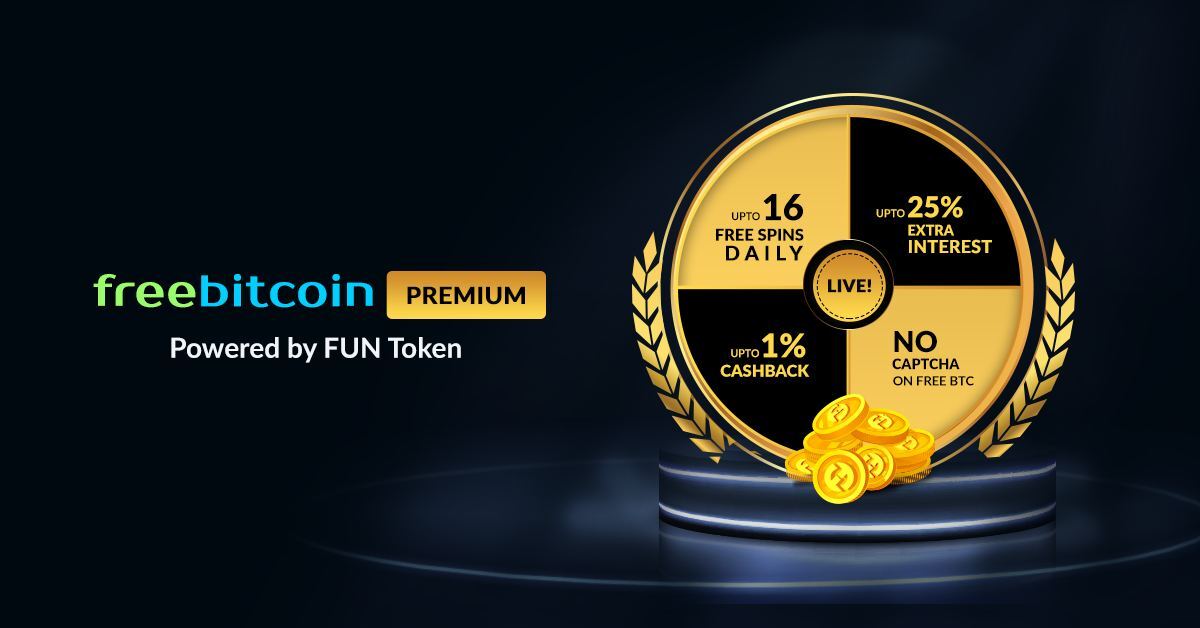 Hello everyone today I want to talk to you about FUN token. FUN token is a utility token created by the owners of freebit.co and it comes with many benefits for holders in the site. First let's explain the site!
𝐖𝐡𝐚𝐭 𝐢𝐬 𝐅𝐫𝐞𝐞𝐁𝐢𝐭.𝐜𝐨?
Freebit.co is a site where you can do the following
Roll every hour for a chance to win up to $200 in free Bitcoin
Place bets on popular worldwide events ( I just won 156$ from voting for the Rams in American football)
Hold Bitcoin for a APY (4-5%)
2 lotteries, one for a Lambo and one for Bitcoin
Daily wheal rolls with huge prizes up to a Rolex & 15,000$
Rewards points catalog with many prizes
Premium accounts with held FUN tokens
I've been using this site for many years now and it has proven to be a great asset. I really enjoy the APR for my held Bitcoin and the ability to place bets on my country's sports teams. I feel this could be a great asset for you all as well!
Now let's explain the Premium accounts
𝐅𝐔𝐍 𝐓𝐨𝐤𝐞𝐧 & 𝐏𝐫𝐞𝐦𝐢𝐮𝐦 𝐀𝐜𝐜𝐨𝐮𝐧𝐭𝐬
The Premium Membership program is designed in a way that the longer you hold FUN tokens, the greater your benefits will be. The initial benefits start after 1 day of holding the tokens in your FreeBitco account.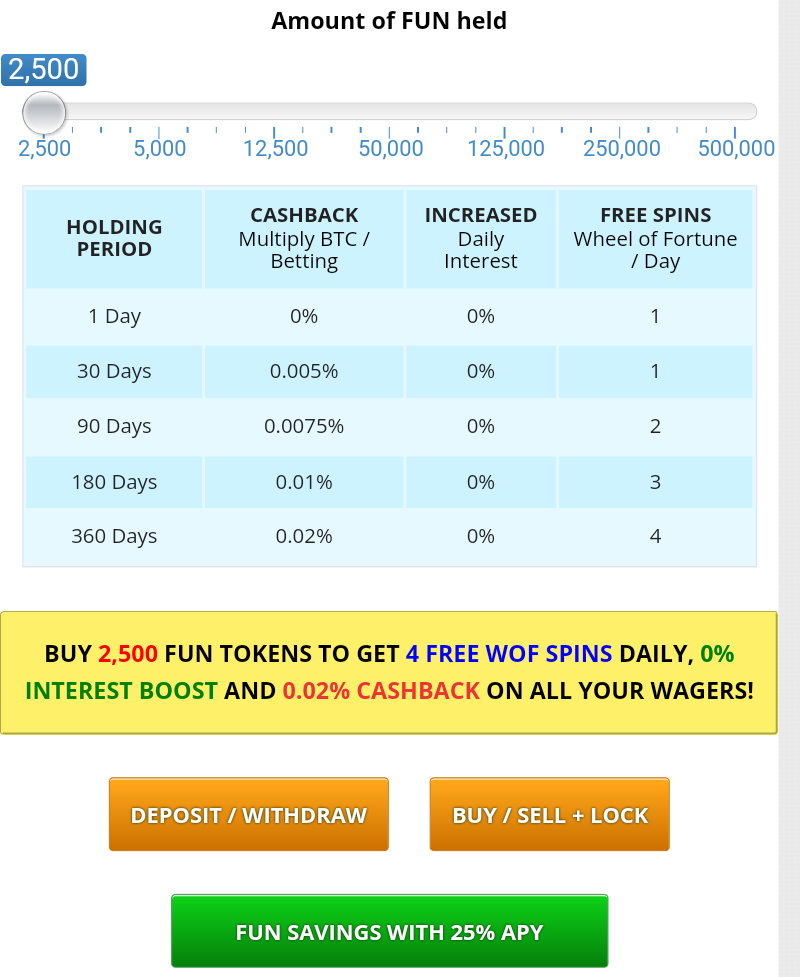 The image above is the benefits of locking fun tokens and we all know that if a token is held by investors the price gradually increases over time, the more holders accumulated. The more tokens you hold the bigger the benefits you receive.
You can hold coins and receive up to 25% apy on your locked tokens
Increase your cash back in the betting options
Receive more daily free spins with the rewards wheel
This is great because you can earn a passive income with freebit.co. (Money while sleeping 😴)
𝐇𝐨𝐰 𝐂𝐚𝐧 𝐈 𝐌𝐚𝐤𝐞 $$$ 𝐖𝐢𝐭𝐡 𝐅𝐔𝐍
FUN is tradeable on multiple exchanges including Binance, Bitfinex, OkEx, HitBTC, Changelly and Uniswap so you can turn your coins into more trendy coins like BTC or ETH.
𝐅𝐔𝐍 𝐓𝐨𝐤𝐞𝐧 𝐏𝐫𝐢𝐜𝐞 𝐏𝐫𝐞𝐝𝐢𝐜𝐭𝐢𝐨𝐧
Current Price
(0.0097$ A Coin 2/17/2022) - All Time High - 0.19$ A Coin!
With all these new benefits and new cryptos being created in this modern day I feel this coin can reach up to 5 cents to 6 cents a coin before 2023. I bought in a half a penny and sold at 2 cents now I'm reclaiming positions for a longer hold period. I feel the price of this coin is going to keep increasing because of all the passive earning options, everyone wants new passive incomes!
I hope this information provides value for you and I'll see you inside!
Click Here To Join Click Here To Join
---
---