2018 1 oz Grenada Silver Diving Paradise Coin.
Another great product of the EC8 here is the 2018 1 oz Grenada Silver Diving Paradise Coin.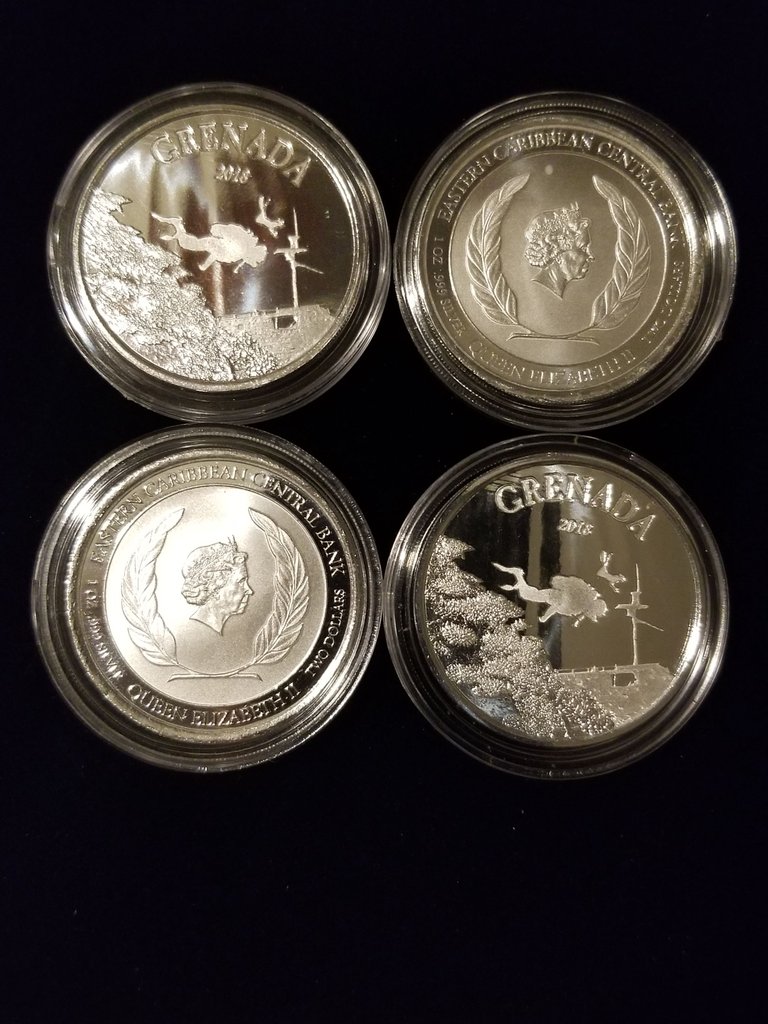 Since 2018 the Scottsdale Mint has been producing coins for the EC8 or Eastern Caribbean Bank consisting of Anguilla, Antigua and Barbuda, Commonwealth of Dominica, Grenada, Montserrat, Saint Kitts and Nevis, Saint Lucia and Saint Vincent and the Grenadines.
All 8 Countries have their own design and the design on the reverse side changes every year. The 2018 Grenada Diving Paradise Coin is the 4th coin in the series. Since Grenada is known for it's coral reefs and many ship wrecks it is a great spot for scuba divers so this is a very fitting theme to start off the first year of the series.
The reverse side features two divers swimming through the coral reefs and a ship wreck in the back ground. Across the top is the name of the Country and the year of issue.
The obverse side of all of the EC8 series is the same featuring a profile depiction of Queen Elizabeth II created by Ian Rank-Broadley.
Specifications
Year 2018
Mint Mark Not Shown
Purity .999
Manufacturer Scottsdale Mint
Thickness 3.2 mm
Diameter 39 mm
Condition Brilliant Uncirculated
Face Value $2
Issuing Country Grenada
Edge Design Reeded
Series Eastern Caribbean 8
CoA No
Mintage 25,000
Metal Weight 1 Troy Ounce


--- ---

---
---