2021 Equatorial Guinea 1 oz Silver Giraffe Coin.
2021 Equatorial Guinea 1 oz silver giraffe proof like coin.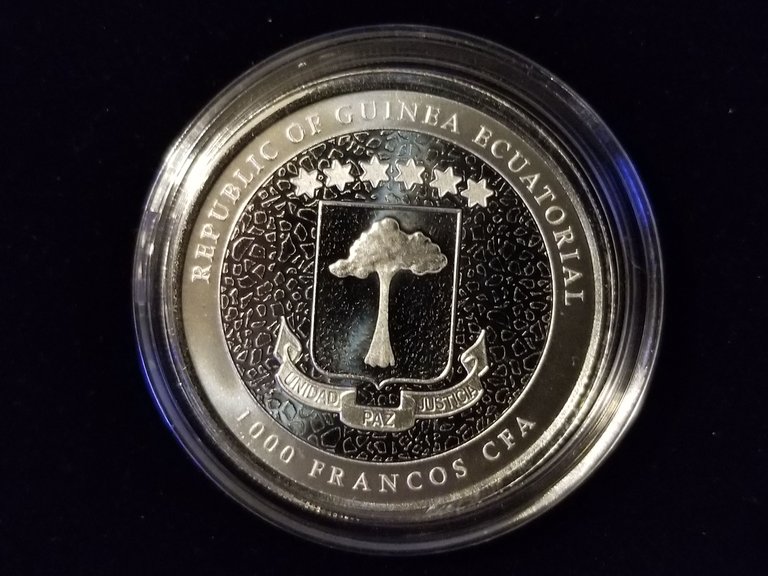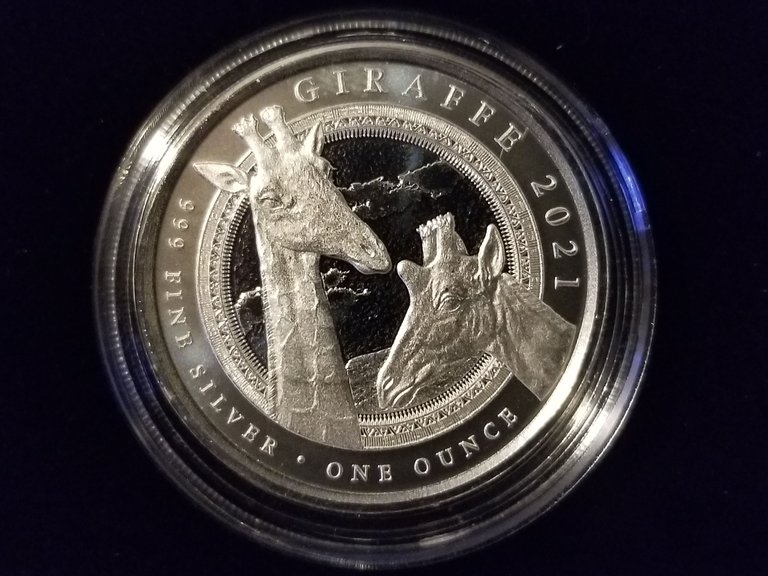 The Republic of Guinea Ecuatarial is a small Country of about 11,000 sq miles located near the center of the West coast of Africa. Gaining its independence from Spain in 1968 Equatorial Guinea consists of the mainland and 5 small islands.
The CFA Franc is the currency of 6 independent Countries of central Africa - Ecuatorial Guinea, Gabon, Republic of Congo, Cameroon, Central African Republic and Chad. The CFA Franc is issued by the Bank of Central African States who contracted the Scottsdale Mint to produce the Giraffe coin series.
The 2021 silver giraffe coin is the first in the series from Ecuatorial Guinea. I know there is a 2022 coin but I have not seen a 2023 coin yet so I do not know what is in store for the series.
The obverse side freatures the Ecuatorial Guinea coat of arms in the center. The coat of arms has six 6 pointed stars (representing the mainland and 5 islands) on the top, a shield with a silk cotton tree in the center and a banner with the motto in Spanish saying UNIDAD PAZ JUSTICIA, translated Unity, Peace, Justice. The outer rim of the image says REPUBLIC OF GUINEA ECUATORIAL on the top and 1000 FRANCOS CFA on the bottom.
The Reverse features two giraffe heads in the center with the Savanna in the background. The outer rim is inscribed with GIRAFFE 2021 on the top right and 999 FINE SILVER, ONE OUNCE on the bottom towards the left.
Specifications
Year 2022
Mint Mark Not Shown
Purity .999
Manufacturer Scottsdale Mint
Diameter 39 mm
Condition Brilliant Uncirculated
Face Value 1000 CFA Francs
Issuing Country Equatorial Guinea
Metal Weight 1 Troy Ounce ---

---
---