This Weeks Share Your Battle Challenge In Splinterlands And The 4 Cards I Used.
This weeks featured card in Splinterlands Share Your Battle Challenge is Dragon. You have the option of picking what ever Dragon card you want so I used 4 of them.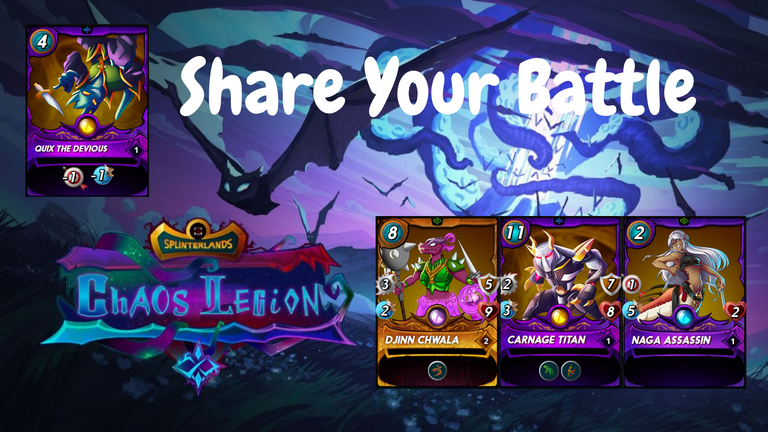 This Weeks Featured Cards:
Dragon
1st Card Quix The Devious
Addition: Chaos Legion
Mana: 4
Level: 1
Summoner
Ability: -1 Range attack and -1 Speed

2nd Card Djinn Chwala
Addition: Chaos Legion
Mana: 8
Level: 2
Attack: 3 Melee
Speed: 2
Armor 5
Health: 11
Ability: Thorns

3nd Card Carnage Titan
Addition: Chaos Legion
Mana: 11
Level: 1
Attack: 2 Melee
Speed: 3
Armor 7
Health: 8
Ability: Reach and Double Strike

4th Card Naga Assassin
Addition: Chaos Legion
Mana: 2
Level: 2
Attack: 1 Range
Speed: 5
Health: 2
Ability: None

I had a good deal of mana to play with in this battle so I was able to use a few nice monster to help me out you can see my featured battle here.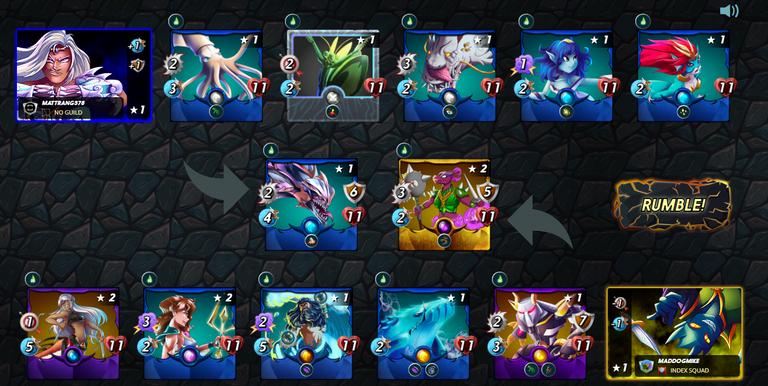 This was a 48 mana cap battle with the rules Noxious Fumes meaning all monster take poison damage at the end of each round. Also the rule Equalizer meaning all monster start off with the same health as the highest monsters health on either team.

My Line Up
Summoner
I used Quix The Devious who gives -1 Range attack and -1 Speed to all opposing monsters. I have this summoner at level 1 so I was able to use level 3 Common cards, level 2 Rare and Epic cards and level 1 Legendary cards. This is a solid summoner, you don't always get mush out of the -1 range attack but the -1 speed is very helpful.
1st Position
I Put Djinn Chwala with the Thorns ability doing damgage in retaliation of melee attacks she receives. This is a 8 mana card and has 9 health, 2 speed, 5 armor and 2 melee attack. This is a solid tank being most people put melee in the first position so she can take a few hits and deal out some good damage.
2nd Position
I used Carnage Titan with the Reach ability meaning it can do melee attacks from the second position and Double strike meaning it gets to turns every round. This is a 11 mana card and has 8 health, 3 speed, 7 armor and 2 melee attack. This is a beast of a monster to back up your tank when you have enough mana to play with.
3rd Position
I went with Baakjira with the Void ability meaning damage from magic attacks is reduced and Slow meaning opposing monsters lose 1 point speed. This is a 6 mana card that has 11 health and 2 speed.. Besides the slow ability this card is basically a target to last for a while so other monsters have the time to attack your apponent.
4th Position
I used Djinn Oshannus an 8 mana card with the Void ability redusing magic damage taken. It has 10 health and 5 speed and 2 magic attack. This is a great card you can put almost anywhere in your line up with a heavy attack, good health and high speed it can normally dish out some punishment before it gets taken out.
5th Position
I put Nerissa Tridawn a 9 mana card with 10 health, 3 magic attack and 2 speed. This is one of my favorite cards in the Water splinter, she has good health and hits hard doing a lot of damage before or if she ever gets killed.
6th Position
In the final position I threw in Naga Assassin 2 mana card with no ability 2 health, 1 range attack and 5 speed. I had 2 mana left and one spot in my line up so she fit in perfectly. In this battle she was boosted with 11 health at the start so I figured she could sit back safely give a little damage from the back of the line up.

With all the monsters starting off at 11 mana, even with both teams starting off poisoned it still took some time to finish this battle. It came down to the wire, if my opponent could have finished the round with at least 1 card I think it would have been a draw. Check out my battle here.
I hope you enjoy the battle and maybe even get some ideas in some of the strategy of the game. See you next time.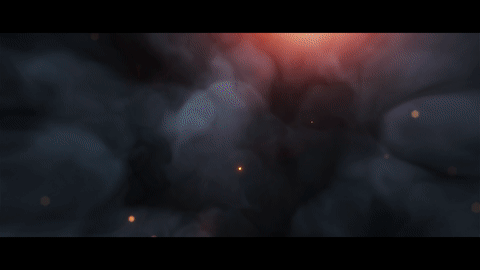 --- ---
---