3 Ways To Find a Niche or Topic at LeoFinance, Part 3: Intersection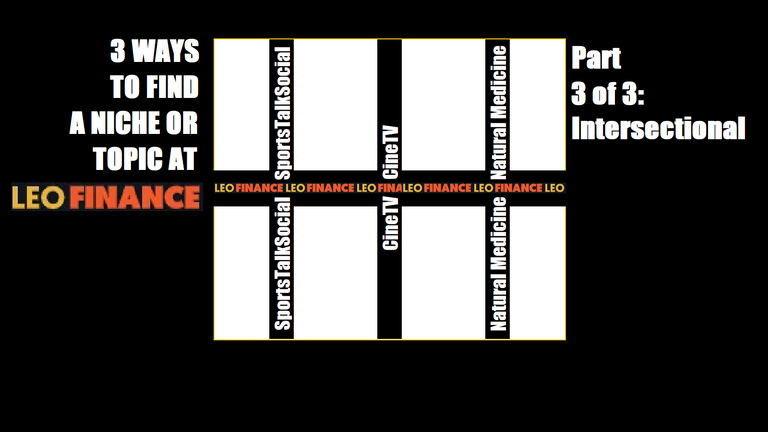 LeoFinance is a topic-specific community, but it's surprising what kind of posts are welcome. Find topic intersections.
---
Cover image made using MS Paint. Screen captue of "intersection" comes from MS Excel 2003. Repeated "LeoFinance" graphic made by @magnacarta.
---
Post Navigation
TL;DR -- General Outline (Part 2)
About Part 1 (Definition) and Part 2 (List)
3 Ways To Find a Niche or Topic
🗺️ Intersectional: Can An Interest Intersect with Finance?

Consider This Example Going in the Other Direction:
Here's an Even Better Example (also from the Natural Medicine Community):

Bottom Line for Intersection
Just My Two Sats
Post Navigation
"Thank You for Reading"
---
About Part 1 (Definition) and Part 2 (List)
The Definition approach to finding a niche to cover or a topic to write about at LeoFinance just starts with a definition of the term "finance". It's a basic way to start at the beginning and then to drill down to something more specific which produces results we can use.
The List approach may be based on the Definition approach, but it's not required. All that's needed is time to brainstorm as many ideas as possible and see which ones make most sense for a niche or post topic. Unlike a to-do list which is meant to be cleared out, a topic list is meant to be added to continuously as it is mined for post ideas.
3 Ways To Find a Niche or Topic
If Finance is part of your background in any way, you're done! Just engage, post, then engage some more. Also, if you see gaps in this post (or in Parts 1 or 2), feel free to fill in the gaps with your suggestions in the comments.
Based on comments I've made in numerous posts, these are the 3 ways or approaches we can use to find our niche or topic:
📖 Definitional
📑 List
🗺️ Intersectional 👈
We can combine these ways to generate more niches or topics; after all, nothing is etched in stone. The previous posts featured the Definition and List approach. Let's conclude the discussion with the Intersectional approach.
🗺️ Intersectional: Can An Interest Intersect with Finance?
Rather than keep track of list items, finding a niche or topic to write about at LeoFinance may come down to answering one question:
👉 How does my topic intersect with crypto or finance? 👈
Answer this question, and you can post here.
Hivers from some communities would have an easier time finding posts to publish at LeoFinance, and that's to be expected. For Hivers from communities where an intersection may not be obvious, can the question be answered?
Consider This Example Going in the Other Direction:
Can someone from the Natural Medicine community publish a post to LeoFinance? This may seem like an odd question at first, but let's consider these points:
Given what's happened since the end of 2019, how much easier or more difficult has it become to acquire certain ingredients or materials?
How much more expensive has it become to acquire ingredients or materials?
If certain ingredients are harder to come by these days, are there any acceptable substitutes which achieve the same results? At what cost?
Given the shortage in baby formula as of June 2022, in what ways would the Natural Medicine community be unaffected or even be seen as offering a solution to the shortage?
I have minimal to zero experience with the Natural Medicine (or Lotus) community, but someday I may wish to publish a post there. While I could have found a topic purely in keeping with the theme of natural medicine, I tried approaching it intersectionaly from the other direction as a Leo.
How did I come up with the above points?
Supply chain issues have made things difficult for nearly all of us.
Asset inflation has moved into price inflation in recent years, and energy policy changes have triggered an inflationary spiral worldwide.
Wars and rumors of wars have revealed to the rest of the world where the major parties rank in the production or export of certain raw materials or commodities.
No matter who we are, and no matter the communities where we publish most of our posts, we've been affected by those economic factors. Just with these points we an find a way to intersect our community interest with what LeoFinance expects as qualifying post topics.
Here's an Even Better Example (also from the Natural Medicine Community):
On 2022-May-11 @kennysplash published this post at Natural Medicine:
The post was published in the Natural Medicine community, but it could have easily found a place at LeoFinance within these niches:
personal fiannce;
home finance;
home budgeting;
home economics;
scarcity;
resource management.
It even includes a reference to how consumer price inflation is affecting his ability to purchase what he needs to buy food or materials needed to grow food.
The least I could do was leave a comment suggesting that he repost at LeoFinance using headers and slight rewording.
Bottom Line for Intersection
The Intersectional Approach is just as useful in either direction. It's based on the answer to one question: How can I find a way to make my content be suitable for publishing in this community?
For some communities, the answer to that question is easier to find than for others. As a Leo, I wanted to show how I could find a way to publish a post in a community where normally I don't find myself.
Just My Two Sats
After the excitement of publishing a few posts at Hive or LeoFinance wears off, we find ourselves tapped out for topics. We may find ourselves in some sort of wilderness trying to find a niche we can call our own, or at least find a source of topics to post about.
While trying to answer this question not just for myself but for my fellow Hivers and Leos over a number of comments, I came up with 3 approaches we could use to solve our problems:
📖 Definition -- Use the definition of "finance" as a starting point;
📑 List -- Brainstorm a list of niches or topics suiable for LeoFiannce;
🗺️ Intersectional -- How can my interest intersect with LeoFiannce?
Whether we write posts occasionally for LeoFinance or choose a niche to call our own for regular posting, these 3 approaches should give us whatever we need to find content we can use for our writing as well as another reason to engage with our fellow Hivers and Leos.
Are there any other approaches we can consider for finding niches or topics we can write about? Which approach or approaches work better for you?
Post Navigation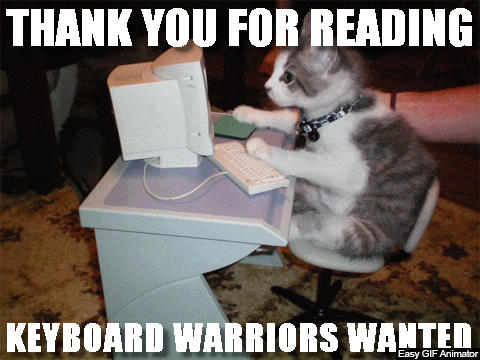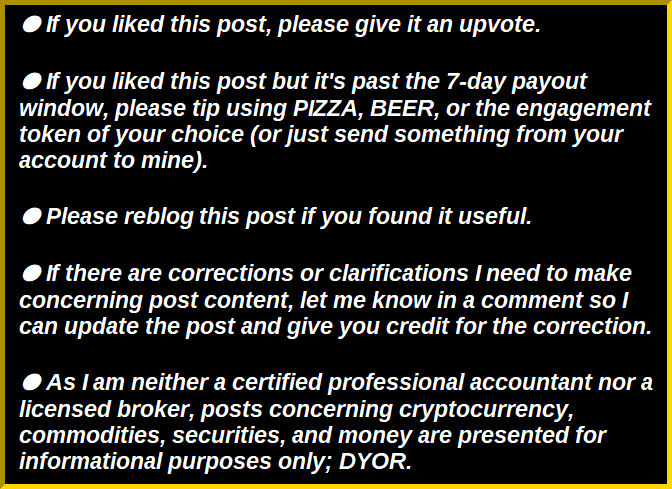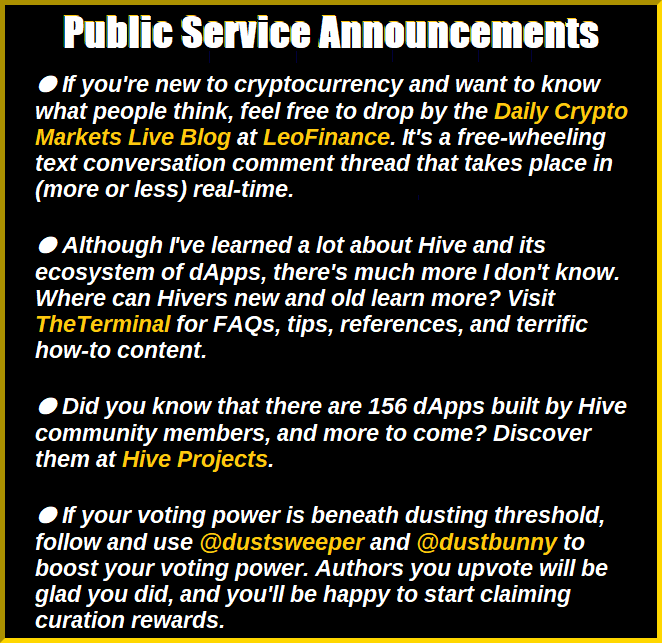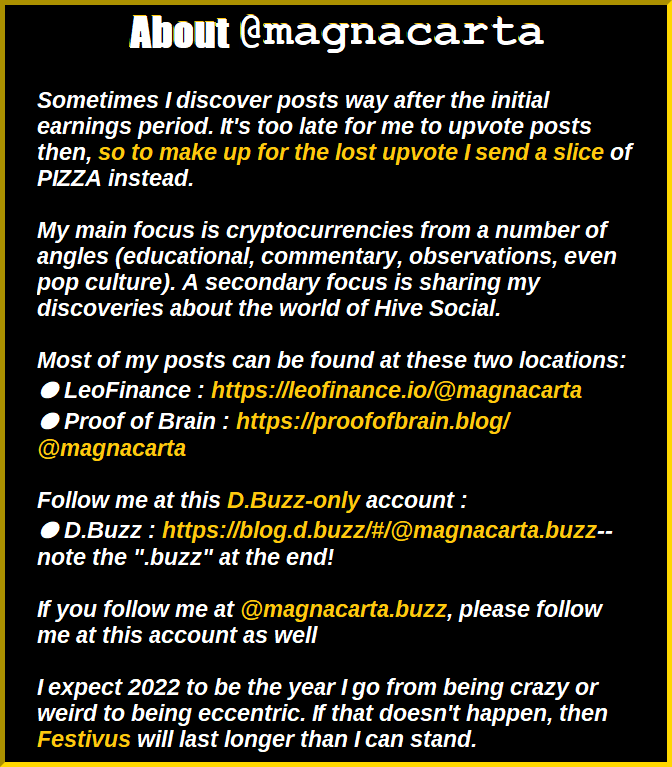 Posted Using LeoFinance Beta
---
---