How Do Shillers and Marketers Relate?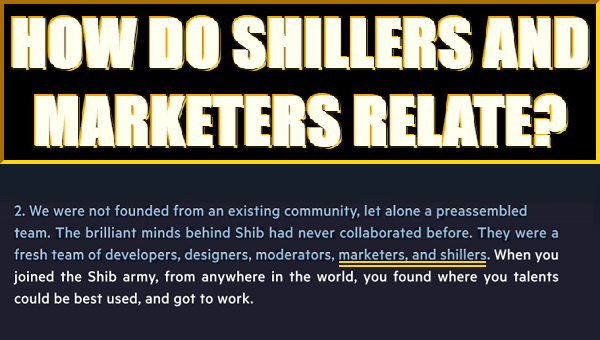 While doing research for a post comparing the Shiba Inu token released in 2020 with Dogecoin I encountered this sentence from the "Woofpaper" for SHIB (also part of the cover image):
2. We were not founded from an existing community, let alone a preassembled team. The brilliant minds behind Shib had never collaborated before. They were a fresh team of developers, designers, moderators, marketers, and shillers....
(Emphasis added)
Normally I would post ideas and opinions on some topic or other, but this time I'm posting questions.
Aren't shillers also marketers?
Aren't marketers also shillers?
Assuming that differences exist-- otherwise why have different words?-- how are they different?
Are the terms interchangeable? Should they be interchangeable?
How do shillers and marketers relate?
Are shillers marketers who operate in a narrow lane?
Although the questions were spawned by research into Shiba Inu and Dogecoin, the questions should be just as relevant to us at Hive at both Layer 1 and Layer 2.
In everyday living, terms based on the root word "shill" tend to have a negative connotation; think the selling of used cars, insurance, or altcoins such as SafeMoon.
However, "shill" must have a specific meaning in the marketing arena. In this context, it looks to me as if it's neither bad nor good but simply a word like any other. I'm OK with this: words mean different things to outsiders and insiders.
So what is the role of a shiller?
Once the questions are answered, it becomes a matter of applying that new (for me) knowledge to Hive, its Layer 2 tokens, its dApps, the blockchain, its use cases, and even educational content.
---
Marketing is a valuable skill to learn and master since it can be used in virtually all aspects of life (including job hunting and dating). I'm coming to the marketing world as a novice with other kinds of knowledge, so I'm learning as I go along. This is why I come to the experts and role models in both Loving HIVE ❤ and ClickTrackProfit.
Whatever answers and knowledge you provide would be greatly appreciated.
---
---