Index4INDEX Card 223: Shannon Miller 1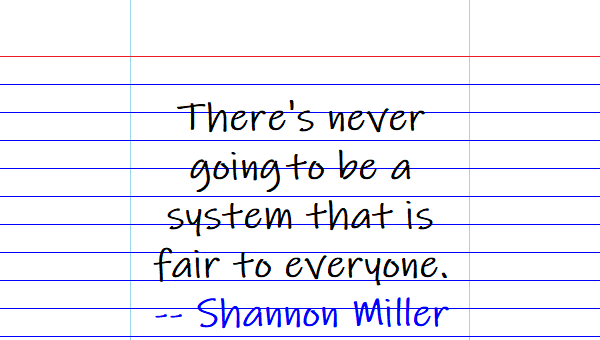 There's never going to be a system that is fair to everyone.
-- Shannon Miller
---
About the Quote
When it comes to the systems under which we live, some degree of unfairness is to be expected.
For example, while everyone knows that Candidate A is better for the office of President or Prime Minister than Candidate B, Candidate A may not satisfy residency or citizenship requirements. So Candidate A has to drop out to make room for Candidate C. Candidate C is a worse candidate than Candidate B, so Candidate B ends up winning election (or appointment).
Then there is a local election where rules are written to benefit major political parties over minor parties: signature requirements, campaign finance rules, access to funding, etc.
Sports isn't spared from unfairness, either:
Although the rules are the same for all players, some players have in-born advantages such as height, mass, intelligence, or some combination of these. * For certain sports (golf, tennis, equestrian, etc.), advantages over others come from wealth and access to resources most people don't even know exist.
Even after the above advantages have been nullified, there is still the playoff tournament-- a non-playoff team may actually have a better record than some other division winner; seeding could be done in one massive block rather than by region or conference.
The best we can expect from any system is to ensure fairness to the greatest number of people possible and to minimize instances of unfairness as noted above.
---
Some Information about Shannon Miller
Shannon Lee Miller was born in Rolla, Missouri, US on 1977-March-10.
Shannon Miller is media personality, program host across various platforms, author, motivational speaker, and a health and wellness advocate. She is better known as one of the greatest gymastics athletes in US history, male or female.
Shannon Miller began her gymnastics career at an eary age, taking classes and competing in meets. In 1988, at 11, she won her first junior division gymnastics meet at the US Classic. Thanks to her performance at the 1990 Catania Cup in Italy--
| Medal | Event |
| --- | --- |
| Gold | Vault |
| Gold | Balance Beam |
| Gold | Floor Exercise |
| Silver | Uneven Bars |
-- she won won the all-around title in that competition. During the 1990s she would continue to win and earn honors, and she often won all-around titles as the best overall gymnast across all disciplines.
While most elite gymnasts were event specialists, Shannon Miller distinguished herself by her versatility in all gymnastics disciplines. Although not unprecedented, she was the first-ever American gymnast to qualify for all four individual events at the World Championships (1991).
-- Source
---
Post Details
Index4INDEX image made by @magnacarta using MS Paint.
Quotes I use for Index4INDEX are stored in an Excel 2003 spreadsheet. Recently I added database functionality for limited searching.
---
Other Recent Quotes
---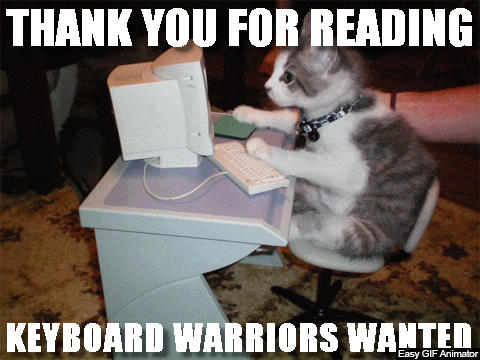 ---
---
Do you like posting short bursts of text? Do it 240-characters at a time at LeoThreads.
---
---
---