Index4INDEX Card 224: Vince Lombardi 3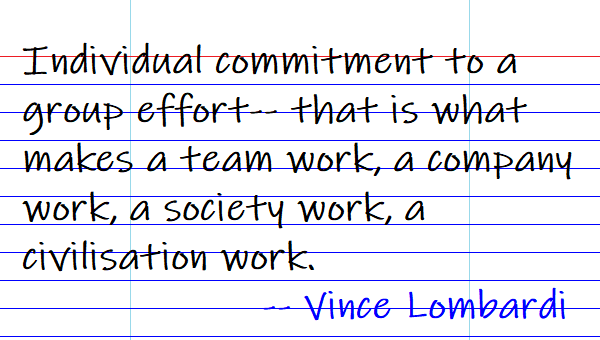 Individual commitment to a group effort-- that is what makes a team work, a company work, a society work, a civilisation work.
-- Vince Lombardi
---
About the Quote
If a defending champion defends its championship against a lesser opponent but giver zero effort in the title defense, a new champion is crowned. The former champion may be of Hall of Fame-caliber. The former champion may have the most talent ever seen The former champion may even have all the advantages (legal and illegal). However, the former champion became "former" due to lack of effort. All this is as true for teams as it is for individuals.
When a team is organized, on its first day it will be disorganized to some degree. It will include people with diverse backgrounds (statuses, religious persuasions, national origins, geographic locations, ages, communication skills, emotional intelligence, ...).
What's needed is for this group of individuals to buy into their inclusion into a team and to make the teams goals their own goals. Each team does this to some degree or other. Whichever team does this best will be the standard by which all other teams should aspire. Along the way, other teams achieve some measure of success.
---
Some Information about Vince Lombardi
Vincent Thomas Lombardi was born in Brooklyn, New York, US on 1913-June-11. He died in Washington, District of Columbia, US on 1970-September-3.
Vince Lombardi is best known as one of the most successful head coaches in the history of the National Football League (NFL), leading the formerly moribund Green Bay Packers franchise to 7 championships-- including the first 2 Super Bowls-- during his 9 seasons coaching The Pack. Vince Lombardi was inducted into the Pro Football Hall of Fame in Canton, Ohio, US.
When he attended Fordham University in Bronx, New York, US, he was both a scholar and an athlete. When he was on the football team there, he was part of a group of linemen known at the time as "Seven Blocks of Granite." After graduating from Fordham University with a Bachelor's in Business Administration, he studied law there. For a brief time after his studied he played football in a semi-profesisonal league. When his semi-pro days were over in 1939, he went into coaching as an assistant football coach for a high school.
Vince Lombardi served as an assistant coach at Fordham University (1947-48), at the United States Military Academy for the Army team at West Point, New York, US (1949-1953), and then for the New York Giants of the NFL (1954-1958). It was in 1959 that he was hired by the Green Bay Packers to be both head coach and general manager of the franchise based in Green Bay, Wisconsin, US.
-- Source
---
Post Details
Index4INDEX image made by @magnacarta using MS Paint.
Quotes I use for Index4INDEX are stored in an Excel 2003 spreadsheet. Recently I added database functionality for limited searching.
---
Other quotes by Vince Lombardi
---
Other Recent Quotes
---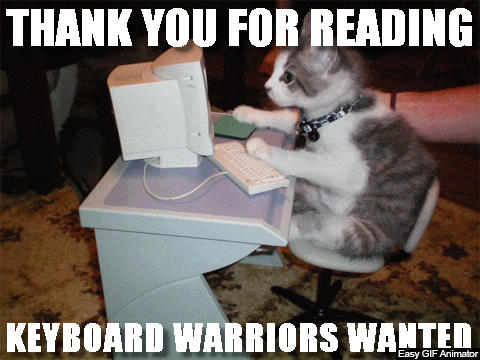 ---
---
Do you like posting short bursts of text? Do it 240-characters at a time at LeoThreads.
---
---
---