One Way To Prepare a Threadstorm at LeoThreads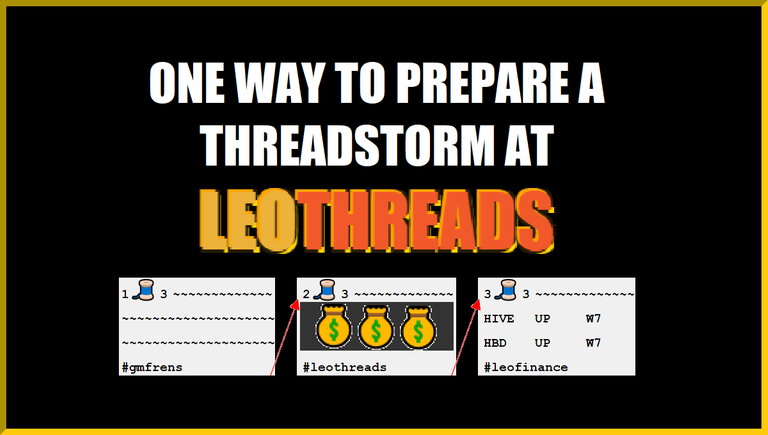 When it comes to posting threadstorms, there are details which need to be taken into account so it gets posted properly.
---
Cover image made using MS Paint for all edits.

Threadstorm graphic originally made using Excel 2003

Emojis used inside Threadstorm graphic.
---
LeoThreads was launched 2022-August-4, and it has come a long way in just over 6 weeks. During this time, a number of conventions from the leading microblogging platform in Web2 have been adopted. One of these is the "storm"; at LeoThreads, it's called a threadstorm.
Types of Threadstorms
Unlike a threadscast, which can be a running conversation involving 2 or more threaders, a threadstorm is one of 2 things:
many unrelated or semi-related posts by one author made in a short period of time;
a series of threads related to some topic the threader wants to cover.
The first type of threadstorm is similar to a live blog of some event happening in real-time. The threads themselves can feature random topics.
The second type of threadstorm is more like a long post broken into 240-character chunks of text. One thread acts as a container for the rest.
Each Thread Is 240 Characters Long. Right?
It's one thing to post threads of 240 characters each. It's something else to post related threads in a way which maintains readability and cohesion.
Like blocks in blockchain, threads need to be related somehow. While important, these markers will reduce the number of characters left for content.
Then there are hashtags. If they are included, they can consume characters quickly. This reduces characters for content further.
So a thread that's 240 characters long can end up with-- in some cases-- just 200 characters for actual content. That's just the nature of microblogging.
🧵 🧵 🧵 🧵 🧵 🧵 🧵 🧵 🧵 🧵
Details To Consider
🧵 Headers for Thread Position in Threadstorm
Each thread in a threadstorm has its place, and it needs to be marked. Usually it's something like 1/n; this varies by author. It could even be something like (continued from n), but that's prone to text removal. Whatever header is used to link back to the previous thread, stick with it.
🧵 Footers for Hashtags
Should hashtags be repeated on each thread in a threadstorm? That's a judgment call. If yes, decide on essential hashtags and optional hashtags.
🧵 Markdown & HTML codes Count as Text
LeoThreads will convert Markdown/HTML with URLs into clickable hyperlinks. Markdown (or even HTML) for picture files get rendered into images. Even formatting such as bold and italics get rendered as expected.
However, as the threads are being composed, LeoThreads counts each character used by the Markdown & HTML codes as part of the 240-character thread. At this point, it's just raw text (as it would appear in Hiveblocks).
🧵 🧵 🧵 🧵 🧵 🧵 🧵 🧵 🧵 🧵
Planning the Threadstorm
Lay Out the Threads
Just type the content. It could be simple tables of prices as raw text, or a post from last year.

Break up the content at either at 240 characters or where it makes sense.

Insert the headers. For 1/n, for example, don't worry about n during the writing process.

👉 Once all threads are in place will n be replaced by the actual count of threads.

Insert the footers. Include both essential and optional hashtags.
Adjust the Threads
Count the characters. If the thread is longer than 240 characters, edit:

Longer than 240 characters? Start removing optional hashtags.
Still longer than 240 characters? Treat the thread like a text message.

Shift content to another thread.

Most likely, it needs to be shifted to the next thread.
If space permits in the previous thread, shift to that one.
Count the Threads
After all threads are confirmed to be 240 characters long or less, determine how many threads make up the threadstorm. Whatever that number is, replace n in the header with that number.
🧵 🧵 🧵 🧵 🧵 🧵 🧵 🧵 🧵 🧵
Posting That Threadstorm
Recent updates have improved LeoThreads performance dramatically. Threads are posted faster, which makes it easier to post a threadstorm.
Post the Container First
Begin the threadstorm with a container post which briefly explains what readers can expect to find. The rest of the threadstorm will be posted as subthreads (replies) to this thread (post).
Post Remaining Threads as Children of the Container
Post each thread in sequential order from start to finish.
As each thread gets posted, previous threads get pushed lower on the screen. This means that during the posting process Thread 21 appears above Thread 20.
Don't worry about that. When the page is refreshed at the end, the threadstorm will appear as intended (Thread 1, followed by Thread 2, etc.)
🧵 🧵 🧵 🧵 🧵 🧵 🧵 🧵 🧵 🧵
Just My Two Sats
Just as Twitter has Tweetstorms, LeoThreads has Threadstorms.
While it's possible to do threadstorms with no thought beforehand, it's not a pleasant experience. Hashtags can kill characters left for thread content. Keeping track of thread numbers can be tricky. Threadstorms end up as one hideously long text message.
Each 240-character thread has a header for thread number, a body for the content, and a footer for hashtags. Once this format is established, the threadstorm can be planned from start to finish.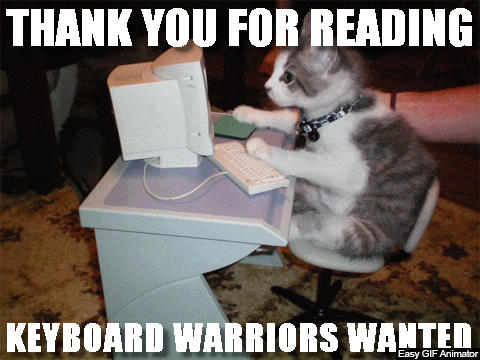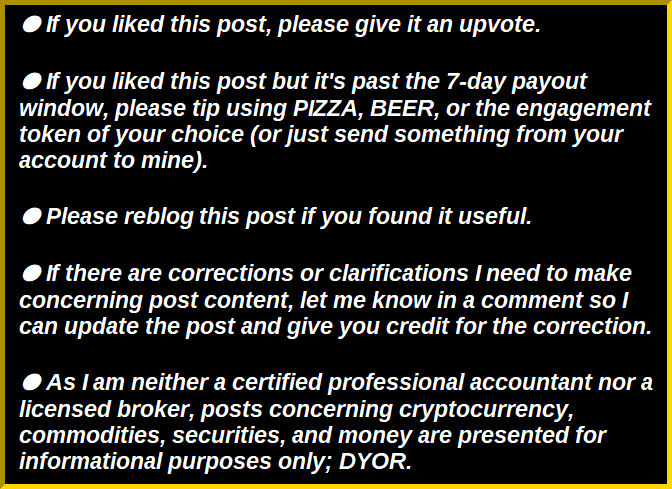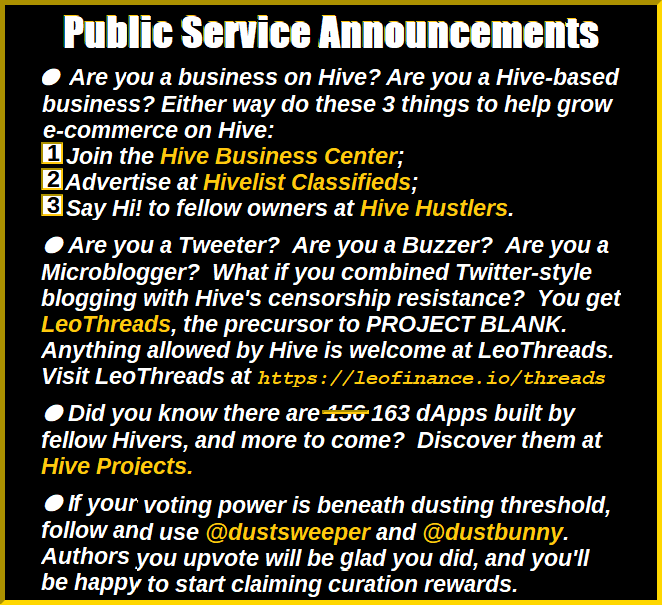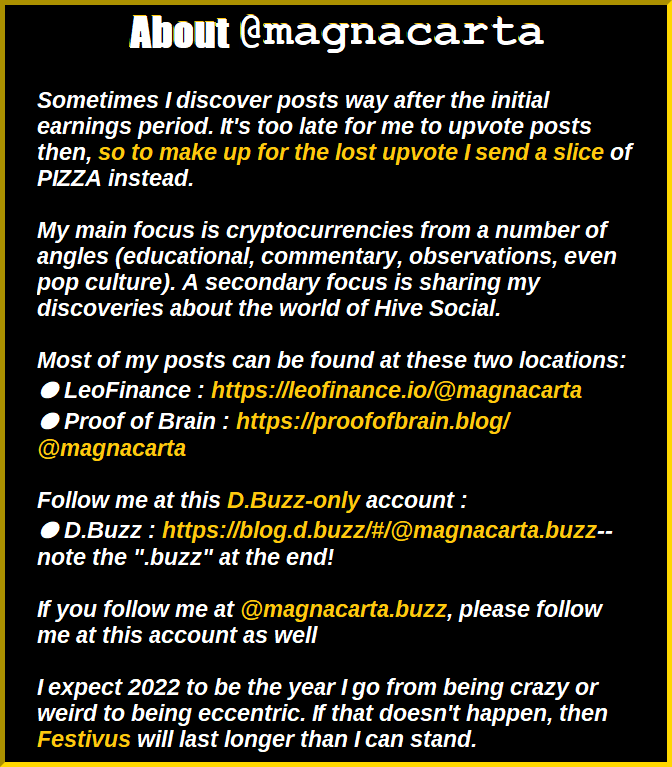 Posted Using LeoFinance Beta
---
---