DinoSwap Raises $4.7M from Top Venture Capital Funds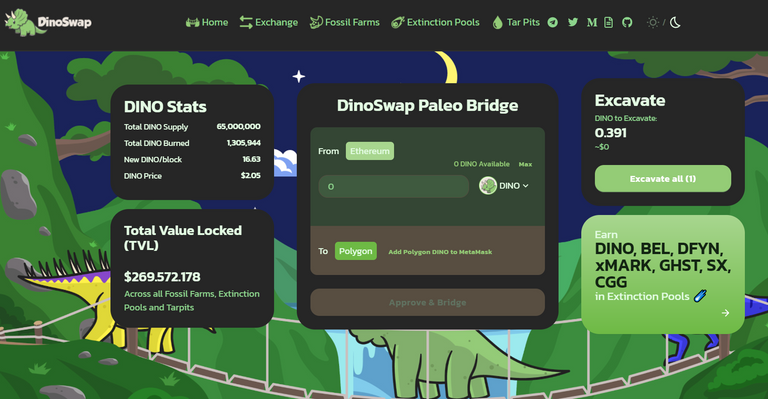 Hello HODLers,
I'm having profits farming on DinoSwap so I would like to share with you further info because this project has the potential to become a multichain PancakeSwap. On July 17th DinoSwap has been launched on Polygon, but DinoSwap is a multi-chain infrastructure project that builds liquidity for layer-one blockchains, AMMs and partnering projects. So DinoSwap aims to provide a secure, dynamic, and fun farming solution for DeFi. DinoSwap aims to bridge liquidity between all top blockchains to the benefit of everyone. DinoSwap features "Fossil Farms", "Extinction Pools", a DEX aggregator, and more for users to get the highest yield regardless of their native blockchain.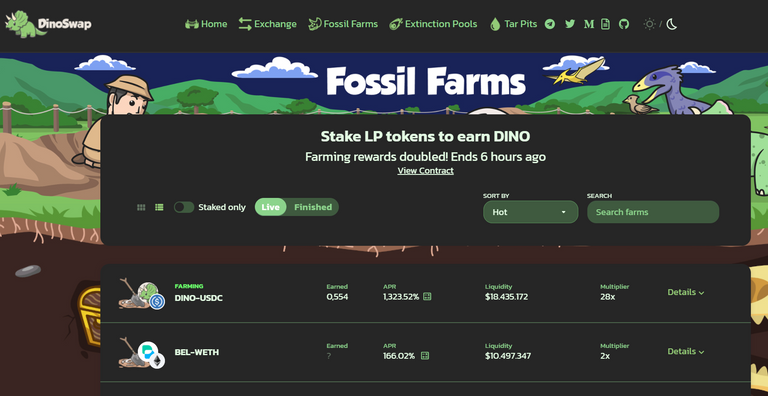 But what really impressed me, is that this project is backed by famous Venture Capital Investors and this makes the project much more reliable in my opinion. This what they published on the Official Medium:
Investors and Funding
DinoSwap strategically aligned itself with some of the best investors in the space to maximize the potential of our platform and realize the value of bridging liquidity across multiple blockchains. Specifically, we will work closely with our investors to leverage their contacts in order to accelerate our growth and expansion. The funds will be used to develop bridging solutions that are easy-to-use and expand our team. As part of the effort to promote rapid growth, funds will also be allocated towards bootstrapping liquidity and to accelerate marketing. We envision DinoSwap quickly becoming a one-stop-shop for efficient yield generation and asset management for DeFi. Liquidity is our top priority and the key to our success. By introducing DinoSwap as a state of the art farming platform with verifiably secure contracts, we intend to work closely with the top DeFi ecosystems across all L1's and create an interconnected farming hub accessible to everyone anywhere in the world.
We are pleased to announce that DinoSwap has secured $4.7 million in investment from leading DeFi investors, including our anchor fund Hashed, Defiance, Spartan, Digital Finance Group, Linkpad, ClusterVC NeptuneDao, Coin 98, Cinchblock, SVC, AngelDao, OKEx (Blockdream), Kosmos, Synaps, and Pluto VC.
Community Contacts:
Website: https://dinoswap.exchange/
Telegram Announcements: https://t.me/DinoSwapAnn
Telegram Community: https://t.me/DinoSwapOfficial
Twitter: https://twitter.com/DinoSwapHQ
Medium: https://medium.com/dinoswapofficial
Discord: https://discord.gg/MMcNJJQy4y
Reddit: https://www.reddit.com/r/DinoSwapOfficial
Discord: https://discord.com/invite/MMcNJJQy4y
Gitbook: http://docs.dinoswap.exchange/
Audit: https://www.certik.org/projects/dinoswap
CoinGecko: https://www.coingecko.com/en/coins/dinoswap
CoinMarketCap: https://coinmarketcap.com/currencies/dinoswap/
$DINO Contract Address: 0xAa9654BECca45B5BDFA5ac646c939C62b527D394
Transferring Funds to Polygon:
From ETH to Polygon -> Matic Bridge
From BSC, XDAI to Polygon -> XPollinate
Direct transfers from Kucoin, Gate.Io and AscendEx
This is NOT a financial advise!
Torum: The first social media platform specially designed for cryptocurrency users.
Join Torum, the first social media platform built for cryptocurrency communities around the world, and earn XTM (XTorum) rewards for your daily and weekly engagement. XTM is the BEP-20 utility token of Torum ecosystem and will be listed on exchanges in Q3 2021. Read Torum Whitepaper to figure out XTM token use-cases and the potential of the ecosystem (Crypto-social + DeFi platform + NFT marketplace): https://whitepaper.s3.us-east-2.amazonaws.com/torum-whitepaper-V3.0-EN.pdf
Sign up with my referral link and earn 35 XTM airdrop after email and phone verification: https://www.torum.com/signup?referral_code=makeitreal
---
---