DinoSwap: the Next PancakeSwap on Polygon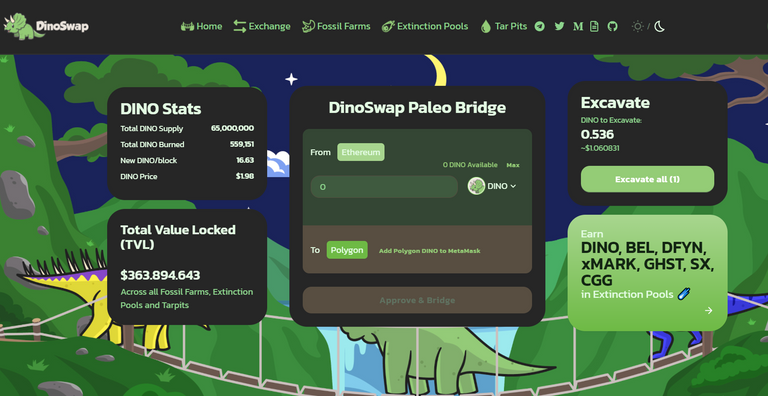 Hello HODLers,
Today I'd like to talk about a new project that has the potential to become the next PancakeSwap on Polygon blockchain. This project got my attention because it raises $4.7M led Top Crypto Venture Capital Funds:
We are pleased to announce that DinoSwap has secured $4.7 million in investment from leading DeFi investors, including our anchor fund Hashed, Defiance, Spartan, Digital Finance Group, Linkpad, ClusterVC NeptuneDao, Coin 98, Cinchblock, SVC, AngelDao, OKEx (Blockdream), Kosmos, Synaps, and Pluto VC.
Introduction to DinoSwap
DinoSwap is a cross-chain infrastructure platform that builds liquidity for layer-one blockchains, AMMs and partnering projects. We are proud to call Polygon our home base because we will have velociraptor fast and prehistorically cheap transactions for farmers! Yield Farmers will soon enter the exciting world of DinoSwap where they will earn DINO and other project tokens, while contributing to the growth of the broader Polygon ecosystem.
An overwhelming majority of yield farms on Polygon are short-lived "pump and dump" projects which stunt the expansion of overall network progress. Why? They are predominantly modeled around single-asset staking, which attracts users with high APY percentages in the form of a farming token that holds no real use case. For this reason, many of these projects die out quickly. DinoSwap, on the contrary, erupts liquidity throughout the entire Polygon network (and beyond), encouraging yield farmers to provide the necessary liquidity to drive project growth. DinoSwap consults with projects prior to listing to ensure our values align, and we always focus on quality over quantity.
DinoSwap features:
DinoSwap DEX: Users have the ability to swap tokens via existing AMMs on Polygon without ever having to leave the DinoSwap platform. Swaps are routed through existing AMMs (QuickSwap, with SushiSwap to follow soon). DinoSwap will charge no fees for utilizing the DEX interface.
Fossil Farms: Users can stake their SushiSwap and QuickSwap LP tokens to earn ferociously insane DINO token rewards. Industry leading APY — now that's A LOT of DINO!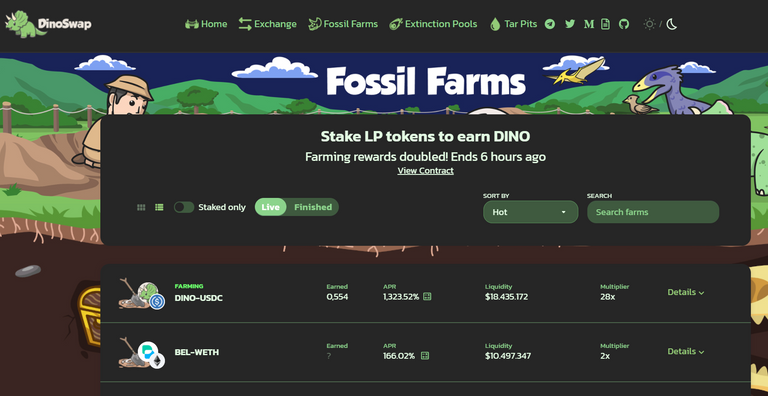 Extinction Pools: Users can stake DINO tokens & earn rewards in our partnering project's tokens. These pools have special features and we'll announce more soon, just watch out for the asteroids!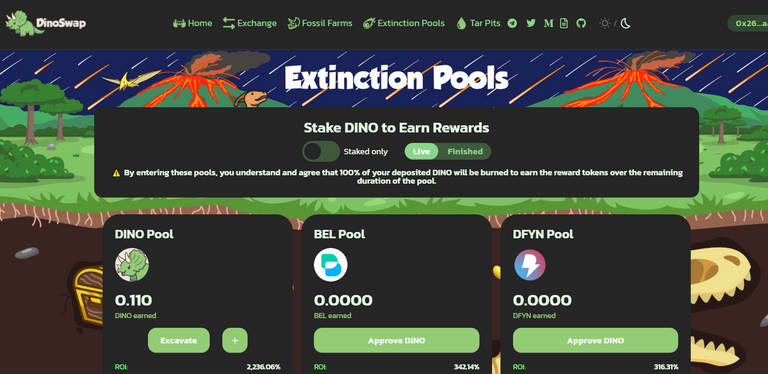 Website: https://dinoswap.exchange/
Telegram Announcements: https://t.me/DinoSwapAnn
Telegram Community: https://t.me/DinoSwapOfficial
Twitter: https://twitter.com/DinoSwapHQ
Medium: https://medium.com/dinoswapofficial
Discord: https://discord.gg/MMcNJJQy4y
Reddit: https://www.reddit.com/r/DinoSwapOfficial
Discord: https://discord.com/invite/MMcNJJQy4y
Gitbook: http://docs.dinoswap.exchange/
Audit: https://www.certik.org/projects/dinoswap
CoinGecko: https://www.coingecko.com/en/coins/dinoswap
CoinMarketCap: https://coinmarketcap.com/currencies/dinoswap/
$DINO Contract Address: 0xAa9654BECca45B5BDFA5ac646c939C62b527D394
Transferring Funds to Polygon:
From ETH to Polygon -> Matic Bridge
From BSC, XDAI to Polygon -> XPollinate
Direct transfers from Kucoin, Gate.Io and AscendEx
Torum: The first social media platform specially designed for cryptocurrency users.
Join Torum, the first social media platform built for cryptocurrency communities around the world, and earn XTM (XTorum) rewards for your daily and weekly engagement. XTM is the BEP-20 utility token of Torum ecosystem and will be listed on exchanges in Q3 2021. Read Torum Whitepaper to figure out XTM token use-cases and the potential of the ecosystem (Crypto-social + DeFi platform + NFT marketplace): https://whitepaper.s3.us-east-2.amazonaws.com/torum-whitepaper-V3.0-EN.pdf
Sign up with my referral link and earn 35 XTM airdrop after email and phone verification: https://www.torum.com/signup?referral_code=makeitreal

---
---