Introduction to DinoSwap, the next-generation PancakeSwap
Hello HODLers,
I'd like to share with you an introduction about one the youngest but already most trending DeFi project on Polygon. I'm talking about DinoSwap, the cross-chain infrastructure project that builds liquidity for layer-one blockchains, AMMs and partnering projects and I'm farming there since 3 days. I gotta say that I'm pretty satisfied for the moment as I earn a 3% reward for providing liquidity for DINO-USDC and DINO token is having a constant growth starting from July 18th (source: https://polygon.poocoin.app/tokens/0xaa9654becca45b5bdfa5ac646c939c62b527d394).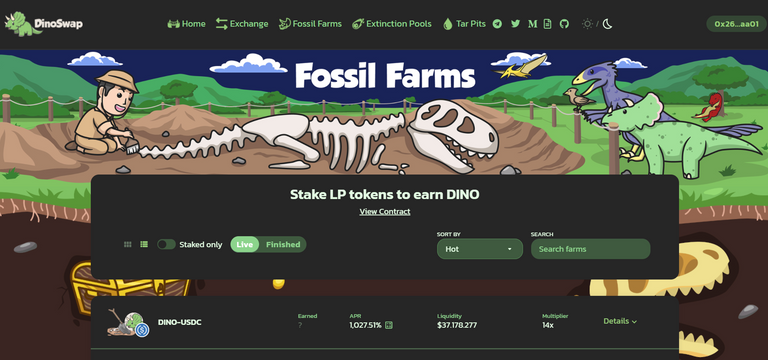 Yesterday the developing team had an AMA and during the event the founders claimed that they're focused on building the key infrastructure to boost $DINO utility. Here's a recap of key roadmap items from yesterday's AMA.
DinoSwap AMM (DEX)
Multi-chain Bridge
Non-burn $DINO pool
Tar Pits with enhanced returns
Gamification Products
Governance Integration
Why Polygon?
We want DinoSwap to be accessible to all cold-blooded bipeds around the world. That's why we chose Polygon, where no one is priced out from participating. Polygon has an easy cross-continental bridge, so you can bring your tokens from Ethereum or other blockchains onto Polygon.
Important Links
To explore cool Dino products, please select from the following links below:
Home: https://dinoswap.exchange
Exchange: https://trade.dinoswap.exchange/#/swap
Fossil Farms: https://dinoswap.exchange/farms
Extinction Pools: https://dinoswap.exchange/pools
Tar Pit: https://dinoswap.exchange/tarpits
To join your fellow Dinos on socials:
DinoSwap Twitter: https://twitter.com/DinoSwapHQ
DinoSwap Telegram: https://t.me/DinoSwapOfficial
DinoSwap Telegram Announcements: https://t.me/joinchat/cXCmksSKayY1MzQx
DinoSwap Discord: https://discord.gg/MMcNJJQy4y
DinoSwap Reddit: https://www.reddit.com/r/DinoSwapOfficial/
DinoSwap Medium: https://medium.com/dinoswapofficial
DinoSwap Github: https://github.com/dinoswap
DinoSwap Gitbook: https://docs.dinoswap.exchange/
Audit: https://www.certik.org/projects/dinoswap
CoinGecko: https://www.coingecko.com/en/coins/dinoswap
CoinMarketCap: https://coinmarketcap.com/currencies/dinoswap/
$DINO Contract Address: 0xAa9654BECca45B5BDFA5ac646c939C62b527D394
Transferring Funds to Polygon:
From ETH to Polygon -> Matic Bridge
From BSC, XDAI to Polygon -> XPollinate
Direct transfers from Kucoin, Gate.Io and AscendEx
This is NOT a financial advise!
Torum: The first social media platform specially designed for cryptocurrency users.
Join Torum, the first social media platform built for cryptocurrency communities around the world, and earn XTM (XTorum) rewards for your daily and weekly engagement. XTM is the BEP-20 utility token of Torum ecosystem and will be listed on exchanges within Q4 2021. Read Torum Whitepaper to figure out XTM token use-cases and the potential of the ecosystem (Crypto-social + DeFi platform + NFT marketplace): https://whitepaper.s3.us-east-2.amazonaws.com/torum-whitepaper-V3.0-EN.pdf
Sign up with my referral link and earn 35 XTM airdrop after email and phone verification: https://www.torum.com/signup?referral_code=makeitreal
---
---