The Professional UFC and Boxing Fighters Token Is Now On Coingecko!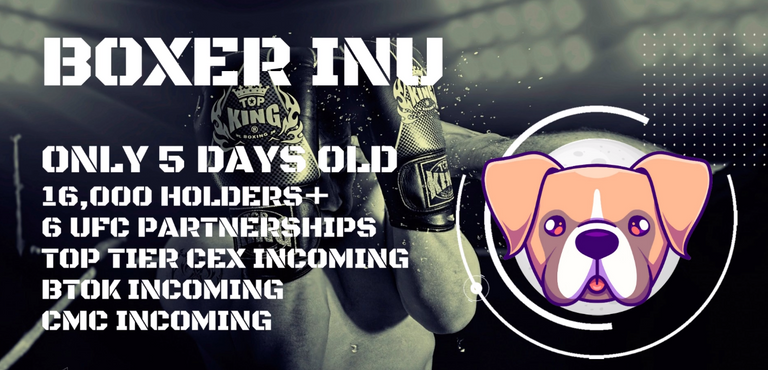 Boxer Inu (BOXER) aims to be the Professional UFC and Boxing token. Boxer Inu (BOXER) is just 5 days old but the developing team is doing such an amazing job, so important milestones have already been reached:
The project had 3,000,000$ of liquidity before the official listing (that is a huge amount of liquidity);
Many crypto influencers shilled it on social media before the listing (I'm really appreciating the marketing strategy of the team);
Over 16.000+ Holders in 5 days;
Coingecko listing;
Partnerships with UFC & Boxing Fighters: Boxer Inu is promoted by Professional UFC fighter like Alan Jouban, Dennis Bermudez, Randy Couture, Shannon Briggs and Al Iaquinta.
Roadmap
What can we expect next? More UFC and Boxing Fighters partnerships, the listing on Coinmarketcap, the listing on top tier centralized exchanges, advertisements on BTOK and much more, as you can see from the roadmap.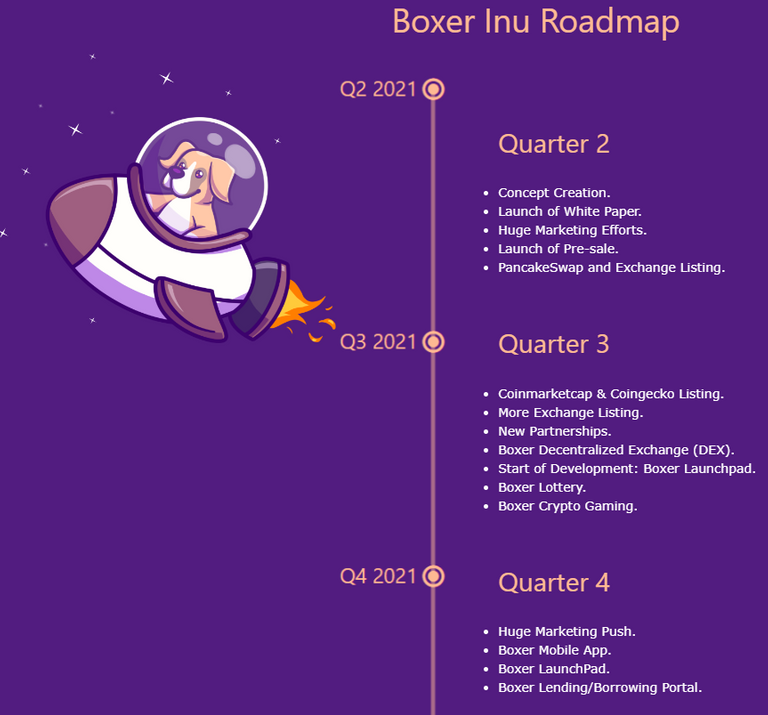 Unlike other meme coins, Boxer Inu (BOXER) has actual use cases that are almost completely developed. The products include a Decentralized Exchange with high rewards for liquidity providers, Boxer Lottery, an NFT Marketplace, a Crypto games platform, and later a fully functional mobile app through which $BOXER can be bought and sold easily within the app. The next step would be the development of a decentralized launchpad that will compete withe DxSale and BSCPad.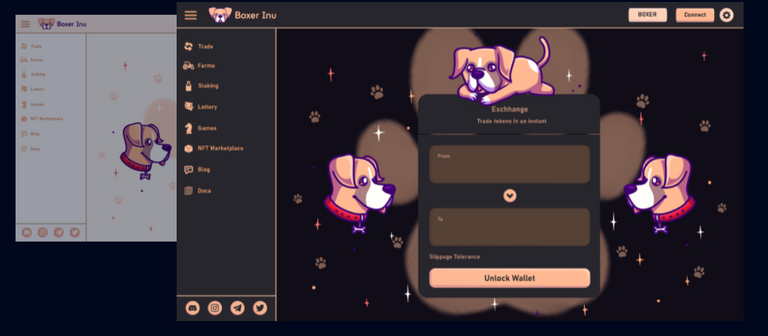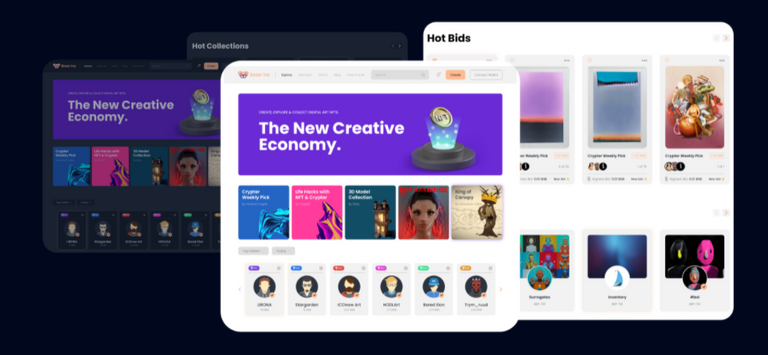 ⭐️Important Links:
Website: https://Boxerinu.finance/
Twitter: https://twitter.com/BoxerInuFinance
Official Announcement Channel: https://t.me/boxerinunews
Official Telegram: https://t.me/BoxerInuOfficial
Github: https://github.com/BoxerInuOfficial
Audit: https://github.com/TechRate/Smart-Contract-Audits/blob/main/BoxerInu%20Full%20Smart%20Contract%20Security%20Audit.pdf
Whitepaper: https://boxerinu.finance/boxerinuwhitepaper.pdf
BSCScan: https://bscscan.com/token/0x192E9321b6244D204D4301AfA507EB29CA84D9ef
Chart: https://poocoin.app/tokens/0x192E9321b6244D204D4301AfA507EB29CA84D9ef
Pancakeswap (11-12% slippage): https://exchange.pancakeswap.finance/#/swap?outputCurrency=0x192E9321b6244D204D4301AfA507EB29CA84D9ef
Share your thought in the comment section and remember that this article is NOT a financial advice, do your own researches.
WeedCoin (THC) is the first utility token for buying cannabis-related products (where it's legal) and to support cannabis for medical, industrial and recreational purposes.

Torum: The first social media platform specially designed for cryptocurrency users.
Join Torum, the first social media platform built for cryptocurrency communities around the world, and earn XTM (XTorum) rewards for your daily and weekly engagement. XTM is the BEP-20 utility token of Torum ecosystem and will be listed on exchanges in Q3 2021. Read Torum Whitepaper to figure out XTM token use-cases and the potential of the platform: https://whitepaper.s3.us-east-2.amazonaws.com/torum-whitepaper-V3.0-EN.pdf Sign up using my referral link and earn 35 XTM airdrop after email and phone verification: https://www.torum.com/signup?referral_code=makeitreal
---
---